Perfect Weekend: 48-Hours in Santa Barbara, CaliforniaBy Iona Goulder
As lovely as Los Angeles is, every now and then, you need to escape it. To that end, I was delighted to be invited to Santa Barbara during a recent trip to California. I didn't know a lot about this coastal City situated about 2 hours from LA. Its reputation is for a slightly sleepier way of life, but their website promises "breathtaking beaches, soaring mountains, verdant vineyards, elevated enclaves and eclectic communities" and who could not be drawn in by that awesomely attractive alliteration?
So here's my guide to a weekend in Santa Barbara: what to do, where to stay and how to make the most of this slice of seaside splendour. 
Santa Barbara: Where to Stay 
For Practicality: Hotel Santa Barbara
The Lowdown: No doubt a great choice for anyone staying in Santa Barbara who wants to get out and about to see as much of the City as possible. Located in the middle of State Street, the City's main high street, this hotel is just steps away from the many bars, restaurants and shops in the City. What it lacks in luxury it makes up for in affordability and it's a super comfortable option thanks to the recently renovated rooms. 
The staff at this hotel were all incredibly friendly as well as helpful and a word also for the croissants at breakfast. You wouldn't expect it on the Californian Coast but I'm telling you, pastries as good as the French make them – not to be missed. Hotel Santa Barbara really ticks all the boxes for a weekend trip, you're unlikely to spend too much time in your room but when you do you want it to be close and comfortable, this hotel is exactly that. 
Where: 533 State Street, Santa Barbara, CA 93101
For a Touch of Luxury: Hotel California 
The Lowdown: I didn't stay here, but did visit this iconic hotel to see what all the fuss is about. Undoubtedly, a choice for people who aren't too worried about their budget. Their 121 rooms combine classic Spanish Colonial Revival architecture with Moroccan influences and feature custom furnishings from their celebrity designer, Martyn Lawrence Bullard. 
The other big attraction of this hotel is its rooftop pool. Overlooking the beach this is an oasis of calm where you could easily spend half the day. Not ideal for exploring the rest of Santa Barbara, but a good bet for anyone who is more interested in reading books than watching whales. 
Where: 36 State St, Santa Barbara, CA 93101
Santa Barbara: Where to Eat 
The Lowdown: The Bluewater Grill is exactly what you might expect from a City on the sea. A bright buzzing grill with great views of the beach. Here, seafood is king and they have lots of it; from oysters to lobster and tuna poke, don't come to this restaurant if you're not a fan of fresh fish. If you're there in the summer ask for a table on the balcony up top which boasts some of the best views of the harbour and the sea your food came from.
To start: seared scallops with jalapeño aioli served with tomato oil, chopped cilantro and bacon. The scallops were perfectly cooked with the spicy sauce and smoky bacon providing an earthy depth to the fresh fish. Meanwhile, Ichiban seared rare ahi tuna was the best tuna we had in the US. A generous serving of sliced fish served with cucumber daikon radish salad, crispy rice and mirin – this one is a must-try. For mains, we went for a grilled whole fish and the lobster tail. Both were as good as you would expect from the marine masters. 
With perfect service and delicious drinks, Bluewater is a Santa Barbara institution that is well worth a visit. Book a table outside and watch the sun go down as you eat some of the best fish the area has to offer. 
Where: 15 E Cabrillo Blvd, Santa Barbara, CA 93101
The Lowdown: Further up the road by East Beach is Convivo, located inside the Santa Barbara Inn Hotel. If you're not a fan of eating inside other people's hotels, you needn't be worried. I don't usually go for hotel restaurants, but Convivo feels completely separate and, as you'll find, the food speaks for itself. 
Convivo is the brainchild of Chef and Owner Peter McNee; he prides himself on his focus on seasonal ingredients and describes the food here as 'nomad Italian', sourcing inspiration from around the globe, melding other cultures' cooking with coastal Italian cuisine. The menu is subject to the availability of local ingredients if some fish on the menu being caught literally hours before serving. The restaurant launched in 2016 – and judging by the night I visited – is doing very well. 
It's hardly surprising. Convivo, without doubt, provided the best meal during our trip to Santa Barbara, potentially even during the whole time we were in California. Standout local ingredients elevated through smart, unfussy cooking. Perfect service and a buzzing atmosphere that will make your night here truly memorable.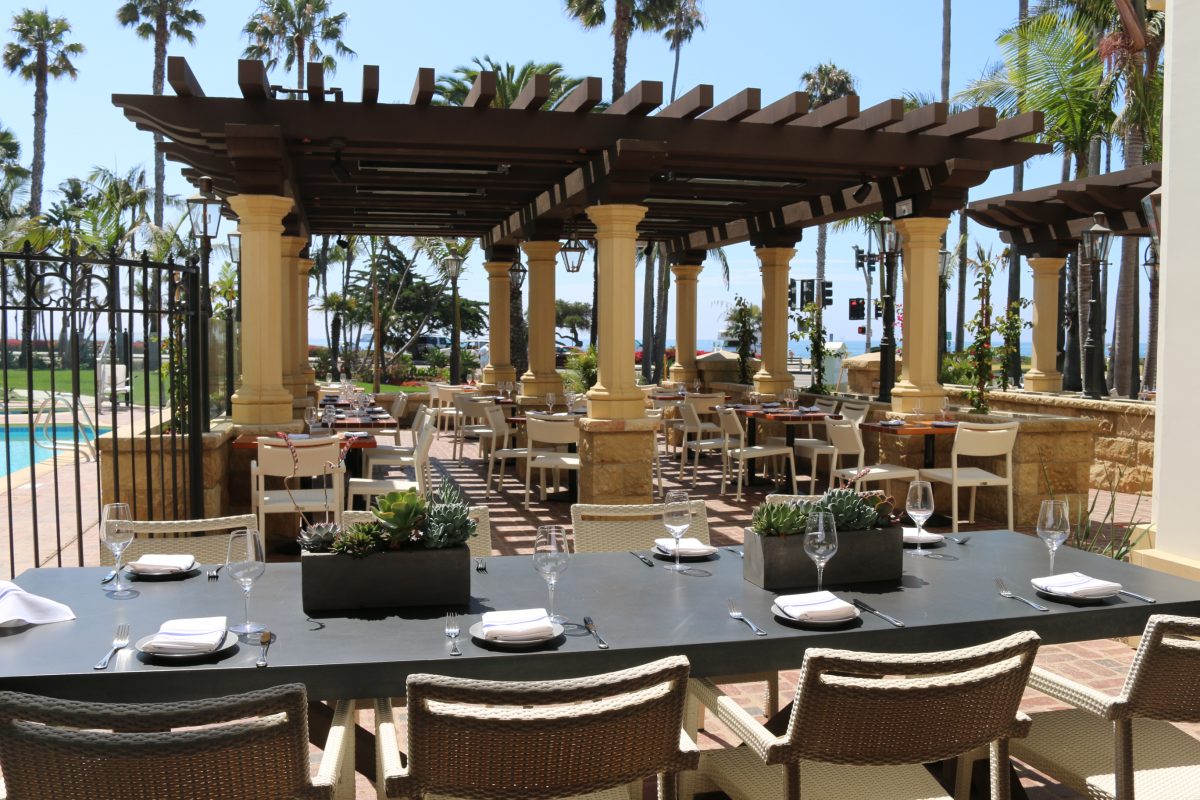 A starter of raw ahi tuna was piled into a deliciously seasoned, citrusy tower of joy. We wanted to never reach the bottom of that tower and honestly, I could have had four more. Meanwhile being basic and from London, we couldn't help but share a burrata that was every bit as creamy, melty and marvellous as you might expect. For mains, another whole fish was on the cards (sorry, but we were on the coast) it had been caught that day and you could tell. Simply but expertly grilled it had that charred outside and silky soft centre that really put the flavour of the fish first. Finally, and in no way did this affect the quality of this review or my opinion on the restaurant, but the margaritas were top notch. If you ignore everything in this article don't ignore this, go to Convivo for a special Saturday night, you won't regret it. 
Where: 901 E Cabrillo Blvd, Santa Barbara, CA 93103
Santa Barbara: What to Do 
For Vino: The Santa Barbara Urban Wine Trail  
First of all, I want to start on a slightly down note. In many photos or descriptions of Santa Barbara, you'll probably hear about the beaches. The reality is this is NOT a beach place. Maybe I had the wrong impression, but I was super surprised to find the main beach at the front of the City to be completely unswimmable. Like pipes coming out of the water, totally brown sea, unswimmable. Not even the ducks were swimming. But seriously, put the trunks back in your bag cause unless you're staying in a hotel with a pool, you ain't getting wet. For those seeking a swim, your best bet is to visit one of the many beaches near Malibu.
What Santa Barbara lacks in sand it makes up for in Sancerre. The City plays host to a famous urban wine trail that boasts some of the finest wines produced in Santa Barbara County at more than 30 tasting rooms, all within blocks of downtown and the beach.
Created by a group of like-minded wineries, the Santa Barbara Urban Wine Trail offers the opportunity for people to learn about and taste wines of many different varietals and styles crafted from some of Santa Barbara County's most renowned vineyards. This is a great experience for any evening. The wine bars themselves are lively and some have live music. Chat to one of the many wine experts (some bars were friendlier than others) and sample a real selection of local wine. Each 'flight of five' is $15. My advice is to head to just one or two of the bars and once you find a spot you love to stay for a while. Too many tastings can get testing (on mind and body) so the key is to sit back relax and enjoy the evening sun. 
For Whale Watching: Condor Express
A must-do day trip meanwhile is the Condor Express whale spotting tour. Leaving at 10am this tour takes most of the day, getting you back at 2.30pm. It's a large comfortable boat with plenty of seating inside and out. We went on a pretty calm day and, although you definitely feel the bumps, it's not too seasick inducing. Of course, it's all well worth it for that sight of a grey, humpback or (if you're lucky) blue whale in the wild. We also saw over 700 dolphins which were genuinely incredible and one of the highlights of our time here. This is a great trip for Sunday when you have to check out of your hotel but maybe don't want to head home too soon. 
Finally, a couple of options for the more active of you. Grab a taxi to the starting point for the 'Inspiration Point' walk. It's not too long of a walk (40 minutes), but takes you up to some great points over the coast and City. You can also snoop on some pretty nice houses on the way. Alternatively, rent a bike from Wheel Fun Rentals; they have both 2 and 4 seaters and it's the perfect way to discover the waterfront area and the Funk Zone. 
There's no doubt that Santa Barbara is a great option for anyone wanting to escape the smog in LA. Don't go for the swimming but instead the seafood, the wine tasting, fresh food feasting, whale exploring and wonderful weather. 
For further information on Santa Barbara, see here.