Looking for the perfect mini break? San Sebastian might well be your answer. Only a few hours from London, San Sebastian is an often overlooked city break – a gourmet haunt, perfect for a food-themed adventure in Europe. If you're looking for more city break ideas, check out Pearlshare – a free app that allows you to share and collect 'pearls' of foodie travel inspiration and advice from all around the world. You can read my Peralshare guide to San Sebastian here.
Now, let's talk Basque country. I love San Sebastian; a short flight and you can be feasting at one of the local pintxos spots, drinking the best local wine, and taking in some of the best food in all of Spain. There's 16 Michelin stars held in San Sebastian – the highest concentration of fine dining restaurants in the entire world. Can't say fairer than that. Here's how to do San Sebastian in style:
Where to Stay
If you're a film lover, you'll love Astoria7. The cinema-themed hotel is a gem in the heart of San Sebastián; each suite is dedicated to a different famous film legend, with a real sense of vibe about the hotel. There's the Hitchcock Suite, which features an awesome design, quick WiFi, terrace and all the necessary amenities and the Astoria Room, with its slick film-inspired design and natural light.
This hotel is perfectly placed for exploring the city – moments from the train station and the best foodie spots in the city, it's fab for first-time visitors. With a decent breakfast, great gym and movies on request to watch in the comfort of your room, it's a great option for travelling on a budget.
For Luxury: Hotel Maria Cristina
This hotel is a masterpiece. Hotel Maria Cristina has placed a vital role in the life of San Sebastian; since opening in 1912, the hotel has been linked with the city's arts and cultural scene. The rooms are to-die-for; decorated in sophisticated colours of grey and white, there's a real sense of grandeur and style – with service to match. The rooms range from Garden View Room, which features garden views, marble bathroom, quick WiFi and a perfect gray, eggshell and aubergine look, to the Royal Terrace Suite, which is the ultimate luxury.
This sensational suite boasts a regal rooftop location, incomparable views of the river and San Sebastian, state-of-the-art Bang & Olufsen television and sound system and the most beautiful living room. The service cannot be beaten at Hotel Maria Cristina; and they have one of the best breakfast buffets I've ever tried. Think omelettes made-to-order, divine local fruit (hello, Spanish oranges) and freshly baked breads and pastries. Foodie heaven.
Sometimes, you need to keep things personal. If you're looking to really immerse yourself in the local culture, then opt for a great Airbnb in the heart of the city. This way, you'll be on top of all the great foodie haunts, and have the ease of being able to relax in your own space. There's some fantastic Airbnb's in San Sebastian (see the Top 20 here), but we loved this sunny penthouse with a terrace in a prime spot in the area. The terrace is fantastic for breakfasting al fresco in the summer months, and it's close to the beaches for catching some sweet rays. Keep it local, kids.
Where to Eat 
The perhaps bizarre mix of Michelin star restaurants and hidden dive bars serving great small bites, also known as pintxos, is what makes the Basque region so unique. I say: you have to do both in San Sebastian. It would be wrong to visit within tasting some of the exquisite gourmet cuisine the area has become famed for, but, equally, part of the fun here is the tapas-tour of the city, tasting all the little delights that locals love to feast on. Below is how to it all.
Best for Pintxos
This city comes to life at night; known for its pintxos bars, a tapas-style meal with lots of delicious bites, the food culture is certainly one of bar and restaurant hopping. As first, I thought pintxos were tiny sandwiches, but I've learnt they are so, so much more. A word of warning: this kind of cuisine can be hard for veggies, and I thought myself eating an awful lot of olives on sticks and Padron peppers. That said, if you know where to go (and don't forget, they also serve hot pintxos at most bars, but you have to ask for the menu for these), then veggies can also feast in San Sebastian. Here's what Pintxos ate and loved: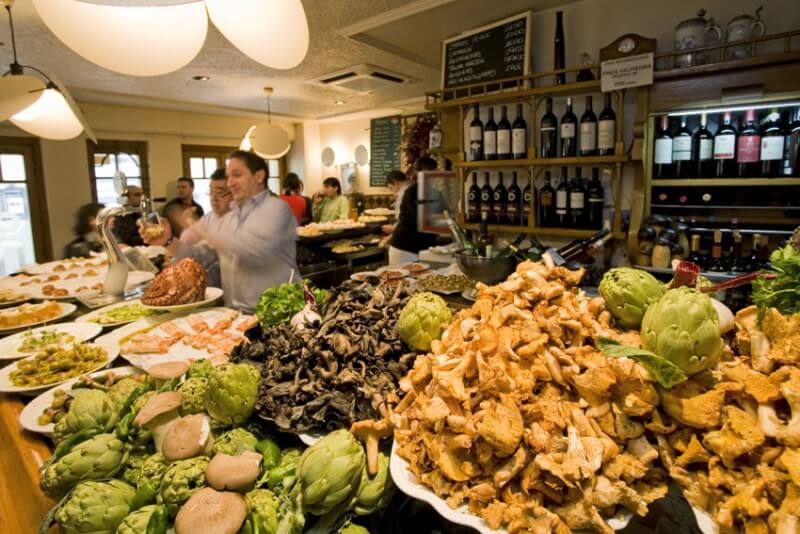 Ganbara is one of San Sebastian's best pintxos bars. For over 25 years, founders Jose and Amaia have been serving locals and tourists alike, with their delicious Spanish bites. The duo were inspired by serve Basque-style dishes in a unique way, with a focus on quality of produce. It's one of the finest places to eat in the Parte Vieja – or Old Town – of San Sebastian and it's a family-run affair, first started by Jose's grandfather in 1941. They know their way around a kitchen, that's for sure – come here for all the fishy delights, including baby squid, monkfish and prawn brochette and the best cod cheek. So, so good.
San Jeronimo Kalea, 19, 20003 Donostia, Gipuzkoa, Spain
For a Local Favourite: Bar Txepetxa
Txepetxa is also a family legacy, with 3 generations of the family involved in the running of this sensational pintxos bar. The restaurant is always filled with locals enjoying white wine and grabbing some munch at the bar; you might have to hustle your way to trying one of their divine Pintxos. The bar has been nominated for many awards over the years – try the food and you'll taste why. They do the most fantastic bready bites – expect toast with anchovies, crab, sea urchin, olive pate, foie gras and apple sauce, as well as great fruit skewers.
Calle Pescadería, 5, 20003 Donostia, Gipuzkoa, Spain
For Experimental Pintxos: A Fuego Negro
If you're getting bored of anchovies on toast, try A Fuego Negro. It's got a feel of the dramatic about the place; low-lit, with black walls and designer lamps, A Fuego Negro does things differently. Considered part of a new-wave of pintxos, everything here comes with a touch of the molecular – from the mackerel with sheep's and mint on cherry toast, to frozen sandwich of corn and txokolate. They love a playing around with food here – the olives are doused in vermouth, and the King crab on toast comes with a licorice twist. For €40, you can try their tasting menu, which includes all the bar's best bites, for a full foodie adventure.
Calle 31 de Agosto, 31, 20003 Donostia, Gipuzkoa, Spain
For a Pintxos Break: Bodegón Alejandro
At some point, you're going to want to sit down for dinner. When that moment comes, head to the this lovely restaurant in the Old Town. Located in the heart of San Sebastian, in one of the most famous streets of the Old Town, the kitchen of Bodegón Alejandro focuses on the authenticity and classic flavors of Basque cuisine. The chef Iñaxio Valverde cooks essence, tradition and the close ties with the land; a commitment to the seasonal produce that awakes the beats of the authentic Basque cuisine. You must eat here.
Calle de Fermín Calbetón, 4, 20003 Donostia-San Sebastián, Guipúzcoa, Spain
Best for Fine Dining 
After all those small bites, it's time to indulge in some fine cuisine that put San Sebastian's food scene on the map. There are 9 restaurants listed in the Michelin Guide in San Sebastian (you can see them all here), and it would be a crime to visit the city and miss out on an incredible gourmet offering. Here's where to splash out and why:
For World-Class Cuisine: Arzak
This is not food. This is so, so much more than food. 3* Arzak is world-known, for very good reason. Situated on the top of a fill in San Sebastian, the family-owned restaurant has been at the forefront of innovation for over 100 years. Charismatic chef Juan Mari made the restaurant what it is today, and the restaurant is overseen daily by his daughter Elena. There's no menu to peruse before you visit, but it's guaranteed to be the best foodie experience of your life – with the most cutting edge, incredible, creative food in the whole world. It still manages to feel like a personal experience, with Elena hosting individual tables and greeting diners. Arzak offers varied tasting menus, and a la carte, too, alongside a wine cellar boasting over 100,000 bottles.
We dined like kings on the most innovative cuisine I've ever tried – the 8-course tasting menu features crazy gastronomy, with a focus on flavour, texture and absolutely impeccable presentation. I ate a Red Mullet served on an iPad with a video of the sea playing, need I say more. A special dish here is the Red Space Egg, with a skin of red peppers, pig trotters and mushrooms.Big Chocolate Truffle dessert with candyfloss, carob, cacao and chocolate is totally out-of-this-world. Totally flawless, this will be the meal of your life.
Photo credit: Arzak Restaurant. Av Alcalde Elósegui, 273, 20015 Donostia, Gipuzkoa, Spain
Also listed in the world's 50 best restaurants is 2* Mugaritz. The name behind Mugaritz is Andoni Luis Aduriz, who is widely considered to be one of the most visionary, pioneering chefs in Spain. This is an adventure for the serious foodie; a meal takes place over 20 courses, with a fusion between Basque cuisine and fresh goodness from the sea. There's everything from oyster omelettes to smoked lamb, all served in the most beautiful, unusual fashion. There's a real sense of playfulness here – the presentation will often surprise you, and the food is designed to amuse, as well as excite and satisfy. A must visit.
Photo credit: Mugaritz Restaurant. Aldura Aldea, 20, 20100 Errenteria, Gipuzkoa, Spain
For a Special Occasion: Akelarre
Akelarre is so much more than a restaurant. Opened in 1974, it is considered to be part of the international elite. The restaurant is run by Head Chef Pedro Subijana, who studied at Euromar school in Zarautz, and has worked in some of the best kitchen's around the world. The restaurant has a magical location overlooking the Bay of Biscay, and is known for its 3* creativity and artistic belief in food. The restaurant has held three Michelin stars since 2007, and, year on year, continues to wow with its incredible food and constantly-evolving menu. The tasting menu is the best way to taste the restaurant's breadth and skill – the menu is served to the entire table, for €185 per person. You won't know what the dishes mean, but they will amaze you – everything from very thin and light beef tartare with new potato soufflé to roasted baby pig "bone" and Iberica emulsion and frozen peach cake. Come hungry.
Photo credit: Akelarre Restaurant. Paseo Padre Orcolaga, 56, 20008 Donostia, Gipuzkoa, Spain
What to Do 
One of the joys of San Sebastian is that it's so close to the French border. We rented a car inexpensively with Hertz and spent a day driving to France, exploring lots of lovely, quaint French villages along the way, finishing in Biarritz. Although it's more of a summer destination for beach holidays, Biarritz is very pleasant in the winter and you can spend a dreamy day here hopping between the time-gone-by tea houses, which serve the thickest, most delightful hot chocolate and hand-crafted patisseries, and exploring the trendy boutiques. Time well spent, I say.
The most visited place in San Sebastian is the Old Town, the second oldest neighbourhood in the city after Antiguo. The Old Town is where you will find the best pintxos bars, and a huge amount of charm, character and life. San Sebastian has a fantastic area of shops, with high-end boutiques like Prada and Ferragamo, as well as lots of lovely independent designers. You can easily spend a day drifting from shop to shop, exploring the wares, and stopping for pintxos along the way. Visit the Plaza de la Constitución, one of the most famous squares in the Gipuzkoa capital, for a snapshot of local life.
San Sebastian Food organises amazing food tours around the city, which are a great introduction to the local cuisine – you can see their tours here, including pintxos tasting tour, winery tour and private local wine tours. They also have a cookery school and wine school, which are great for brushing up on your Spanish food knowledge. The cookery school features classes such as Basque cooking class, Michelin Star secrets class, pintxos cooking class and much more, whereas the wine school will teach you everything from Spanish wine toasting and Iberica ham and sherry matching. The stuff foodie dreams are made of.
British Airways flies from London Heathrow to Bilbao Airport daily, in under 2 hours, with flights starting from £37 each way. Book your flight here. Post in assocation with Pearlshare – download the app here and see my guide here.