Carcassonne: The History
You may never have heard of Carcassonne, but it's been a place to visit since, well, 6th century B.C. I won't go into the history too much, after all you'll learn it all there, but the 'Cité' at the centre of Carcassonne has been conquered, rebuilt and redesigned so many times that almost every brick seems to come from a different century.
The Romans were in charge from 122 BC, the Saracens in 725 AD and finally, French Royalty moved in in 1224. It's hardly surprising, I'd wage a war or two if it meant owning this giant medieval structure fortified unlike any other in Europe. These days however it's not canons and drawbridges that protects Carcassonne, but the listing of not one, but two UNESCO heritage sites. Basically, you don't just get sun and scenery in this city, but also a great deal of history and insight into French ancestry (optional of course).
Where to Stay 
For a Historic Hotspot: Hôtel de La Cité
It's not everyday, or even any day that you have a chance to stay literally inside the walls of a medieval fortress. Never before have I been to a hotel where the directions to the reception are over the drawbridge, across the ramparts, and turn right at the Roman tower. Hôtel de La Cité is a truly unique hotel, built in 1909, it was extended in 1913 and 1927 and is now one of France's best paces to stay. In 2010 it was awarded its fifth star and there are only three such hotels in the Languedoc-Roussillon.
Obviously all this doesn't come cheap (a classic room starts at around €220 per night), but the hotel also offers deals for three nights for the price of two which is perfect for a long weekend. The point is, if it's an occasion and you want to spend a bit more on somewhere special, then I assure you, you won't be disappointed. From the immaculately designed rooms to the sprawling front garden, surrounded by the city walls, every aspect of this hotel exhibits the very best in French class and culture. Our room had its own terrace and views over the city, but even if you don't have a city view you can still take it all in at breakfast, served on the terrace overlooking Carcassonne.
 Being inside the walls, you are ideally located to visit the ancient city. However the main part of Carcassonne is just a secret alleyway away and can be reached in ten minutes on foot. That said, you may be tempted to spend an afternoon (as we did) sitting by the spectacular pool at the hotel. Gently swimming past a thousand year old fortification as tourists try and peak through the giant surrounding trees, you can't help but feel just a little smug.
For a Rural Retreat: Chateau La Villatade
If you're staying longer than a couple of nights and want to 'escape the Cité' then Chateau La Villatade is a great option. It's a 30 minute drive north of Carcassonne in a much more rural setting, and by much more rural, I mean in the complete middle of nowhere. My suggestion would be to buy all the ingredients for a BBQ on the way up as the rooms come with their own BBQs (but the shops aren't close to the property). The Chateau is nestled in 127 hectares of grape vines with not a house or car in sight, it's somewhere you can stay and feel just about as out of office as possible. A quick word on the pool here, it was actually a basin used for irrigation in the 18th century and has since been restored to create a 26 meter natural water pool that makes you feel younger/happier/fresher/generally better in a matter of minutes.
Where to Eat and Drink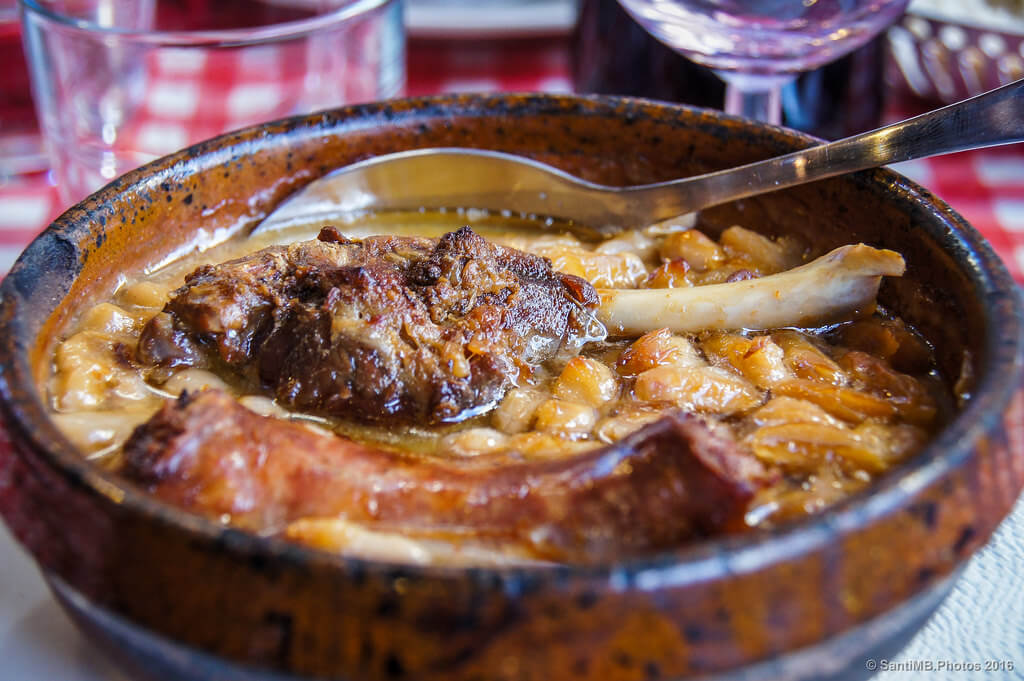 We ate here on our first night in the medieval city. It's away from the crowds, in a buzzing square with an unbeatable view of the Comtal Château. The prices are reasonable and the food is delicious. I had a set menu at around €15 which included the local speciality cassoulet; a rich, slow-cooked casserole originating in the south of France, containing meat and white beans. Okay so a big bowl of steaming beans might not be your first choice in the French heat, but it's surprisingly light and if you're going to try it once, I would try it here. 
For Booze and Beats: Le Bar à Vins de la Cité
In the centre of the Medieval City is this bar set in a secret garden centred around a large chestnut tree. It's a really fun place to go for a few drinks before or after dinner and they regularly put on nights that run into the early hours. Nothing beats dancing in a French fortress so head down there one night and meet some locals. 
For Traditional Fare: Au Jardin de la Tour
Close to Hôtel de La Cité is Au Jardin de la Tour. You may not spot it at first, but through a small doorway is a large courtyard with tables spread out under the trees and ramparts. The food is traditional and Mediterranean, be sure to book as it's a popular place with not that many tables. You can't leave the city without eating a goats cheese salad (everyone seems to serve it) but theirs was particularly tasty. 
For a Blowout Meal: Hotel de la Cite- La Barbacane
The restaurant inside the hotel is charming and elegant with decorative wood panelling and stained-glass windows, as well as THAT view of the hotel gardens and beyond. Again it's more expensive than the other restaurants listed here, but that's probably because it's the only Michelin-starred restaurant in the medieval citadel.
For Snacks: Granita, Sweets and Pizza
As well as the more upmarket restaurants, Carcassonne has plenty of places for those on a budget. During the day be sure to grab a granita from one of the shops in the cobbled streets, sit down in one of the many squares and do a bit of people watching. The medieval city must surely win the award for the highest density of sweet shops in one area. Mounds of pick and mix style sweets are hard to resist and by no means should be, you're only there once. Finally, Place Marcou in the Cité has a great atmosphere and six or seven casual restaurants offering decent food at do-able prices. 
What to Do
For an Education in Wine: Château de Pennautier
Only a 15 minute drive from Carcassonne, Château de Pennautier is the perfect place to visit for anyone wanting to learn about, or simply drink, some of the best wine in the region. That said, unlike other vineyards you can visit, Château de Pennautier is much more than just wine tasting. 
The Château itself has been here since 1620 with the estate staying in the same family since day one. Today's family still inhabit the incredible main Château which was built under Louis XIII, and occupies 160 hectares of vineyard with no less than ten grape varieties. The owner's wife, Miren, has transformed their wine business and turned Château de Pennautier into a well respected wine maker and popular destination.
Getting inside the Château may prove a little tricky, as it's rented out as an entire property for those who can afford 22 4-star bedrooms, a 30 hectare park and reception capacity for 400 people. However, they do offer tours for groups or individuals on Wednesdays. Next to the Château there is an excellent restaurant on site with some of the best food we ate on our trip (all washed down with Pennautier wine) as well as a boutique and wine bar (tip: you can have a small wine tasting for free, just ask). 
All in all Château de Pennautier is a great place to go for lunch, a few glasses of wine and a walk around the grounds. Do look out for the owner Miren, she's genuinely very friendly and will teach you a thing or two about the wine business. 
For Shopping: The Local Market
Closer to home in Carcassonne, Place Carnot, the busy central square in the Bastide Saint Louis has a market for fresh produce, fruit and vegetables. It runs every Tuesday, Thursday and Saturday morning and is full of everything you would expect from a proper French market. Head down there on Saturday morning and have a coffee in the square. There's so much quality food here – a good idea is to buy a picnic and have it by the (UNESCO listed) Canal du Midi which runs through Carcassonne. 
Photo Credit: Flickr, Andy Mitchell 
For a History Lesson: Ramparts
I can't finish this article without a quick mention of the 'ramparts'. This is the main way to see the medieval Cité and what's more, it's free for under 26 EU citizens (get there before Brexit). The route allows you to climb up and down the walls and towers of the fortress and there's plenty of information if you want to know more about how or why this disneyland-like structure ended up where it is. 
Carcassonne: Final Words
Carcassonne offers everything you could want from a weekend in France. A great climate, plenty to do and see and, most importantly, lots of places to eat. Flights to Toulouse are around £100, and I would recommend renting a car to get to some of the more rural places I have listed above. I guarantee you have never stayed anywhere as one-off as Hôtel de La Cité, whilst places like Château de Pennautier demonstrate the very best of French food and wine. Bon voyage!