Has all the floricultural chatter emanating from the Chelsea Flower Show made you even more determined to whip out the marigolds this spring?
Or perhaps you'll simply spend this Sunday finally turning over a new leaf (ha) by chopping down some of that awful overgrowth that's been staring you in the face all winter.
Before you go and spend a small fortune at a garden centre, take inspiration from one of these beautifully manicured gardens at home and abroad. Here's 8 gardens you need to visit this summer:
1. Villa Lante, Bagnaia, Italy
Follow in the footsteps of Cardinal Gianfrancesco Gambara, a devout and learned man who in 1568 completely overhauled his modest gardens into an expansive homage to biblical themes.
Pegged by two palaces – one built by Gambara and the other by his successor 30 years after – the gardens are stylised to reflect 'the story of paradise – paradise lost and paradise regained – told in a wood and three terraces,' according to author Vivian Russell.
It's a beautiful example of the Mannerist phase of the Italian High Renaissance and is 67miles from the centre of Rome.
Louis XIV considered his gardens equally as important as his palace, commissioning the service of André Le Nôtre to create a lavish display of decadence boasting no less than 10 fountains, an open-air ballroom, numerous walks between towering yet prim hedges and even a grand canal (pictured above).
Countless tonnes of terra firma had to be transported in wheelbarrows from neighbouring provinces, assuming the power of thousands of men over the 40 years that it took Louis XIV to redevelop both the mansion and the garden after inheriting it from his father Louis VIII.
Versailles is just a 45-minute drive from Paris.
3. Jardin Majorelle, Marrakech
It was once the family home of painter, architect and amateur botanist, Jacques Majorelle, but when Villa Oasis and its colourful gardens went into the hands of fashion designer Yves Saint Laurent and his associate Pierre Bergé in 1980 it saved the estate from annihilation.
Majorelle had worked on his home (previously called Bou Saf Saf) and garden for forty years, tending to and expanding the diverse range of exotic plants and features in the maze-like, magical plot.
It is now a museum of Berber culture and one of the must-see attractions for travellers in Marrakech.
4. Garden of Ninfa, Cisterna di Latina, Italy
Another one just outside Rome (those Italians are a green-fingered bunch), the Garden of Ninfa is like the enchanted fairytale setting our mother used to describe during a bedtime story as the home of fairies and elves. Apparently it's real.
The Giardino di Ninfa, located 40minutes south-east of the capital, is continually dubbed one of the most romantic gardens in the world. Stone walls and crumbling ruins of the once-great Roman town sit wistfully underneath blankets of foliage. (Picture: Astrovega)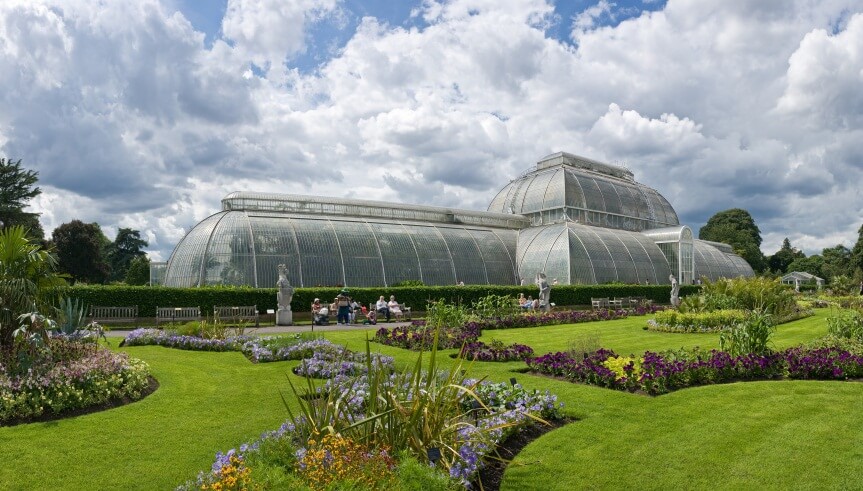 The Royal Botanical Gardens in Kew, west London, has over five million bulbs in full bloom this spring, spread out across 300 acres of land. Considering a football pitch is barely two that's an awful lot of flora.
There's a bee garden, giant Amazon waterlillies in their own dedicated listed glasshouse, and even a human-sized badger sett to show how the nocturnal animals live.
Be sure to visit the Palm House – one of the few remaining Victorian structures with a similarity (albeit on a much smaller scale) to that of the ill-fated Crystal Palace.
6. Sanssouci Palace and Gardens, Potsdam, Germany
As a pied-à-terre it's not too shabby. Sanssouci Palace was devised by Frederick the Great, the King of Prussia, in the mid 18th century as a mere summer home.
The decadent living quarters, in Rococo  style, are one amazing facet of the UNESCO World Heritage Site, but its complex of gardens are a special site to behold. Grand fountains, statues and follies take pride of place in the park, which was expanded by his great-great nephew Frederick William IV.
Located 20miles south-east of Berlin, it's a quick drive or train ride out of the city when you're not spending all day partying.
7. The Alhambra, Granada, Spain
The old part of Granada, Spain, is a concoction of traditional tapas bars (where every beer has a complimentary dish of something tasty), a maze of cobbled streets and plazas where young, busking bands earn their buck in the evening, and just a gentle hint of anarchy running through the graffiti-strewn veins of the city. This old part, called the Albaicin, also has one of the best spots to observe the magnificence of The Alhambra palace, built to the grand scale it is today by the Arab Muslim dynasty that ruled Andalucia at the time.
As well as a palace, it was a fortress strategically built on top of a hill overlooking the city. Numerous gardens, water features and lanky trees are dotted throughout the grounds – one of the most impressive being the Partal Gardens. The lush greenery and large pond was, during the Arab period, encircled by many buildings housing high-ranking officials.
The Alhambra is considered one of the great marvels of Moorish architecture still standing in Europe today – be prepared to spend a good few hours there.
8. Hampton Court Palace & Gardens
Get lost. No, really – there is a maze in the garden of the Hampton Court Palace which has become an institution. What was once a royal abode, built by King Henry VIII in the 16th century, had a maze installed in 1690 on the whim of William III. The maze has two-metre-high yew tree walls and half a mile of footpath, making it a hilarious – or frustrating – activity for cynical Londoners and visitors alike.
At a picturesque location fringing the Thames, the over 800-acres of prosperous land comprises of a large deer park with pathways and waterways, the manicured Privy Garden (above) restored to look as it would have in 1702, and the Great Vine which still, after almost 250 years, still produces a yearly crop of grapes to be sold in the souvenir store.
Need somewhere to stay?
Luxury travel site Secret Escapes has a number of discounts on hotels close to those incredible European gardens.