Eat Here: Le Cinq, Four Seasons Hotel George V ParisBy Claudine Levy
Whisper the words 'Le Cinq' into any discerning foodie's ear and you are guaranteed to conjure a cocktail of sweet relish and vicarious excitement, finished with a twist of bitterness. A bit like watching Prince George play with his gilded tricycle.
Le Cinq, Four Seasons Hotel George V Paris: The Lowdown
Considered one of the best restaurants in Paris, this 3-Michelin star stalwart should be at the top of your culinary bucket list. Housed in the lustrous Four Seasons Hotel Georges V, just off the Champ-Elysees, the atmosphere is thick with a sense of decedent Occasion, capital O. Walking through the foyer feels like wading through salted caramel – tantalizingly, dangerously rich. Chic Parisians occupy every corner of this magnificent hotel, which is also home to Le George – a beautifully modern Mediterranean restaurant which is equally worth a visit.
Le Cinq, Four Seasons Hotel George V Paris: The Setting
The dining room itself feels like something plucked straight out of a film set – absurdly large flowers welcome you at the entrance, while Romanesque pillars sit next to full-length windows overlooking the hotel's courtyard. And of course the tables are clad in bespoke Four Seasons clothery, crockery and cutlery. You can judge a lot about a restaurant by the weight of its cutlery… and suffice to say, raising this fork to my mouth was a hardcore workout.
Le Cinq, Four Seasons Hotel George V Paris: The Beginning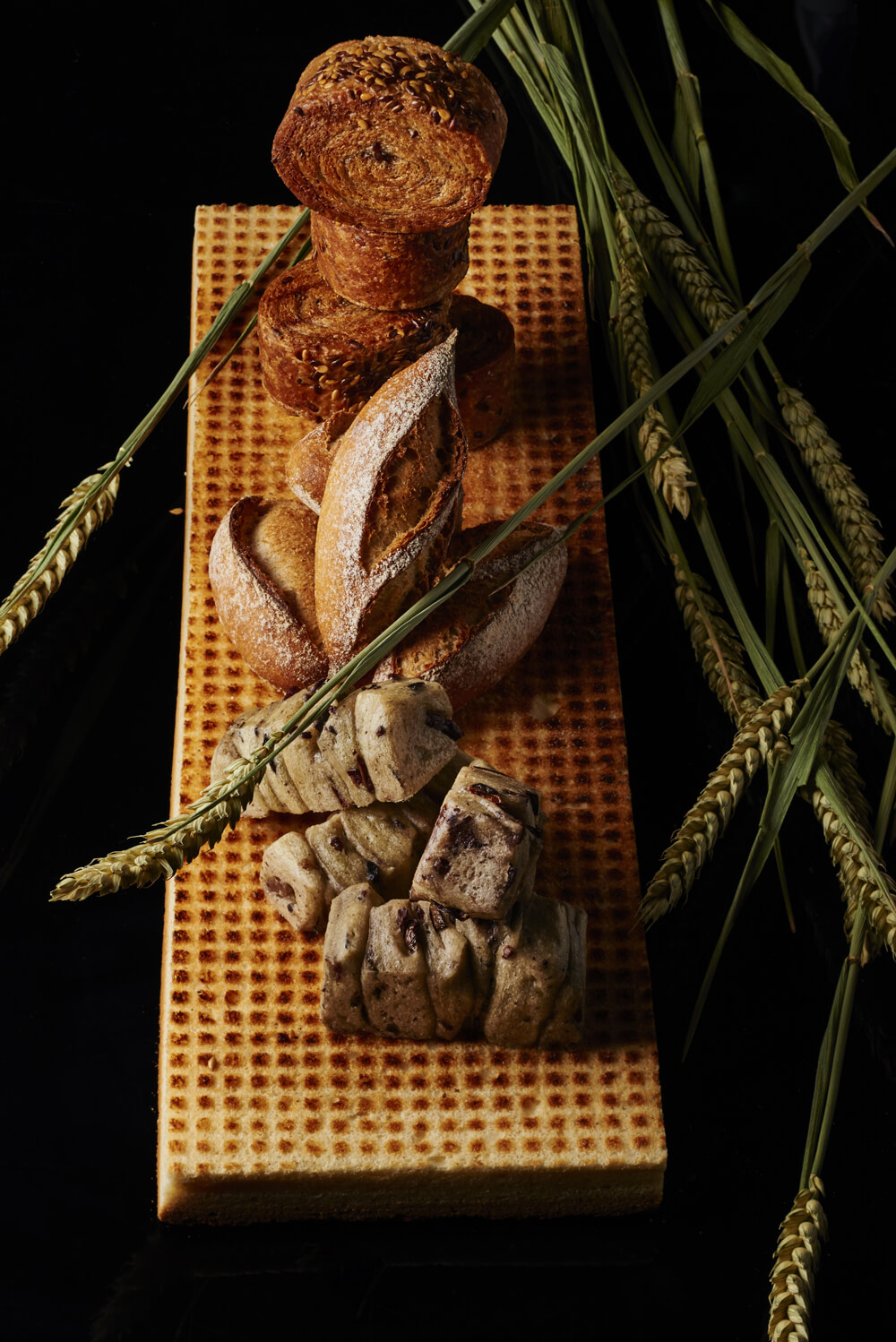 As ever in France, the bread alone is worthy of its own ode – I could have happily had a tête-à-tête with the basket and called it a day. Countless delights are served to you fresh out of the oven, my favourite of which was an obscure brown bread made of hundreds of malty, salty layers which you could ceremonially peel off. The beautiful little baguettes are golden and crusty, while mini chorizo loaves are dense and drenched in paprika infused oils. One word of advice: if you're having the tasting menu, hold back. French food makes a mockery of lightness, and this faire is suitably rich. (BUTTER BUTTER BUTTER, CREAM CREAM CREAM).
Le Cinq, Four Seasons Hotel George V Paris: The Food
We opted for the heaviest food possible, which comprised of 7 obscenely gluttonous courses. And cheese. And petit fours. A word of warning: the menu will play you like a yo-yo, taking you to the very brink of a rich abyss, only to whisk you back to pure, serene simplicity with the next course. We very strongly advise you go along for the ride of your life. Like a culinary rollercoaster, Le Cinq will ricochet your palate between every conceivable taste and texture.
To begin was Dublin Bay Langoustine – served with warm mayonnaise and crisp buckwheat pancake. The langoustine was cooked to perfection: delicate, pearly, soft sweetness plunging us into a near-impossible seafood utopia.
From such subtlety we lurched into a Gratinated Onion, Parisian Style, which was a playful revisioning of the classic French Onion Soup staple of any bistro in the city.  Every conceivable texture of caramelized onion sat atop a crisp disc of pastry, making this the closest thing to an onion orgy you are ever likely to experience.
This is the stage where you'll be regretting that third chorizo loaf. The following plate was a generous reprieve from the gorgeous intensity of sweet, sticky allium: a dish of line-caught sea bass is served in a velvety pool of gently fermented milk, with a naughty quenelle of caviar for good measure. Back to utopia we go – with the translucent, silky fish given relief and depth by the light tang of milk and the salty fireworks of roe.
The fourth course ricochets us back to richness with a plate of truffle spaghetti served with ham and mushrooms, which almost tips us over the edge of pleasure. But we persist. The meal closes with "iced dairy with baking powder taste" – which was a deliciously kooky take on ice-cream and sherbet. And for the finale, an imposing, slightly salted and impossibly sexy block of chocolate ganache, which killed us very very kindly.
Le Cinq, Four Seasons Hotel George V Paris: Our Verdict
Go to Le Cinq. Just go. Book a table far in advance, and emotionally prepare yourself to die, and then go to heaven.
Le Cinq is at31 Avenue George V, 75008 Paris, France. Photo credits: Bernard Winklemann and Grégoire Gardette.