About Time: You Discovered Israel's Incredible Food SceneBy Howard Malin
If you thought Israel was a land flowing with just milk and honey, think again. It is fast becoming a food lovers dream, with lively street food, amazing restaurants, fine-dining and more. Here's everything you need to know about eating in the Holy Land: 
Israel: The Lowdown
From a simple chicken schnitzel in one of over a dozen beach cafes dotted along Tel Aviv's extraordinary seafront promenade, to a tasting menu in any one of its top fine-dining restaurants, Israel is rapidly becoming a global culinary hotspot. Throw in the non-stop night life of Tel Aviv and the magnetic appeal of the biblical city of Jerusalem, and you have a land overflowing not only with milk and honey, but with cheesecake, strudel, falafel and much more.
Israel: The Street Food
For its street food alone, Israel is a must-visit. From falafel and hummus kiosks to bureka and baklava stalls, Israel's vibrant street food scene cannot be matched. The street food here captures the spirit of the country and  invites you to taste and experience its bounty first-hand.
It is difficult to resist the freshly squeezed pomegranate juice or the homemade halva, with the sights, sounds and smells of the myriad food stalls appealing to the senses as you walk through the street markets of Tel Aviv and Jerusalem. 
In Jerusalem, you can't miss Machneyuda Market for amazing and colourful displays, (although check the prices on the nuts and spices stalls before buying) and in Tel Aviv, the bustling Carmel Market is a highlight. Levinsky Street Market, only a short stroll from Carmel Market, specialises in nuts, dried fruits and spices, perfect for gifts to take home. 
The street cafes, bakeries and food stalls here are a way of life, places where people gather to relax, share and break bread together. Many of the main thoroughfares in Tel Aviv are studded with tiny kiosks offering an amazing array of breads, cakes and biscuits. It's a wonder there are so many fit bodies on the city's sandy beaches with cheesecakes beckoning from every corner and café. 
Israel: The Produce
For such a small country, the produce of Israel is extraordinary. This little country's farmers and fishermen work tirelessly to produce ingredients of such high quality, that a simple treat is often transformed in to a feast for the senses.
Nowhere is this more true than the unique experience of lunch at the Hanan Hagaban Dairy (www.hagaban.co.il) at The Levin Farm. This family-run cheesemaker, café and farm shop is a thirty-minute drive from Tel Aviv, and produces a stunning range of award-winning cheeses. You can taste their cheeses alongside delicious just-picked salads and vegetables, which are served on pretty tables under the shade of their avocado trees. I cannot remember a more enjoyable lunch in Israel -a once-in-a-lifetime experience. 
Israel: The Vegan Scene
Worthy of special mention here is the vegetarian and vegan food scene; this has developed in recent years into a world leader. Despite being a hardened carnivore, I was drawn to these vegan restaurants time and again, simply because the food is just so delicious. Adi Cohen Siman Tov runs joyful vegan cooking classes (Insta – happy.vegan.cooking) and I shall return to her small classes for yet more recipes (and laughter).
Israel: The Fine Dining
The promised land delivers in fine dining stakes too. In Jerusalem, it's difficult to beat the rooftop restaurant at the Mamilla Hotel with its Mediterranean menu (the fish shawarma is delicious) and extraordinary views over the ancient city. And in Tel Aviv, Chef Barak Aharoni astounds with his assured cooking at Alena in The Norman Hotel.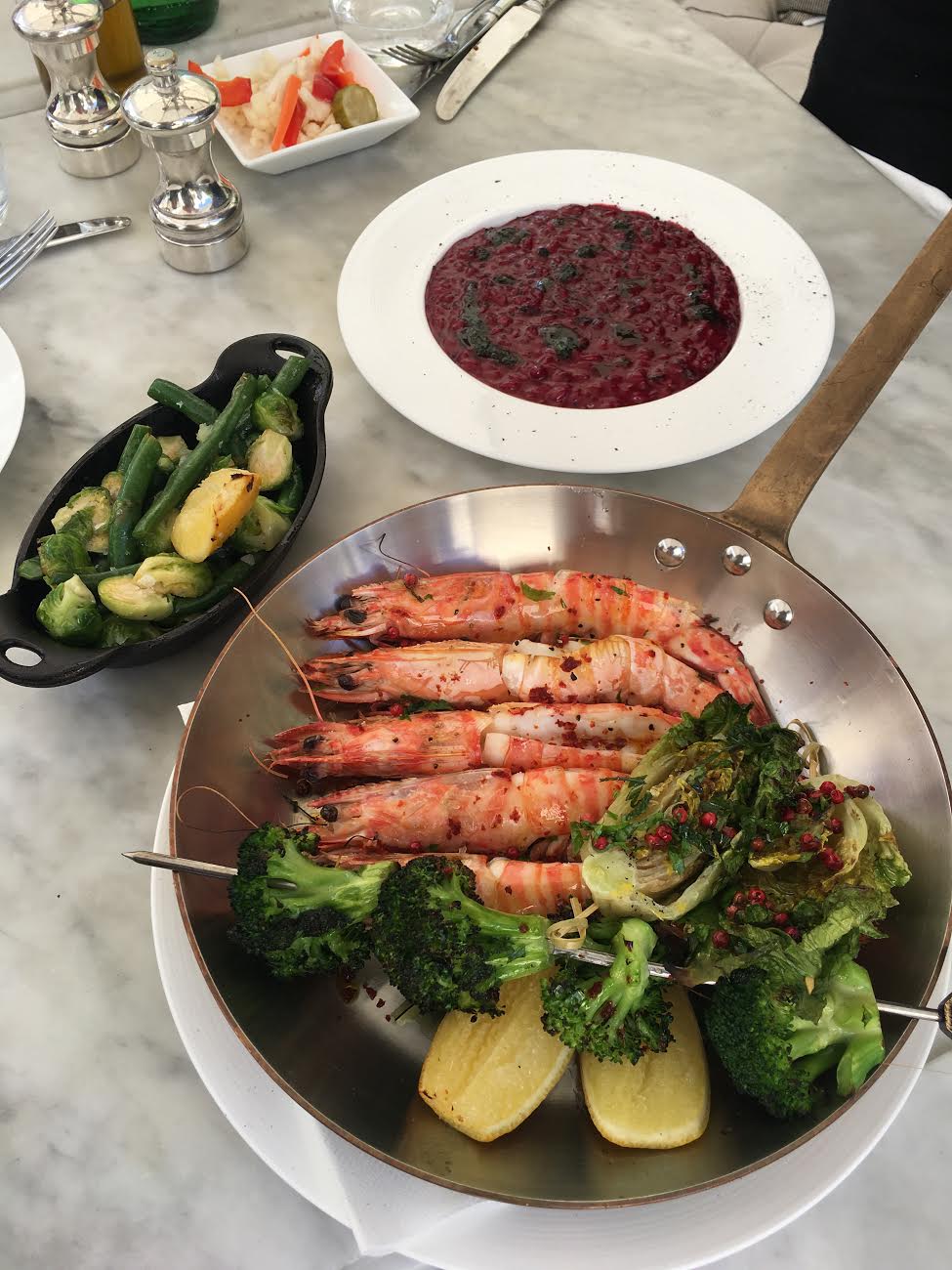 If you ever tire of the local food (which I find difficult to imagine), top-notch international restaurants abound, with special mention going to The Thai House (Thai -duh!), Silver Moon (sushi)  Minna Tomei (Asian) and Quattro (Italian – with amazing desserts) which are all wonderful.
Israel: The Tipples
And of course, to accompany your dishes, you must try the locally-produced wines, beers and spirits. Castel, Racanati and Yarden all produce excellent ranges of red white and rose, some of which have won international awards. Amazingly for a Middle Eastern country, The Milk And Honey Distillery in Tel Aviv produces very good whisky and gin, and The Beer Bazaar in Carmel Market offers over 100 locally brewed artisan beers. I enjoyed every minute (and mouthful) of my visit to Israel, and you will too. Here are my top picks in Tel Aviv:
Top 5: Vegan Restaurants in Tel Aviv
Meshek Barzilay –  delicious food in lovely courtyard setting. 

6 Ahad Ha'am, Neve Tzedek

.

Bana – Stylish and distinctive vegan food. 36 Nachmani Street

Anastasia – relaxed café-style vegan all-day menu 

54 Frishman Street

416 Ha'arba – stunning and inventive menu. 16 Ha'arba Street

Nanoushka – Unique Georgian vegan food. 30 Lillenblum Street
Top 5: Casual Restaurants in Tel Aviv
Falafel Hakosem – best street food, magic on a plate!) 

Shlomo Hamelech St 1

 

(just off King George)

Shtsupak – amazing fish restaurant. 

256 Ben Yehuda

M25 – for serious meat eaters! 

Simtat Hacarmel 30

 

(Carmel Market

The Old Man and The Sea – another amazing fish restaurant. Hangar 1, Old Jaffa Port.

Oh Mama – traditional jewish cuisine – just like Mama used to make. 

Ben Yehuda 69

.
Top 5: Bakery Cafes in Tel Aviv
Dellal – five different types of babka and great coffee, according to my colleague Felicity Spector! Neve Tzedek behind Dellal centre 7 Kol Yisra'el Khaverim.

Milk – French style patisserie with open kitchen, delicious cakes, croissants and filled rolls. 

5 Beit Eshel, Jaffa 

next to Market House Hotel

Roladin – multiple locations – very high-quality baked goods for such a big chain.

Abulafia  – famous white flour Jaffa bakery since 1879. Stand up and eat. Delicious sticky sweetmeats too. Yeft Street by Clock Tower, Old Jaffa

Renat – simple old fashioned café, unchanged since the 70's – delicious traditional biscuits and cakes baked on the premises by the family, and cheesecakes – oh boy! 

57 Allenby Street (close

 

to entrance of Carmel Market)
Top 5: Ice Cream + Frozen Yoghurt Shops in Tel Aviv
Tamara – delicious frozen yoghurt, with a huge range of fresh fruits, nuts and chocolate to top it off (96 Ben Yehuda and 19 Rothschild)

Anita – homemade ice cream to die for. (40 Shabazzi, Neve Tzedek)

Gelateria Siciliana (110 Ben Yehuda and 63 Ibn Gabirol)

Iceberg (multiple branches)

Vaniglia (multiple branches)
Top 5: Fine-Dining Restaurants in Tel Aviv
Norman Hotel – Alena – Barak Aharoni's assured and unpretentious cooking ( the beetroot risotto is amazing )

Manta Ray – seafood on the beach.

Messa – fusion cuisine.

Mashya – contemporary & surprising menu

Social Club – modern upmarket bis

tro
We stayed at The Arthur Hotel in Jerusalem, and in Jaffa at The Market House Hotel (5 Beit Ha'Eshel Jaffa). Both Atlas Hotels, the locations of these friendly and affordable hotels are superb. Staying in Jaffa offers an interesting and atmospheric alternative to staying in Tel Aviv, which is only a short walk away.