Perfect Weekend: 48-Hours in San Francisco, CaliforniaBy Angelica Malin
Looking for the very best things to do in San Francisco? We've got all the answers. I have a long-held the belief that San Francisco is my spiritual home. Through Instagram snaps and Netflix TV shows alone, I fell in love with San Francisco long before I visited. I wasn't disappointed by the city – San Francisco, affectionately known as SF to locals, is a magical, mad place, a Northern Californian gem. Here's how to see the very best of the city in two days:
Best Things to Do in San Francisco: Ultimate Guide
What to Expect:
San Francisco really has it all. Even entering the city is an experience in itself; driving across the iconic Golden Gate Bridge, you'll be blessed with the most stunning view of 49-square mile city and the landscape below. Home to start-ups, street art and sight-seers alike, expect a city which is crammed with award-winning restaurants, famous landmarks, brilliant museums, lush hidden gardens and eclectic shops. San Francisco is a city that demands exploration and adventure; with a lively mix of culture, art, ocean-side dining, great coffee and buzzy, unique neighbourhoods, 48-hours is simply not long enough to discover all the majesty of the place.
But if you're pressed for time, a whistle-stop tour of the city's favourite neighbourhoods, including Mission, North Beach, Haight and Pacific Beach will serve you well. Make sure to pack some warm clothes, it's a totally different climate to the rest of California and you might be surprised by the cooler temperatures in summer.
When to Visit:
The best time to visit SF is between March and May, and September and November, when there are fewer tourists that in the peak of summer. Of course, if you want to save the pounds, book in a winter trip in November or December for cheaper hotels and flights. Pack an umbrella, mind.
How to Get Around:
Much like Los Angeles, San Francisco is a city that is best travelled by car, as the distances between neighbourhoods is greater than you might expect. Luckily, the advent of Uber and Lyft means you don't have to drive yourself. Win. Another great way to explore SF is by bike – cycle rental is very affordable in the city – and cycling the Golden Gate Bridge is a must. Walking is, of course, a great way to explore the neighbourhoods, but be prepared for some seriously steep hills and don't forget to pack trainers!
Best Things to Do in San Francisco: Neighbourhoods
There's so many great neighbourhoods to explore in SF – from China Town to Little Italy, Mission Bay to Fisherman's Wharf. Here's a few of our personal favourites to explore:
The Mission 
The Mission is an artsy, bohemian neighbourhood in the city – and one you cannot miss. Mission is home to a vast hispanic population, and its food, street art and galleries are heavily influenced by Latino culture. You can find some of the best tacos, burritos and margaritas in town in Mission – look out for the most packed taquerias for a local bite.
There's so amazing street art to see and snap in Mission – it's dotted throughout the neighbourhood – and don't miss the Women's Building for one of the most impressive, beautiful facades. Mission is great for thrift shopping too – check out Community Thrift Store for some great vintage finds. There's also amazing designer boutiques, bean-to-bar chocolate shops and trendy coffee roasters in the area, so you can make a real morning of it.
North Beach
North Beach is one of my favourite neighbourhoods in the area, with a fun, lively Italian population clustered in Little Italy. In this area, you'll find authentic Italian delis, restaurants and bakeries. Stop by Caffe Trieste, where Francis Ford Coppola reportedly wrote The Godfather, for a no-fuss cappuccino and a taste of local Italian street culture. You can miss Tony Gemignani's pizzeria, where ten different kinds of mouth-watering pizza are served up every day. Prepare to queues: the secret's very much out. There's also some great Italian restaurant for dinner, which serve up the best homemade pasta in town, and North Beach is also home to The Stinking Rose, the famous garlic restaurant in SF. North Beach is around a 20-minute walk from Fisherman's Pier, if you'd like to explore both on foot.
Fisherman's Wharf
Fisherman's Wharf, although very touristy, is a key part of San Francisco's identity – and if you've got time, factor in a quick stop here. You'll find the Aquarium, attractions, a fun pier and lots of souvenir shops. It's a bit kitsch, but all part of the fun when visiting the city. Prepare to battle the crowds! A meal at famous Scoma's restaurant a must-do on Fisherman's Pier – they offer up some of the finest fish and seafood in the city, and the restaurant is a real local favourite.
Union Street
I totally loved Union Street, in between Mission and Pacific Beach, and could see myself spending weekends here, wining and dining. Union Street is the place to come for shopping; the boutique-lined street is filled with upmarket brands, local designers, one-off stores, coffee shops, bakeries and more. It has a great vibe to it, with lots of restaurants offering outdoor seating for pavement-side dining and people watching. In the morning, you'll see a young, trendy brunch crowd tucking into eggs and more, and by sundown, the streets are lined with millennials sipping Aperol Spritzes and Californian wine. The street also a real wellness feel, with lots of private gyms, a Soul Cycle, pilates studios and juice bars – so come in your active wear if you want to fit in with the locals. 
Haight-Ashbury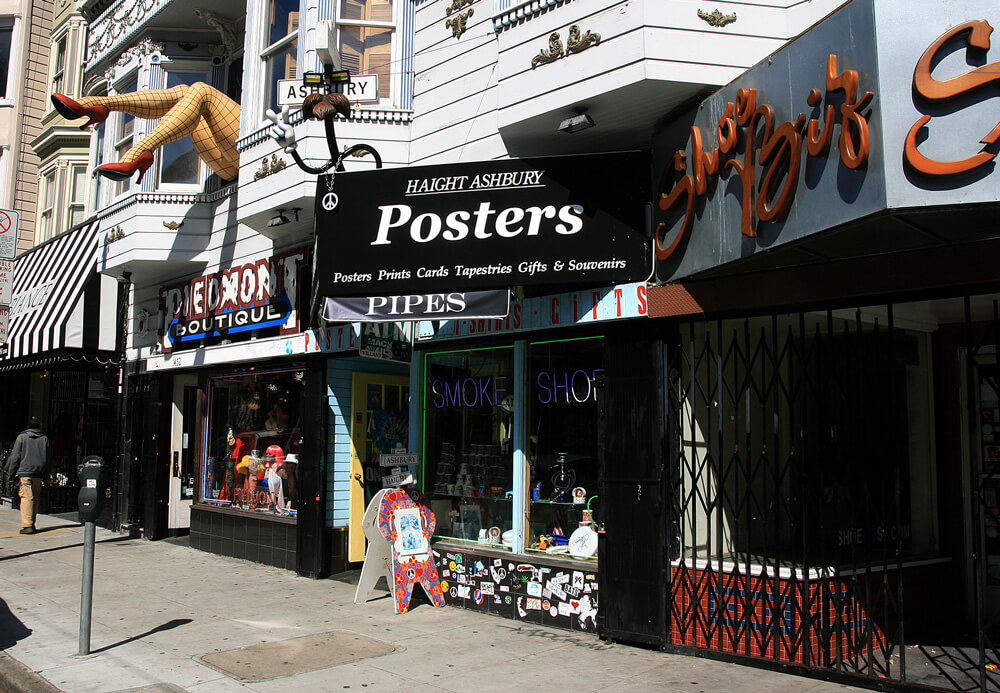 Haight is a hipster's heaven – and has a slight Camden-by-way-of-San-Francisco feel about it, with lots of health food options, hippie clothing stores, second-hand book shops and more. Basically, if you're looking for incense and hemp clothing, this is the place to come. The neighbourhood has a really artsy, vibrant feel to it, and is popular on weekends for leisurely walks and brunch. 
Best Things to Do in San Francisco: Activities
For Foodies:
Foodies will be spoilt for choice in SF – there's just so many amazing restaurants, producers and coffee shops. I'd say see it all the Ferry Building marketplace, which is home to an incredible food markets, with artisan producers, one-off stores, pop-up restaurants, food stalls and juice bars. There's everything from a luxury mushroom shop, to homemade artisan ice cream, specialist chocolate to a fine foods grocery market at the Ferry Building, and it will give you a great overview of the city's food scene in one place. Delicious.
For leavened goodness, you must try the city's sourdough bread – it's known all around the world for good reason. Stop by the largest Boudin Bakery on Fisherman's Wharf, where you can watch the bread-making process first hand and enjoy soup served in a bread bowl, which is the stuff of dreams. Stock up on some loaves while you're there – the miniature sourdough turtles and teddy bears are almost too cute to eat.
For an Experience:
If you're looking for an experience (albeit with a touch of mania and chaos), head to San Francisco's Chinatown, which is crammed full of restaurants, herbal specialists, souvenir shops and specialist grocery stores. You'll find so many delicious eats here; stop for a bite at Yuet Lee for great seafood, or R&G Lounge for their much-loved salt-and-pepper crab. Don't miss the Golden Gate Fortune Cookie Factory where they make 20,000 fortune cookies every day!
For Sight-Seers:
Wanna see the city in style? For only $2, you can jump on the beautiful, vintage F-Line streetcar and and enjoy a tour of Civic Center, Downtown and Fisherman's Wharf. It's something totally unique to San Francisco; the colourful, vintage trolleys have been resorted and you'll be them all over Market Street. Another fantastic local activity is to rent bikes and cycle the Golden Gate Bridge – a really once-in-a-lifetime experience.
For Explorers:
Golden Gate is one the largest parks in the world, and somewhere you must plan for a visit in San Francisco. There's three miles of forest, garden and natural beauty to explore – and the best day to do this is on Sundays, where the main road through the park is closed to cars and motorbikes. Rent a bike from a store on Haight Street and cycle your way peacefully through the park, stopping at the Japanese Tea Garden for a touch of serenity. Walking is a great way to explore; the city is home to some 42 hills, and discovering a secret stairway is a must. My personal favourite is the grand Lyon Street stairway (between Green St and Broadway) – it features 290 steps, which take you past beautiful mansions and flower gardens, and presents awe-inspiring views of the Golden Gate Bridge and Alcatraz Island.
Best Things to Do in San Francisco: Hotels
We stayed at The Mystic Tavern, a super slick, modern, boutique hotel in the heart of San Francisco, and really loved it. Tucked into the city's most vibrant neighbourhood, Union Square, Mystic Hotel is not like hotels I've visited before. It's a dynamic blend of art, history, culture and cuisine, with a restaurant by world-famous Charlie Palmer. The hotel has a great location, with  some of the best amenities in the Bay Area, including a great cocktail bar. It's super chic in design, expect exposed brick walls in the bedrooms, modern art throughout and dark wood floors. Basically, cameras at the ready.
For something totally different in vibe and feel, I cannot recommend Cavallo Point Lodge enough. Across the Golden Gate Bridge, in a quiet, closed-off rural area by the mountains, Cavallo Point Lodge is more than a hotel – it's a whole wellness-focused retreat, with daily yoga classes, mediation, holistic treatments and daily outdoor activities. It's more like a summer camp for adults, and if you're looking to escape the hustle and bustle of SF, this is the place to come. We loved the open, relaxing feel of the hotel, and its focus on wellness, mindfulness and serenity – something every modern traveller needs. The spa treatments are really unique, with everything from herbal consultations to aromatherapy massages, and a dedicated tea lounge. A must-visit.
Best Things to Do in San Francisco: Food
The food in San Francisco is really something special, and there's so many delicious restaurants to visit. Here's our pick of the best:
If it's good enough for Adele, it's good enough for me. A local favourite spot for brunch, Zazie is well-worth waiting in the queue for an hour. They serve up the best eggs dishes around, including delicious Eggs Benedict, American pancakes with bacon and winning French toast. Come for the buzz, stay for the coffee.
This is one of the oldest, best coffee shops in SF, where locals love to sip their morning espresso with a croissant. It's a pretty famous spot, and you'll find many a tourist here, but don't be put off – the experience is still as local and real as ever.
If you're heart is after pizza, you must try this spot in North Beach. Tony Gemignani, the first American to win the World Champion Pizza Maker title in Naples, is the mastermind behind this ever-popular pizza spot. It's real pizza art here – they create 10 pizzas every day, which are cooked in separate pizza ovens of varying temperatures, to make sure it's just right. Try the award-winning Margarita, which is cooked to perfection, with San Marzano tomatoes and San Felice dough. Of course, there's a no-reservations policy, so be prepared to wait to spend your dough on… um, dough.
Located in The Mystic Hotel, come here to savour California-inspired American tavern fare and one of world's best cocktail programmes created by renowned chef Charlie Palmer. The food at the Burritt Room is simple and brilliant – try their famous three-cheese tater tots, Burratta with grapes and delicious zucchini lasagne. Don't miss the cocktails – they are creative and brilliant.
Oh man, this place. It may be as old as time itself, but the food has Scoma's hasn't changed in quality on bit since its opening. The well-known fish and seafood restaurant by the pier is a real high-end dining experience, and only uses locally caught fish, high quality ingredients and homemade items where possible. A great spot for a special family meal or a romantic dinner for two, we say.
Speaking of old classics, established in 1849, Tadich is San Francisco's oldest restaurant – and one of its most popular to this day. You can expect every type of diner at this famed restaurants, from business men to tourists, who come for the famous oysters and egg, and delicious shellfish stew with sourdough bread. Expect large portions, old-school food and invariably line out the door. Worth the wait, we say.
New hotspot in the heart of the Castro District owned by longtime Castro resident and gay mover and shaker, Rick Hamer, this is the place to come for a lively dinner. Finn Town is San Francisco's favourite tavern with a twist, and recently announced that Executive Chef Steve Dustin will be taking over the kitchen. Finn Town is considered one of the best brunches in San Fransisco, and I totally loved their dinner menu.