On Monday, I received an email titled 'Rise in Burnt out Professionals Taking Health and Fitness Sabbaticals to Travel the World.' Not only has the world of social media gone crazy for kettlebells, burpees and yoga retreats, now you can splash the cash on the most expensive 'wellness trip' now starting at a casual £156,000 per person.
If, like me, you can't stretch to that kind of budget –  I've rounded up an extensive lowdown of some of the best fitness events happening across London in the month of October, which include anything from spin workshops, new cafe openings and talks full of insightful business tips from leading women and men across the industry:
What: Psycle's new facelift and opening of their Energy Kitchen
Expect: Spin experts Psycle have just revamped their Motimer Street pad with new bikes and a brand new energy kitchen which opens to the public on October 9th. On offer are their delicious array of smoothies that taste like cake but without the nasties and preservatives as they're packed with so many antioxidants and vitamins.  They also offer weekly ride themes and will be taking advantage of the Halloween theme this month to ensure you look more treat than trick!
Where: 76 Mortimer Street, London W1W 7SD 

For a Health Talk: Bodyism Pop-Up
What: Bodyism's James Duigan and Active In Style
Expect: The founder of 'Clean and Lean' James Duigan will be chatting about all things health on Saturday 10th October at Active in Style's pop up shop on the King's Road. The morning includes a live Q&A  session with James, stories behind training the likes of Rosie Huntington Whitley  and Elle 'the bod' Mcpherson, a breakfast provided by the Bodyism Cafe AND an exclusive Active In Style goodie bag. There's an entry fee of £5, with all proceeds donated to #SportsAid.
When: Saturday 10th October 9.30am-10.30am
Email info@activeinstyle.com to reserve your place
What: Hot Yoga & Wellness
Expect: The Retreat Cafe, situated next door to  TriYoga in Soho is hosting a hot yoga class from 7.15am – 8.15am,  followed by a healthy breakfast to kick start your day from 8.30 to 9.30am. Cheryl Mokhtari will lead the lean yoga class followed by a breakfast created by founder and naturopath Kim Parsons, who will be giving advice and insight into how to eat optimally to set you up for the rest of the day.
When: 12th October 7am-9am
Where: Top Floor, Kingly Court, Kingly St, London W1B 5PW
Tickets here
What: Core & Cardio 'Burn Bonanza' with So Much More
Expect: For one night only, So Much More and Ride Republic have tailored a bike workout that'll burn your legs and core with the intention of leaving you feeling ripped. The evening is a combination of a 40 minute spin, combined with 5 minutes of concentrating on your arms and then 10 minutes of ab work. The famous Ride Republic Burn Board will be on to see who can push themselves as hard as possible. Can you come top of the leader board?
Where: Ride Republic, 709 Fulham Rd, London SW6 5UL
When: Thursday 15th October 6pm
Book through Twitter using @somuchmoreUK
For a Morning Workout: Rude Health
What: Wake up Wednesday
Expect: Every first Wednesday of the month, the lovely lot at Lululemon offer complimentary yoga and breakfast with Rude Health in Richmond's Wholefoods Market. It's free to attend and is the perfect way to beat Wednesday's hump. Places are limited though, so make sure you RSVP as soon as possible so you don't miss out.
When: Every first Wednesday of the month! From 7:15am – 8am. Breakfast served from 8am
Where: 1-3 George St, Richmond TW9 1AB
RSVP to richmondthames-store@lululemon.com
For Business and Fitness: Grace Belgravia Health Club & Spa
What: Leading Women of Tomorrow talk
Expect: As About Time readers know, you can't be Beyonce without breakfast. Fitness superstar and business guru Zanna Van Dijk is hosting 'Leading Women of Tomorrow' on the 28th October in the Grace Belgravia Health Club & Spa. The evening will be an open panel discussion about how to become a female leader with particular focus on health, nutrition and building your own business. Not only will there be superfood cocktails but also a three course meal, plus, you'll be able to ask Hazel Wallace (@TheFoodMedic – casual 55k Insta followers) and Punch Food founder Alexandra Dudley as many questions as you wish.
Where: Grace Belgravia Health Club & Spa, 11c West Halkin Street, Knightsbridge, London, SW1X 8JL
For Your Inner Warrior: Secret Urban Escape
What: Fight Club
Expect: Women's Health has described Secret Urban Escapes as "the game -changing secret London work out." On Friday 23rd, they're hosting a boxing experience led by Barry's Bootcamp top personal trainer Shane Collins.
When: Friday 23rd October 7.30pm-10.30pm
Where: Top secret location in Shoreditch.
Buy tickets here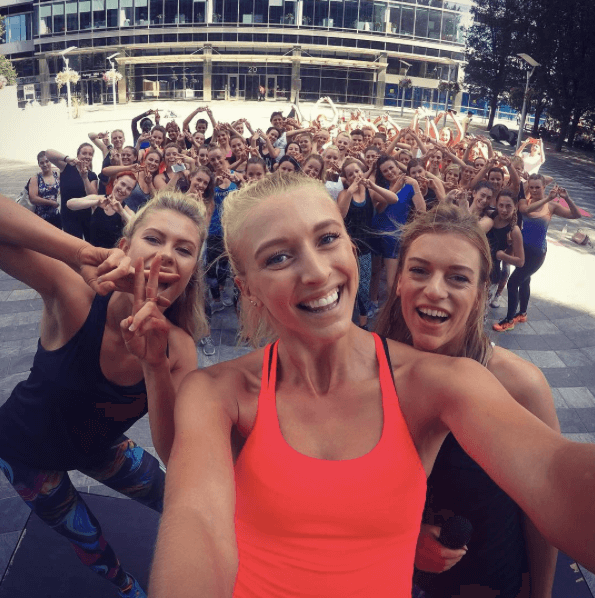 What: Halloween Special – Train or Treat
Expect: The three Instagram sensations Zanna, Tally and Vic or otherwise known as #GirlGainz will put you through your paces for a full body workout held in a secret East London warehouse.  Unoco coconut water will be there to refresh you after the session, as well as a Sports Philosophy photo booth and pop up shop and a Q&A after with the girls. The dress code is black and neon and be prepared for some fun tricks up the girls sleeves. Possibly 50 burpees? Terrifying.
When: Sat 31st October 10.30am-1.30pm
Where: Venue to be revealed
Tickets available here