Buying Christmas gifts for him can be hard, so we've scoured the high street for the best Christmas gift options out there. From flower deliveries to gin subscriptions, here's 20 gifts for the man in your life:
1. For the Stylish Man: Bloom & Wild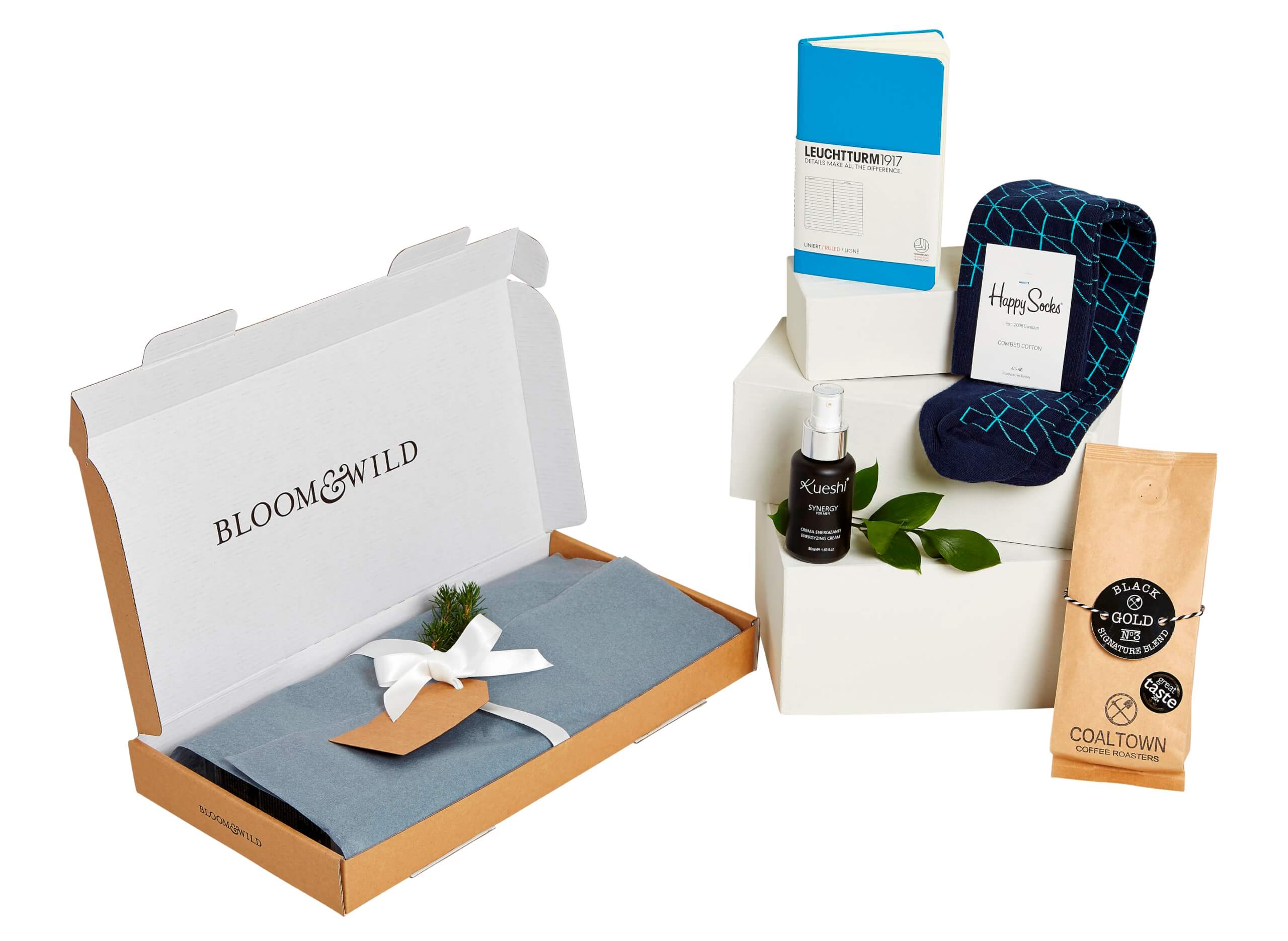 What: Bloom & Wild is the UK's only letterbox flower service, designed to make gift-giving this Christmas as quick and easy as it can be, without the need for wrapping or battling the high street rush. Best of all, their last Christmas order is 22nd December.
The Lowdown: The Dixon is crafted with an eye for design and a love of the practical, making it the perfect gift for a dapper gent. Including Coaltown coffee, geometric socks from Happy Socks, a fresh face cream and a classic Leuchtturm notebook, this gift has both style and substance.
Price: £25 (with free next day delivery)
Where:  Order here
2. For the Caffeine Man: Pink Sumo 
What: Pink Sumo have scoured the seven seas to find you the best in gifts, gadgets and unique novelties. Pink Sumo pride themselves on giving you more gifts for your British buck.
The Lowdown: A gift-boxed set of four miniature mugs from the Death Star canteen, perfectly sized cups for an espresso shot. For coffee lovers who like their drink on the Dark Side. And, they're 100% official merch, don't you know. 

Price: £14.95
Where: Buy here 
3. For the Don Draper: Death to Flowers
What: Death to Flowers is an online website which offers personalised gift boxes, providing an alternative to flowers so you can just say no to boring bouquets.
The Lowdown: It's the men's grooming gift box for the Don Draper in your life, featuring iconic grooming products and other treats. The gift box contains: Pashana American Bay Rum Hair and Scalp Tonic, an Earl of East London smoke and musk candle, a metal comb and Coco Pzazz Japanese chilli chocolates.
Price: £38
Where: Buy here 
4. For the Time Savvy Man: Watchshop.com
What: WatchShop.com, the UK's largest online watch retailer, are now representing new Scottish designed watch brand Kartel. The timepieces are inspired by the landscape and traditions of the beautiful Scottish country, combining an industrial tradition and a deep connection and affinity with the land.
The Lowdown: This modern classic by Kartel features a leather backed white and herringbone genuine Harris Tweed strap, a clean, contemporary dial with applied hour markers and date window. A stainless steel case back and high precision Japanese movement make this watch a truly refined, timeless piece of wrist wear.
Price: £90
Where: Buy here 
5. For the Golf Man: Golfbidder
What: Golfbidder is one of the busiest online golf retailers in Europe. They specialise in clubs from the top manufacturers such as Callaway, Cleveland, Mizuno, Nike, Ping, TaylorMade, Titleist and Wilson. Here you can buy, sell or part exchange.
The Lowdown: The Golf Buddy BB5 GPS Golf Band is the world's first GPS Golf Band. The band has over 37,000 of the world's golf courses preloaded, handing the distinct advantage to the wearer and helping to improve their game. The band includes GPS to front, centre and back of the green, as well as the shot distance measurement feature.
Price: £199
Where: Buy here 
6. For the Breakfast Man: Design 55 
What: The Design 55 mission is to provide the very best design led products with the fastest delivery possible. Their store sells everything for the home from contemporary furniture, lighting, home accessories and gifts from some of the best brands in Europe and up and coming designers.
The Lowdown: The easiest way to make delicious breakfasts and brunches, the Breakfast Master can boil up to 6 eggs at a time, or poach up to 3 eggs at a time whilst toasting 2 pieces of toast. The breakfast master includes a boil egg tray, steam egg tray and fried egg tray. Genius.
Price: £59.99
Where: Order here
7. For the Outdoors Man: Field Candy 
What: FieldCandy is an exciting, designer brand of outdoor products created to add some stylish flair to the outdoor space. They love to excite people by offering a range of quirky designs that stand out from the crowd with colour and creativity.
The Lowdown: This 2-3 person, high performance storm tent with classic 'A' frame construction, is able to stand up to extreme weather conditions. It boasts both a breathable and cool inner tent and is 100% waterproof. If you're not a fan of sheds, there's loads of other varieties to choose from.
Price: £295
Where: Buy here 
8. For the Basketball Man: NBA Store 
What: NBA Store.eu sells a wide range of basketball clothing and accessories all under one roof (or website). You can shop by your favourite team, favourite player – including both current and retired. If you're after good quality basketball merch, look no further than NBA Store.eu.
The Lowdown: This jumper is seriously so cool. It's the perfect marriage of a Christmas jumper and a your basketball team. Available in different team colours and sizes.
Price: £40
Where: Buy here 
What: Orvis are all about 100% satisfaction. Once samples are made, they are immediately sent out for testing – watches, pants, socks, and shirts are all subjected to rigorous demands in active field trials – they're bumped, banged, stretched, snagged by brambles, dunked in streams, and marched over mountains.
The Lowdown: Like a perfectly worn-in pair of jeans or those vintage boots you just can't give up, a barn coat is one of those items of apparel that, once you have one, seems to stay with you forever. The rugged 6.6-oz. men's cotton canvas barn coat is garment washed for a broken-in quality and a fit that feels like it's been with you for years.
Price: £149
Where: Buy here 
10. For a Curry Loving Man: Zouk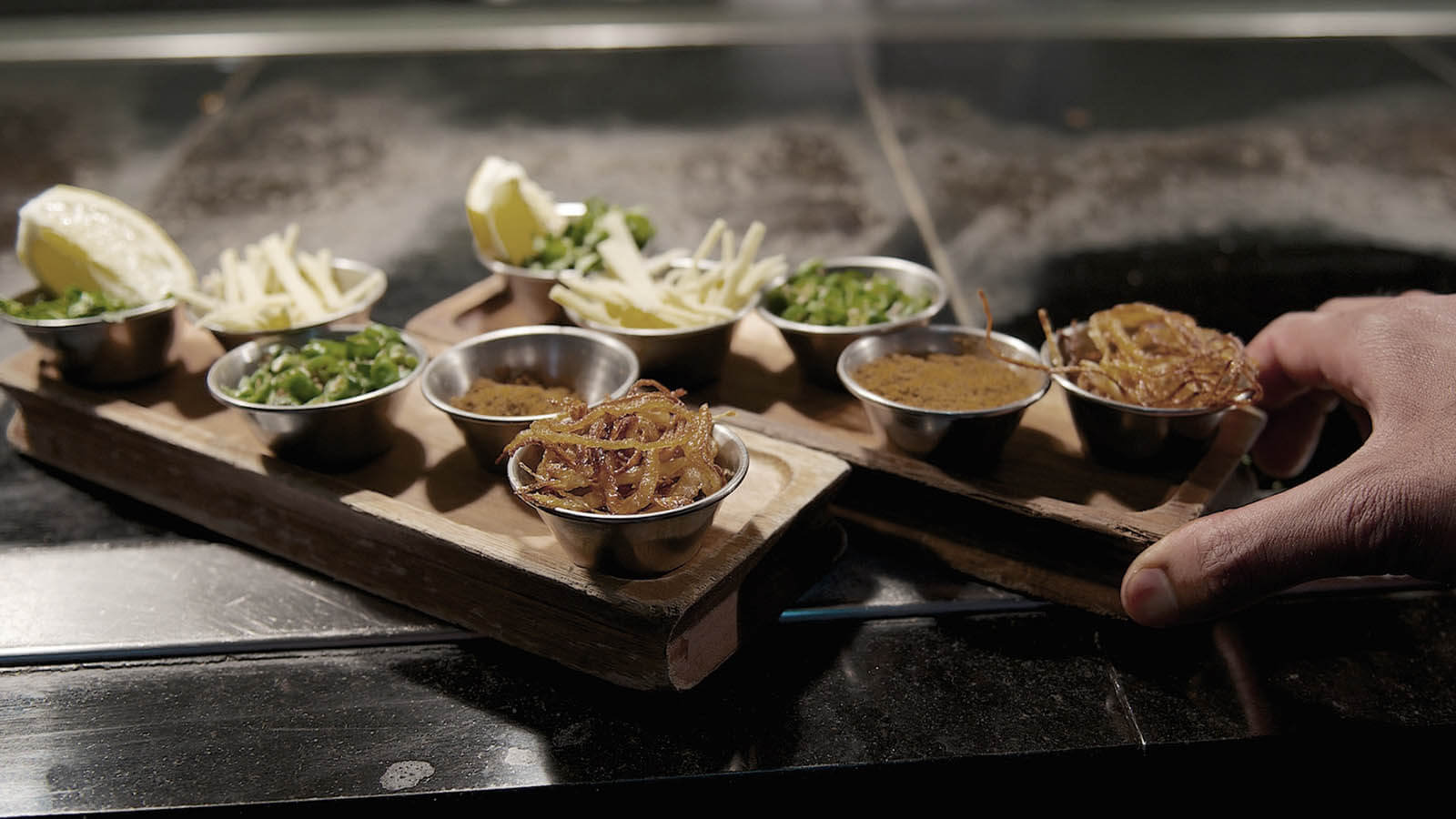 What: The Zouk cookery school was launched in response to demand from customers who kept asking the owners about Indian and Pakistani cuisine, and showing an interest in learning how to cook it.
The Lowdown: Award-winning Zouk restaurant is sharing the secret of its success with curry enthusiasts by offering half day cooking courses in Indian and Pakistani cuisine. This exciting new cookery school promises to teach you how to recreate some of your favourite dishes, with hands on practical tuition and a step by step guide to follow at home.
Price: From £80
Where: Book here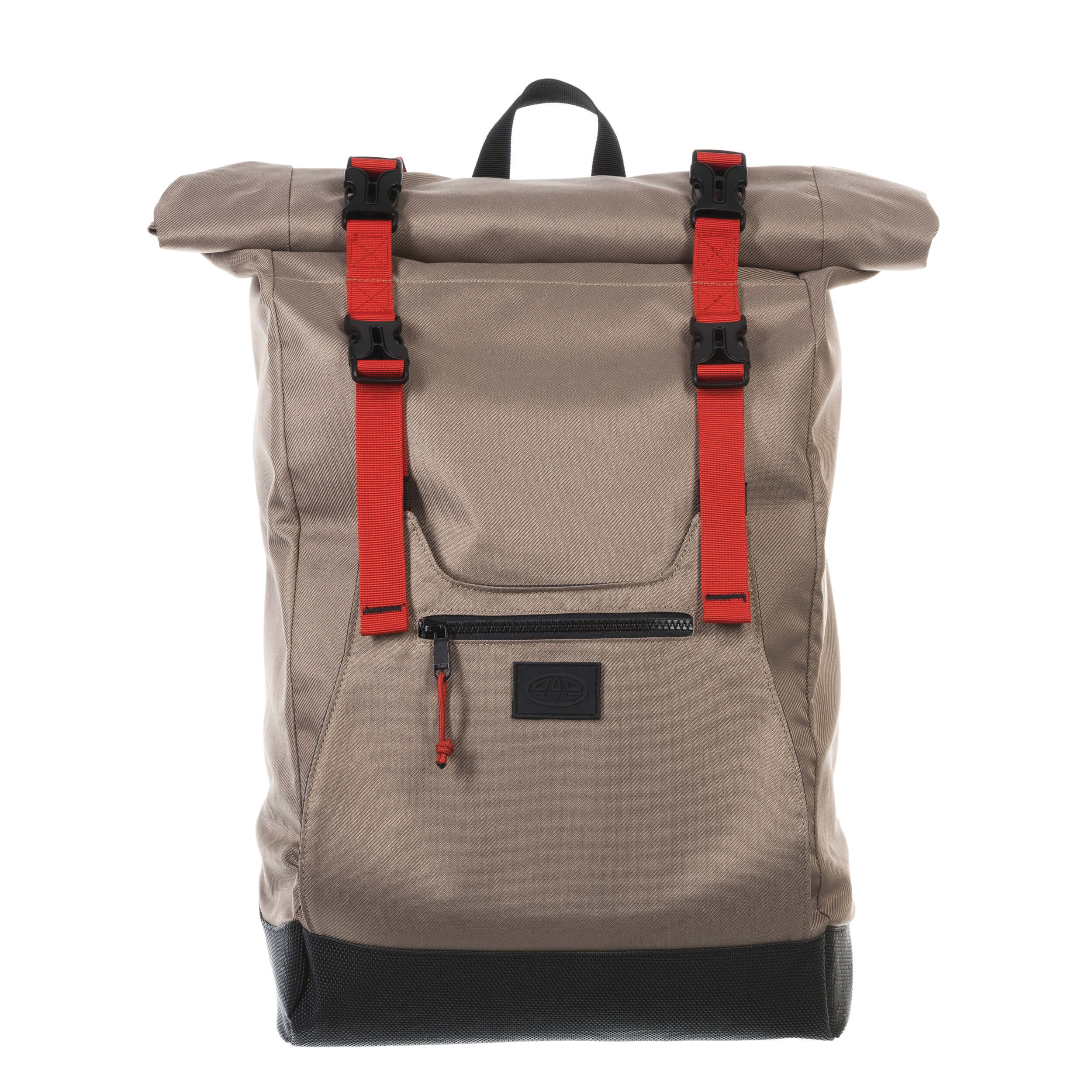 What: Animal is a UK action sports lifestyle brand, boasting an extensive team of riders in each of its core sports. These are Surf, Snowboard, Ski, BMX, Skate and Mountain Bike. Their 'rider-refined' program means all products get tried, tested and tweaked by the Animal pro team for real rider performance.
The Lowdown: Animal men's Ventures backpack is made from a mixture of cotton twill and nylon. The bag features adjustable padded shoulder straps, YKK zips and padded air flow zones. And, ideal for cycling on long journeys the bag has an internal water resistant liner with an adjustable chest strap.
Price: £45
Where: Buy here 
12. For the Well-Groomed Man: Goodhood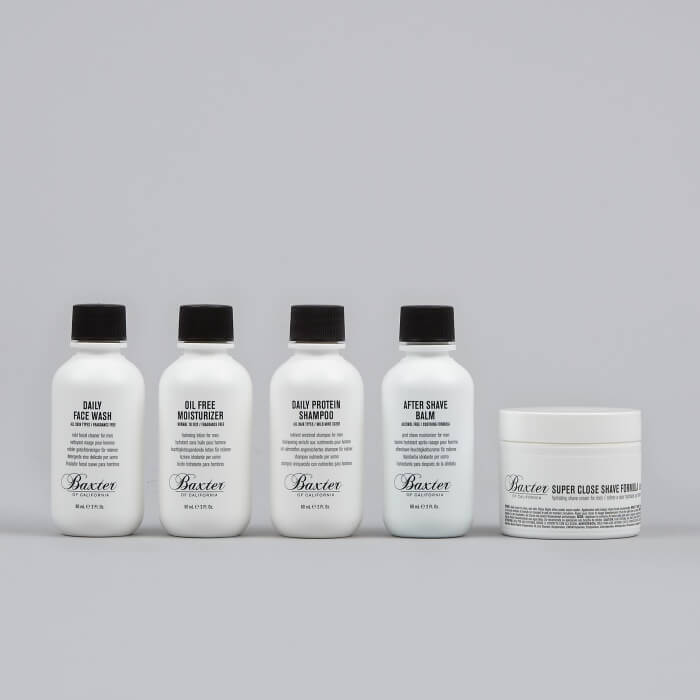 What: Started in 2007 Goodhood is an award winning multi-brand retailer selling over 200 brands across menswear, womenswear, lifestyle and cosmetics. Their aim: to cultivate their unique vision of effortless lifestyle and redefine the idea of luxury living. Fair enough.
The Lowdown: The Baxter of California Travel Kit and Bag contains 2oz Bottles of Daily Face Wash, Oil Free Moisturiser, Super Close Shave Formula, After Shave Balm, and Daily Protein Shampoo, all in a nice handy bag.
Price: £50
Where: Buy here 
13. For the Music Man: Goodmans 
What: Since 1923, Goodmans have been putting technology into people's homes. For decades Goodmans has stood for wide access to enjoyable products. From loudspeakers via in car audio to digital TV – they're all about bringing innovative products to everyone.
The Lowdown: Smartly designed inside and out, Canvas makes it easy to listen to your favourite radio stations. Simple controls and portability lets you enjoy crisp, clear sound all around the home. A long battery life of 9 hours means you don't always have to be by a plug. Easy to read display provides information on the station and radio programme you're listening to.
Price: £29.99
Where: Buy here 
14. For the Sporty Man: dotcomgiftshop.com
What: Since 2005 dotcomgiftshop's in-house design team have been working hard to deliver the most original and stylish prints, gifts and decorations straight to you before anyone else. Best of all, you don't have to tackle the high street.
The Lowdown: Have a very British garden party with the traditional badminton set. The gift box contains everything you'll need to get started: 2 metal badminton rackets with rubber grips, a 3-metre net, 3 plastic and rubber shuttlecocks, and a cotton drawstring bag to keep it all in.
Price: £16.95
Where: Buy here 
What: Founded in 1921 as a "Workshop for the processing of brass and nickel silver sheet metal, with foundry", Alessi has always stood out for the high quality of its products. In almost a century of history, the company has gradually evolved to become one of the leading "Factories of Italian design", capable of applying its expertise and excellence in design management.
The Lowdown: With this object Giulio Iacchetti offers an original take on the classic sommelier's corkscrew. Taking the form of a stylised key, an ironic reference to the concept of opening, Iacchetti's corkscrew simplifies some actions such as the cutting of the capsule that protects the cork.
Price: £35
Where: Buy here 
16. For Whisky Men: Jack Daniel's
What: The Jack Daniel's Distillery, is the oldest registered distillery in the United States and is on the National Register of Historic Places. Jack Daniel's is the maker of the world-famous Jack Daniel's Old No. 7 Tennessee Whiskey and Gentleman Jack Rare Tennessee Whiskey among others.
The Lowdown: Jack Daniel's No 27 is double barreled and double mellowed to create a refined whiskey that's perfect for both celebrations and moments of indulgence.
Price: £95
Where: Buy here 
17. For the Pamper Man: Lock Stock and Barrel
What: Grooming brand Lock Stock and Barrel is an independent British range, formulated and manufactured in the UK. It offers hair styling and cleansing products specially formulated for men, including shampoos, clays, waxes, and shaving oils.
The Lowdown: The Lock Stock & Barrel hair styling range delivers premium results for your grooming regime. Made with pride in England, you can bring salon quality products to your home with this fantastic styling range. We love their Pucka Grooming Creme – a weightless grooming creme which gives versatile styling control and washes out easily in water.
Price: Products from £10.95
Stockists: The range sells in the best barbers across the country (and in the world) plus online stockists including www.harveynichols.com or Mankind.co.uk
18. For an Experience: Ruffians
What: Treat someone to the ultimate grooming gift this Christmas: a Ruffians haircut and wet shave. The barber will provide personalised skincare and haircare advice throughout the service, as well as complimentary drinks, and an in-depth consultation in order to really understand the needs of the man in the chair.
The Lowdown: Ruffians Barbers is an award-winning barber shop and store, giving the best quality haircuts and cut-throat shaves. Their staff are hand-picked for their exceptional skills and are carefully trained to guarantee you always receive our high Ruffians standard. Topped off with a swish new do and a cleanly shaven face – this is the ideal present for gents wanting to feel confident, comfortable and classy.
Price: £80
Stockists: Available in Covent Garden, Edinburgh and online via gift card purchase.
19. For the Bubbly Man: Champagne Charles Heidsieck Gift Set
What: Charles-Camille Heidsieck set up his own Champagne company in 1851 and right from the start, the pursuit of the highest quality was always the company's main aim.  The entire Charles Heidsieck range is excellent from the Brut Réserve right up to the luxury cuvées Blanc des Millénaires and Champagne Charlie.
The Lowdown: Seamlessly reflecting the heritage and elegance of the Champagne Charles Heidsieck, the luxurious gift set house the Brut Reserve with two exquisite his and hers Coupe Grande Champagne glasses exclusively created for Charles Heidsieck – the perfect gift for those celebrating something special this Christmas!
Price: £75 per gift set
Stockists: Available from Fortnum and Mason, Selfridges
20. For the Delivery Man: Sipsmith Sipping Service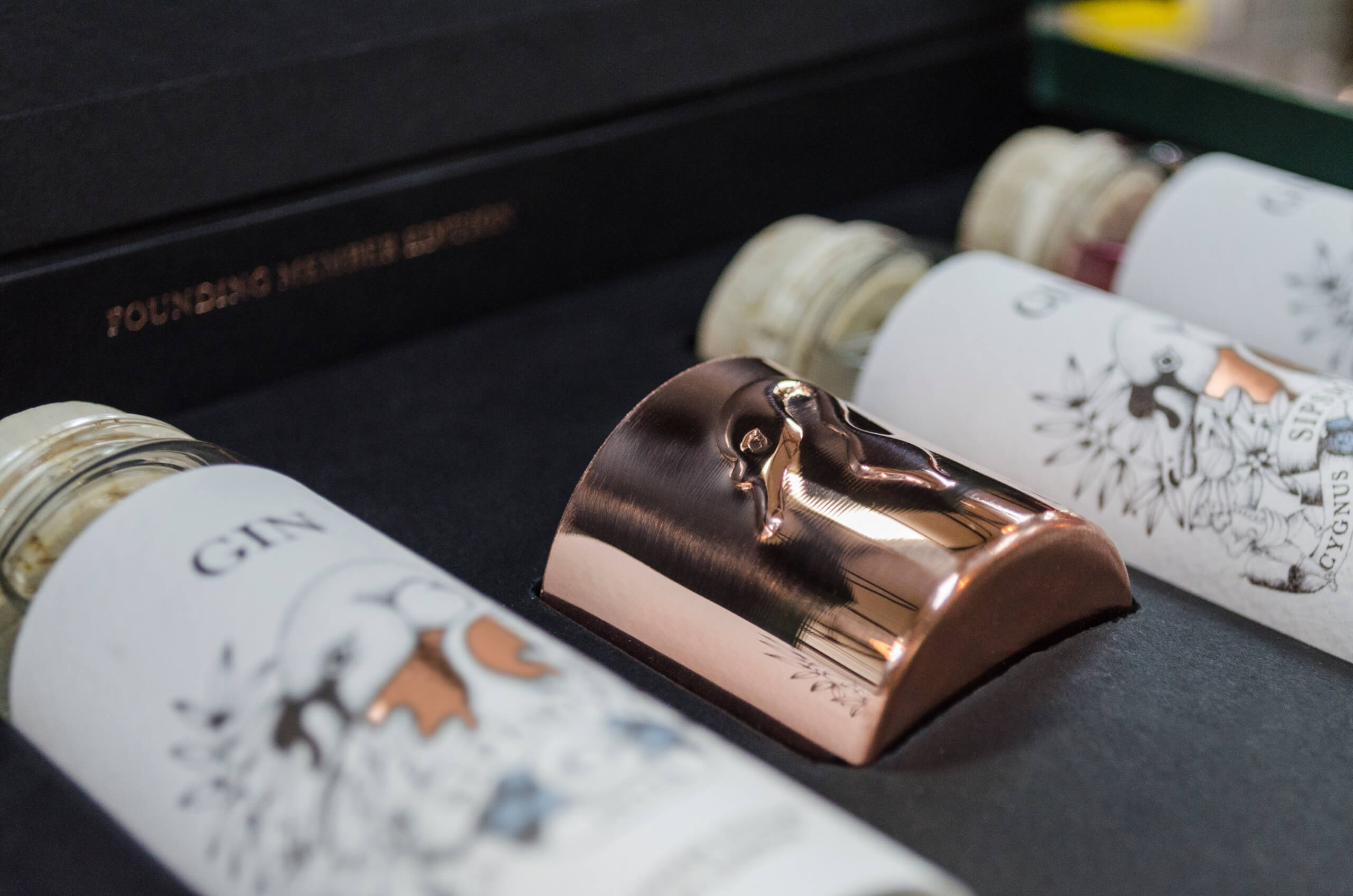 What: A quarterly gin sipping service – the Distillery's most extraordinary gins, direct to your door. Every 3 months, Sipsmith will select the 4 best gins they have trialled that season and send them directly to you in 4x 90ml bottles. It will mean you get first dibs on knowing what these gins are, finding out what's happening behind their blue Distillery Doors, getting to taste them, and letting them know what you think.
The Lowdown: Each season's sipping gins will be a surprise. All distilled using their uncompromising methods, meaning that each and every one will be smooth enough to be sipped on its own (if you so wish) and will mix perfectly in a cocktail or two (which we will be trialling and recommending from the Distillery). And who doesn't love receiving something wonderfully unexpected and beautifully crafted from the postman, especially if it contains irrefutably excellent gins from Sipsmith.
Price: Founding Christmas Membership, £60, Founding Full Membership, £150, Sipsmithian Member, £250
Stockists: Only here