Left it to the last minute? No worries, we've posted some smashing prezzies for the fitness lover. Take your pick:
Fitness Gift Guide: Activewear
1. For Bold Designs: Blossom Gym Wear 
What: Flamingoals High Waisted Printed Yoga Pants (£39.99)
The Lowdown: These leggings are made from high-performance quality technical fabric and are perfect for yoga, pilates, the gym, and general activewear. These high-waisted leggings offer the ultimate in comfort and support and are breathable, moisture wicking and quick drying with the added comfort of four-way stretch and flat lock seams for extra durability.
Where: Order online 
2. For a Subscription Service: HPE Clothing 
What: Subscription Box (£160)
The Lowdown: HPE Clothing are a new subscription box service which allows everyone to embrace the latest active wear trends, helping you to build a workout wardrobe which is delivered directly to your door. It's simple: choose from a wide array of designs and colours from popular HPE style collections, before getting them posted to your digs. And thanks to the 'Build Your Box' option, each subscription box is carefully crafted by you to suit your chosen exercise and lifestyle.
Where: Order online 
What: Adidas 3 Stripe Tights (£22.95)
The Lowdown: The Adidas Women's Essentials 3 Stripes Tights are constructed with cotton which offers next-to-skin comfort and stretches when you need it. The leggings can be worn as a versatile layer or as a stand-alone basic. The exposed elasticated waistband will keep you feeling secure, while the flat-lock seams will reduce the risk of any potential irritation and discomfort.
Where: Online here 
Fitness Gift Guide: Gym Bags
4. For a Backpack: New Balance
What: New Balance Classic Backpack (£14.99)
The Lowdown: We love this nifty gym bag from New Balance. With a convenient top handle, large main compartment with separate sections, outside zip pouch pocket and adjustable shoulder straps – this bag can fit in your gym wear and then some.
Where: Buy online 
What: Nike Gym Club Training Duffel Bag (£28)
The Lowdown: This durable bag has been crafted using water-resistant materials ensuring your valuables are kept dry and protected. A large dual-zipped main compartment provides ample room to secure possessions while the easy access pocket provides further storage. The dual handles and an adjustable, removable shoulder strap give you multiple ways to carry.
Where: Order online 
6. For Plenty of Space: The North Face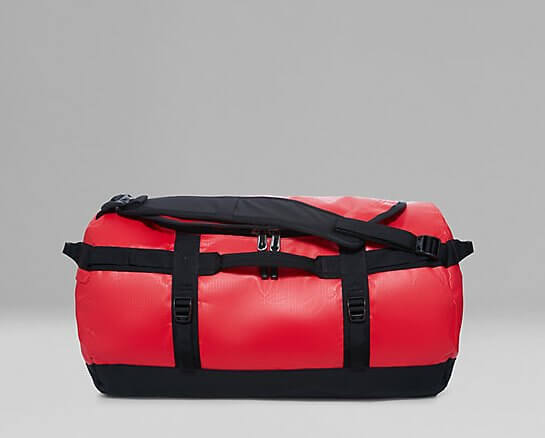 What: Base Camp Duffel Small  (£95)
The Lowdown: With 50 litres of capacity, there's plenty of space for your essential clothes and gear. The updated ergonomic alpine-cut shoulder straps minimise twisting to ensure hours of comfortable carrying, while new padded side handles serve as both duffel and haul handles for when you want to give your back a break.
Where: Order online 
Fitness Gift Guide: Accessories
What: Blush Edition (£29.95)
The Lowdown: Stay Sixty aims to make some form of impact by creating a desirable, reusable, alternative to single use plastic bottles. Each Stay Sixty water bottle is designed in London, beautifully crafted from stainless steel and designed to fit effortlessly into your daily routine.
Where: Order online 
What: Nokia Steel (£119.95)
The Lowdown: This urban-chic hybrid activity tracker boasts a premium stainless steel analogue face, paired with sophisticated tracking technology for walking, running, swimming and sleeping. The watch has automatic activity recognition and requires no charging, and no changing gear.
Where: Order online 
What: TRX Home2 System (£159)
The Lowdown: Developed specifically for the 'at home' user with a busy lifestyle, the TRX Home2 System features the equipment, workouts and education materials needed to perform hundreds of exercises to build strength, flexibility, core stability and power, anywhere, anytime. To use at home, simply throw the padded anchor over any door and unlock a limitless amount of bodyweight exercises.
Where: Order online 
10. For Wireless Earphones: Sony
What: EXTRA BASS Wireless Sports In-ear Headphones (£70)
The Lowdown: EXTRA BASS sound gives you more motivation, whether you're at the gym or on the street. Enhanced low frequencies make music sound more powerful, so you feel energised and driven. And Bluetooth connectivity lets you listen for up to 8.5 hours without wires getting in your way.
Where: Order online