In association with POD, as part of POD Health Week, we've found the most fun, challenging and awesome ballet workouts in town. Now everyone plié.
1. For Tone: barreASANA at barrecore
What: barrecore integrates the fat-burning format of interval training with static stretches after each major muscle is worked. The incredible changes you'll see through barrecore are the results of working and exhausting all muscle groups. Each 60-minute workout targets the major muscle groups and improves posture and alignment no matter what your fitness level. This is how we effectively, efficiently and safely reshape the entire body, creating the highly coveted barre body.
Why: Try barreASANA – it will challenge you physically and mentally as you continuously flow through each pose whilst incorporating barrecore signature positions to inspiring and uplifting music blending rock, reggae, hip hop, and chilled out beats. This fast-paced class will tone your limbs and tighten your core, leaving you feeling lengthened, worked-out and mentally centred for your day ahead.
How Much: £28 per class
Where: Multiple London studios here
2. For Sculpting: Ballet Body Sculpture
What: Ballet Body Sculpture is a unique elegance, posture and fitness program for women, fusing the highly developed aesthetic nature of classical ballet training, with a mind body connection necessary to retain a wonderful and attractive outline for all occasions. The system, combining Ballet, Stretching, Pilates and NLP techniques, was created by the founders of Ballet Body Sculpture to help and develop our clients inner sense of well being, with an outer radiance synonymous with the top performers of this classical art form.
Why: Their expertise comes from many years working at the highest level of international ballet. More than simply dance, ballet professionals are athletes who understand anatomy and body mechanics more than any discipline. The program is based on many years of body/ mind management, working with injuries and recovery whilst still maximising  peak performance.
How Much: £20 per class – book here
Where: Multiple London locations here
What: London based Ballet-tone is a dance and fitness class designed for dancers and fitness fanatics to tone, strengthen, stretch and challenge. It incorporates classical ballet moves as well as contemporary dance, yoga, body conditionning and many more disciplines. Done to traditional ballet music as well as pop tunes, it blends body toning, posture and alignment work, flexibility exercises and yoga inspired movements
Why: The class has been created to define and lengthen the muscles, help achieve a graceful poise and encourage a deep sense of well-being. Ballet-tone helps men and women sculpt and improve the appearance of their body by elongating and toning the muscles. It's taught by Alexandra who has spent the last two years as dancer and dance captain of Midnight Tango, a show by and with Strictly Come Dancing's stars Vincent Simone and Flavia Cacace.
How Much: £20 per class
Where: Multiple London locations here
4. For Results: Barre Workout at Barreworks
What: At Barreworks, expect a unique class that combines elements of ballet training and athletic conditioning. You'll discover a workout devised to incorporate every aspect of a dancer's approach to training, from basic barre work to strength training and physiotherapy. The music, exercises and movements enhance grace and posture, promote exceptional muscle conditioning and definition, flexibility and balance. The class is held to a soothing soundtrack of some of the most loved ballet scores in the world.
Why: Using the ballet barre as a basis for a complete body workout, the exercises involve dynamic and static movements, isometric holds, core strengthening and luxurious orthopaedic stretching. A fun, fast-paced and deceptively challenging work-out improves cardiovascular stamina and tones and sculpts each muscle group. From full, 60-minute Barreworks WorkOut, to a 45-minute Express class and a 75-minute, advanced class, you'll find the right work out for you.
How Much: £25 per class
Where: 21, Paradise Road, Richmond, TW9 1SA
5. For Bespoke: Barre Workout at Slice Studios
What: This conditioning class uses high repetition and full-range movements to develop lean muscles. The challenge begins by training upper and lower body with a focus on posture and core strength, and ends with a focus on flexibility, balance and overall wellbeing. Give your best and achieve a leaner, stronger body with greater range of movement.
Why: Slice believe in challenging both the mind and the body. Rest assured that their class sizes are limited to ensure the personal experience is never diluted. For more sweating, try Barre Workout – this class is a dance-inspired fitness class designed to lengthen, strengthen, align and tone with Ballet-style exercises at the barre and centre floor moves to modern tunes – for anybody seeking a dancer's body. 
How Much: Memberships from £49 per month – see here
Where: 11 Heathmans Road, Parsons Green, London SW6 4TJ
6. For Pros: Ballet Fusion at The Factory
What: Ballet Fusion at The Factory combines the basics of ballet technique with the gracefulness of movement in general, to create a fusion workout for the complete beginner or someone returning to ballet after a long break. The ballet fusion class builds from an easy dance warm-­up, to the barre where the basics of the technique of ballet are established. The correct posture is stressed, as well as the inner strength the barre exercises require and the coordination to music you need.
Why: Throughout the ballet fusion classes you will have increased flexibility, an improved core strength, posture and balance along with enhanced coordination. You will also see your muscular strength improve and in­turn your endurance levels increase.
How Much: Apply for membership here
Where: 407-409 Hornsey Rd, London, N19 4DX
7. For Fitness: Barre Fit Workout at The City Academy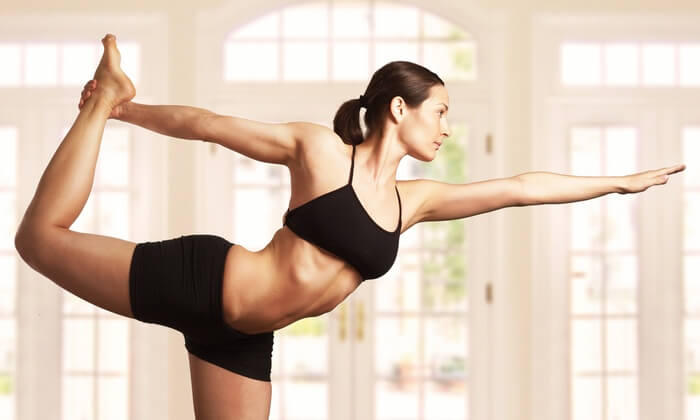 What: These Barre Fit classes work on core strength by combining toning exercises, Pilates, and ballet barre work. This dance-based conditioning workshop focuses on sculpting your body, improving core strength and flexibility. These classes mix relaxing stretching exercises with cardio interval blasts to get your heart rate going. Under the guidance of their instructor, you will work on sculpting your whole body from head to toe.
Why: City Academy is one of London's leading creative and performing arts academies specialising in dancing, acting, singing, musical theatre, comedy, filmmaking, screen,writing, life skills classes, art & design, and photography classes for people from all walks of life. This class is taught by Ruby, who has been a practitioner of yoga, pilates and ballet throughout her life, the class will surprise and challenge you. What's more, you have to book in blocks, so there's no excuse!
How Much: 6 weeks for £90 – book here
Where: 30 The Piazza, Covent Garden, WC2E 8BE
8. For Expert Guidance: Heartcore Barre
What: The Heartcore Barre technique uses intelligent sequencing of choreography and isolated micro-movements which work the muscle fibres to the point of fatigue. Energising beats combined with the Heartcore precision technique deliver a fast, efficient, fun workout that gets immediate results. All in 55 minutes.
Why: The aesthetic benefits delivered are micro-sculpted curves: long lean limbs; sexy tight upper arms, toned elongated legs; zipped in waistline – creating a natural 'corset effect' and a lifted curvy butt. The reported physiological benefits are the reversing of age related muscle loss, increased flexibility, improved alignment and posture.
How Much: £27 per class
Where: Multiple studios here
9. For a Burn: Total Barre Endurance at Bamboo Fitness
What: Total Barre is designed to emphasise the correct biomechanics of movement combined with the power of music to increase strength, flexibility and stamina. This challenging workout really packs a punch, you will feel pushed to the max but will leave feeling refreshed not exhausted. The cardio element is increased with a slightly faster pace and more complex choreography, this class will hone and tone the entire body.
Why: For a challenge. Starting at the barre, using bands and the mini stability ball to increase the challenge, they finish on the floor with a core strengthening and stretching routine that will build the lean physique of a dancer, teaching you to move with grace and ease.
How Much: £13 per class
Where: 1 Paxton Mews, Westow Street, Crystal Palace, London, SE19 3RW
10. For Technique: Barre & Stretch at Pineapple Dance Studios
What: Alex's Barre & Stretch is about increasing strength, flexibility and improving technique through alignment. Alex's individual attention to positioning and the wide range of popular music throughout, creates a atmospheric environment to work hard in and get results!
Why: For technique. This class starts with a 35-min Barre section focusing entirely on improving technique. The remainder of the class includes a full body stretch aiming to work the dancer, enhancing flexibility by lengthening and strengthening the muscles. You'll come away with person attention; Alex is keen to give personal corrections and tips to help the development of each dancer.
How Much: £8 per class
Where: All information here
Sponsored post in association with POD – to take part in POD Health Week, follow them on Twitter for more health and fitness tips and like them on Facebook.