Looking for something fun to do in London this week? Don't worry, we've got you covered – from pop-ups to sherry evenings, here's how to spend your week in the capital:
Monday 
1. For a Special Pop-Up: The North Face
What: The North Face has gone all trendy on us. Popping up at their new digs on Earlham Street, the lifestyle brand will be stocking their snazzy gear suitable for urban exploration, with fresh garms shipped from Japan and America weekly. The pop-up, which is open from today, will run for six months.
Why: Products ranges will continually drop in-store throughout the opening period with the kick-off line including favourites such as the Base Camp Duffel and Mountain Jacket. There's plenty of coats, including their Thermoball jacket to keep you warm during the bitter winter months and loads of other outerwear to give you all the room to explore.
Price: Free entry
Where: 7 Earlham Street, London
2. For a Masterclass: Swan, Shakespeare's Globe
What: This September, Swan,Shakespeare's Globe will partner with Gosnells London Mead to launch Mead Mondays – a series of fun and interactive talks on the increasingly popular honey based drink, to be held on every second Monday of the month, until November. Favoured by Shakespeare and referenced in his works Love's Labour's Lost and The Merry Wives of Windsor, mead is the focus of each event, and the star ingredient in a bar menu and cocktail list specially created for the series.
Why: Today (12th), the masterclass concentrates on mead and food pairing, followed by a tasting. During and after the talks, enjoy the mead-inspired bar menu with dishes including; spiced mead chicken wings, mustard and mead glazed pork belly chunks, spiced cauliflower with spiced mead dip, and mead bread crisps with young sheep cheese and thyme honey.
Price: Cocktails from £9. Mead Mondays will commence at 7.30pm with a 30 minute talk, followed by Q&A time.
Where: Swan, Shakespeare's Globe, 21 New Globe Walk, Bankside, London, SE1 9DT
Tuesday 
3. For a Tapas and Sherry Evening: Donostia Social Club
What: Basque small plate specialists, Donostia Social Club are running a special tapas and sherry evening with Hidalgo Sherries at Pop Brixton. The event will kick off at 7:30pm, with attendees treated to five tapas dishes, paired with five matching sherries, and a speech from producer Fermin Hidalgo.
Why: Highlights from the menu include; chicken liver and licor 43 parfait, with sweet almonds and Gordal olives, served with Hidalgo La Gitana Manzanilla, and sea bass with serrano ham, aubergine and sun blushed tomatoes, paired with Hidalgo Prestigo Amontillado Seco Napoleon. For dessert, dig into tortas with dark chocolate, orange, olive oil and sea salt, served with Hidalgo Prestigio Pedro Ximenez Triana.
Price: Tickets are priced at £35 per person, and are available here
Where: 49 Brixton Station Rd, London SW9 8PQ
4. For a Whisky and Food Pairing: The Cinnamon Club x Johnnie Walker Whisky 
What: Join The Cinnamon Club this Autumn for a series of one-off spirit tasting events, sampling premium and unique spirits paired with Head Chef Rakesh Ravindran Nair's modern Indian plates. Set within the Old Library Bar in the Grade II-listed Old Westminster Library, each evening will educate and entertain with an ambassador from each brand on hand to talk through the history, culture and taste of each tipple.
Why: On Tuesday, The Cinnamon Club and Johnnie Walker Whisky will join forces for a special evening. The session will begin by sampling the classic Black label, paired with an in-season game roll with smoked paprika raita; followed by the Platinum 18-year-old label complemented by char-grilled guinea fowl with mace and cardamom. The rare Blue label pairs with a delicate shrimp curry with coconut and green mango sauce, whilst the honeyed Gold label will satisfy any sweet tooth alongside Rakesh's honeycomb crumble.
Price: £55 per head. Tickets here 
Where: Old Westminster Library, 30 – 32 Great Smith Street London SW1P 3BU
Wednesday 
5. For Live Music: 100 Wardour St
What: 100 Wardour St in Soho, are launching their new Soul and Motown night, Soho Soul Town. Every Wednesday 100 Wardour are bringing Soul to Soho with Motown Revue live on stage, with vocals from Alex Charles, Matthew Allen and Mark Asare.
Why: The diversity of each show takes you on a journey through time, celebrating Stevie Wonder, The Four Tops, The Temptations and The Supremes, as well as many others that defined the "Soul Era". Grab a glass of Prosecco and head for the dance floor.
Price: Free entry. Cocktails from £10
Where: 100 Wardour St, Soho, London W1F 0TN
6. For Whiskey Wednesdays: The Sun Tavern
What: Specially for September, The Sun Tavern have launched their 'Whiskey Wednesdays'. Every month, The Sun Tavern partners with a rotating guest whiskey distiller to craft a bespoke dedicated cocktail menu, available on Wednesdays only. This September, the bar has joint forces with Dewar's Blended Scotch Whiskey to create a selection of 4 whisky based cocktails paired with Scotch eggs by Pig and Hay.
Why: Try the Eternal Autumn cocktail, a combination of Dewar's 12 year, Pomona, gooseberry and bayleaf shrub and lemon, best enjoyed with a pork and herb Scotch egg. The porridge cocktails tastes better than it sounds – Oated Dewar's 12 year, raisin and honey water, almond milk, lemon, and topped with Umbrella Brewing Ginger Beer. 
Price: Free entry. Cocktails from £9
Where: 441 Bethnal Green Rd, London E2 0AN
Thursday
7. For a Free Production: Open-Air Theatre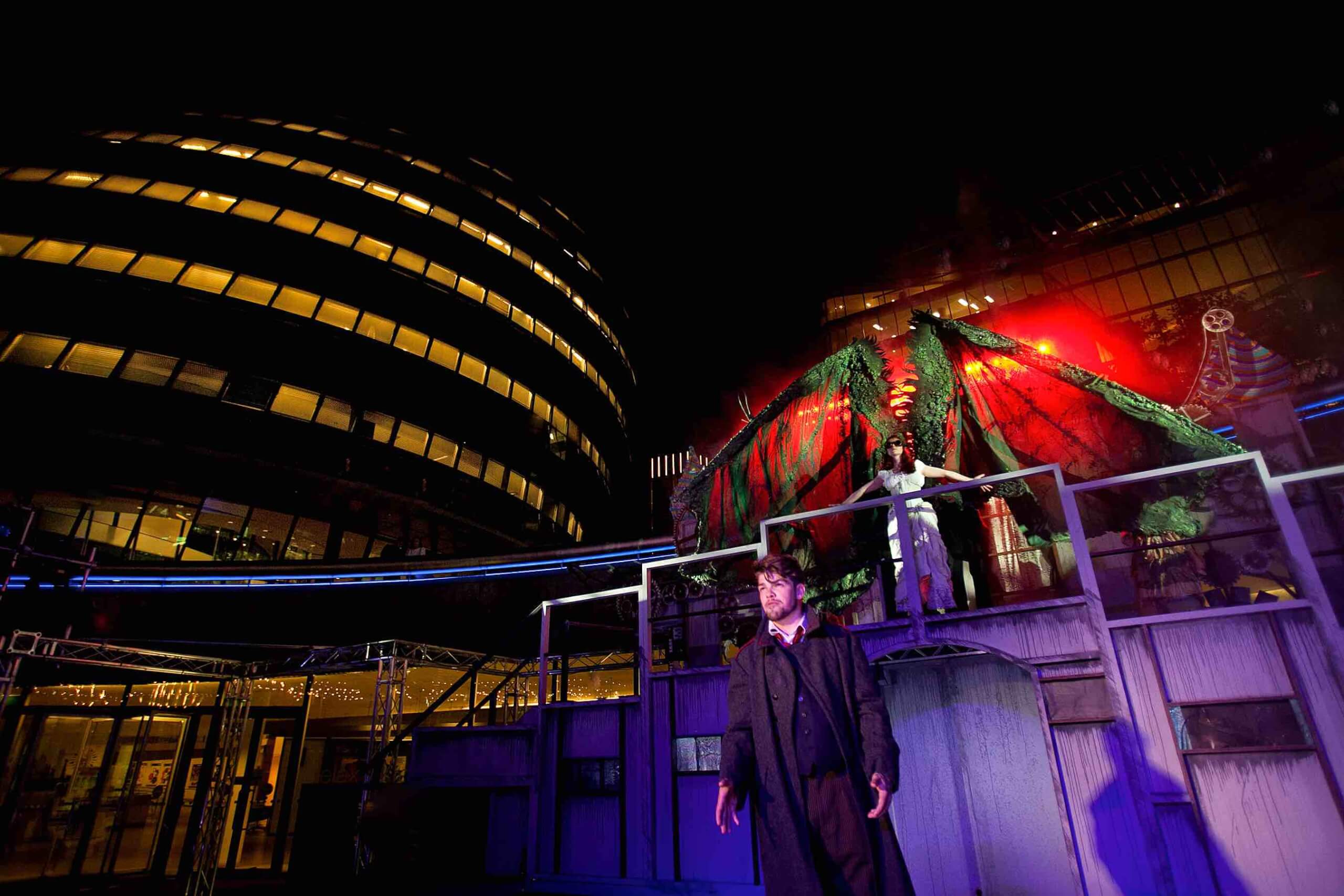 What: Gods and Monsters have made a last minute change to their repertoire this summer, offering 20,000 free seats to a family production celebrating Poland's mythology. Collaborating with Polish theatre maker Nastazja Domaradzka, Gods and Monsters will bring to life Krakow's Dragon of Wawel, one of Poland's most enduring, much loved and iconic myths.
Why: The Wawel Dragon will play alongside a new rock musical of Dostoyevsky's Crime and Punishment, with songs by the legendary Toyah Willcox and her song-writing partner, Simon Darlow. London's Free Open-Air Theatre Season offers 40,000 free tickets for great theatre within the heart of London. Running since 2003, this is still London's only 'free to all' annual festival of theatre.
Price: There's no need to book – just turn up and take a seat! See timings here.
Where: The Scoop, London Bridge City, SE1 2DB. The Scoop is located on the south bank of the River Thames, between London Bridge and Tower Bridge, next to City Hall.
Photo Credit: Sheila Burnett