Looking for some last minute Christmas presents? We've all been there – the mad rush about John Lewis to find your Aunty Paula a gift that isn't a box of chocolates and a reduced umbrella. But good news, folks. AT have come to the rescue. If you're a last minute Laura like us, we've discovered 20 great gifts that will raise a smile come Christmas day. Let's get shopping:
Last Minute Christmas Presents: Healthy Gifts
For Smoothie Lovers: Nutribullet
What: Nutribullet Smoothie Maker with 3 Drinks Compartments (£55)
The Lowdown: Get more out of your smoothie with this distinctive graphite-coloured Nutribullet. A huge step up from juicing or blending, this clever appliance uses a powerful cyclonic action to break down every element of fruit and veg – stems, seeds and skins – so that you benefit from every last drop of goodness.
Why: The 600W motor makes light work of liquidising tough food, and even ice – for a deliciously smooth, pulp-free drink every time. And, the cups and blade are dishwasher safe and super-easy to rinse clean after use. The Nutribullet extracts more nutrition from fruit, veg, nuts and seeds – it's sleek and compact, and fits beautifully into your kitchen.
Buy: Online here
What: Proskins Active ZigZag Leggings (29.99)
The Lowdown: Since 2005, the experts at Proskins have been driven to create innovative and high quality health and beauty garments. A 100% British owned company based in Nottingham, England, all their products are designed and tested in the UK by leading experts, to create clothing that inspires women to achieve their goals. Right on.
Why: Proskins Active ZigZag Leggings are designed using high technology fabric which is muscle supportive, sweat wicking and enhances blood flow. This high stretch fabric provides maximum comfort, allowing unrestricted movement. Featuring a classic comfort fit waistband which sits above the hips, to provide extra security and a flattering shape.
Buy: Online here
What: Nature Grass Yoga Mat (£30)
The Lowdown: Bring a little of nature with you wherever you practice with this bright grass print yoga mat – we love this yoga mat for a sense of calm and serenity when you practice. It folds away for easy use, and you can pop it in your bag for random acts of yoga.
Why: After the festive period, everyone's going to need a little downtime in their life. Give the gift of a downward dog this Christmas, eh?
Buy: Online here
Last Minute Christmas Presents: Chocolate Gifts
For Chocoholics: Chocolate Ecstasy Tours
What: Golden Ticket to a Chocolate Ecstasy Tour (from £41.50 for a chocolate tour in London or £37.50 for an Ice Cream Tour)
The Lowdown: Expect to see London in a different – and much more delicious – way. Each tour includes a rich hot chocolate which you will enjoy whilst hearing your expert guide tell you all the tales of chocolate, before being led along London's beautiful streets to step into sweet boutiques to sample delectable treats. As you walk you'll be told fascinating facts about London. Most importantly, by the end of the tour they promise you'll be completely full of chocolate!
Why: Chocolate Ecstasy Tours was the original London tasting tour, founded in 2005.  All of their guides are experts in chocolate and knowledgeable about the city, too. Groups are small so you won't feel like you're being led along on a school trip. There are over 300 5-star reviews on Tripadvisor. Who wouldn't enjoy spending a morning eating chocolate?
Buy: Online here
For an Experience: Chocolate Making Workshop
What: Chocolate Making Workshop (from £69)
The Lowdown: This workshop, available at various locations, including Bournemouth, Manchester; Camden, West Kensington, and Bath, will let you create some of your very own tasty chocolate truffles. If you've never tasted handmade chocolate created from the freshest ingredients before, then first and foremost you can expect this workshop to be a revelation to your taste buds!
Why: An absolute must for chocoholics, this workshop is both educational and indulgent in equal measures. To begin your experience you will meet your master chocolatier who will begin by talking about the history of chocolate, for example, the journey of the coco bean to the chocolate bar and when chocolate was first discovered. Then it will be time to get your hands messy by making your own chocolate treats. At the end of the course you will be able to take your chocolate truffles home to share with your friends, or alternatively to indulge in all by yourself!
Buy: For further information visit here or call Great Little Breaks on 01905 899 524.
Last Minute Christmas Presents: Gifts for Her
For Pamper Princesses: Neville Salon
What: The Caviar Cure (£150)
The Lowdown: Give the gift of great hair this Christmas. Pop into Neville Salon for an indulgent and blissful hour-long treatment, designed to make hair feel and look incredibly soft and shiny. The Caviar Cure bespoke masque enriched with essential fatty acids and ceramides is combined with antioxidants as well as vitamins A and E to help cleanse and revitalise hair from top to bottom.
Why: Perfect for all hair types, this treatment works to rid the scalp of impurities whilst strengthening hair fibres and imparting mirror-like shine. You'll leave feeling a million dollars, that's for sure.
Buy: Book online here
What: 2-In-1 Imitation Leather Backpack (£17.99)
The Lowdown: A textured imitation leather and sophisticated design make this bag a must-have everyday accessory. Wear it comfortably on your back or slung over the shoulder, the multiple straps allow for various carrying options.
Why: The spacious design impresses with numerous pockets on the inside so you can store all of your daily essentials with ease. Also, it looks super cool and doesn't hurt the planet.
Buy: Online here
Last Minute Christmas Presents: Kitchen Gadgets
What: Andrew James 5.2L Food Mixer with Mixing Attachments (£74.99)
The Lowdown: This great value mixer is really easy to use, and has 800W of power so it can handle large batches with ease, making it ideal for frequent bakers as well as beginners. If you're looking to buy a great gift for a baking-lover, this is the one for you.
Why: The attachments include a standard beater, flexi-beater, balloon whisk and dough hook, so the range of foods you can mix is extremely versatile. The included splash-guard means your kitchen stays clean as you mix, plus you even get a free silicone spatula to help with scraping out your mixes.
Buy: This mixer is available exclusively online, and with free UK delivery.
For Cooking Mavericks: Sage Appliances by Heston
What: The Sage Boss, £399.99
The Lowdown: Easy to create everything from scratch – green smoothies to hot soup, from sorbets to hummus and nut butters to flour. One touch functions. Minimum intervention. Total control.
Why: The Boss™ features a high velocity ProKinetix® blade and bowl system that pulverises virtually any combination of ingredients. Creating up to 50% smaller particles than traditional blending. This super fine texture creates a smoother mouth feel than what traditional blenders have been able to achieve. With one touch functions including the world's first 'Green Smoothie' function and variable speeds ranging from a slow stir to a pulverising high speed mill. Now you too can enjoy the 'finer' things in life.
Buy: John Lewis, Lakeland, Amazon and other department stores.
Last Minute Christmas Presents: Fine Food Gifts
What: The Three Tenors Gift Box (£25)
The Lowdown: Stay with us, people, because Nudo Adopt  isn't just olive oil. It's so much more. Nudo Adopt is a collaboration of small scale, artisanal producers, which acts as a platform for micro-producers to bring high-quality, speciality food to a wider audience. The website allows you to gift an olive oil tree to yourself or a friend, and over the course of a year – you'll receive olive oil from your very own tree. If that's too much – they also sell pretty nifty gift sets
Why: Trio of Nudo olive oils takes you on an armchair 'Grand Tour' of Italy. From the fiery southern chilli-infused oil to the seaside breeze of their stone ground lemon oil, to the mountains and the calm of Nudo's prized extra virgin olive oil – this gift set has oils to suit any occasion and dish.
Buy: Online here
For Tea Lovers: Rare Tea Company
What: Rare Tea Company 'The Oolong Set' (£50)

The Lowdown: Rare Tea Company, the independent London-based tea company renowned for supplying the world's best restaurants with tea and herbal infusions, have created the perfect gift sets for loved ones near or far this festive season. Their Oolong Set in particular is perfect for the tea adventurer.

Why: This gift includes a Gaiwan Set – traditional Chinese teaware consisting of a lidded teapot used since the Ming dynasty, a jug, strainer and tasting cups. Ideal for making many infusions of the same tea, the pot is instrumental in revealing the hidden nuances of flavour locked inside.  The set is accompanied with three different oolong teas, including: Sunset Oolong (Taitung, Taiwan), Oolong also known as the Iron Goddess of Mercy, and the top grade Very Rare Oolong (both from Anxi, China). This perfect set comes in a handy travel case for the tea explorer.

Buy: Online here
For Matcha Lovers: Clearspring
What: The Traditional Japanese Matcha Kit (£36.50)
The Lowdown: The Matcha Kit embodies all the traditional elements of the art of the Japanese tea ceremony. The set contains a traditional Tea scoop (The Chashaku, 茶杓) and a Tea Whisk (Chasen 茶筅), both hand woven out of bamboo, as well as the organic ceremonial Japanese matcha powder.
Why: Matcha tea is a staple of the Japanese cuisine, and it's health properties have been part of the Japanese diet for over 900 years – Buddhist monks used to consume it during their log days of meditation. It is therefore an exceptionally unique gift for those who love their food and exploring different culinary experiences. Clearspring's Organic Ceremonial Matcha comes from Uji, a region high in the hills around Kyoto, only accessible by foot, renowned for producing the best Japanese teas.
Buy: Online here
What: Spice Pots Winter Warmer Gift Box (£14.50)
The Lowdown: A gift box with 3 Indian Spice Blends in eye-catching Indian inspired colours, beautifully presented. The box contains a Korma, Goan and Tandoori Masala Spice Pot along with recipes and meal ideas.  How about whipping up some Korma Samosas for your party guests or feeding a house full with our simple curries? Or spice up some couscous or roasted vegetables. Yum.
Why: Their blends have absolutely no nasties in them at all and are naturally gluten, salt and sugar free. Their mission is to make it easy to make a tasty, healthy dinner even if you are really busy – their recipes are very  simple and you can whip up a gorgeous Indian-Inspired meal even with the most basic ingredients.
Buy: Online here and small independent shops all over the UK
What: Authentic Persian Cooking Set, £37.50
The Lowdown: Sabrina Ghayour's vibrant Persian cookbook and essential ingredients, which includes some lovely Persian spices to cook with and brilliant recipes.
Why: Discover the flavours of Persia with Sabrina Ghayour's stunning introduction to this vibrant cuisine. This set comes with the hard-to-find, authentic ingredients you'll need to get cooking right away. And for a limited time only, each Authentic Persian Cooking Set comes with a chance to win a spot on a cookery class with Sabrina herself!
Buy: Buy online here
Last Minute Christmas Presents: Drinks Gifts
15. For Gin Lovers: Warner Edwards
What: Warner Edwards Limited Edition Victoria's Rhubarb Gift Tin (£20)
The Lowdown: The tin includes a convenient tasting size bottle of 20cl and is delicately decorated with the Warner Edwards signature design – the perfect stocking filler for any gin enthusiast.
Why: Fit for a Queen, the rhubarb gin is produced using a crop of rhubarb originally grown in the kitchen garden of Buckingham Palace during the reign of Queen Victoria.
Buy: Available online from 31 Dover, Fortnum & Mason, Amazon and a selection of independents.
17. For Christmas Tipples: Tia Maria
What: Tia Maria Christmas Gift Pack (£16)
The Lowdown: No other liqueur can make a coffee cocktail quite like Tia Maria's exotic infusion of natural vanilla and the finest fresh Arabica coffee beans roasted to perfection, complemented with a touch of Jamaican rum, make it ideal for creating coffee cocktails.
Why: Coffee cocktails have never been more in demand, whether it's an espresso martini or another innovative style – especially at Christmas.
Buy: Available in Sainsbury's, Tesco and Waitrose.
18. For Champagne Lovers: Champagne Billecart-Salmon
What: Champagne Billecart-Salmon Extra Brut Magnum Carafe Gift Set (£175)
The Lowdown: Billecart-Salmon is thinking big for the festive season this year with the creation of a Magnum Carafe Gift Set. Decant the accompanying magnum of Extra Brut to bring out the radiance and the purity of this champagne, enhancing its many captivating flavours and its delightful fruitiness.
Why: Inspired by the design of the original bottles created in 1818 by the House's founder, Nicolas François Billecart, the Magnum Carafe allows the cuvée to be delicately unveiled, for the aromas to be completely exposed and for the bubbles to soften. The colour of the wine is intensified as it is revealed, and is magnified through the art of service.
Buy: Harvey Nichols, Selfridges, ChampagneDirect.co.uk
Last Minute Christmas Presents: Foodie Hampers
For Something British: Afternoon Tea Hamper
What: Afternoon Tea Hamper (£43)
The Lowdown: There is nothing quite as quintessentially British as afternoon tea! This lovely hamper is filled with tasty teatime treats. A perfect gift to encourage a get together with the girls for a gossip or cosy family fun. Choose from a cup of English Tea or a glass of Prosecco and enjoy with a biscuit or cake. Thishamper is part of Bottled & Boxed 'British Hamper' range.
Why: The hamper contains: Coolmore Chocolate Fudge Cake, Mrs Darlington's – Seedless Raspberry Jam, Campbells cranberry and raspberry chip cookies, Racarons de Pauline and Candy Stripe Clotted Cream Fudge. To drink, there's also English Tea Shop – English Breakfast Silken Pyramid Bags and Bottega Gold Prosecco Rose. Glorious.
Buy: Online here
For Chocolate and Bubbles: The Bolney Estate
What: The Bolney Wine Estate Chocolate and Fizz Hamper (£55.00)
The Lowdown: With the Chocolate and Fizz hamper you can indulge in Bolney Blanc de Blancs, Goupie White Christmas Chocolates, Bolney branded sparkling wine stopper and Fudge Kitchen mini jar gift set. The set includes Sea Salted Caramel Liquid Fudge, Rich Chocolate Liquid Fudge, Vanilla Toffee Liquid Fudge & Chocolate Hazelnut Liquid Fudge.
Why: Bolney Wine Estate is one of the longest established English vineyards and has been making award winning English wines at its Sussex estate for over 35 years.Bolney Wine Estate has a fantastic selection of white, red and sparkling wines, which have won some of the wine industry's most coveted awards. The sparkling wine is produced following the same traditional method as is used to produce Champagne, providing luxurious, flavour-filled wines.
Buy: Online here
For an Ultimate Hamper: Forman & Field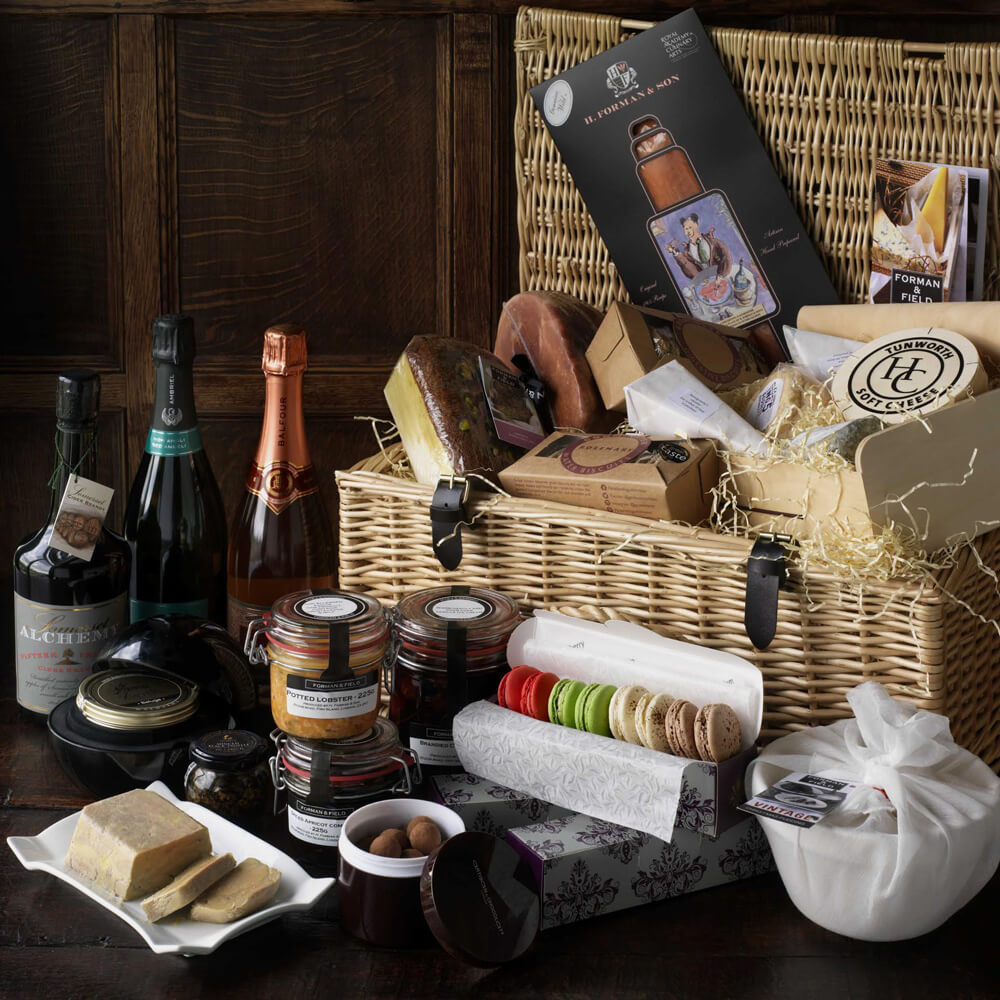 What: Forman & Field Ultimate Christmas Hamper £337.95
The Lowdown: With the Forman & Field Ultimate Christmas hamper you have everything for the very best festive feast: Zwyercaviar Classic, Forman's Grade One Smoked Scottish Sliced, Wild Smoked Salmon Pâté, Potted Lobster and Marmalade Glazed Alderton Ham. There's also cheese: Montgomery's Farmhouse Cheddar, Cropwell Bishop Stilton, and to go with, Kit's Kitchen Chutney and Spiced Apricot Compôte. There's also Nadell's Mince Pies, Forman's Vintage Christmas Pudding, Brandy Butter and Cranberry & Vintage Port Sauce. To drink, there's Bolney Cuvée Noir 2010, Somerset Pomona, and finish: Artisan du Chocolat Chapel Down Truffles. Glorious.
Why: Forman & Field is the artisan food delivery service offering the very best in British gourmet foods. All of the dishes are either handmade within the H.Forman & Son smokehouse or sourced from artisan producers and family-run specialists meaning you can get the very best of what the country has to offer delivered straight to your door!
Buy: Online here
For Breakfast Lovers: The De Beauvoir Deli
What: The De Beauvoir Deli Breakfast Box £36
The Lowdown: Presented in a beautiful gift box, The De Beauvoir Deli have curated a wonderful selection of breakfast items from five artisanal London producers. The box contains Monmouth coffee, London Honey Co honey, Honey & Husk granola, De Beauvoir Deli marmalade and Rare Tea English Breakfast tea.
Why:  You've got everything you need for breakfast in bed, and enough coffee to get you through the festive season. We love.
Buy: Online here with nationwide delivery or in store.