Top 10: Summer Terraces You Need to Visit in London This WeekendBy Alicia Grimshaw
We don't know how long this warm weather will last, so let's all run to an outdoor terrace and bask in the glorious sunshine. Don't know where to go? We've rounded up the best outdoor spots you should be visiting in London this week. Hello, summer:
The Lowdown: Madison atop of One New Change is London's worst kept secret. People flock from far and wide to nab a table and drink in the London views. Prepare for a wait on Friday nights and at weekends, but believe us – it's worth it. There's banging beats, heady cocktails and an all round great vibe. What's a twenty minute queue between friends? Nothing.
Eat and Drink: It only feels right when on a rooftop to drink a cocktail aptly title, Rooftop. This little number combines Hendricks gin, elderflower, apple juice, lime and Prosecco. The Terrace Tonic combines Bacardi, Frangelico, kiwi, apple juice and sugar –  it's the perfect summer tipple. Banish the drinking hunger with a portion of truffle fries, and goat's cheese and black pepper popcorn.
Gimme More: If you need more substance, swerve the bar snacks and go for the a la carte menu – we're talking about steaks, salads and a shed load of sides.
Where: Rooftop Terrace, 1 New Change, St Paul's, London, EC4M 9AF
2. For a Thames View: Wahaca Southbank 
The Lowdown: What's better than tacos? Tacos alfresco. That's what. Thomasina Miers, the lady and all round good egg behind Wahaca has brought the Mexican spirit to the Southbank branch. The terrace is completely made out of old shipping containers, with the outdoor space overlooking the Thames. It's an an ideal spot for a tequila cocktail or two, and a big bowl of nachos and that guacamole (it's all about the coriander paste, apparently).
Eat and Drink: The new summer menu is an electric mix of Mexican cuisine that Wahaca is so well known for. The gringa tacos are filled with grilled pork pastos, marinated in achiote and pineapple, served in a flour tortilla with melted cheese. Veggies, try the beetroot and goat's cheese toastada – hibiscus glazed beetroot, whipped goat's cheese and baby spinach. And, you're eating for a good cause. Every time these dishes are ordered, 20p will be donated to charities both in Mexico and in the UK.
Gimme More: Wahaca have a dedicated gluten-free menu, along with tons of vegan and veggie options. Everybody wins.
Where: Queen Elizabeth Hall, Southbank Centre, Belvedere Rd, London SE1 8XX
3. For a New Outdoor Space: Carousel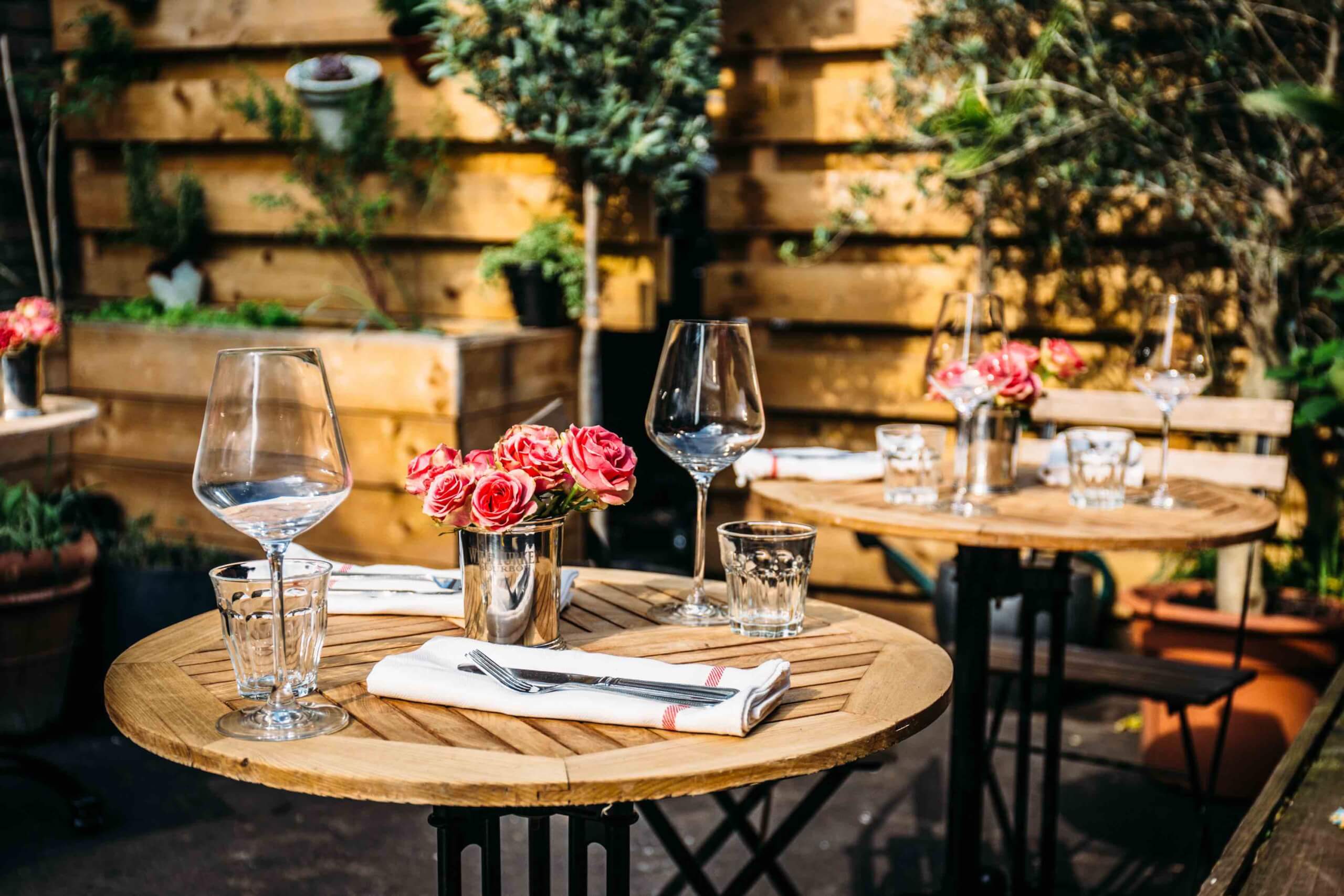 The Lowdown: Carousel is getting into the summer spirit with the opening of their new outdoor space. Located in the heart of Marylebone, the restaurant showcases a line-up of guest chefs, along with up and coming talent in the foodie world. Escape the madness of Oxford Street and head to Carousel. Nothing quite beats a chilled glass of vino in the London sunshine.
Eat and Drink: The menu changes on a daily basis, but expect dishes using the finest British produce. Head chef Ollie Templeton and his team are big fans of utilising seasonal and local ingredients. A constant fixture on the menu though is Ollie's signature Carousel Pork Sandwich, which is made with Gloucester Old Spot pork belly, house pickles, sriracha mayonnaise and piquillo peppers in a white sourdough panuozzo. 
Gimme More: The terrace can also be hired in its entirety for a summer party for up to 25 people.
Where: 71 Blandford St, London W1U 8AB
4. For a Gin Inspired Terrace: The Goring x Hepple Gin 
The Lowdown: The Goring has gone gin mad with the arrival of their Hepple Gin garden/safari extravaganza. Running throughout summer, immerse yourself in a mini forest of botanicals, gin masterclasses and a sniffological safari in the hotel's private garden. How very London.
Eat and Drink: A menu of new cocktails has been specially created by the Hepple team to bring the flavours of Northumberland to The Goring. These include; the Hepple Martini with Hepple Gin, dry vermouth and Douglas fir essence, and the Northside Collins, containing Hepple Gin, chocolate mint liqueur, lemon balm and lime, topped with apple juice.
Gimme More: To complement the Hepple cocktails, a menu of gin-inspired light bites – such as pine and juniper cured salmon with black bread has been curated by The Goring's Chef, Shay Cooper.
Where: The Goring, Beeston Place, London SW1W 0JW
5. For a Quiet Courtyard: York and Albany 
The Lowdown: If you've stalked our Twitter, you'd find that we practically live in York and Albany. They honestly whip up the best iced lattes in the Camden area, no lie. And now they can't get rid of us because they've opened their colourful vineyard pop-up. Tucked away in the secret courtyard; wine, dine and unwind in the sun trap under a leafy canopy by day and by candlelight at night.
Eat and Drink: The restaurant's summer menu offers a selection of dishes to enjoy with an extensive wine list. Dishes on the menu include Cornish plaice with Jersey royals; locally-sourced charcuterie with home-baked bread and pickles; and cinnamon sugar and rhubarb doughnuts. British wine options from Chapel Down, an award-winning winery located in the heart of Kent, include Chapel Down Brut Blanc de Blancs and Chapel Down Brut Rosé.
Gimme More: Their breakfast menu is a party in your mouth. Avocado on toast, scrambled eggs and smoked salmon and granola topped with berries. We heart York and Albany.
Where: 127 – 129 Parkway, London NW1 7PS
6. For a New Pop-Up: Bombay Sapphire x Hoxton Hotel 
The Lowdown: Bombay Sapphire have buddied up with their pals over at the Hoxton Hotel to celebrate the finest British drink in all of the land – the gin & tonic. The Bombay Sapphire Gin & Tonic Terrace aims to provide gin lovers the chance to try the humble gin & tonic served in weird and wonderful ways. Discover a new menu of bespoke ultimate gin & tonic twists co-created by Bombay Sapphire and the team at the Hoxton Grill.
Eat and Drink: Gin. All the gin cocktails. Sip on the Orchard' Spritz featuring Aperol, rose and peach, to Bitter Heart with Campari, passion fruit and blackberry, and Sons of Raj featuring Kamm&Sons, the bittersweet botanical spirit distilled with ginseng and grapefruit.
Gimme More: The terrace is only running until the 4th August. Don't miss out on the gin loving.
Where: The Hoxton, Shoreditch, 81 Great Eastern St, London EC2A 3HU
7. For a Sunshine Spot: High Timber
The Lowdown: Sitting proudly above the River Thames on secret High Timber Street is High Timber, home to  fabulous wines and modern British food with real South African flair. Situated next to London's Millennium Bridge and opposite the Tate Modern and Globe Theatre, High Timber is home to some of the best and most unique views in London. Outdoor terraces in London doesn't get much better than this.
Eat and Drink: The menu is modern with European influences. The emphasis is on fresh, high quality ingredients that have been locally sourced. Think hefty hunks of steak, cured meats and a few veggies dishes thrown in for good measure.
Gimme More: High Timber's wine cellar is home to around 25,000 bottles of the world's finest and rarest vintages. You'll never be parched here.
Where: 8 High Timber St, London EC4V 3PA
8. For a Slice of France: Les 110 de Taillevent 
The Lowdown: The stunning new terrace at Marylebone's 110 de Taillevent is the ideal place to sit back and sip one of 110 different wines, away from the selfie stick mob and department store shoppers of Central London. Les 110 de Taillevent, is the London offshoot of the Michelin starred and critically acclaimed Les Taillevent in Paris. This little terrace is all about the French vibes.
Eat and Drink: The menu has been created by the team in Paris, so prepare yourself for seasonal French inspired dishes. Each main comes with a choice of four wines in four price brackets, opening up the world of wine pairing to every budget.
Gimme More: Their meringue souffle served with season berries and coulis is the best thing this side of the channel tunnel.
Where:  16 Cavendish Square, London W1G 9DD
9. For an All Weather Terrace: Cha Cha Moon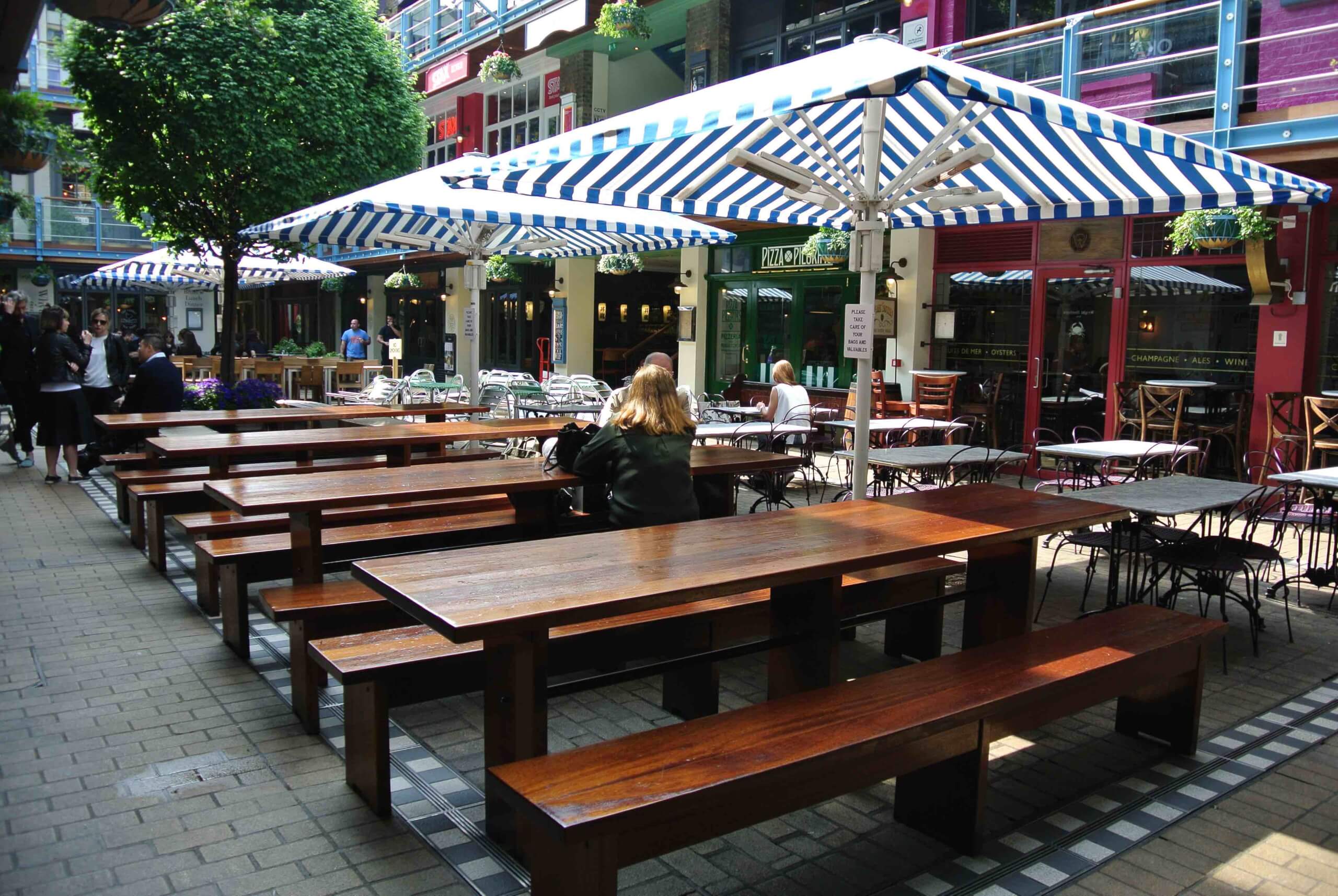 The Lowdown: Come rain, come shine – Cha Cha Moon's outdoor terrace have got you covered (quite literally, with their massive umbrellas). Cha Cha Moon's terrace is located in Kingly Court – a mecca for shopping, chilling and eating all the delicious grub.
Eat and Drink: Cha Cha Moon's menu offers South East Asian favourites including the Thai crunch salad, traditional Singapore fried Noodles, and seafood ho fun. Their wontons are sensational, and so are their buns – light, fluffy and incredibly moreish. Order a few, you'll gobble them down in no time.
Gimme More: Cha Cha Moon isn't just about the food – they also create a fine array of cocktails. Our pick is the Shibuya cocktail, fusing lychee, sake, and Martini Bianco, or if you're in need of a cool down, order a refreshing coconut water.
Where: Kingly Court, 15-21 Ganton St, London W1F 9BN
10. For Sky High Views: aqua kyoto and aqua nueva
The Lowdown: Why have one summer terrace, when you can have two. aqua kyoto and aqua nueva above Oxford Street have opened their outdoor terraces for the summer months. Ditch the muggy office and make your way to both these sky high bars for tipples, small plates and well, views.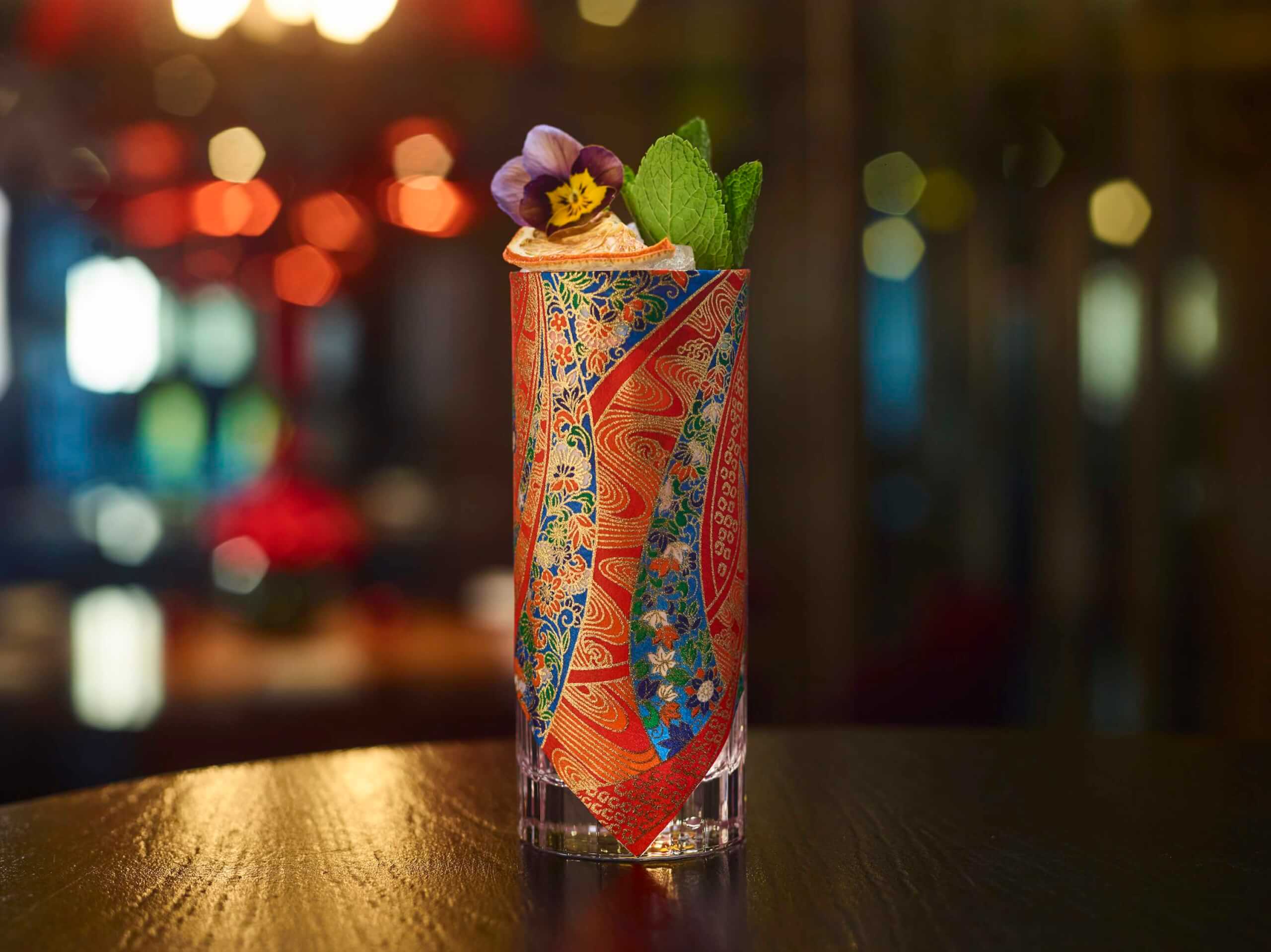 Eat and Drink: Channeling influences from both the Japanese themed aqua kyoto and Spanish themed aqua nueva, aqua london bar manager and master mixologist Nico Peratinos has crafted a selection of new offerings that draw on the style, flavours and heritage of the two contrasting cultures. Try the Origami cocktail – Ketel One vodka, Becherovka, Aperol, yuzu, kumquats and honey. Party. Time.
Gimme More: Make a pit stop at aqua nueva for their short rib of beef with potatoes and chimichurri. This dish will leave you speechless.
Where: 5th Floor, 240 Regent St, London W1B 3BR