There's sunshine in London. This is not a drill, people. If you're looking for a spot of al fresco dinner, here's our favourite summer terraces in London. We say: it's time to sip Pimm's in the sunshine:
1. For a Roof Terrace: Aperol Spritz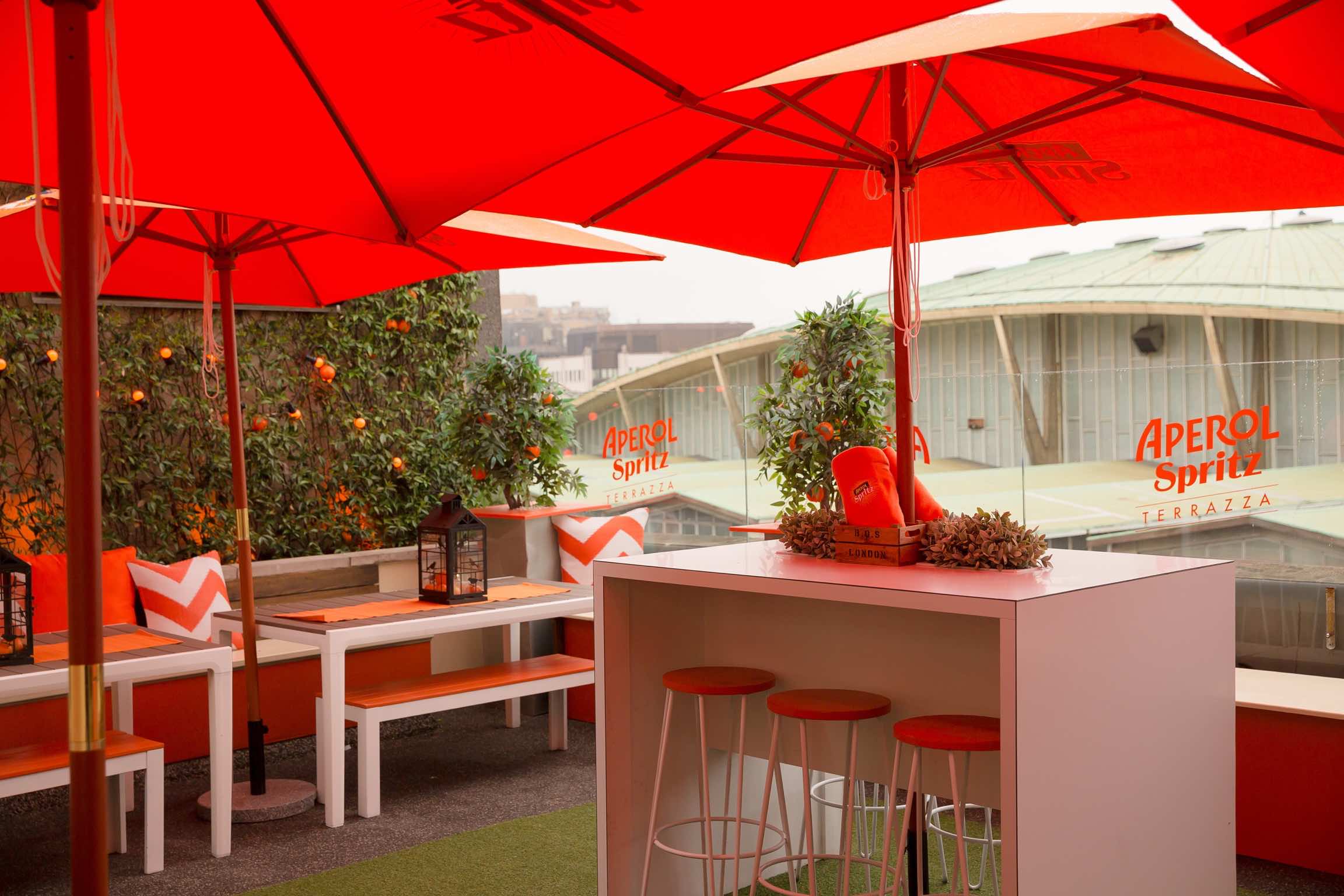 The Lowdown: Aperol Spritz, has unveiled a new brand home in the City this summer, the Aperol Spritz Terrazza. The rooftop bar, located at the Bird Of Smithfield is open for Aperol Spritz lovers to enjoy, six days a week until the end of August.
Eat and Drink: Aperol Spritz, obviously. The serve is made by mixing Aperol with Prosecco and a splash of soda in a wine glass full of ice and a slice of orange. Light, sparkling and refreshing, it's the ideal drink for starting the evening and for any social occasion. Small Italian plates are also available to keep the hunger pangs at bay.
Gimme More: There's a GIF photo booth, so get snap happy with the gals.
Where: Bird of Smithfield, 26 Smithfield, London EC1A 9LB
2. For a Fancy Beer Garden: Gaucho Hampstead 
The Lowdown: Gaucho Hampstead has just launched its newly designed terrace, which features wall flowers as part of its new botanical garden feel. Just in time for summer, the terrace's bar serves floral cocktails inspired by the design of the garden, and you can enjoy the a la carte menu expertly grilled on Gaucho's signature asado grill.
Eat and Drink: From 4pm-7pm at Gaucho Hampstead they showcase their grilling skills on their outdoor barbecue. True to their Argentinian style, The Sundowner menu includes dishes such as the Choripan Sandwich featuring Gaucho's homemade Argentine chorizo with green chimichurri in a soft ciabatta roll, and a spicy corn burger of crunchy corn fritters, chipotle chutney, coriander yoghurt and provolone cheese.
Gimme More: Try the fruity Melon and Apple Spritz – fresh honeydew melon shaken with apple and Stolinachaya Gold Vodka, topped with soda and Chandon. Delightful.
Where: 64 Heath Street, London, NW3 1DN
3. For a Gin Inspired Terrace: Jumeirah x Bombay Sapphire 
The Lowdown: New for summer 2016, Belgravia's al fresco restaurant and bar, The Terrace, has partnered with Bombay Sapphire, to offer a 'ginspired' selection of cocktails in a beautiful botanical setting. There's high tables with fire pits for cooler evenings and comfy sofas perfect for relaxing over cocktails. We don't need anymore persuading.
Eat and Drink: Incorporating Bombay Sapphire gin with its blend of 10 vapour-infused botanicals, the carefully crafted cocktail menu features a selection of contemporary classics.  Signature serves include the Dorothy Parker, a summery blend of Bombay Sapphire gin and Martini Bianco with fresh pineapple juice, lemon juice and a splash of grenadine, and the Bombay Sapphire Bramble with Bombay Sapphire gin, Chambord black raspberry liqueur, fresh lemon juice and sugar.
Gimme More: Executive Chef Martin Gabler's barbecue menu also returns with extra sizzle. Prepared to order on the outdoor grill, dishes include a selection of gourmet beef burgers and sandwiches, marinated meats and fresh seafood.
Where: 21 Lowndes St, London SW1X 9ES
Photo Credit: Giles Christopher 
4. For Al Fresco Dining: The Big Easy 
The Lowdown: We love The Big Easy. And what better way to enjoy your tray of ribs, than on their newly opened outdoor terrace. The 150 cover, west facing wraparound terrace offers a unique location in Canary Wharf to enjoy alfresco drinking and dining above the city.
Eat and Drink: If Canary Wharf is a bit of a schlep, come on the weekends for their epic brunch. Tuck into the Big Pig Gig – North Carolina chopped pork, pit-smoked Bar.B.Q chicken and St Louis pork ribs, 'slaw, pit-smoked beans, fries and fresh baked cornbread. There's also their Lobster Fest – a whole fresh lobster, lobster roll or lobster mac 'n' cheese served with fries and a house salad. Gym membership not included.
Gimme More: Eat a cronut the size of your face (or you can share with your pals if you're feeling nice).
Where: Crossrail Place, London E14
Photo Credit: Carol Sachs
5. For an Enchanted Jungle: St. James' Court, A Taj Hotel 
The Lowdown: You don't have to be on a roof terrace to enjoy the sunshine. The St. James' Terrace at the St. James' Court Hotel is a concealed courtyard away from the Buckingham Palace tourists and sea of selfie sticks. Kick back and relax on the luxury seating, or shade away from the sun under the covered terrace area.
Eat and Drink: They've launched the second of their Jungle Book culinary initiatives, The Jungle Book Dining Experience, featuring delights inspired by traditional cuisines from India, the setting of Rudyard Kipling's literary masterpiece. From Mowgli's vegetable biryani, to Shere Khan's lamb rogan josh and Kaa's stir fried chicken, the culinary journey promises to be a quirky experience for those who enjoy alfresco dining with a twist.
Gimme More: Stop by on an warm summer evening to enjoy the Jungle Book menu by candlelight.
Where: 54 Buckingham Gate, London SW1E 6AF
6. For a Country Setting: Inn the Park
The Lowdown: Set in the heart of St James's Park and surrounded by natural wildlife and beautiful views, lakeside contemporary British café and restaurant Inn the Park is the central London oasis and destination for all-day dining. Overseen by Head Chef Tom Catley, Inn the Park serves seasonal dishes, made from the highest quality British produce.
Eat and Drink: There's a 'Grab & Go' self-service bar offering a range of fresh sandwiches, hot bites to go including burgers and sausage rolls, warm drinks and delectable treats such as freshly churned ice-cream with all the toppings. For something heartier, try the fish and chips with rapeseed tartare sauce or their legendary Sunday roast. Alternatively, sink your teeth into their afternoon tea complete with clotted cream and jam.
Gimme More: Inn the Park is home to one of the broadest London craft lists, featuring 13 different varieties of craft spirits and a selection of craft ales. Bottoms up, then.
Where: St James's Park, London, SW1A 1AA
7. For Beats and Booze: McQueen 
The Lowdown: McQueen is ushering in the summer season with the launch of their brand new al fresco terrace, McQueen Outdoor. The new terrace has been designed by McQueen owner and interior designer Dezzi McCausland, and channels the same sense of rugged glamour found in the main venue, with the fully decked area complimented by exposed brickwork, quilted leather paneling and Chesterfield seating.
Eat and Drink: Tipples include the refreshing McQueen Spritz – Kamm & Sons, Crème de Cassis, Prosecco and soda, and the Cincinnati Cooler, a combination of Grey Goose vodka, Mandarine Napoleon, fresh mandarins, cinnamon syrup and fresh lime juice. There's an outdoor grill where you can feast on meat and other tasty summer delights.
Gimme More: Keep your stomach lined with their ultimate hotdog served with sauerkraut, English mustard and bacon crisps.
Where: 55-61 Tabernacle Street, London EC2A 4AA
8. For City Views: OXO Tower x Bloom Gin
The Lowdown: BLOOM Gin and the OXO Tower Restaurant, Bar and Brasserie recently announced the opening of THE BLOOM GIN TERRACE at OXO on the eighth floor of the OXO Tower which is running until the end of the summer.
Eat and Drink: Serving a bespoke menu of six cocktails, enjoy the Honey Pot, a combination of BLOOM Gin with lavender honey and bee pollen, or the Day Dreamer – a twist on the classic Collins, shaken with lemon juice and chamomile tea syrup to create a delicate and delicious long cocktail, all created by OXO star's mixologist Sophie Bratt.
Gimme More: The outdoor terrace boasts some of the best views over the Thames. Come just before sunset for the best picture perfect views.
Where: 2 Barge House St, London SE1 9GY
9. For Chilled Out Vibes: Yauatcha City
The Lowdown: Yauatcha City has just opened their new summer terrace overlooking Broadgate Circle. With powder blue seating and blooming pink cherry blossom trees, the terraces at Yauatcha City epitomise the balmy relaxed days and long summer nights in London. From Thursday – Saturday, kick back and listen to DJs spinning a variety of tunes.
Eat and Drink: New cocktails have been created for the terrace, including the smooth and zesty Amaro Spritz with
Belsazar red vermouth, Kamm & Sons British aperitif, cucumber, lemon, ginger ale and Moscato d'Asti. There's wine on tap and Moet Champagne on ice. And, no trip to Yauatcha would be complete with out sampling their dim sum. Hello, beef shui mai.
Gimme More: Their wagyu beef puff is a quasi-religious experience. Seriously, seriously good.
Where: Broadgate Circle, London EC2M 2QS
10. For a Holiday Feel: Sunborn London Yacht Hotel
The Lowdown: The Sundown bar is located on the 3rd deck of the Sunborn London Yacht Hotel in the docklands, and boasts sprawling views over the Thames and across the iconic skyline of the city of London. In case you're not a fan of open water, the yacht is permanently moored at the Royal Victoria Dock.
Eat and Drink: There's a sensational selection of cocktails, such as the Russian with love made with Absolute vanilla, Carpano Antica Formula, Apricot Brandy, apple juice and Angostura orange bitter, and the Champs-Élysées, a blend of Cherry Marnier, Drambuie, brown sugar and Laurent Perrier Rose, for a true taste of France. There's a light bites menu, think tapas dishes of Gibraltar style spiced baby squid, garlic croutons and baby chorizo sausages served with chilli dip.
Gimme More: The 128 metre Sunborn London yacht offers 136 spacious yacht bedrooms and suites spread over its 5 decks, and there's also a cinema room. Oh yes.
Where: Royal Victoria Dock, London