About Time: You Discovered London's Best Winter Terraces 2017By Angelica Malin
Looking for London's best winter terraces? We've got you covered. There's so many amazing new winter terraces in London, complete with boozy hot chocolates, faux fur rugs and fairy lights. Frankly, we're totally loving them. Here's where to get your festive in London right now:
The Run-Down: One of the best winter terraces in London, for sure. Winter At Dalloway is back and we couldn't be happier. Dalloway Terrace has been transformed into a magical, secret winter cabin, complete with hot cocktails, cheese fondue and a hearty menu of winter delights. What's more, the heated terrace provides hot water bottles and snug faux fur blankets to help with the winter chill.
Eat and Drink: Dalloway Terrace is embracing the Alpine spirit with a range of savoury and sweet fondue in collaboration with London favourite La Fromagerie. The savoury offering includes a selection of sourdough and pickled root vegetables with a classic Swiss cheese, or with charcuterie. For those with a sweeter tooth, look no further than the milk chocolate fondue with clementines, strawberries and banana – it's a real winner. Winter warmers include Dalloway Glögg, served with shaved almonds and crystallised sugar, and Just Another Rum Punch, with coconut Havana, Amaro Anino, sherry, tonka syrup and Thai tea.
Where: 16-22 Great Russell Street, London WC1B 3NN
The Run-Down: The Churchill Bar's seasonally themed alfresco terrace features classic London memorabilia, luxurious faux-fur lined seats, warming blankets and hot water bottles. Offering limited edition winter themed cocktails and fondue – this is one winter terrace you don't want to miss.
Eat and Drink: Executive Chef Mark Sainsbury and his team have created new warming winter dishes, adding a special twist to some of Churchill's favourites taken from Churchill's Cookbook, written by his beloved personal Chef Georgina Landemare. Winter dishes include a white truffle Croque Monsieur, homemade braised lamb and potato croquettes and for pudding, apple and hazelnut crumble. And good news: The Churchill Bar's famous Green & Black's chocolate and cheese fondues remain on the menu.
Where: 30 Portman Square, Marylebone, London W1H 7BH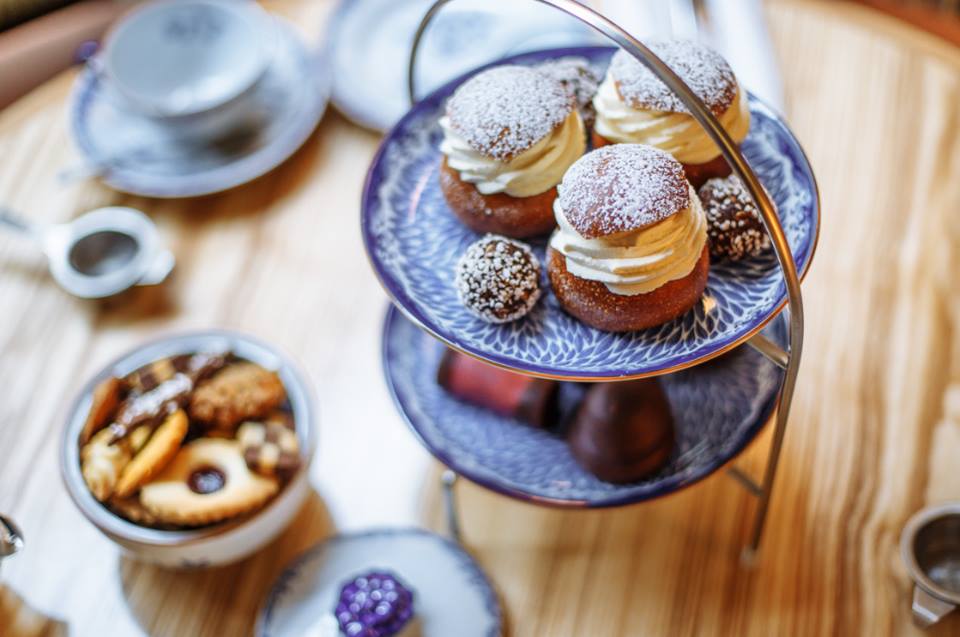 The Run-Down: Looking for something different? Aquavit has been transformed into a Nordic winter wonderland by iconic London florist McQueens, bringing the beauty of Scandinavian Christmas traditions to St. James's Market. Outfitted with wintery silver birch trees and lichen covered birch branches, Aquavit's interior is adorned with hanging moss and large clear glass globe terrariums.
Eat and Drink: Enjoy afternoon tea, served in an exclusive silver tea set designed by Danish luxury brand, Georg Jensen. Featuring Danish smørrebrød with classic Nordic toppings such as gravlax, shrimp skagen and beef tartare, all are served on house-made rye bread. Afternoon tea also includes sweet treats such as Swedish cakes and tarts served from the Fika trolley, as well as freshly baked cinnamon and cardamom rolls.
Where: St James's Market 1 Carlton Street, London SW1Y 4QQ
The Run-Down: If you're looking for a new terrace, Charlotte's W5 have teamed up with Sipsmith to launch their winter wonderland terrace. The special terraces is decked out with blankets, fairy lights, hot cocktails and roasted chestnuts. Cute.
Eat and Drink: The talented bar team at Charlotte's W5 have designed a winter warmers cocktail menu with the Sipsmith boys. Enjoy a selection of hot cocktails including Winter Sloe Gin featuring Sipsmith Sloe Gin, cinnamon, star anise and apple, Winter Negroni with Sipsmith London Dry Gin, Campari, sweet vermouth and rooibos tea and the Hot Espresso Martini featuring Sipsmith Sipping Vodka, Electric coffee and vanilla cream. For those who want something non alcoholic, local hand made in Ealing chocolatier, Lucy Savage, has created a hot chocolate that is available alongside the boozy numbers. 
Where: Longfield Avenue, London W5 2UQ
The Run-Down: One of the best winter terraces in London right now, Bluebird has taken inspiration from scenes of E. T. A. Hoffmann's The Nutcracker, as the restaurant has introduced a mesmerising world of winter wonderment to Chelsea. From the Rococo hot chocolate bar to the festive afternoon tea, Bluebird has transformed into an enchanted Christmas tale and it's pretty spectacular.
Eat and Drink: Highlights from Executive Chef Simon Gregor's new menu include London cured smoked salmon with celeriac rémoulade and caviar; roast Norfolk Bronze turkey with sprouts, glazed root vegetables, roastings and stuffing; or for something vegetarian, creamed polenta with roasted ceps, buttered sprouts, black truffle and Berkswell cheese. Back by popular demand, Bluebird Cafe is serving their alpine favourite cheese fondue, and no Christmas is complete without a Christmas pudding and brandy custard, or sticky toffee pudding with stem ginger ice cream. 
Where: 350 King's Rd, Chelsea, London SW3 5UU
The Run-Down: One of our favourite winter terraces in London, Bernardi's in Marylebone has just launched an Italian alps themed winter terrace for the festive season – think fir trees, fur throws and twinkling fairy lights.
Eat and Drink: A winter drinks menu has been specially curated for the pop-up with a mulled Spicy Hot Negroni  being the signature, featuring Bombay Sapphire gin, Belsazar white Vermouth, King's ginger liqueur infused with winter spices of nutmeg, cloves, juniper and pimento berries. Seasonal homemade pasta dishes, cicchetti and antipasti are also available, and the panettone pudding served with marsala ice cream is a must order.
Where: 62 Seymour St, Marylebone, London W1H 5BN
The Run-Down: Ritorno has turned its outdoor terrace overlooking King's Road into an Alpine wonderland in partnership with Campari this Christmas, creating the ideal setting to enjoya classic Aperol Spritz or Negroni.
 Eat and Drink: The four cocktails created for the season by Ritorno's head barman Simone Francini and Campari include Bitter Bells. a refreshing twist on Campari and Soda using Campari Bitter, vanilla syrup, orange juice and hibiscus soda water; T'is The Aperol, a sharing cocktail for two combining Aperol, Maker's Mark bourbon and home-made pineapple and green tea syrup; Ritorno Off The Blazer with Campari Bitter, Grand Marnier, Evangelista, ratafia, saffron honey, star anise and cinnamon; and Ritorno Brulé, a warming take on Italian mulled wine made with Aperol, Essential Persichetti liqueur, vanilla syrup and red wine reduction mixed with herbs, spices and dried fruits.
Where: 442 King's Rd, Chelsea, London SW10 0LQ
The Run-Down: Coq d'Argent have once again created a magical winter wonderland on its rooftop for the festive season, this time with an Arctic theme. This year's theme sees two cosy igloo tents installed on the heated ring terrace, joining the familiar array of festive lighting, fur blankets and snowy decorations.
Eat and Drink: A brand new cocktail list has been created by Bar Manager Filippo Testa to reflect the colours of the Northern Lights in hues of green, blue and purple with such examples as Green Sky with Hennessy fine de Cognac, Jasmine and Chandon; Star Walk with Hennessy fine de Cognac, Finca Malbec, creme de figue, vanilla, lemon, glitter jam and raspberries; and for something extra warming Arctic Wilderness, a unique hot cocktail combining Hennessy Cognac, grape tea, moscat sweet wine and ginger candy syrup. A winter warmer menu by Head Chef Damien Rigollet focuses on hearty dishes including venison meatballs with a red berries sauce; classic tartiflette; and whole baked Vacherin cheese and croutons, while desserts include chestnut macarons and warm waffles with hot chocolate and chantilly cream.
Where: Coq d'Argent, No.1 Poultry, London EC2R 8EJ
The Run-Down: Babylon at The Roof Gardens has decked out its rooftop once more with all the festive features (read: hot water bottles, blankets and heaters). Switch on your internal heating with their range of hot cocktails, or fill your boots with a cheese-based menu featuring all kinds of dairy loving.
Eat and Drink: Cosy up with sharing dishes including baked Cornish Camembert for two with honey, walnuts and smoked apple chutney, and the French Comte fondue melted with shallots, white wine and garlic. A selection of finely chosen wines are available alongside some delicious hot cocktails to keep you toasty and warm.
Where: The Roof Gardens, 99 Kensington High St, Kensington, London W8 5SA
The Run-Down: One of London's best winter terraces; Angler's rooftop terrace has undergone an opulent Russian makeover this winter. Running until December 23rd, the festive terrace has been designed in partnership with Laurent Perrier, and takes inspiration from the decadence of late 19th Century Russia.
Eat and Drink: Adorned with rose gold details and winter furs, a limited-edition Champagne and cocktail menuinclude the likes of Aquavit Sparkles, blending vodka, sweet vermouth and cherry spirit; the Vintage 1812, a classic Champagne cocktail with a hibiscus twist; and a hand-picked selection of Laurent-Perrier's finest vintages. The drinks have been carefully paired with a new menu of Champagne and caviar inspired bar snacks, including Alaskan king crab kromeskis; Orkney scallop, LP Champagne and caviar sauce; 30g Oscietra caviar with salt baked potato, sour cream; and LP Champagne sorbet.
Where: South Place Hotel, 3 South Pl, London EC2M 2AF