Looking for some last minute Valentine's Day ideas in London? Don't worry, we've got it sorted. From romantic dinners to special menus, here's 10 of the best Valentine's Day ideas in London 2019:
1. For a Floral Display: The Ivy Chelsea Garden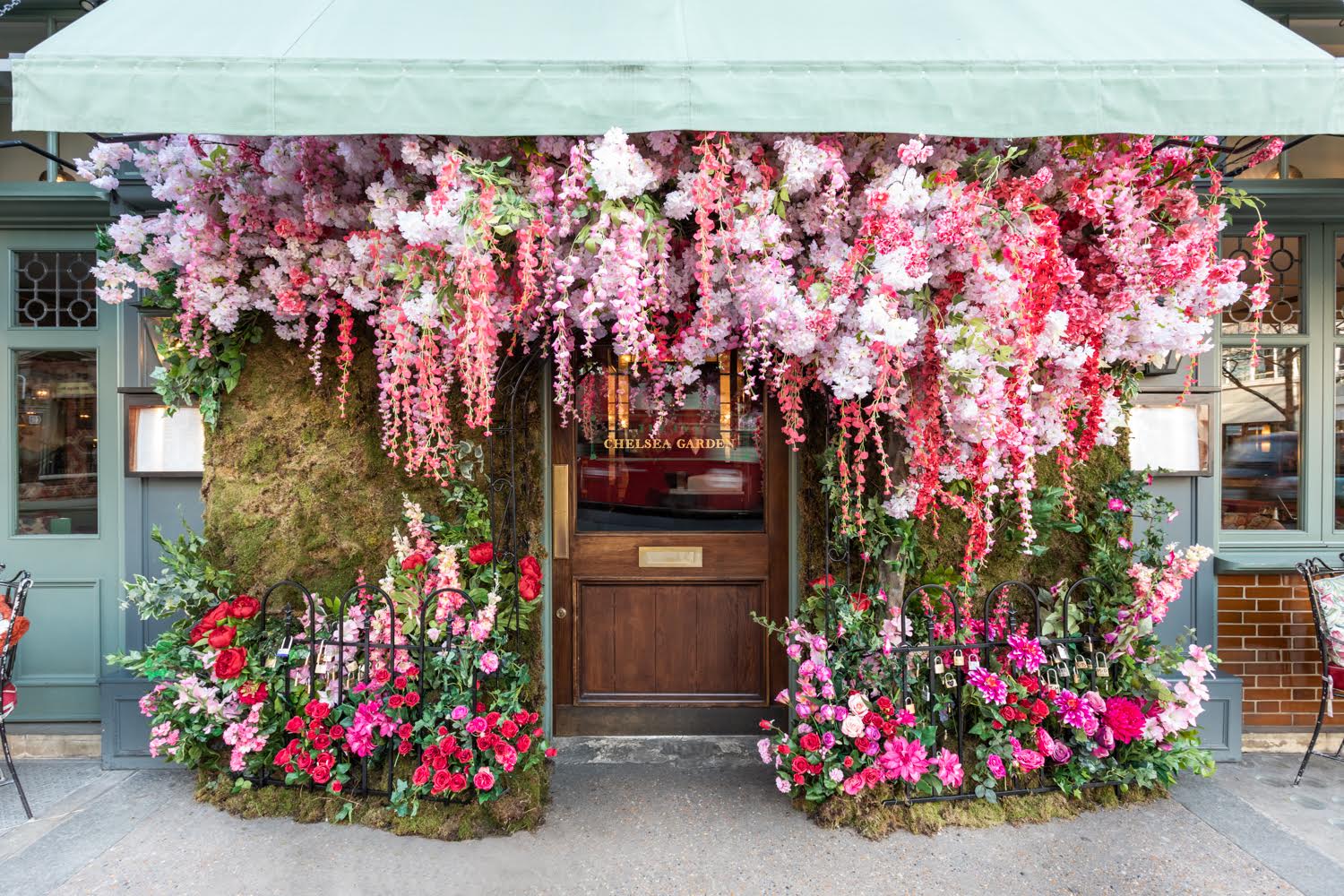 The Idea: The Ivy Chelsea Garden are transforming the front of the restaurant for Valentine's Day into a beautiful floral display and a gate inspired by the Love Lock bridge in Paris. There's also a limited edition Valentine's Day dessert on the menu, available from the 11th to 14th February 2019.
Where: 195-197 King's Rd, Chelsea, London SW3 5EQ
2. For a Candle-Lit Dinner: B&H Garden Room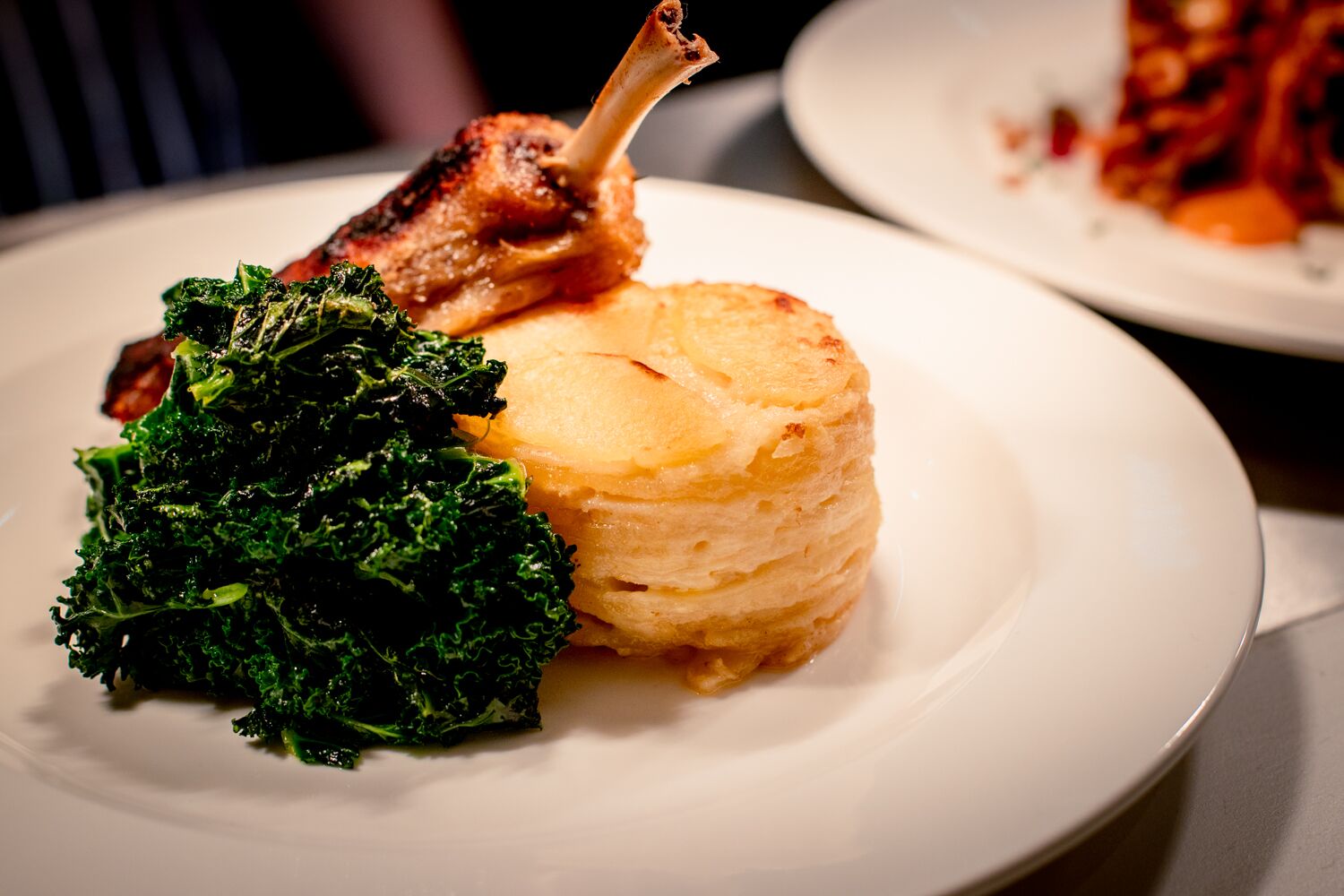 The Idea: B&H Garden Room is one of the most romantic restaurants in London with intimate candle lit interiors and 180-degree views of London, guaranteed to sweep loved ones off their feet. Indulge in their Valentine's Day specials, including Beef Wellington for two, served with cauliflower cheese, Baked Passion Fruit Cheesecake and their special Wings of Desire cocktail, with fresh raspberries, homemade rooibos and clove syrup, Peychaud's bitters.
Price: £70 per person
Where: 10th Floor, 27-31 Charing Cross Rd, London WC2H 0LS
3. For a Romantic Spot: Dalloway Terrace
The Idea: There's no better spot to celebrate Valentine's Day than at Bloomsbury's famous Dalloway Terrace. One of London's most Instagrammable restaurants, the gorgeous terrace restaurant has transformed into an icy haven of crystallised white, pink and silver petals. They've designed a special Valentine's Day menu, featuring Braised Oxtail to start, followed by Classic Beef Wellington or Pan Fried Black Bream, along with a glass of bubbly. To finish, indulge in one of the sharing-desserts for two, such as Chocolate & Chilli Fondue.
Price: £75 per person
Where: 16-22 Great Russell St, Fitzrovia, London WC1B 3NN
4. For a Special Dinner: Town House at The Kensington
The Idea: Town House at The Kensington are celebrating Valentine's Day this year with a luxurious offering, featuring oysters, steak and more. Valentine's Day specials include Oyster Au Gratin, followed by Josper Grilled Beef Fillet, Shin Ravioli, Asparagus and Port Jus. For dessert, there's a Warm Bitter Chocolate Tart with Passion Fruit Sorbet. Town House also boasts The Portico, an intimate, heated terrace adorned with fairy lights and foliage, making for the most romantic way to enjoy a drink before dinner.
Price: £75 per person
Where: 109-113 Queen's Gate, Kensington, London SW7 5LP
5. For a Gin Tour: East London Liquor Company
The Idea: This Valentine's Day, East London Liquor Company is inviting you to help them celebrate their passion with its For The Love Of Gin Tour. Gin and tonic in hand, you will take a trip through the astonishing world of gin, from the ruinous past to the modern-day revival. With a competitive and sociable twist, expect the tour to include quizzes, a selection of boozy prizes, pizzas and special Batch No.2 gin cocktail made with chartreuse, maple syrup, bitters and lemon.
Price: £40 per person
Where: The For The Love of Gin Tour will take place at 6pm on Thursday, 14 February. Tickets can be booked directly through eastlondonliquorcompany.com
6. For a Fancy Dinner: Fancy Crab
The Idea: Fancy Crab, specialists of the highly sought after Red King Crab, have made a dedicated Valentine's Day menu available between the 14th-17th February. For those crab lovers, or lovers in general, the menu hosts a range of both King Crab, meat and non-meat options for vegetarians. Highly recommend is the Red King Crab Ravioli for main, finishing with the Madagascan Vanilla Cheesecake. Romance will certainly be in the air from the moment you step through the door, where you'll see a beautiful installation including a post box to send love notes to that special someone.
Price: £65 per person
Where: 92 Wigmore St, Marylebone, London W1U 3RD
7. For a Casual Evening: The Kitchens at Old Spitalfields Market
The Idea: We think The Kitchens at Old Spitalfields Market makes for the perfect, less cringe-worthy, venue for a casual date night. The choice of 10 of London's hottest street food vendors in one place means that all tastes and dietary desires are covered, without putting too much of a dent in the wallet. And there are 5 large exits points – so if it doesn't work out, you know what to do. To celebrate V-Day, they are offering buy one-get-one-free on any main dishes ordered together at The Kitchens from 3pm-7pm. You just need to email love@oldspitalfieldsmarket.com including the word LOVE in the title and to be sent your voucher.
Where: 16 Horner Square, London E1 6EW
8. For a Japanese Feast: Nobu London and Nobu Berkeley Street
The Idea: Looking for something fancy? Well, then, Nobu is the ideal hotspot to celebrate Valentine's Day. At Nobu London, Old Park Lane, feast on a stunning nine-course menu with dishes of Yellowtail Taquitos, sushi, Pan Seared Lobster with Quinoa Salad and Lobster Miso, and Grilled Beef Tenderloin with Yuzu and Fresh Truffles. Diners at Nobu Berkeley ST can enjoy Crab and Scallop Salad, Grilled Chilean Seabass with Champagne Yuzu Miso, and Charcoal Roasted Rib Eye with Baked Eryngii Mushrooms and Pickles.
Price: Both menus £100 per person
Where: Information here and here
9. For a Sky-High Dinner: Bokan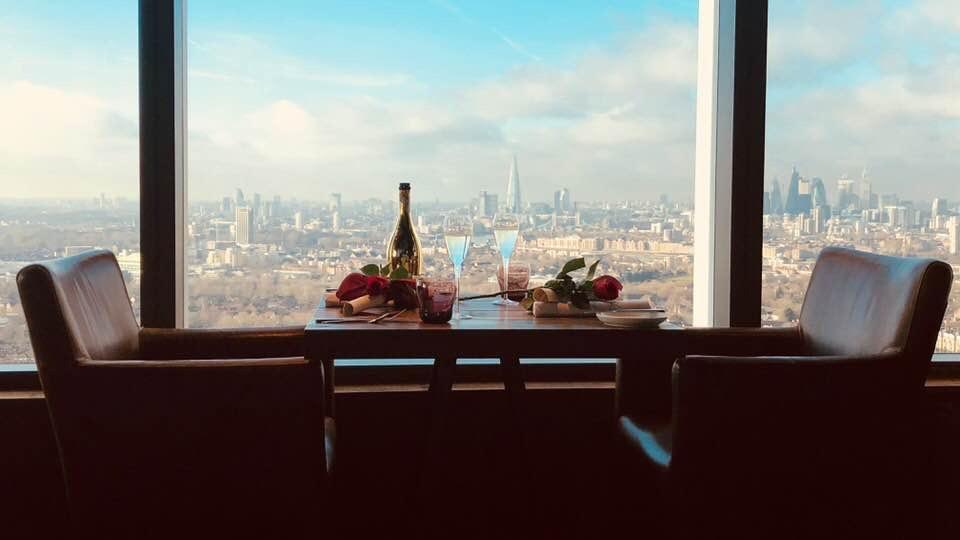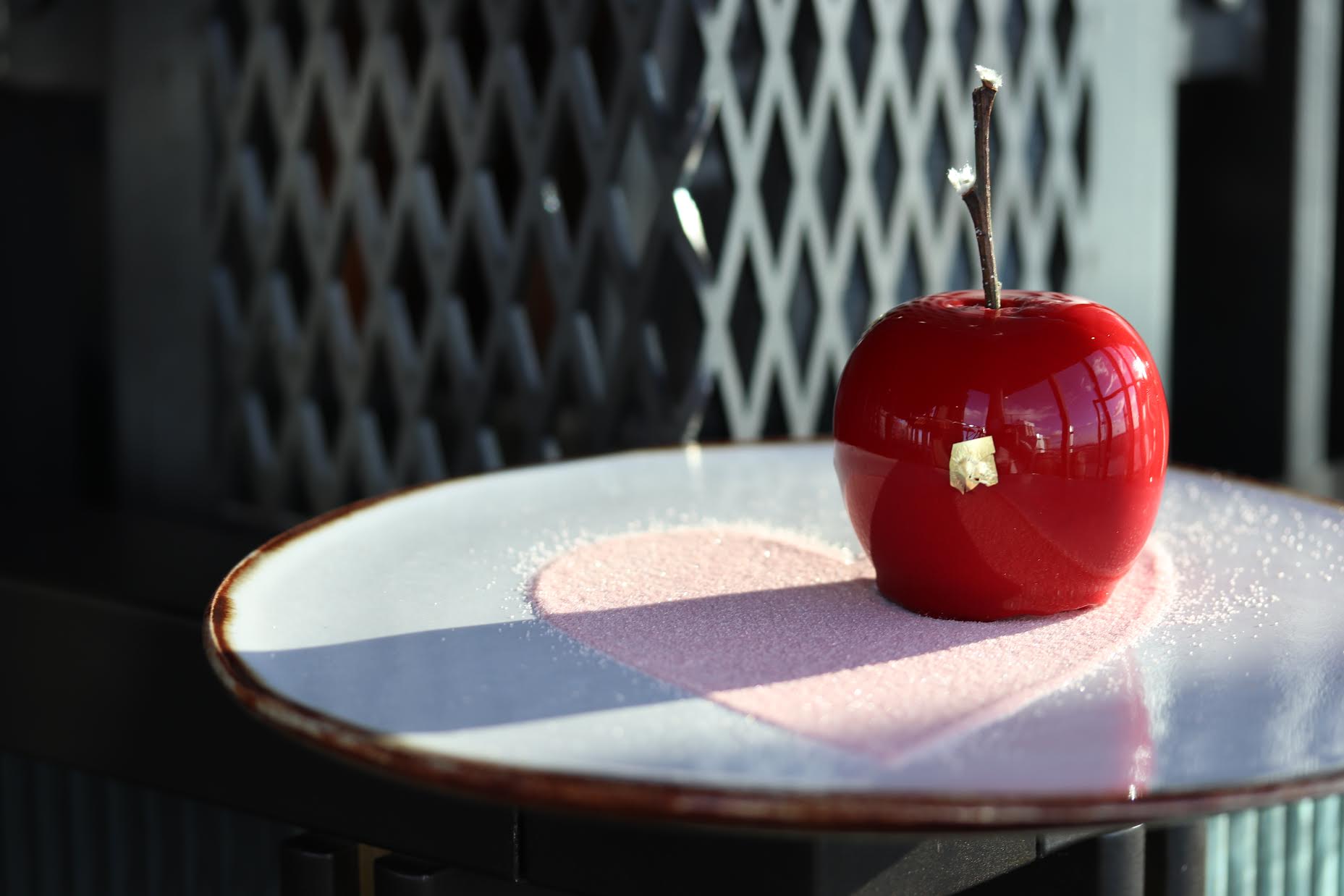 The Idea: This Valentine's, Bōkan, in the heart of Canary Wharf, invites couples to dine 37 floors above the city – and indulge in an elevated dining experience in all senses of the word. With its floor-to-ceiling windows and incredible views, Bōkan is one of London's most romantic restaurants and the place to watch the sun set on the capital over a glass of champagne and a delicious dinner with someone special. Expect an exceptional six-course tasting 'Romance' menu, where highlights include a delicate, lightly-smoked confit of Scottish salmon, daikon velouté and black berries; British dry-aged beef fillet and foie gras, Savoy cabbage, bacon and mashed potato and a stunning pomme d'amour. 
Price: £115 per person. Book by emailing events@bokanlondon.co.uk.
Where:
10. For a Voyage of Discover: Cinnamon Kitchen
The Idea: Set sail under the stars for your supper this Valentine's with Cinnamon Kitchen and MBNA Thames Clippers. For the ultimate romantic experience, hop on board the River Bus with your loved one, take in London's numerous landmarks before disembarking for dinner at Vivek Singh's Cinnamon Kitchen Battersea. Enjoy a delicious four-course feast, starters such as grilled aubergine with sesame, tamarind and peanut crumble or Achari lamb fillet, paprika raita and anchovy chutney. Follow with Malai kofta- spiced paneer dumpling in tomato fenugreek sauce; Bengali style king prawns or rump of lamb with masala mash; all accompanied with garlic naan and black lentils. End on a sweet note with a trio of desserts including dark chocolate mousse, Himalayan Queen and sticky ginger toffee pudding with cinnamon ice cream.
Price: £70 per person. Book here.
Where: 4 arches lane Battersea Power Station SW11 8AB