Do you feel like you're in a long-term relationship with the treadmill? Has your time spent on the cross-fit made you go cross-eyed? Then you need to change up your exercise routine. It shouldn't all be toil and trouble to get fit; London's got some fantastic, fun exercise classes that, we won't lie, aren't going to make you forget you're exercising, but they might slightly numb the pain.With so many ways out there on how you can get fit, why not try something different. Check out these personal training courses with Discovery I am sure you find what you are looking for. From flying trapeze to 'vogueing' on a rooftop with a beautiful city skyline, here's how to have fun whilst working out in London this summer:
What they say: Explore pole dance technique and choreography while focusing on movement, musicality and emotion. Working on choreography on and off the pole learn to move in new ways creating shapes and movements to complement your pole tricks.
Why: Let's kick this off in style – hey? Pole dancing is actually a great workout, and we really appreciate Gymbox's effort to make this sound more scientific by adding 'ography' on the end of of 'pole'. You're fooling no-one, Gymbox. But this class is fun, dynamic and a great laugh with a group of girlfriends.
Details: Available for members at Westfield, Holborn, Bank and Old Street – information here
2. Aerial Hoop with Flying Fantastic
What they say: The aerial hoop is a circular steel apparatus rigged from the ceiling, giving you the opportunity to execute dynamic tricks, spins and swings. The hoop provides the perfect frame for an endless variety of balances, transitions and routines.
Why: Aerial Hoop classes are great for building strength, stamina and increasing flexibility.  A full class will give your whole body a good workout but when it comes to your core muscles and your upper body strength – nothing even comes close. With a maximum of 7 people per teacher, you're always getting the attention you require.
Details: Flying Fantastic offers drop in classes in Farringdon and Battersea – and no previous experience is necessary – book here
What they say: Coq D'Argent is teaming up with House of Voga for a fusion between yoga and vogueing (a highly stylised dance form to 80s music) on the rooftop. Voga is for everyone – all ages, skill levels and fitness levels –-offering the chance to workout in stylish outfits while bringing nightlife cool into the realm of sweat and lycra. Relax and workout to iconic DJ Blonde Ambition and prepare to get sweaty.
Why: Afterwards you can enjoy an al fresco Sunday lunch on their gorgeous terraces.  Head Chef Damien Rigollet has created an indulgent Sunday menu, including dishes such as Grilled smoked salmon, pearl barley, broad beans and peas, and Courgette, tomato and aubergine caviar tart with goat's cheese tempura. You can also sip on Vogue d'Argent's deliciously healthy cocktails and mocktails in the dappled sunshine too. You earnt it.
Details: £15 – buy tickets here for the launch on 31st May – to book a table for lunch after Voga contact reception on 020 7395 5000 or coqdargent@danddlondon.com
What they say: We're revolutionising London's fitness industry. In this class, expect 45 minutes of physical and mental intensity and exertion that you never thought possible. This highly intensive group experience is designed to condition and resculpt selected muscle groups with the latest Woodway 4Front treadmills, bespoke and patented 1R workout platform will help mould your body and break your barriers.
Why: Their boutiques are built to a balance of beauty and function, with spacious changing facilities fully stocked with top-end grooming and skincare products, sports-luxe retail fashion zones and a post-grind workout courtesy of Roots & Bulbs' cold-pressed juice bar.
Details: The Reshape session includes a complimentary Roots & Bulbs organic shake or juice – £10 for first session, book here
What they say: Designed by Nathan Helberg, Aussie fitness guru and human movement expert, ZUU is high intensity interval training using primal moves – push, pull, bend, twist, squat, lunge and locomotion in a unique 20 minute workout. ZUU's combined strength and energy class creates an exhilarating full body workout that blasts on average 300 calories in a 20 minutes. Have fun being a bear or iguana – discover your inner beast.
Why: Basically you get to pretend to be a wild animal for 20 minutes whilst burning calories. ZUU strengthens muscles, joints, tendons, ligaments and tissue – the military, elite athletes and top sports teams do it to keep super fit.
Details: Only at Virgin Active – more information here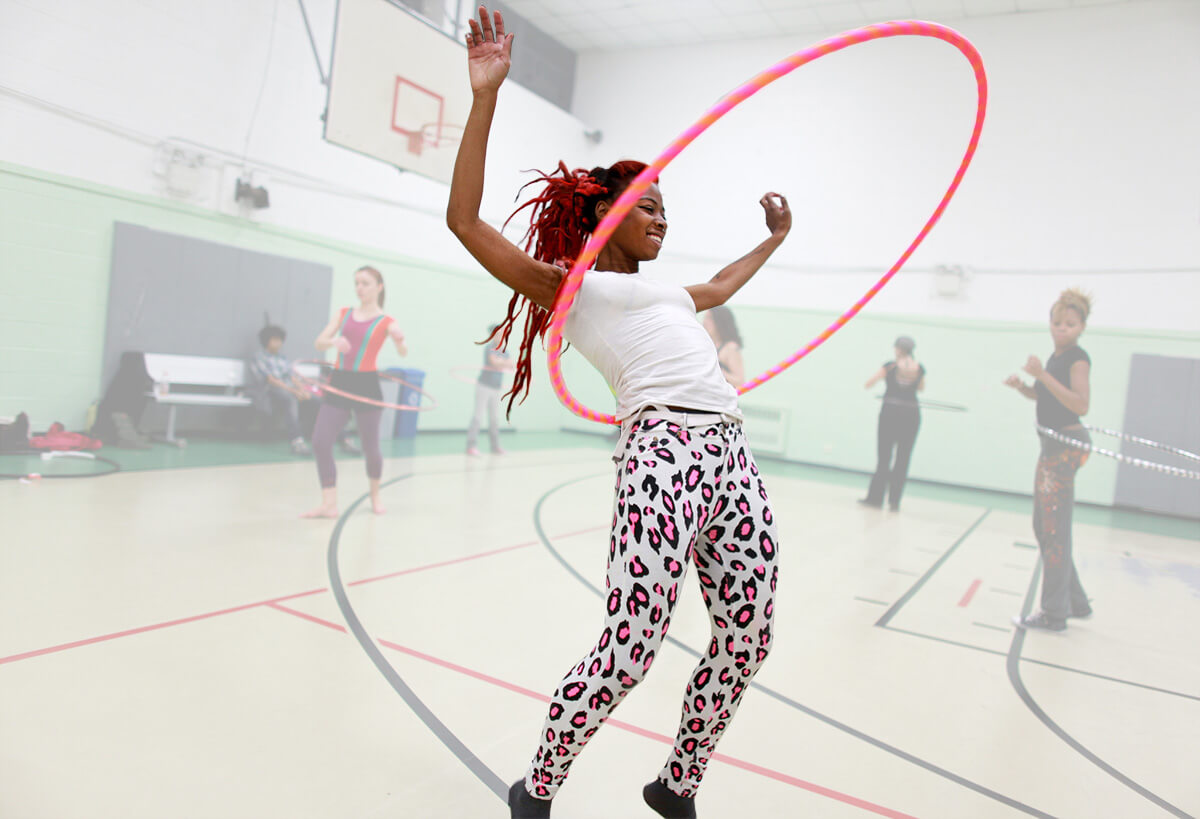 What they say: HulaFit is a fitness class based on hula-hooping – it was created in 2013 by Anna and Rowan Byrne, who, both have extensive experience in the fitness industry, as well as being the creators of the London Hoop Fest. The aim of the HulaFit class is to create an environment that is as focused on the 'Fit' as it is on the 'Fun' – and it sells out every week.
Why: Well, for one, it's a great party trick. And hooping is known to be a fantastic way to tone that troublesome tummy area, but there are many other benefits that can be gained from spinning the humble hoop, namely improved strength, coordination and calorie burning.
Details: £6 per class when booked in advance in Kennington, Camberwell, Hackney and Kings Cross locations – book here
7. Trapeze Lessons with Gorilla Circus
What they say: Anyone can come and learn to fly in one of our two hour classes, our youngest students are 8, our oldest (so far) 78! Students start with a warm up then move on to practice a simple trick on our low bar. They then attempt the trick on the Flying Trapeze and towards the end of the class get caught by an instructor on a separate swinging bar.
Why: Gorilla Circus has a philosophy of making circus accessible for all – the instructors will work to your strengths and there is nothing better for improving strength and fitness than Flying Trapeze. There are 10 spaces available in each class, so you'll get lots of individual time. Plus, it's mega fun.
Details: Drop-in classes from £24 for a 2 hour class and £60 for a series of 4 classes (bargain) in their current Regents Park location – more information here
What they say: Barre at Triyoga is a fun, challenging and intelligent practice which blends the movement and technique of Ballet with the precision of Pilates and the stretch of yoga. Each class delivers an energising and effective work out for the entire body, helping build alignment, whilst strengthening the core and toning muscles. Exercises are performed with the support of a ballet Barre, small weights, Pilates balls and resistance bands.
Why: Barre enhances posture and muscle tone, improves cardiovascular fitness and develops core strength. It also builds better balance, coordination and alignment, and is really quite fun (if you do it with an equally un-fit friend)
Details: Barre classes are available at Triyoga camden only – intro offer: £20 for 2 classes, then £27 for drop-in – more info here
What they say: Frame X-TRAIN is a cross-training class designed to make your body strong, lean and toned through building lean muscle mass. This class includes plyometric exercises, great for improving any athletic goal such as running faster and punching harder, and suspension training, which is a fantastic way to get your core working like a demon.
Why: As you get stronger and stronger, there will be more and more exercises for you to try, ensuring you are always challenged. The class will be updated with new exercises every month so you will never get bored.
Details: £15 a class at Frame Queen's Park – details here
10. Parkour with Parkour Generations
What they say: Our signature indoor classes are devised to explore and push your physical limits while introducing you to the concepts and movements of parkour, involving a rigorous conditioning element vital to one's progress in the discipline. The UK's first and only dedicated parkour and free-running centre, these guys know their stuff.
Why: The Parkour Generations Team is the world's most experienced collective of professional parkour athletes, choreographers and performers, with over 15 years of experience working in the industry. You'll be learning from the best, and getting really fit at the same time.
Details: £10 for drop-in classes – book here
And one for luck…
What they say: Doga – or yoga with your dog – is the sacred union between dog and owner. Doga isn't just about the physical. Having your dog included in your yoga practice enables you to observe "your attitude" towards yourself and all living beings and get a deeper insight and understanding of behaviour patterns that arise from the mind.
Why: Why on earth not. It's fun, you get to meet other Yogis and Dogis (official term) and you'll no longer have to feel guilty for leaving your dog at home. Supposedly it reduces the stress of you AND your dog. Win win.
Details: £22 per dog – £15 for those without a dog (we're not sure who these people are, and I'm not sure we trust them) – book here