About Time You Saw… The Merchant of VeniceBy Leah Harper
Often dubbed Shakespeare's most controversial play, Rupert Goold's decision to bring The Merchant of Venice to the Almeida – marking the end to his first year as the theatre's artistic director – was a brave one. Relocating the narrative to Las Vegas, as he first did in Stratford-upon-Avon in 2011, might be considered even braver, but it's a risk that pays off in this modern-day retelling of a school curriculum staple.
Image credit – Ellie Kurttz
With a set that swaps the beauty of Venice for all the glitz and cheap glamour that you would from expect from Las Vegas' casino-ridden Strip, the theme of money is shoved well and truly to the forefront in this gripping tale of revenge. Goold is certainly not adverse to placing capitalism centre stage – past productions have included the equally materialistic Enron and American Psycho – and continues to do so to great effect here in what is doubtlessly a problematic play.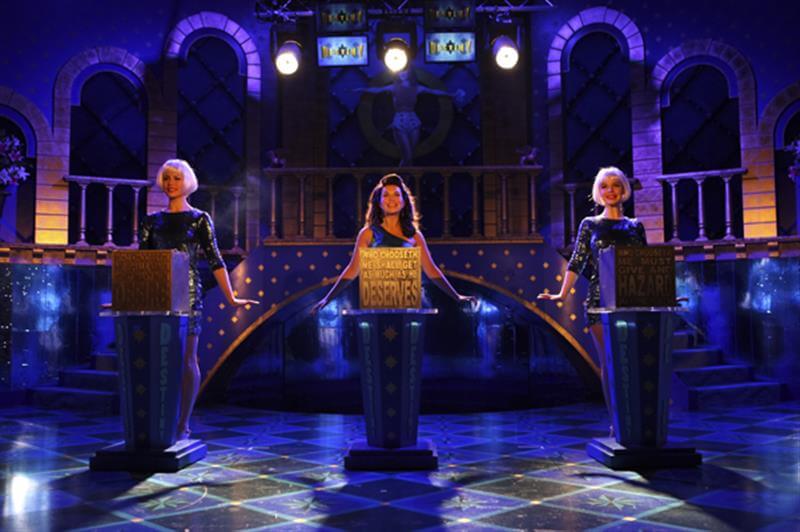 Image credit – Ellie Kurttz
Susannah Fielding reprises her role as Portia, who Goold reimagines as the star of a reality TV quiz show – like Deal or No Deal meets Take Me Out, but with higher stakes – as a modern-day means of sorting through her suitors. Meanwhile Ian McDiarmid (who previously served as artistic director at the Almeida, although perhaps remains best known for his starring role in Star Wars) has taken over in the role of Shylock from Patrick Stewart.
Don't be fooled by the fact that much of this production littered with showgirls, Elvis impersonators and slot machines; those hair-raising 'pound of flesh' moments are far from forgotten in this startlingly poignant take on a classic.
Until 14th Feb, almeida.co.uk/event/themerchantofvenice