Looking to discover some new fitness classes in London? As you might have read in our latest Editor's Letter, we're all about the life retox, not detox, this 2017 – putting more into your life, not taking things out. Whether it's yoga, pilates or spinning, we've handpicked ten of the best new fitness classes to try in the capital this year. Grab your pals, it's time to get life retoxing:
New Fitness Classes: For HIIT
The Lowdown: Fitness First has launched SHRED, a new group exercise class which combines compound lifting with High Intensity Interval Training (HIIT).  The 40 minute class is based around the following five disciplines of athletic performance to ensure that calorie burn, bone and muscular strength and flexibility are at the forefront of the workout.
The Class: Broken down into the following key phases, the SHRED class programme caters to those who want to achieve maximum results in minimum time, with the mix of compound lifting and HIIT exercises increasing the calorie after burn effect. Warm and skill: an opportunity to warm up the muscles whilst learning the precise skills needed to succeed in the compound lifts. Lift and HIIT: five blocks made up of five different compound lifts and five HIIT exercises. Class members perform a one minute lift, followed by a 30 second HIIT exercise and then a repetition of the lift for one minute. Finisher: for this section of the class, members will partner up for a finisher exercise such as a 300 rep front squat challenge with a weight on the bar. And Cool and Stretch: the cool down will include bar stretches where you utilise an empty bar to assist with the stretches and work on releasing the larger muscle groups
Where: Find your nearest Fitness First here 
New Fitness Classes: For a Lunchtime Class
2. HIIP 30 at Bootcamp Pilates 
The Lowdown: Bootcamp Pilates have added a brand new 30-minute high intensity interval Pilates (HIIP) class to their offering. Responding to the needs of busy lifestyles and time-strapped Londoners, the team have decided to specially create a 30 minute cardio based version of their legendary class.
The Class: Bootcamp Pilates HIIP 30 incorporates highly effective movements from its regular dynamic luxe fitness offering, allowing anyone to make the most of their lunch break. The class has been specifically curated by expert trainers to achieve maximum results in a short time frame, with the focus on flexibility, coordination and balance to leave you fitter, leaner and stronger.
Where: Locations here 
New Fitness Classes: For Throwing Punches
3. Boxerina at Paola's BodyBarre
The Lowdown: PBB Boxerina is Paola Di Lanzo's latest fusion – drawing inspiration from the best of ballet movements, kick-boxing, boxing and HIIT training. The idea of PBB Boxerina evolved from the shadow boxing and kickboxing movements always used within the PBB method.
The Class: PBB Boxerina is a highly efficient killer work out that only takes a short amount of time to achieve maximum gain – think increased endurance, muscle mass and metabolism. The Boxerina is an all-star all-around that works the entire body. The Barre movements work deep into the stabilising muscles, whilst the boxing and kick boxing promotes great agility, strength and muscle tone.
Where: See the class timetable here 
New Fitness Classes: For Sweating and Stretches
The Lowdown: Fusion Fitness is a new wave of combination classes  that have been hitting London as of late, and Centric: 3Tribes is right behind this trend. Centric: 3Tribes is the only place in London that offers a 50:50 mix of spinning/ HIIT and yoga. Within the hour, you get the endorphin rush, the workout and more importantly the sweat; then hop off the bike to your yoga mat for vinyasa and deep long stretches.
The Class: At the studio there's three rooms – Rider. Warrior. Zen. Each room represents a different experience, a different tribe, offering various classes to complement one another. A high intensity interval training space – Warrior is excellent for muscular and cardio strength. A state-of-the-art indoor cycling arena – Rider is great for cardiovascular health. Zen is the inspired, mind-body studio that focuses on lengthening, toning and strengthening.
Where: The Exchange – 71 Crouch End Hill, Crouch End London, N8 8DF
New Fitness Classes: For an Express Workout
5. Signature Express at Barrecore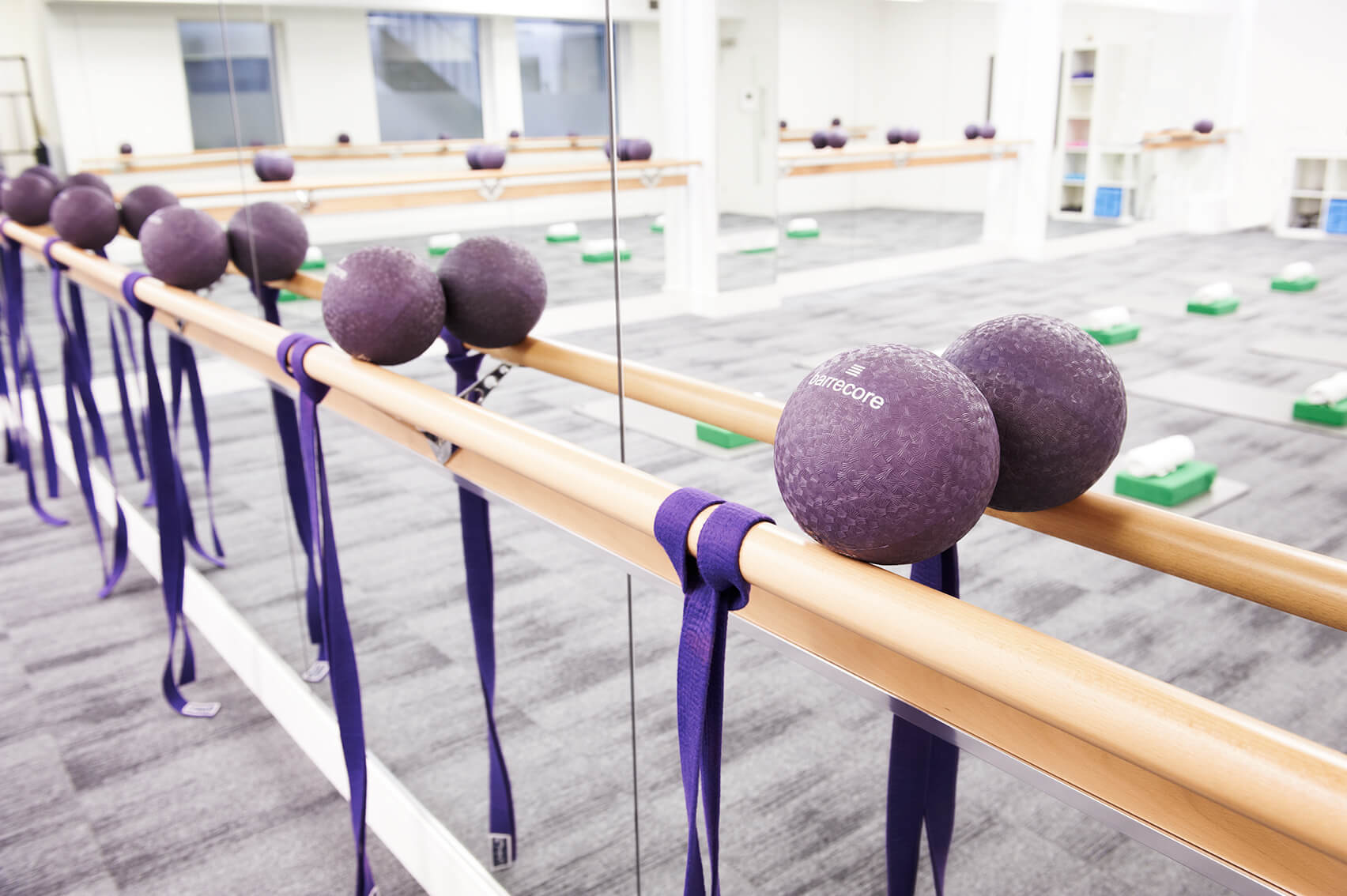 The Lowdown: barrecore has added a new, time efficient, yet challenging class to strengthen, lengthen and work the muscles to their timetable. With Signature Express, achieving a fast and effective 45-minute lunchtime workout has never been easier, even for those with the fullest of schedules.
The Class: Perfect for a lunch time pick-me-up, Signature Express is a fast-paced class full of high-intensity cardio bursts to make every minute count. Incorporating iconic barrecore moves, this class is suitable for all fitness levels and body shapes. To keep your body guessing, the format incorporates an extended section on either the upper body (arms, abs and core) or lower body (calves, thighs and seat) ensuring optimal burnout for rapid change.
Where: Locations here 
New Fitness Classes: For Back to Basics
The Lowdown: Gym Box have rolled out a variety of new classes for the new year. From yoga for lifting to lactic jungle (a fast paced bodyweight class which fuses animal movement and HIIT), the gym is a hotbed for fun, new classes to sink your teeth into.
The Class: Rope Burn is a high intensity functional workout using climbing ropes, Hercules hoists, battle and skipping ropes. There's five stations, and yeah, you guess it, each station features some kind of rope. Grab a mate and partner with them as you work through the circuit. One person does a complimentary bodyweight exercise (lunge, squat, mountain climbers, plank), at each station whilst the other person does the rope exercise. Improve your endurance and cardio fitness in this 45 minute sweat drenching session.
Where: See your nearest Gym Box here
New Fitness Classes: For Strength and Balance
The Lowdown: Fierce Grace has introduced two new fitness classes this month; FG2 and Fly. Fly is a  new one hour class with energetic flows and the secrets to arm balancing: building upper body strength, balance and focus.
The Class: Learn the alignment protocols of inversions and arm balancing, and turn yourself upside down, get fit, and enjoy new challenges. Prepare to advance your practise and learn user friendly "glamour poses" such as Crow, Crane, Side Crow, Flying Pigeon, Dolphin and other fun arm balancing poses. The class is woven together within the Fierce Grace framework of flow, intensity, rest and challenge, to get you super strong and as light as air.
Where: Locations here 
Photo Credit: Angela Dennis Photography
New Fitness Classes: For Underwater Exercises
The Lowdown: Aqua Cycling is already a huge fitness phenomenon across Europe, and has already set its sights on London domination. aquAllure is an easy to use, fuss-free aqua cycling method with a strap-on pedal system allowing users to cycle barefoot. It is a flexible, fun full body workout experience for everyone, at every fitness level
The Class: Challenge yourself to the ultimate fitness workout; or choose a gentler pace suited to you. Either way you will quickly see the difference – especially recommended for your waist, thighs, buttocks, calves, tummy, knee, arms. Also suitable for those with lower back issues, and joint problems.
Where: Crowne Plaza London-Docklands, Royal Victoria Dock, Western Gateway London, E16 1AL
New Fitness Classes: For Functional Training
The Lowdown: Based on the principles of EPOC (excess post-exercise oxygen consumption), Third Space have introduced After Burn, a new high intensity interval class that will leave you torching fat for hours.  Feel the burn, people.
The Class: The exercises you can do on the equipment in the functional training Rig area are limitless. Get ready to use TRX training, Plyo boxes, kettle bells and body weight exercises for this high intensity interval class that will leave you crawling out the class.
Where: See locations here 
New Fitness Classes: For Outdoor Yoga
The Lowdown: Active360 has a new home: Paddington Basin. An incredible inner city location close to Paddington Station and near the junction of the Regent's Canal and the Grand Junction Canal. The new location, means tons of new classes. Sup Yoga is all the rage, and is set to take the London fitness scene by storm.
The Class: If you're not familiar with SUP yoga, here's what you need to know – SUP yoga is about taking a traditional yoga class onto the water where the paddleboard becomes your new floating yoga mat. They use specific SUP boards that will provide a comfortable and stable platform for you to be able to take your practice into a new and exciting direction. By being exposed to the elements and having to adjust to the movement of the board on water, you will maximise your core stability throughout the entire class.
Where: See timetable here