About Time: You Discovered the Best Igloo Dining Spots in LondonBy Alicia Grimshaw
We've hit peak journalism, folks. People went positively wild when igloos popped up on the Southbank last year, and other restaurants have now followed suit. If you fancy dining under the stars in what is basically a glorified greenhouse, read on to discover the best igloo dining spots in London:
1. For Sky High Igloos: Aviary
The Run-Down: Not quite the same as the Alps, but it'll do. Igloos have made their way to the 10th floor of the Montcalm Hotel, and we'll tell you this for free – the views are exceptional. Nesting from 16th November – February 2018, and bringing a touch of Scandi-style to the sky, each igloo is adorned with ice blue twinkling lights and comes complete with luxurious faux fur blankets, snug rugs and hot water bottles.
Eat and Drink: Traditional turkey will feature alongside slow braised short rib of beef; freshly caught Brixham hake and; roast crown prince squash. For dessert, expect firm favourites such as the Devonshire Christmas pudding with hot brandy custard, or opt for the decadent spiced apple crème brûlée with cinnamon ice cream. Aviary's mixologists will be shaking and stirring to keep spirits high, creating an exclusive selection of hot tipples including the Mulled Negroni, served in a sharing tea pot, which mixes Balsazar red vermouth, and zingy orange bitters; or indulge in a deluxe, velvety hot chocolate with lashings of rum and fluffy marshmallows to garnish.
Where: 10th Floor, Montcalm Royal London House Hotel, 22-25 Finsbury Square, London EC2A 1DX
2. For Rooftop Igloos: Social Fun and Games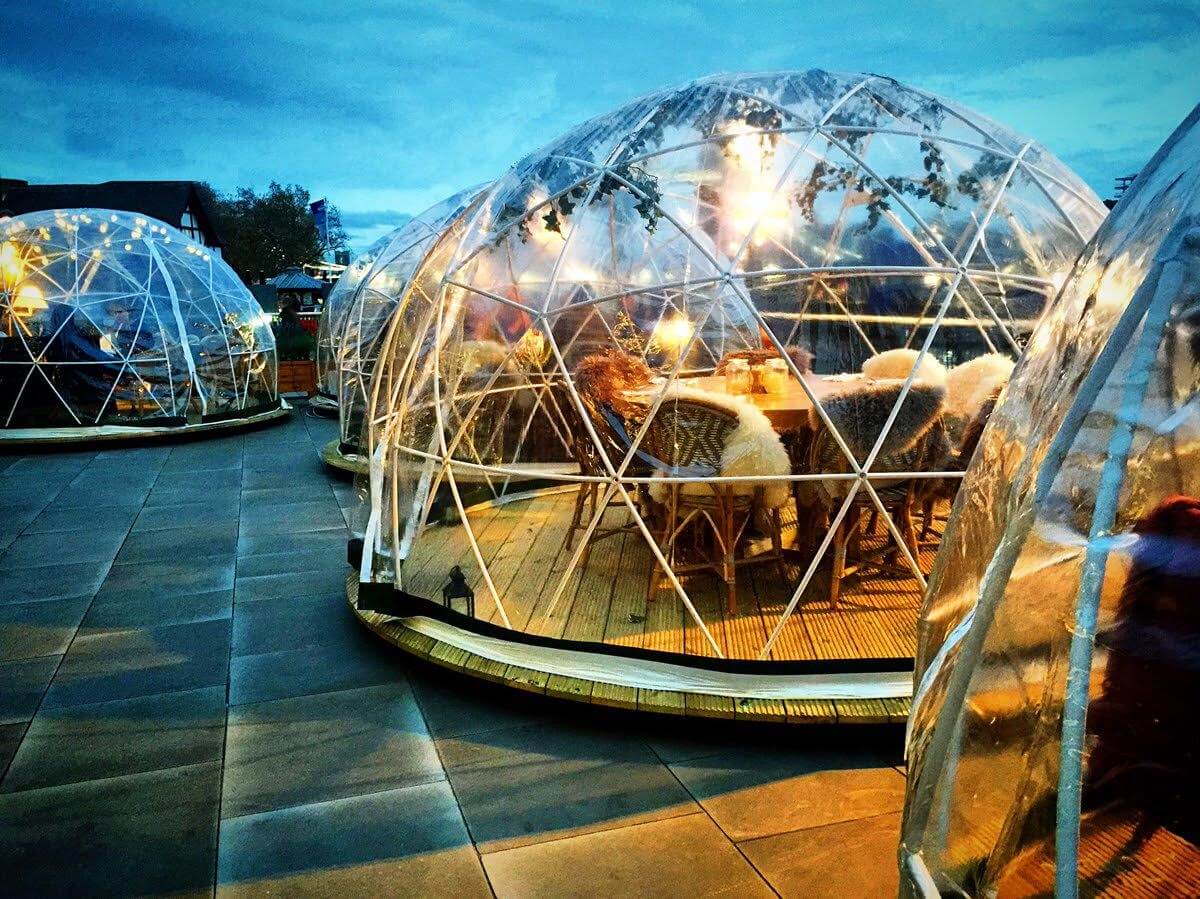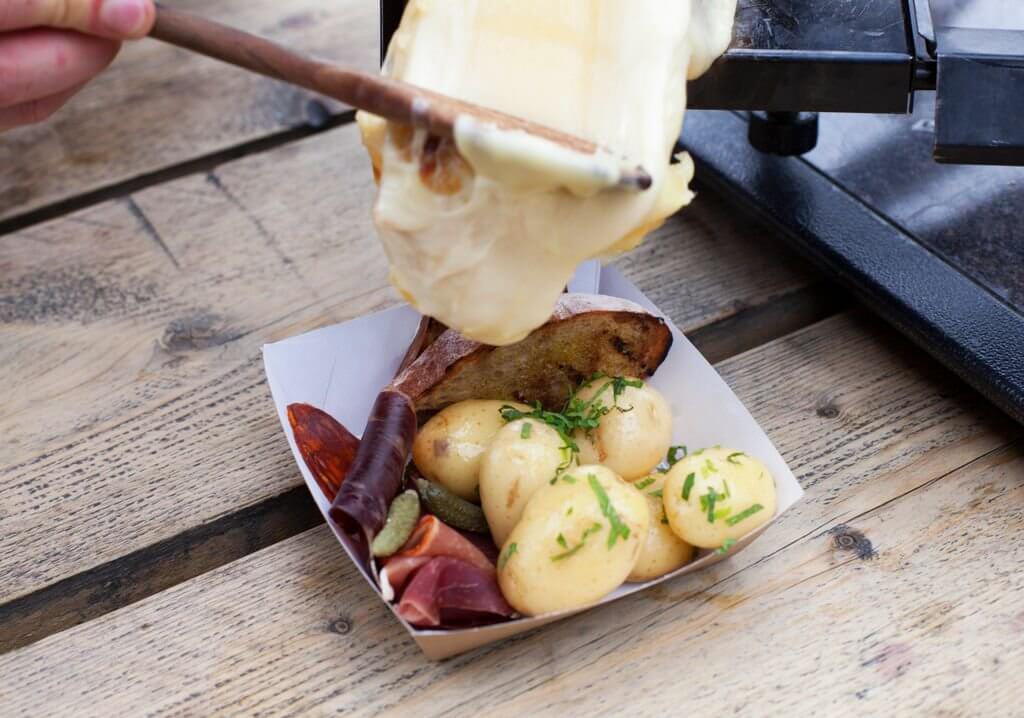 The Run-Down: Social Fun & Games Club have ditched the sandcastles for igloos with the arrival of their winter takeover.  Curling lanes, drinking dens and igloos is what you'll find on the 8th Floor of a carpark in Stratford. It's way more glamorous than it sounds, trust us.
Eat and Drink: One of the best igloo dining spots in London, Jimmy's Lodge is on hand to deliver a mouth watering array of sharing boards direct to each dining dome – think mini wild boar and apple hot dogs, mini sliders and Aspen fries topped with truffle oil and parmesan. Crazy Pig are also banging out pork-based dishes like the ciabatta stuffed with slow-cooked hog roast, and freshly made wood fired pizza pie stuffed with seasonal cheese, wild mushrooms, spinach, sage and air dried prosciutto. And there's hot toddies and ice cool concoctions to wash down your après-ski feast.
Where: Roof East, Great Eastern Way, London E15 1XE
3. For Fancy Igloos: The Sipping Room 
The Run-Down: The Sipping Room has winter covered (quite literally) with six giant pop-up igloos, all offering the perfect party hotspot. For the ultimate VIP experience book one of the two Copper Dog whisky igloos, complete with a bespoke cocktail and party bite menu. Accommodating groups of up to eight, all igloos come fully furnished with toasty touches including electric heaters, sheepskin throws, hot water bottles and Aran jumpers.
Eat and Drink: Festive cocktails are in abundance and food comes in the form of canapés and sharing plates, with seasonal arrivals come December of pigs in blankets; stilton and walnut tarts; and aubergine sliders with winter slaw and wasabi mayonnaise. The Copper Dog igloos offer an exclusive selection of hot toddies in comforting growlers and cold creative serves – with the option to make them into sharers. Winter warmers include the Bakewell Punch (Copper Dog, orgeat syrup, berry cider and apple juice) whilst the chilled Christmas choice is the Sundowner Chai (Copper Dog, sweet chai, apple juice and mint). A dedicated food menu features small plates such as seared sirloin with Copper Dog mustard, and BBQ pork sliders.
Where: 16 Hertsmere Road, West India Quay, London E14 4AX
4. For Swiss Igloos: Jimmy's Lodge
The Run-Down: Jimmy's Lodge is back and better than ever – and in a brand new location. From the 10th November – 31st December, Jimmy and his team will be creating the ultimate cosy escape from the winter cold on the Southbank. One of the best igloo dining spots in London, available for the evening for groups of up to 10 people, the igloos are heated and boast some pretty special views over The Thames and beyond.
Eat and Drink: The menu features a selection of small plates to share such as mulled wine cured gravlax salmon with poached baby pear and lemon creme fraiche; game terrine with bacon crumb, plum jam, and brioche toast; and smoked goat curd with roasted pumpkin, pickled beetroot and toasted hazelnuts. For main course, it's a right fondue party with all the trimmings (new potatoes, bread, side salad). And for dessert: winter spiced crème brûlée.
Where: Southbank Centre, Belvedere Road, London, SE1 8XX
5. For a Large Igloo: Coq d'Argent
The Run-Down: Last year Coq d'Argent transformed their roof terrace into a Lodge d'Argent winter pop-up, and the team are once again creating a magical winter wonderland on its rooftop for the festive season. Don't fix what's not broken, ey? Running from 21st November until the end of February, this year's arctic theme sees two cosy igloo tents installed on the heated ring terraces joining the familiar array of festive lighting, fur blankets and snowy decorations.
Eat and Drink: A brand new cocktail list has been created by Bar Manager Filippo Testa to reflect the colours of the Northern Lights in hues of green, blue and purple with such examples as Green Sky with Hennessy fine de Cognac, Jasmine, and Chandon; Star Walk with Hennessy fine de Cognac, Finca Malbec, creme de figue, vanilla, lemon, glitter jam and raspberries; and for something extra warming Arctic Wilderness, a unique hot cocktail combining Hennessy Cognac, grape tea, moscat sweet wine and ginger candy syrup. A winter menu by Head Chef Damien Rigollet focuses on hearty dishes including venison meatballs with a red berries sauce; classic tartiflette; and whole baked Vacherin cheese and croutons, while desserts include chestnut macarons and warm waffles with hot chocolate and chantilly cream.
Where: 1 Poultry, London EC2R 8EJ
One for luck… 
6. For Iconic Igloos: Coppa Club
The Run-Down: These are the guys that started the igloo revolution and you'll be lucky to nab a table at these now famous igloos, but it's worth a shot. The Coppa Club's igloos are all equipped with faux fur blankets, plenty of heating and can fit up to 8 people inside. And the views. Oh man, the views. One of the best igloo dining spots in London, for sure.
Eat and Drink: The menu focuses on thoughtful, unfussy, European food from small plates and snacks to grilled mains, sourdough pizzas and healthy salads. Try the likes of the crispy fried quid with sriracha mayo and paprika; parsnip, kale and tomato pastilla served alongside hazelnut picada, watercress and orange salad; and British lamb chops with caponata, pomegranate and mint.
Where: Coppa Club, 3 Three Quays Walk, Lower Thames Street, London, EC3R 6AH
Photos by Andrew Kelly, Affiliate Manager at MrQ