KERB held a two day fried chicken festival back in April for all the poultry fans, so it was only right for them to plan something for the plant powered hunnies. KERB are once again taking over King's Cross canopy for two days of vegan goodness. The Ultimate Vegan Rumble will see eight KERB-picked traders, cooking up London's most indulgent vegan dishes to battle it out for KERB's golden carrot.
Ultimate Vegan Rumble: The Lowdown
All this vegan talent spurting up on London's streets, bending minds, cracking carnivores, shifting perceptions. KERB have rafted together 8 of the best vegan wizards out there to conjure up two days (18th-19th Aug) straight of vegan indulgence for everyone to delve into. Doesn't matter if you prefer turkey to tofu – this food with guarantee happy tums all round.
Not a mung bean or buddha bowl in sight, this one's luring all Londoners in with deep fried buffalo wings, chocolate brownie mud pies, red Thai curry pots, Venezuelan chip buttie arepas, tandoori naans and afro tacos but not as you know them. Enter the 'Rumble', eat them all, vote for the winner and live on the (v)edge.
Ultimate Vegan Rumble: The Competitors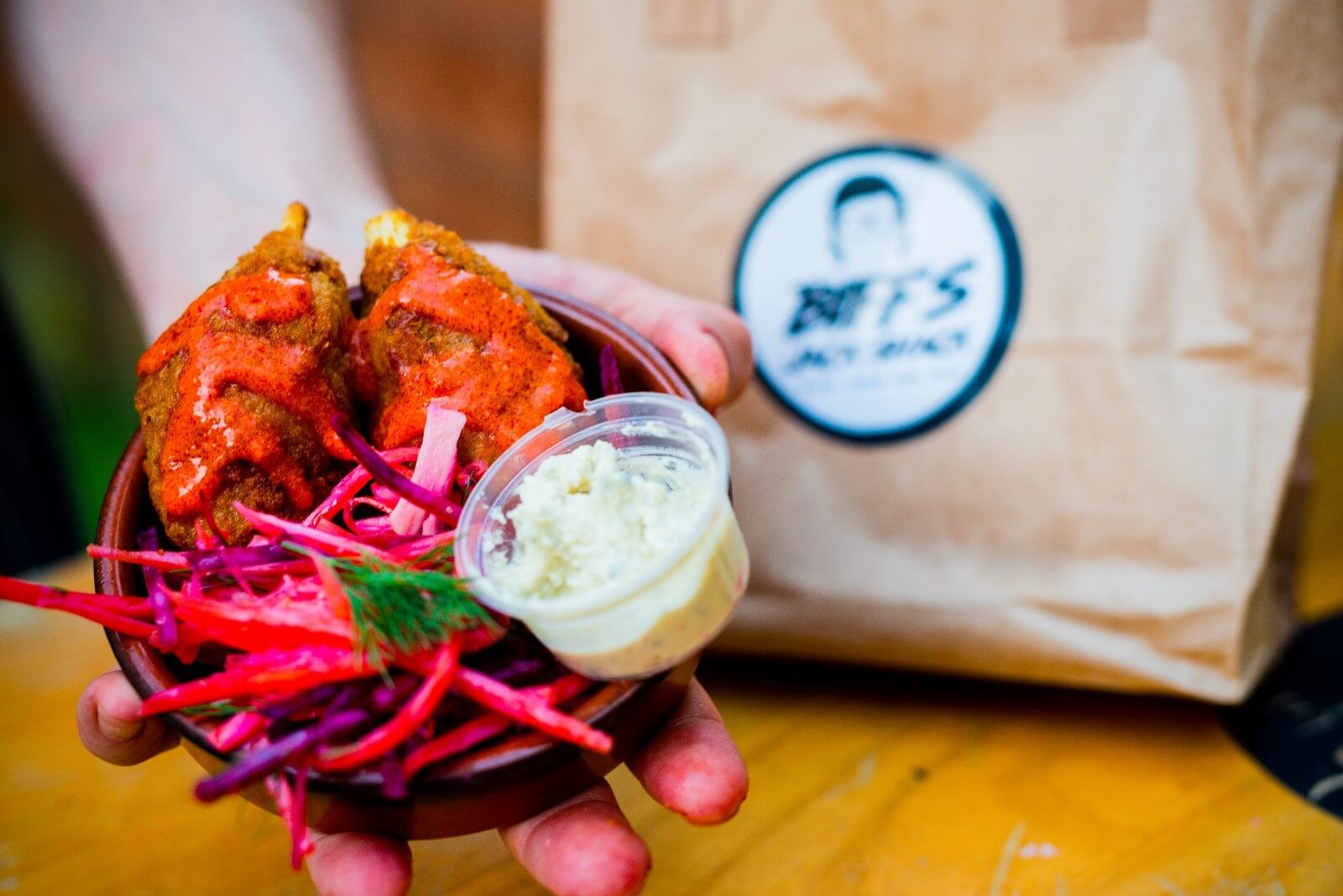 Biff's Jack Shack: Double fried jackfruit buffalo wings speared on sugar cane bone with maple bourbon hot sauce and blue cheese served with toasted almond kale slaw and a fresh seared peach.
Petare: Venezuelan 'chip butty' – an arepa stuffed with cassava chips, sweet fried plantain, feta, avocado and garlic sauce. (FYI, their the Bucket List reigning champ!).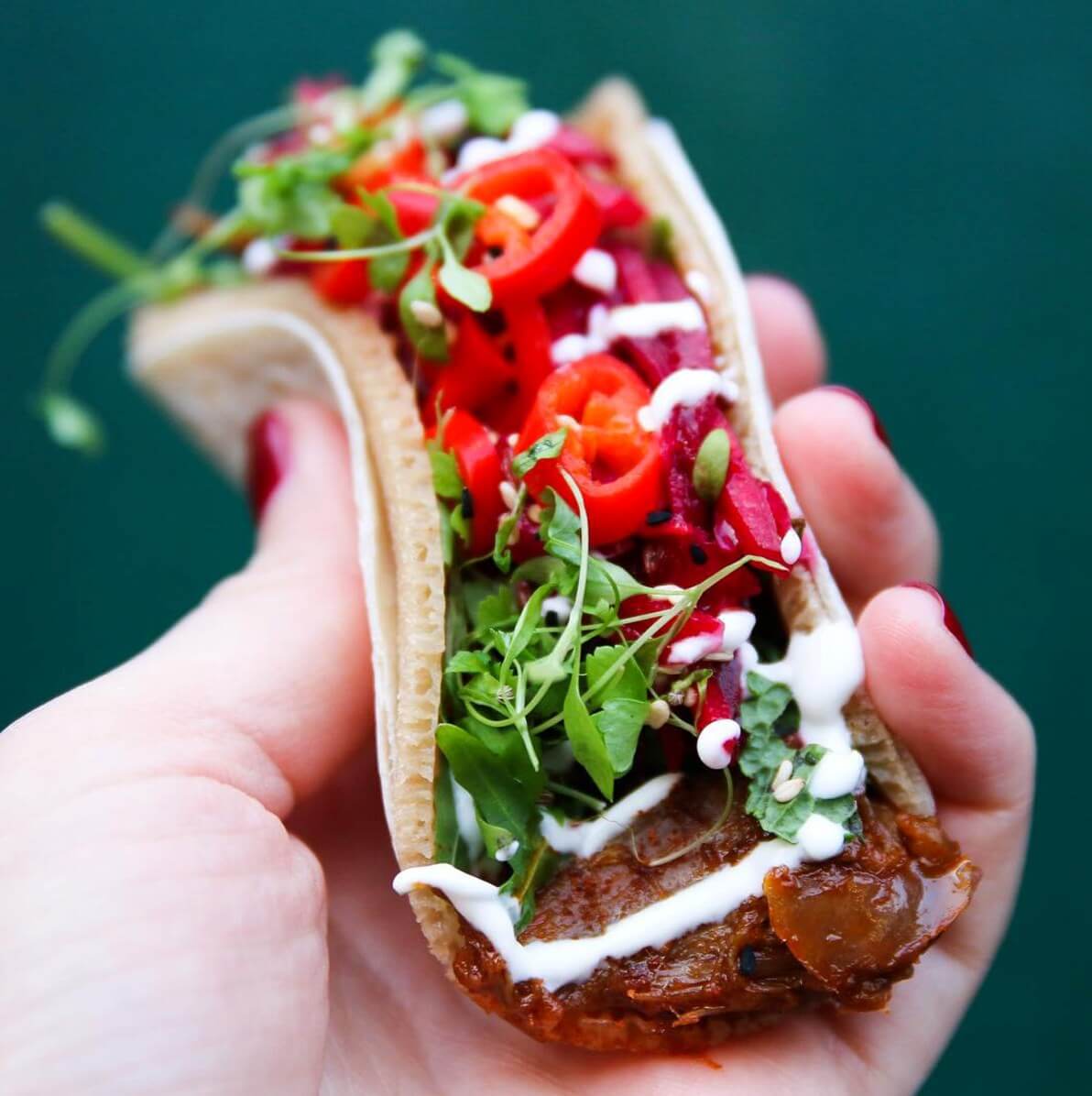 Lem Lem Kitchen: Timtimo split pea afro-taco, served on injera with a red cabbage and ginger slaw, and pickled chillies and seeds.
Photo Credit: Holly Liss 
Eat Chay: Korean BBQ Bahn Mi baguette filled with crispy seitan, mushroom walnut pate, pickled carrots, parsnips and sriracha mayo.
Spice Box: Charred makhani-smothered tandoori cauli steak with coriander chutney and homemade pickles on a grilled naan.
Temple of Seitan: fried 'chicken' slider in an agave mustard glaze.
Photo Credit: @jaik21
Greedy Khao: Thai red curry with tofu and butternut squash pillows on soy sesame slaw and hom mali rice.
Photo Credit: Kim Burrows Photography
Young Vegans: chocolate peanut butter mud pie brownies with ice cream.
Ultimate Vegan Rumble: The Rules
The rules are simple:
1. Every ticket holder will receive eight portions – one dish from every trader, and a free cocktail on entry. Early Birds start at £25. (3 sessions available: Friday evening / Saturday afternoon / Saturday evening).
2. Every ticket holder votes for their favourite at the Livin' on the Veg Wall of Fame
3. Extra portions can be bought throughout the event.
4. Kids under 12 can enter for free during the Saturday lunch session, but does not include food.
Ultimate Vegan Rumble: The Details
When: Friday 18th August, 6-11pm and Saturday 19th August, 12-11pm
Where: West Handyside Canopy, King's Cross, London N1C
Tickets here