It's often said that a great meal is about more than the food on the plate; it's about the experience. Injecting an element of theatre and majesty into a meal is as old as dining itself. Indeed, from the Victorians and their lavish banquets filled with food disguised as something it really isn't, to modern molecular gastronomy that strikes a dramatic balance between science and cooking, dining should be a complete sensory experience.
Of course, all of the world's finest chefs know this, but it's often a quality that's forgotten by smaller food outlets. Although there are some talented cooks dotted around the country, a world-class meal served up in a terrible setting is a mood killer. In fact, this scenario is more common than you would think, which is why it's nice to see a new, if somewhat unexpected, venture pop-ups with a novel take on food entertainment.
Freshly Flavoured Poker Chips
PokerStars is one of the leading online poker companies in the world with gaming interests around the globe. Part of the company's success over the last decade is its ability to innovate, and its latest creation is a poker themed dining experience. Despite the worlds of cooking and poker being polls apart on the leisure spectrum, the two have been melded together to create something truly unique.
Launched in January 2015, the PokerStars All-In Kitchen is the first of its kind (at least in the UK) and the premise is simple: this is a pay-by-poker product. What does that mean? Well, in a nutshell, the more chips you win at the poker table, the more money you get off your bill. Linking dinner and poker in an unbreakable chain, this innovation is one that epitomises the food + entertainment equation.
But what if you don't know how to play poker? It doesn't matter; these pop-up kitchen events are designed to introduce novices to the game and show them the blend of skill, deception and intrigue present in poker.
OK, so how much does it cost? Tickets to the pay-by-poker game are free and no money changes hands during the poker game. What's even better is that even if you can't keep hold of your chips during the tutorial game, the most you'll pay for a meal at the All-In Kitchen is around £18.
An Outside Dining Experience
Away from the UK's fine shores, food lovers in the Netherlands have also picked up on "experience dining" with a quirky pop-up known as Baut. Situated atop of an old newspaper factory, the rooftop restaurant offers cocktails, fake grass and giant scattered cushions, all of which create a home-grown feel for this restaurant that the Guardian named one of the top 10 food experiences in Amsterdam.
In line with the mismatched decor, Baut also offers a chef's "surprise" menu which adds another layer of drama to what's quickly become on the best alternative eateries in the Netherlands. Of course, as with all popular pop-ups, places are limited and the top dish will cost you a few extra quid. In fact, compared to the average dish price of £10, the chef's special menu is £40 which puts it in the firing line of Amsterdam's "upper-class" restaurants.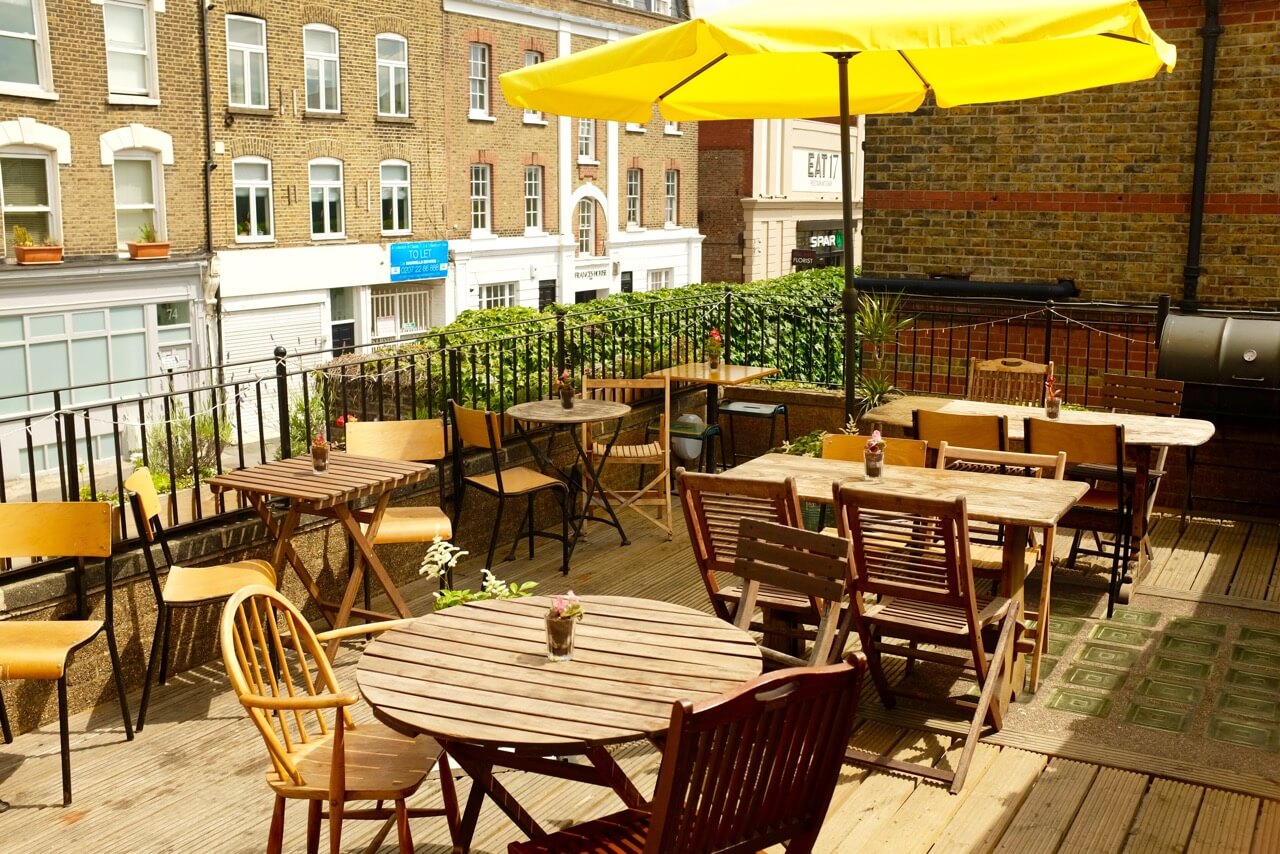 Of course, anything Amsterdam can do, London can match it and in 2015 Brooksby's Walk opened up to give UK residents a rooftop dining experience. The al fresco experience was devised by Jarrod Cooke and Giorgio Ravelli and gives diners the chance to live the Northern Italian lifestyle with sharing plates, weekly barbecues and seasonal cocktails. It has been hailed by critics and enjoyed by many due to its unique dining experience on offer. In fact, it's one of our favorite places to dine in London.
Although the British weather isn't conducive to outdoor dining, that actually adds to the charm of Brooksby's Walk. That element of unpredictability and uncertainty makes eating at this London pop-up one to remember, and that's the only thing that matters when it comes to experience dining.
A Unique Dining Experience
What all of these restaurants have in common is that they are doing something completely different by adding a layer of entertainment or excitement, along with great food.
Eating out and appreciating good food has become much more of a cultural norm in the UK than it once was and it's great to see companies embracing the idea of experience eating.
Although the UK's food scene is still in a state of evolution, the recent emergence of pop-ups focusing on something more than food is hugely encouraging. Indeed, regardless of whether you're thinking of learning a new skill such as poker, or dining in the open like an Italian, we'd highly recommend you try the next pop-up near you.