About Time: You Discovered London's Best September Foodie EventsBy Alicia Grimshaw
Whether you're looking to sharpen up your Thai cooking skills, or fancy a dinner celebrating kid goat – we're discovered the best foodie events taking place in London this month. Wear some loose fitting trousers:
Foodie Events: Chef Collaborations
1. For a Special Dinner: Vivek Singh x Mark Hix
What: Following on from the successful collaboration between Vivek Singh and Mark Hix at Mark's Kitchen Library Series in early May, Mark will reunite with Vivek for his series on Monday (September 18th). Combining Vivek's modern Indian-style with Mark's upscale British food, this will be a gastronomical evening not to be missed.
The Event: The dinner will consist of an array of small dishes, served tapas style, with dishes from each of the chefs. To start, a selection of canapés will be served such as crab and beetroot cake with Bengali mustard and red kidney bean Galouti on lotus root crisp. The main dishes will incorporate Mark's signature style of upscale British food and seasonal ingredients and Vivek's modern-Indian approach with dishes like fish collar curry and grouse tandoori with lentil kedgeree and pumpkin chutney. The evening will finish with sweet treats like Indian Mithai knickerbocker glory.
Price: The dinner will be ticketed, costing £120 and will start at 6:30pm at The Cinnamon Club. Tickets here.
Where: The Cinnamon Club, Old Westminster Library, 30 – 32 Great Smith Street, London SW1P 3BU
What: On Wednesday (27th September), six chefs from leading restaurants including The Jugged Hare, Duck & Waffle and Temper, will come together for a one-night-only dinner to mark the launch of Goatober, a month-long celebration of billy goat meat.
The Event: The chefs will be serving their goat-inspired dishes as part of an exclusive six course tasting menu, which opens with a Black Cow cocktail reception at 7pm, followed by dinner with expertly paired wines from ETM's Head Sommelier Gui Mahaut. Dishes include; kid tartare with deep fried oyster and crispy seaweed by Gill Meller from River Cottage; smoked goat taco by George Wood, Head Chef at Temper; and goat kofte with ezme salad and cumin spiced yoghurt by Tom Cenci, Executive Chef at Duck & Waffle.
Price: Tickets cost (£95) and include a £10 charitable donation to Action Against Hunger. Book here.
Where: Montcalm Royal Hotel, 22-25 Finsbury Square, London EC2A 1DX
3. For Special Dinners: Texture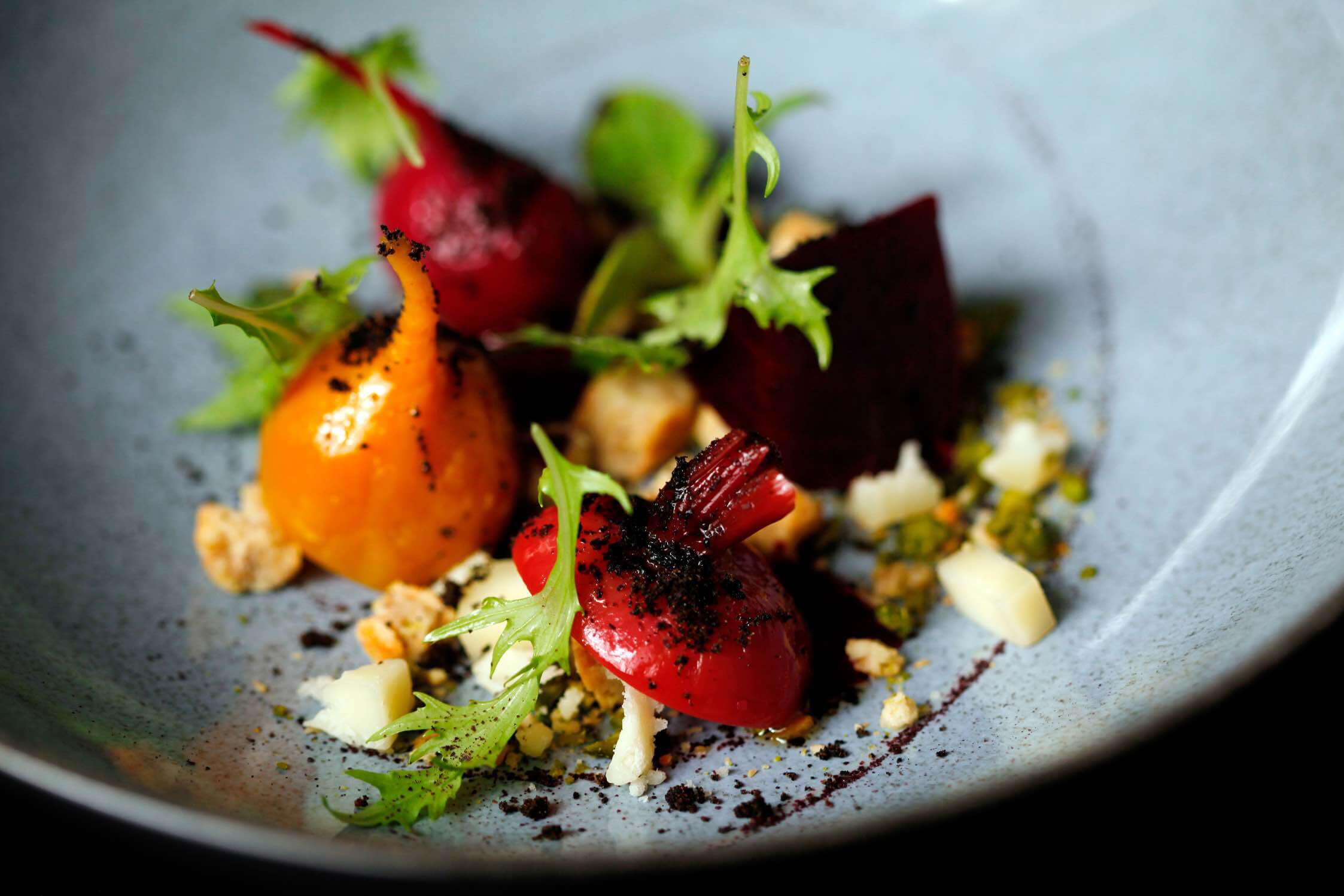 What: To mark 10 years, Michelin-starred restaurant Texture will host a series of one-off collaborative dinners with chefs across the month of September. With five Michelin stars between them, the series is set to be a celebration to remember. Texture's Chef Patron and Owner Aggi Sverrisson has teamed up with five of the UK's most talented chefs: Raymond Blanc OBE of two Michelin-starred Belmond Le Manoir aux Quat'Saisons, Vivek Singh of The Cinnamon Collection, Arnaud Bignon of two Michelin-starred The Greenhouse and Michelin-awarded Ollie Dabbous of Henrietta.
The Event: To kick celebrations off in style, Aggi will host a one-off dinner with his long-standing mentor, Raymond Blanc on Tuesday (5th September). Vivek Singh, Executive Chef of The Cinnamon Collection will join Aggi on Thursday (7th September) to create an exquisite menu of lamb sheekh kebab and Aggi's new season Lancaster beetroots with gorgonzola. To end the series, Aggi will be joined by Arnaud Bignon of two Michelin-starred The Greenhouse and Michelin-awarded Ollie Dabbous, fellow Belmond Le Manoir aux Quat'Saisons alumni and former head chef at Texture on Tuesday (19th September).
Price: Tickets start from £170.00 and are available to book online or by phone 020 7224 0028.
Where: Texture, 34 Portman Street, London, W1H 7BY
4. For a Charitable Dinner: The Cheese Bar
What: On Thursday (14th September), The Cheese Bar will be honouring the humble grilled cheese with a fitting celebration in aid of Help Refugees UK. Founder Mathew Carver has invited five of London's best from across the capital to turn their hand to creating their own cheesy masterpiece with proceeds from the evening donated to the charity.
The Event: Taking their place on the menu will be Josh Katz and Mattia Bianchi from Middle Eastern maestros Berber & Q, Harneet Baweja of East London favourite Gunpowder, specialist in all things Louisianan, Decatur's Tom Browne, alongside James & Thom, founders of Pizza Pilgrims and Tomasz Baranski, Head Chef of taco experts El Pastor. Collaborators will be given free reign to put their stamp on the classic grilled cheese, with one rule and one rule only, the cheese must be British, in keeping with The Cheese Bar's championing of the best, and only the best, produced on British soil.
Price: The set menu will be priced at £20 and will include any beer and any glass of wine. Bookings will be available for 2 or more people from 6pm at booking@thecheesebar.com.
Where: Unit 93 and 94 Camden Market, North Yard, Chalk Farm Road, London NW1 8AH
5. For a Mexican Independence Day Bash: Quo Vardis x El Pastor 
What: Following a sell-out spring/summer season, Quo Vadis has released the line-up of autumn/winter Quo Vadis & Friends guest chef events. The series sees Jeremy Lee invite his friends from some of the most exciting kitchens in London and further afield, to come and cook on the second floor of the Quo Vadis club, for both club member and non-member ticket holders.
The Event: The first event on the evening of Friday (15th September) will be a feast in honour of Mexican Independence Day, with Quo Vadis' sister restaurant, El Pastór. In collaboration with Mezcal Amores, the dinner will be a mezcal-fuelled, multi-course Mexican fiesta, likely to continue downstairs in the club for more drinks and festivities until late.
Price: £64 – buy here.
Where: 26-29 Dean St, Soho, London W1D 3LL
Foodie Events: One-Off Events
6. For a Veggie Dinner: Hugh Fearnley-Whittingstall x Borough Market 
What: On Thursday (21st September), Hugh Fearnley-Whittingstall and Borough Market will be hosting a three-course feast featuring recipes from his new book Much More Veg, to mark the culmination of River Cottage's month-long residency at Borough Market.
The Event: The evening will showcase some of the best that Borough Market has to offer with produce from Ted's Veg and Chegworth Valley, wines from Borough Wines, with all profits from the event going to Borough Market's Trader Relief Fund, to support Traders affected by June's terror attacks. In true River Cottage style, guests will dine around a communal trestle table adorned with dishes created by Head Chef, Gelf Alderson. On arrival guests will be greeted with a pre-dinner cocktail, the River Cottage Bloody Mary, made with Riverford Organic beetroot and Devonshire Black Cow Milk Vodka.
Price: Tickets for the Veg Feast are priced at £125 and are available to buy here
Where: Borough Market, London SE1
7. For a Foodie Compeition: Meat v Fish Festival 
What: Things are set to heat up on 6th September at 6pm, as an epic Meat vs Fish cookery standoff takes place at Flat Iron Square, the foodie hub in Bankside. Founded and organised by luxury hospitality recruitment agency, The Change Group, in partnership with Action Against Hunger, this bespoke fundraising event will see ten restaurants compete against each other using responsibly-sourced ingredients. Five will showcase fish dishes and five will make meat their star ingredient
The Event: The current line-up of chefs taking part includes: Jenny Warner, Head Chef at The Thomas Cubitt; Dale Osborne, who has worked at the likes of HIX Soho, Dinner by Heston Blumenthal and the Chiltern Firehouse and is now the Executive Chef at Aqua Shard; Sam Ashton Booth, former Head Chef of Restaurant Story, has joined Executive Chef Mark Jarvis at Anglo; Joe Howley, Head Chef at Salt Yard restaurant, and many more.
Price: £25 per ticket which includes 4 free dishes. Book here.
Where: 68 Union St, London SE1 1TD
Foodie Events: Supper Clubs
8. For a Portuguese Feast: Taberna do Mercado 
What: Nuno Mendes has announced a series of cookbook takeovers at his Spitalfields restaurant Taberna do Mercado this September. Showcasing dishes from his new cookbook Lisboeta, Nuno will be manning the stoves, providing diners with an exclusive first look at his favourite dishes, bringing these to life ahead of the book's full release this October.
The Event: On Thursdays and Fridays throughout September, these special services will take guests on a journey through Lisbon, exploring and unearthing lesser known dishes enjoyed by everyday 'Lisboetas' (natives of Lisbon). Changing weekly, these exclusive menus will also provide a unique insight into the very dishes which have shaped Nuno's cooking and have inspired him since childhood. For lunch, expect plenty of light, fresh and simply prepared seafood such as squid with garlic and coriander or grilled sardines. Cooler September evenings will welcome the arrival of hearty and warming dishes including slow-baked lamb chanfana and roasted orange-rub pork belly with fennel.
Price: A set menu of dishes will be available for both lunch and dinner priced at £30 for lunch and £45 at dinner. Reservations are recommended. Contact the Taberna reservations team on info@tabernadomercado.co.uk or by calling the restaurant's reservations number on 0207 375 0649
Where: Taberna do Mercado, 107B Commercial St, London E1 6BG
9. For a Chocolate Banquet: Godiva x Gingerline
What: To celebrate the launch of its new Masterpieces range in Sainsbury's stores this September, chocolate kings Godiva has partnered with immersive dining pioneers, Gingerline, to bring a sensory chocolate banquet to the big smoke. The exclusive Godiva Masterpiece Banquet event will run from the 26th – 29th September and will take diners on an indulgent surrealist journey through three courses inspired by Belgian 'masterpieces'.
The Event: All tickets will be given away for free via a public ballot. Those who are successful will then be treated to an evening of multi-sensorial, luxurious dining, informed by the shapes, tastes and stories behind the new Godiva Masterpieces collection; the heart, the shell and the lion.
Price: Enter here (it's free).
Where: Secret London location
10. For a Tasting Menu: Anderson & Co 
What: After years working in restaurants in the US and the UK, the Anderson & Co team's real passion is bringing people together to enjoy delicious food and great company. Join them for seven courses of seasonal British fare in a relaxed environment. And it's BYOB.
The Event: In charge of the kitchen is Ryan Anderson, chef at Anglo restaurant. The menu features seven courses including aubergine with goat's cheese; mackerel served alongside rice; grouse with sweetcorn; and chocolate and burnt sugar for pudding.
Price: £40 for seven courses. BYOB. Tickets here.
Where: Clapham Studios, Unit 7&8 Battersea Business Centre, 99-109 Lavender Hill, London SW11 5QL
Foodie Events: Masterclasses
11. For a Thai Cooking Class: som saa x Singha Beer 
What: Get ready to turn up the heat and join Singha Beer [pronounced 'Sing'] at an authentic Thai cookalong class with Andy Oliver, MasterChef finalist and Head Chef of London's acclaimed restaurant, Som Saa. Andy will be hosting three classes on the evenings of 18th, 19th and 20th September at the Cactus Kitchens, London.
The Event: Andy will be demonstrating how to create mouth-watering dishes, ideal for sharing, including Som Tam (green papaya salad) and a classic Thai curry. As well as cooking, students can expect to learn everything from kitchen prep, to the importance of using the freshest ingredients to make flavoursome food, perfect for pairing with Singha Beer.
Price: Tickets are available to buy for £35.00 per person here 
Where: 1 St Luke's Ave, London SW4 7LG