About Time: You Attended Vegan Nights at Old Truman BreweryBy Alicia Grimshaw
There's a revolution brewing in London: the plant-based revolution. After a wave of new vegan openings, vegan collabs and all sorts of new vegan menus sweeping our fair city, London is embracing the plant power love with open arms. Another exciting event to pop in your diary is the sixth instalment of Vegan Nights, taking place on Thursday (5th April) at Old Truman Brewery.
Vegan Nights: The Lowdown
The Vegan Nights team are not holding back this time – prepare yourself for some of the most exciting and diverse food and drinks vendors from across London (and the UK) all under one roof. Flogging their delicious vegan eats this time are Arancini Brothers with their perfect, crisp little rice balls of greatness, comfort food classics by Lazy Boy Kitchen and deep-fried bites and burgers by Willaroos, among others.
Vegan Nights: Food and Drink
Experience vegan joy once again with indulgent baked goods from Cupcakes and Shhht, authentic Japanese vegan bento from Hai Dozo and sloppy, grab-a-fistful-of-napkins burgers from Mooshies.
Resident CookDaily returns again, bringing his Laotian heritage to the menu alongside incredible plant-based offerings. CookDaily's innovation is recently exemplified by a successful vegan dish collaboration with Wagamama, and his music industry inroads with JME and Skepta.
Photo Credit: Cupcakes and Shhht | Mooshies 
Vegan junk food connoisseurs Pig Out will be on hand to feed the masses alongside plant-based favourite Omni Collective. Little Leaf Food will be banging out vegan pizza – and Patty & Bun's brand new vegan burger, The Whoopi Goldburger, will also be available on the night amongst so much more vegan goodness.
In addition to all the plant-based food and drink, this edition will include retail offerings from lifestyle brands BrightZine, Self Care Co, NINI Organics, and ethical vegan clothing company – Ethcs, co-owned by Tim Shieff. There will you'll have the chance to show off your vocals at SpiceBox's exclusive Curry-aoke, where revellers will be able to sing along to their favourite hits in a private vintage caravan whilst enjoying a side of vegan Indian food.
Photo Credit: Little Leaf Food | Justin De Souza
Vegan Nights: The Details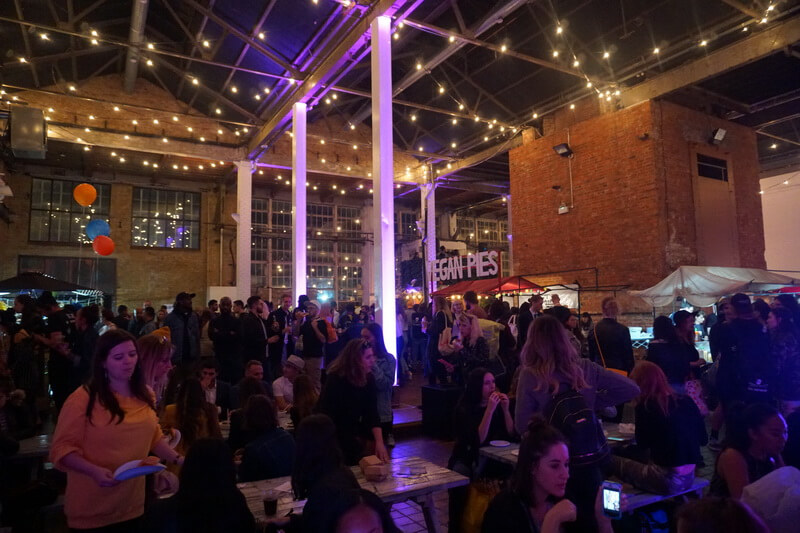 When: Thursday 5th April
Time: 5pm-11pm
Price: Tickets £5. Buy them here
Where: 93 Feet East 150 Brick Lane E1 6QL