About Time: Women Raised The StakesBy Anna Dack
When you think of poker, what do you see? 
1. Lady GaGa in a metallic-blue leotard miming elaborately to her number one hit (you know the one).
2. A smoke-filled card room, bustling with big burly men seated at a table and playing a round of Texas Hold'em, rough-and-reckless.
3. Infuriating internet pop-ups advertising the latest online tournament at $10 a buy-in.
Sat in the beautiful Grand Connaught Rooms, home to the EPT London Poker Festival, next to some of the poker world's leading women – one thing is immediately clear: poker is anything but the above. Taking my place at the table next to Fatima Moreira De Melo and Rebecca McAdams, the sports' 'High-Pair' of female poker stars, I'm in awe of their presence alone. From their casual flick of the chips into the pot, to the tactical adjustments of slanted baseball caps, and the cold stare they give opponents as they glance across the table – nothing will stop them taking your money and leaving you down-and-out without a dime. If you want some fun at home, why not try PPPoker review.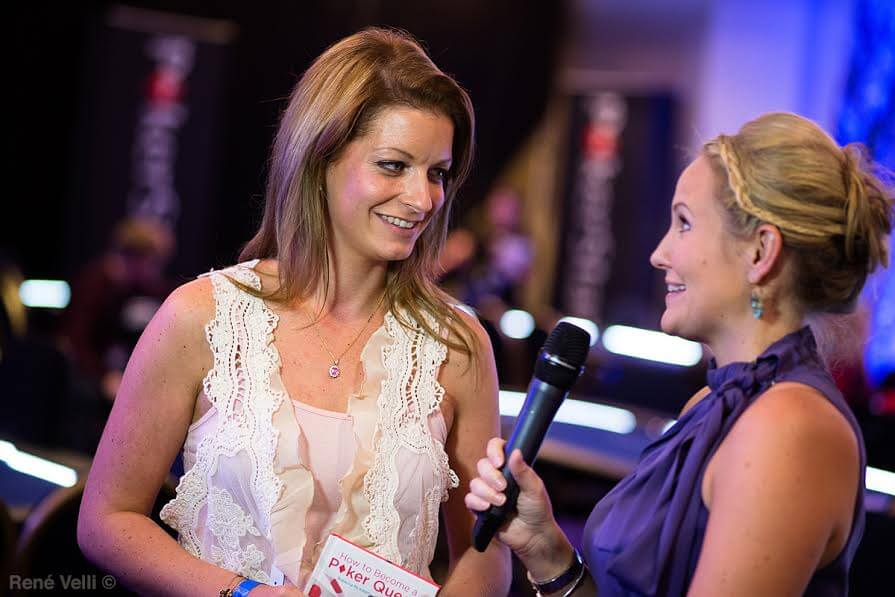 Confident and sexy, the women you see dotted around these tables are a man's most lethal opponent, but with only a handful of women playing in the EPT, the game paints a huge gender imbalance and it's hard to understand why. While I'm clueless on the matter of masterminding a game of poker, it took only 2 hours of an all-female tournament, to realise that it's well and truly a woman's game, with just enough strategic play from a bunch of female beginners to warrant male professionals wandering over to watch the action unfold.
Women such as Fatima Moreira De Melo and Rebecca McAdams are completely shaking up the poker playing stereotype and thrusting women into the spotlight – they've made the game relatable, interesting and lifted it from seedy high-stakes haunts to glamorous professional territories. Using their alluring charm and natural intellect, they're confident in their ability to out-wit even the most ruthless players, identifying a host of advantageous methods to see us girls upping the ante and winning the jackpot.
Here are five top-tips they taught me to help beat the boys:
1. Learn Your Lingo
Before you sit down at any table you should freshen up on the rules of the game. It's important to know your big blind from your top kicker and your river from your royal flush, so spend some time sussing out the hands and understanding the stakes you're playing for. To really get to grips with the rules, pick up a copy of Rebecca McAdam's new book 'How To Become A Poker Queen', as she reveals the secrets of a woman's game.
2. Practice Your Poker Face
It's no secret that men find it difficult to read women's emotions without the obstacle of a poker table, so take full advantage of this.  When you peek at your cards and see two beautiful Aces staring back up at you, don't give the game away with your reaction. Interestingly, professional poker players wait until it's their turn to bet before actually looking at their cards. When they know all eyes are on them, they can start their story and get you to believe what they want.
3. Don't Get Carried Away
It's easy to forget that chips = cash. Even when your hand looks strong, don't be influenced by your opponents and push all-in just because everyone else does. Often in poker, it's the alpha-male who is unable to leave his ego at the door that's made to look a fool at the table, simply because he can't back down from a situation where he perceives he's being taken advantage of. Stay calm, and let the men battle it out between themselves.
4. Play Honest Hands
A misconception about poker, is that it's all about bluffing, and we never bluff, do we ladies? An important rule for new poker players is to play safe hands. About 75% of the game, you should be folding your cards, and if by some freak of chance, you do try a move and get caught out, make sure to look embarrassed and swiftly apply a fresh coat of lip-gloss.
5. Know Your Opponent
Poker is all about stories, and the more you play, the more you'll recognize an opponent's 'tell'.  Why is someone raising you? Do they have a good hand, or are they bluffing?? Look for the signs from the outset, and remember it's not just about your hand, but the hands of your opponents too.