About Time: You Discovered London's Hottest New Co-Working SpacesBy Angelica Malin
Gone are the days of bland offices, crappy rooms filled with dud photocopying machines, and endless wall charts. As Londoners turn to the digi nomad life, co-working spaces in the capital have become increasingly popular in recent years, with the trend only expected to rise. Forget nursing a latte all day down at Costa, here's the hottest new co-working spaces opening in London in 2017.
1. For Carpark Chic: Peckham Levels
What: A creative workspace project, transforming the inner levels of Peckham's multi-storey carpark into a new cultural destination with makeshift workshops for artists, designers, makers and entrepreneurs. Led by the team behind Pop Brixton, the empty car park will be transformed, taking up six inner levels to house a working community of up to 600 people, with artist studios, workspace and exhibition space.
Why: A haven for arty types. Legendary rooftop hangout Frank's Cafe is just upstairs for all your after-work negroni needs. Plus, a host of new, independent food and drink traders, a community café, an event and exhibition space, and wellbeing and fitness studios will be opening their doors. In the alleyway along side of the car park expect to find a new community garden and regular foodie markets.
Cost: Desk price from £195 per month or offices from £3,320, preview and book on Hubble. Opens September.
Where: Peckham Town Centre Carpark, 95A Rye Lane, London SE15 4TG
2. For Family Friendly Vibes: Second Home, London Fields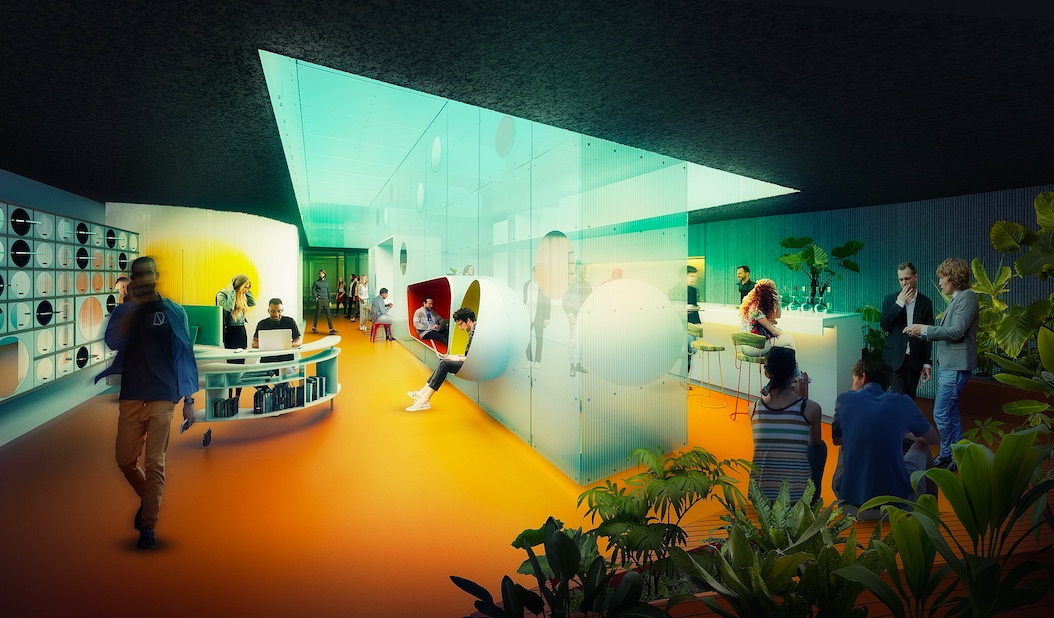 What: Second Home's latest workspace/community is also family friendly, featuring everything from a soundproofed crèche and milk-warming facilities to buggy and scooter parking for kids, to flooring made from recycled car tyres in public spaces – ensuring a safe environment for young children. Designed by award winning architects Estudio Cano Lasso, who used plant-filled light tunnels to connect each floor, the effect is a magical and innovative workspace in the heart of London Fields. And their first family-friendly building for entrepreneurs, innovators and social impact organisations.
Why: Everything at Second Home, from their high-profile Cultural Programme (past events include everything from a nutrition workshop and five course French dinners to embroidery workshops and entrepreneur funding talks) to their light-filled, leafy workspaces, is designed to help individuals and teams be more productive, creative and happy. There's also free yoga and pilates classes, organic teas and coffee.
Cost: Membership from £375 per month (plus VAT), preview on Hubble. (Holland Park location opening in September.)
Where: 125–127 Mare St, London E8 3SJ
3. For a Creative Working Space: The Beehive
What: A beautifully refurbished Victorian warehouse with high ceilings and lots of natural light in the heart of Stoke Newington. Home to dozens of creatives who work on everything; from illustration and design, to health and wellbeing to branding and photography, you're bound to be sat with someone interesting. Promising an inspiring work environment and offering a number of flexible packages for freelancers, it's ideal for anyone looking for a fun, flexible work/life balance.
Why: Perfect for anyone looking for a more intimate coworking space with only 18 large desks. Known for its excellent free coffee, monthly members can also enjoy free yoga classes. After hours, it's an easy stroll to the many bars and restaurants of Stoke Newington Church street.
Cost: Desk from £220 per month, book on Hubble
Where: 3-9 Belfast Rd, Stoke Newington, London N16 6UN
4. For Collaborative Working: Palmspace
What: Nestled in a green corner of Hackney Downs Studios this new custom-built collaborative workspace was once a former print factory and is filled with – you guessed it – palm trees. The beautiful, private landscaped garden has been designed to accommodate a mix of creative work in an environment that encourages imagination and wellbeing. Work surfaces are made of parquet flooring reclaimed from schools across London, and spaces are versatile, hard-wearing and adaptable – to encourage makers to collaborate on projects.
Why: Ideal for artisans, this space is pioneering the concept of 'co-making', which encourages makers to collaborate and share ideas, so grab your paint brush, chisel or laptop and head on down. Set within hip Hackney Downs Studios, you're also next to a friendly vegan market, cafes and theatre space.
Cost: Hot desk from £150 per month, book at Hubble
Where: Hackney Downs Studios, 17 Amhurst Terrace, London E8 2BT
5. For Hotel Hospitality: Fora 
What: A boutique hotel-style work space in Clerkenwell with a concierge service, restaurant, lobby bar, yoga studio as well as a boardroom. Facilities include wet rooms with fluffy towels and the finest wellbeing products, bike rooms as well as a "dry room" to hang clothes if they got wet during the commute. The restaurant, Palatino, is backed by restaurateur Stevie Parle of Dock Kitchen, Rotorino and Craft London, and serves Roman-influenced dishes and Italian wines in a buzzy industrial-style space. Artwork is hand-selected by Jealous Gallery, and features award winning pieces by students from local art schools and street artists.
Why: For anyone who wants to mix work with pleasure, this space offers hotel hospitality and a members' club service culture. The concierge team's little black book gets you exclusive discounts around the neighbourhood.
Cost: Hot desk from £375 per month. Book at Hubble
Where: 71 Central Street, Clerkenwell, London EC1V 8AB
 6. For Snacks and Mood Booths: Work.Life Clerkenwell 
What: This new, intimate co-working space from the Work.Life group boasts 'ninja-fast' wifi, fruit water on tap, and member benefits such as breakfast, a running club and free yoga – not to mention beer and pizza nights. Boasting mood booths and breakout spaces, standing and sitting desks in the heart of Clerkenwell, it also has direct access to the innovation and venture teams of Verizon and its global clients.
Why: Ideal for entrepreners who can tap into mobile and communications giant Verizon's incredible innovation team – there's also a real focus on face-to-face collaboration, so you can meet potential clients, industry leaders or try your hand at origami. They also promise fully stacked kitchens with coffee, tea and all the pretzels and jelly beans you can handle on the house.
Cost: Hot desk from £250 per month. Book at Hubble
Where: 20 Jerusalem Passage, London, EC1V 4JP
7. For a Day to Night Workspace: Haus @ Sway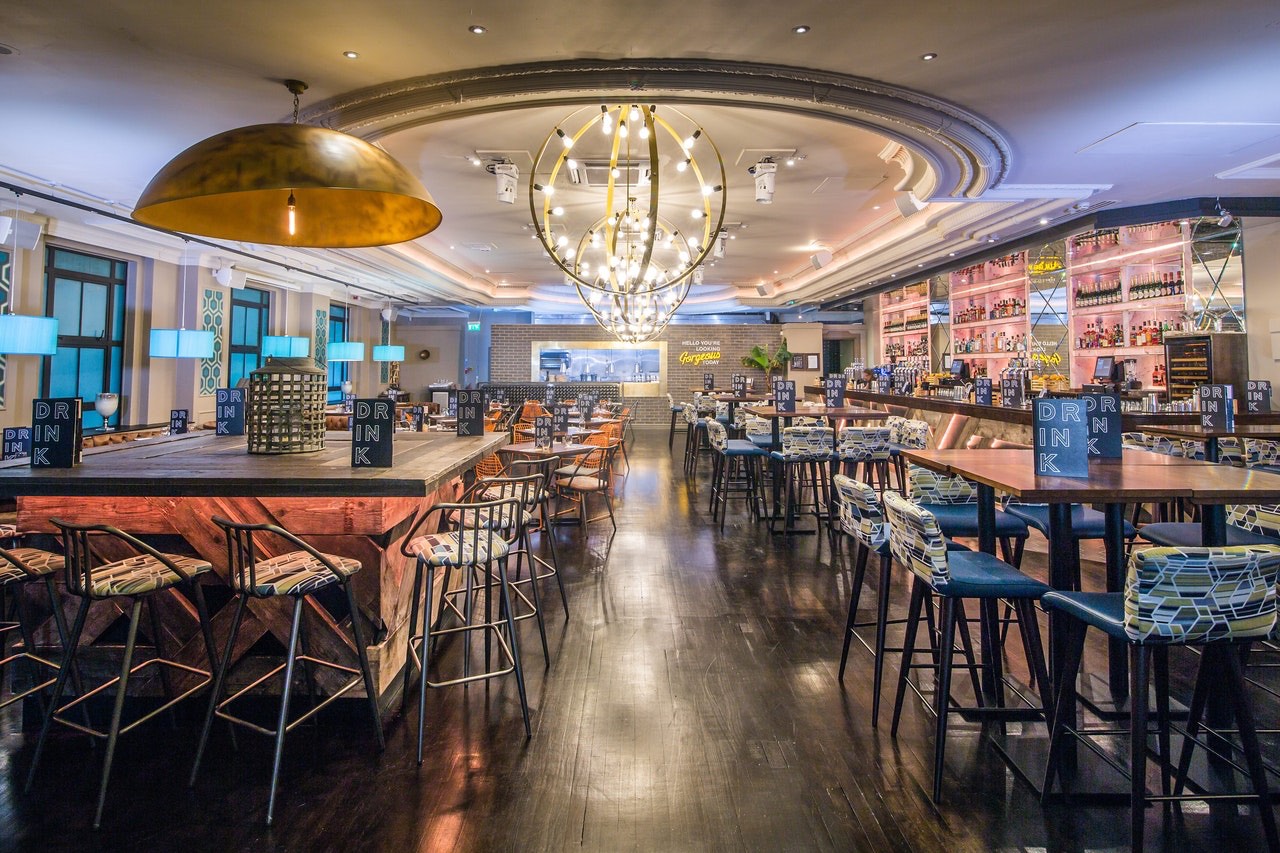 What: Haus is transforming London bars and restaurants into cool coworking spaces during the day. Their first stop is Sway, a chic bar and restaurant with dark wooden floors and art deco touches near Covent Garden. Grab one of the high stools or settle into the sofa, with plenty of power outlets and tea and coffee to keep you going until cocktails.
Why: A great day to night workspace in a super central location, there's free tea and coffee with discounted drinks for members once the work day is over. It's also great value, if you're keen to dip your toe into coworking, with desks from as little as £50 per month.
Cost: Hot desk from £50 per month. Book at Hubble
Where: 61-65 Great Queen St, London WC2B 5BZ
Hubble is a digital platform for finding coworking space and flexible office space in London, with more than 20,000 desks online. Visit https://hubblehq.com/