Grabs your mates, your credit card, and get ready to explore London this weekend. Here's the best events that you simply can't miss:
Friday 30th September 
For Beer, Beats and Bratwurst: Street Feast's Oktober Feast 
What: You don't need to travel to Germany, and don Lederhosen to get in the Oktoberfest mood. Street Feast have brought the Munich madness to Hawker House Canada Water with their special (and boozy) Oktober Feast on Friday  and Saturday. Their fantastisch craft beer festival will celebrate incredible beers of the three Great Brewing Nations – England, Germany and the USA, bringing together 50 brilliant beers and 20 of the biggest names in street food for two epic parties.
Why: The Street Feast team have carefully curated a list of over 50 fantastic brews from Brooklyn to Bermondsey, Camden to Cologne, Munich to Maryland. Everything must go. Sink the list of modern microbrewery crafts and ancient international wunderbeers – complete with tasting notes – and drink yourself smart (or drink yourself towards the bright lights of the local kebab shop). Expect über vibes, and big beer food from some of London's favourite street food traders. Last year's dishes included a Bavaria Burger special from Bleecker St., Tiger Prawn Currywurst from Prawnography, and Schnitzel Buns from Spit & Roast. We'll see you there for a spot of Stein Dining.
Price: £15 General Admission – includes your first free beer in a pint-glass stein (aka an 'Ein Stein'). £40 England v Germany World Cup Final of Beer – tasting ticket for two to share. This gets you two 'Ein Steins' to kick-off and 20 x ¼ pint beer tastes from a world-class 11-a-side line-up. This is one match England can win. Tickets here
Where: Hawker House, Canada Street, London SE16 2XU
Photo Credit: Johnny S Photography
For Whiskey: White Lyan x Jack Daniel's 
What: There's an age-old tradition at the Jack Daniel's distillery in Lynchburg, Tennessee; employees are gifted a bottle of Jack Daniel's on the first Friday of the month as a thank you for all their hard work. The Jack Daniel's UK team liked the idea so much, they wanted to introduce something similar on British shores. Introducing Jack Friday: a celebration of everyone's favourite whiskey on Friday nights. This Friday is the last chance to bask in the Tennessee party atmosphere.
Why: Master mixologist Ryan Chetiyawardana has created a limited edition Jack Daniel's sharing serve for the White Lyan menu. Before we get onto the new tipples, we should probably mention that White Lyan will be hosting a secret gig at the bar on Friday, complete with a live DJ set and of course Jack Daniel's cocktails. Hosted in its downstairs space, consumers are invited to enjoy their last Jack Friday night at White Lyan. The gig will start at 10pm, so get in early as space will be limited. Sip on the bespoke serve Jack Daniels No.7 with a twist of sour plum, barley malt and a hint of coriander seed – aptly named Sour Plums Boilermaker. Served in a 500ml bottle with two dimple mugs, this cocktail is perfect for sharing.
Price: Free Entry
Where: 153-155 Hoxton St, London N1 6PJ
Saturday 1st October 
For Art With Your Amigos: 45 Park Lane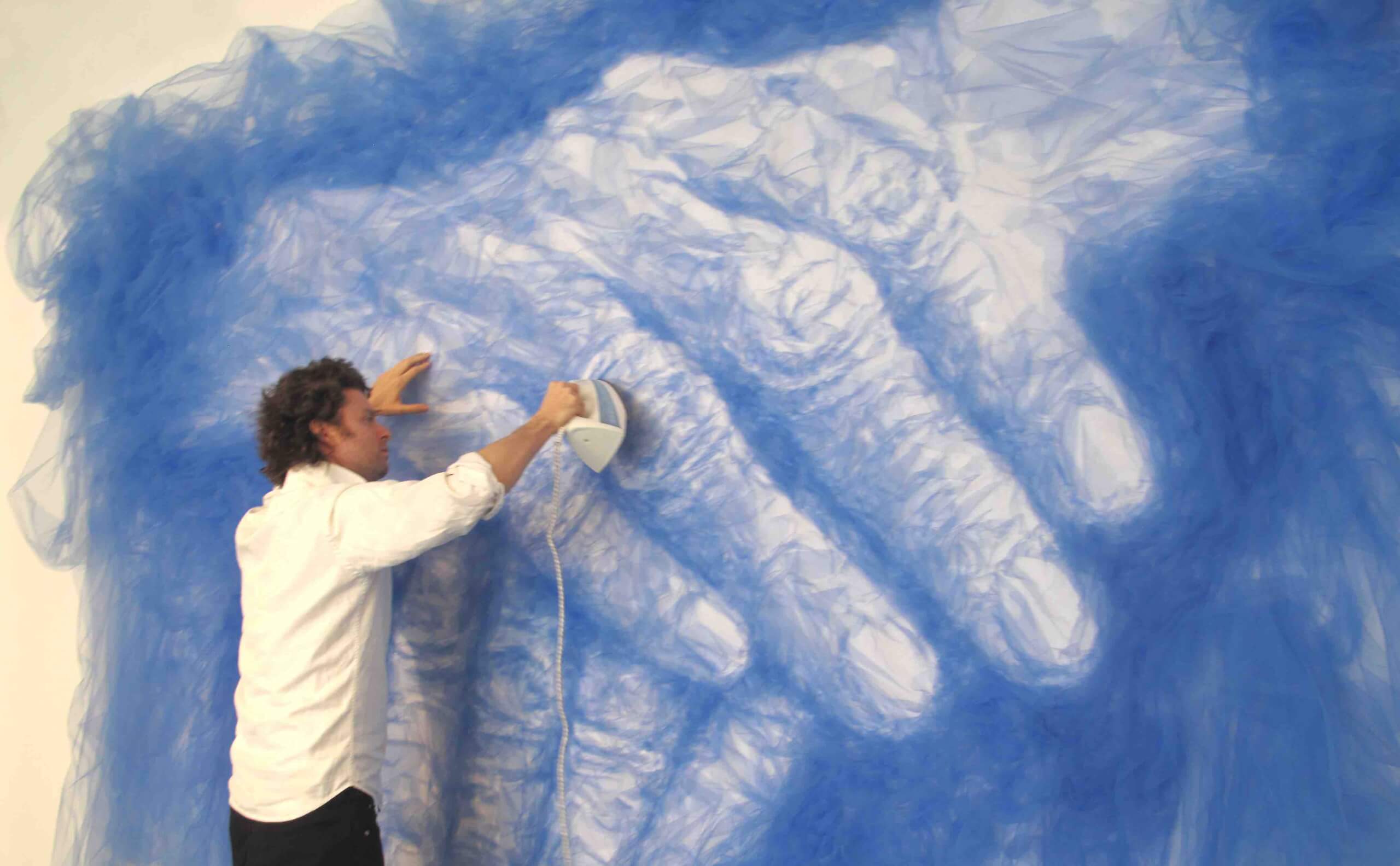 What: Now on its 13th art edition, 45 Park Lane will be exhibiting Benjamin's Shine's Tulle Works until December, displaying the pleating and manipulation of tulle. Benjamin's latest series, Evanescence, explores ideas of impermanence, energy and the fleeting moment via works on canvas, wall-sculptures and suspended installations.
Why: Following a collaboration with Givenchy, the tulle works developed to include portraiture, abstract works and installations. Recently his large-scale installation 'The Dance' generated over 65 million views online. Benjamin's work has been exhibited globally including Opera Gallery, London, Paris and Monaco, The Museum of Arts and Design New York, The Goss-Michael Gallery in Dallas, Texas, The Crafts Council UK, and The London Design Museum. Artworks are for sale, POA. Appreciating art is hungry work – make sure you swing by CUT for incredible Wagyu steak, beef hash and lobster salads. Or, make a weekend out of it, and come for their brunch (their seven grain granola is the best in town).
Price: Free
Where: 45 Park Ln, Mayfair, London
For a Boogie and Banging Tunes: Old St. Records 
What: Shoreditch's newest bar, Old St. Records, has collaborated with Acid Jazz founder Eddie Piller and legendary photographer Dean Chalkley to curate a monthly event, 'Soul Box' alongside The Smoking Guns DJs and this month's special guest, Gizzi Erskine on Saturday.
Why: Set across two floors – with the ground floor bar 'Uptown' playing the best in rock n roll, soul, Motown and funk that everyone will know courtesy of The Smoking Guns DJs and Soul Food DJs. Head 'Downtown' in the basement for Eddie Piller and NME snapper Dean Chalkley going back-to-back on the turntables, playing up-tempo soul, funk, ska, rhythm and blues on vinyl-only. An advocate and innovator of the pop-up and underground food scenes, Gizzi has a huge musical heritage, and will be spinning some downright filthy tunes. For those looking to expand their horizons beyond the music, Old St Records will be open until 2am and a special 'Soul Box' bespoke cocktail menu featuring drinks such as the Sookie Sookie, Wang Dang Doodle, Licking Stick and Double O-Soul will be available all night.
Price: Entry is free all night – booking essential via oldstreetrecords.com or calling 0203 006 5911
Where: 350-354 Old St, London
Sunday 2nd October 
For a Shopping Spree: Off the Cuff 
What: On Sunday, a new arts/design market will be launching in Herne Hill at Off the Cuff, with an eclectic collection of 10-15 vendors selling everything from vintage/handmade clothing to original paintings, jewellery and records. Bring your sweet, sweet cash and pick up some bargains.
Why: The new arts market will sell local creative work, from clothes to prints, accessories to sculptures. The official launch will take place on Sunday and activities will run throughout the day –  think live art, face painting, fun for all the family, and also a few surprises thrown in there for good measure. The market will be open in the day, and going into the evening live music will be played in the next room.
Price: Free entry
Where: Next to Hearne Hill tube station
One for luck.. 
For an Exhibition: Sofitel London St James 
What: This month, Sofitel introduces La Parisienne by Sofitel at Sofitel London St James, a photo exhibition that takes an intimate look at one of the world's most captivating communities, Les Parisiennes. Curated by the famous French magazine Paris Match, La Parisienne by Sofitel explores La Parisienne style and culture through the decades, celebrating women whose enchanting elegance and innate sense of style symbolise the City of Lights.
Why: The two-part exhibition features 22 iconic photos of Parisians dating back to the 1950s from the photography collection of Paris Match, including some shots from renowned Paris Match photographer Emanuele Scorcelletti. From archived shots of Catherine Deneuve and Jane Fonda through to more recent photographs of Inès de la Fressange and Lou Doillon, the exhibition presents an enchanting insight into the lives of some of the world's most feted women.
Price: Free admission
Where: 6 Waterloo Pl, London SW1Y 4AN