We're about to say farewell to another year and welcome in a new decade. Whichever way you feel about it, 2020 is a big one. So, if you haven't quite decided on your New Year's Eve plans, here's our guide to the top 10 ways to celebrate New Year's Eve in London:
What: Grind, the eclectic group of café-bars and restaurant-bars in London is hosting a party at its stylish Greenwich restaurant to welcome in the New Year. 
The Lowdown: From 6pm until 2am on 31st December, guests are invited to head to Grind's newest and largest venue, located in historic Greenwich for a night of fun, food and fizz. Bust out a move on the dancefloor with music and DJ sets, while sipping on Grind's signature Espresso Martinis or a glass of prosecco. For those looking to be wined and dined, Grind Greenwich is offering a festive three-course menu which includes a glass of prosecco on arrival and at midnight alongside three courses to be chosen on the night. The starter includes Salmon tartare, taro chips, wasabi mayo, the main is pork belly, dauphinoise potato, apple sauce and fennel, and to finish, guests will be treated to a range of sweet treats including the famous Grind Tiramisu. 
Price: Early bird tickets are available from £20, which includes entry, a glass of Prosecco on arrival, a cocktail and some more Prosecco at midnight, to see in 2020 with sparkles. The festive three-course set menu is priced at £50 per person. Book your tickets here. 
Where: 17-19 Nelson Road, London, SE10 9JB
What: 640East in Bethnal Green is celebrating the New Year with a nostalgic nod to the teenage house party. 
The Lowdown: If you miss the days of epic New Year's Eve house parties with your friends then 640East is the place for you on December 31st. Expect games, great music and a raucous time with unlimited prosecco and food from resident food trader, Piadina Project. Take the stress out of finding a hosting house and head down to 640East for the house party of the year. If you want some fun at home, read this updated guide to free spins no deposit 2020. 
Price: Tickets are £45 (Unlimited Prosecco) or £55 (Unlimited Prosecco + a Piadina and Fries). Book them here. 
Where: 159 – 161 Malcolm Place, Bethnal Green, London, E2 0EU
What: Award-winning Soho-based cocktail bar, Swift, is hosting a New Year's Eve party inspired by Cuba's capital, Havana from 7pm until late. 
The Lowdown: Swift is celebrating New Year's Eve in London in partnership with Havana Club and Perrier-Jouët Grand Brut to transport you to the streets of Havana for one night only. Rum cocktails will be flowing, nibbles will be served throughout the night and there will be a prize for the best dresser. Swift, which recently joined the list of the World's 50 Best Bars, invites its guests to enjoy live music Joplin Parnell and Ewan Bleach and toast the start of 2020 with a glass of Havana Club punch and Perrier-Jouët Grand Brut at midnight. 
Price: Tickets are priced at £25 for The Upstairs bar and at £35 for The Downstairs bar. Buy them here.
Where: 12 Old Compton St, Soho, London W1D 4TQ
What: To mark the start of 2020, The Palomar, the Modern Jerusalem restaurant on Rupert Street, will be serving a specially designed feasting menu featuring new dishes created by Head Chef Omri McNabb. 
The Lowdown: End 2019 how you mean to go on; surrounded by mouthwatering food. Palomar's menu will start with a series of new seasonal dips and starters, designed to be enjoyed with The Palomar's classic freshly made kubaneh bread, served with tahini butter. Then dig into a series of exclusively created sharing dishes, including seafood classics with a Palomar twist, such as Spicy Oyster, shifkeh, harissa, labneh and caviar and Glazed Octopus, kohlrabi, date molasses, harissa oil, alongside lighter dishes of Grilled Aubergine, tahini, cucumber yoghurt, cherry tomato. Chase it all down with not one but two puddings to share, including Palomar's take on an ice cream sandwich Cassata ice cream sandwich, pistachio.
Price: The menu is priced at £75pp and is designed for the whole table to enjoy. Book your table here and view the full menu here. 
Where: 34 Rupert St, London W1D 6DN
What: Kick off New Year's Eve in London with a bang with Foreverland, the sellout immersive touring club night. 
The Lowdown: Foreverland is club night with a difference – first up, it's a night of quality house, bass, garage, and D'n'B, but its popularity is also derived from its amazing decor, mesmerising stage performances, and walkabout characters that roam the dancefloor amongst the clubbers. This New Year's Eve marks the launch of its new 2020 tour theme, 'Cosmic Circus – Space Rave' and clubbers can expect to be surrounded by out of this world decor, extra-terrestrial characters, cosmic confetti explosions, inter-galactic glitter stations and space-themed inflatables. The lineup includes drum 'n' base legend, Danny Byrd, bass-tech-and house fusion DJ / producer, Nancie, Taim, Bassic and Hunter and East London MC, Nathan Hector. For more creative ideas, follow CasinoViking for new UK casinos. 
Price: Tickets are priced at £30 per person (3rd release) and they're due to sell out so make sure you book them fast to avoid disappointment. Get them from Resident Advisor here.
Where: 21-25, The Clapham Grand, St John's Hill, London SW11 1TT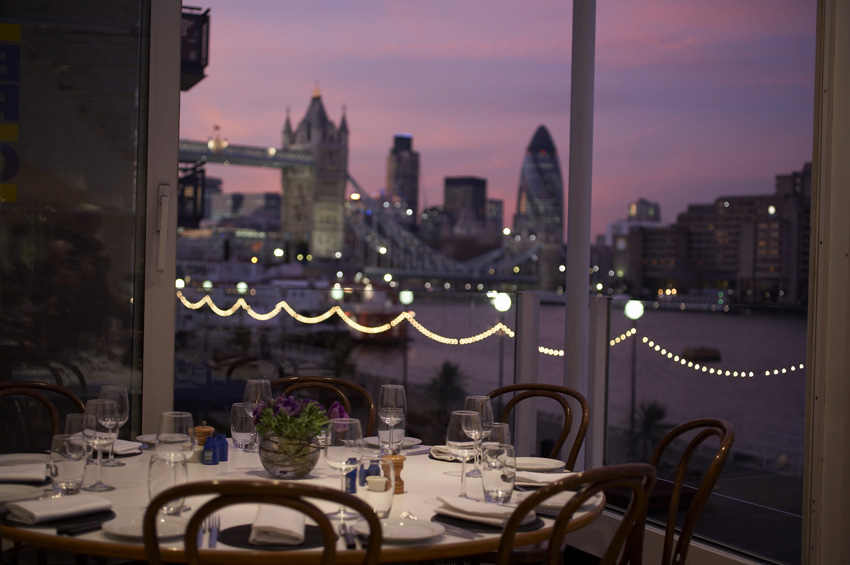 What: The Blueprint Café is bringing a touch of sophistication to New Year's Eve in London by hosting a night of delicious food, live music and iconic views overlooking the Thames. 
The Lowdown: From 12pm on 31st December, enjoy a brilliant five-course meal courtesy of new Chef, Rudi Warner while listening to live music by the acoustic pop act, Kesha Duo against the backdrop of unbeatable Tower Bridge views. The menu includes a beetroot and goats cheese salad with a walnut vinaigrette, a ham hock terrine with café slaw and toast and a beef wellington with creamed potatoes and Madeira jus. To top it off, there will be Champagne for all as Kesha Duo leads the countdown to the New Year. 
Price: The menu is priced at £80 per person. Book here. 
Where: Butlers Wharf, 28 Shad Thames, London SE1 2YD
What: Celebrate the start of 2020 in style at The LaLiT London's New Year's Eve Drag Ball with RuPaul Drag Race winner, Raja. 
The Lowdown: Expect a night of decadence and glamour this New Year's Eve as The LaLit London puts on a Drag Ball to remember. Taking place in the stunning Great Hall and award-winning pan-Indian restaurant Baluchi, the evening will offer a delicious four-course meal with Pommery Brut Silver Champagne alongside an epic drag show. The hosts for the evening will be the iconic Holy Mother of Gawd and Virgin Xtravaganzah, and RuPaul's Drag Race winner Raja will be taking the stage alongside a lineup of unmissable guests to guarantee an evening of debauchery and fun. 
Price: £129.95 per person. Book your tickets here. 
Where: 181 Tooley Street, London, SE1 2JR
What: Celebrate New Year's Eve in London in the jungle by heading over to Rockwell Cocktail Bar & Lounge. 
The Lowdown: on 31st December, Rockwell will be hosting a party featuring performances from acrobats, snake charmers, live DJs and with complimentary food and Veuve Clicquot champagne at midnight. Guests will be handed a glass of Champagne on arrival and a second serving will be available when the clock strikes midnight, along with an array of eclectic small plates and bowl food. 
Price: Tickets start from £39 per person and all-inclusive at £99 per person. Book your tickets here. 
Where: 2 Spring Gardens, St. James's, London SW1A 2TS
What: Welcome in the New Year with Champagne aplenty and a five-course Parisian-British feast at Covent Garden restaurant, Cora Pearl. 
The Lowdown: Guests are invited to dress suitably French and dance, dine and drink the night away at Cora Pearl's New Year's Eve Party. You may even get a chance to glimpse the great Cora Pearl herself – a Parisian courtesan famed for her appearances at the city's premier dinner parties, in the nude. Expect an abundance of Champagne from Esterlin and an exquisite menu to match with dishes including Whisky-cured salmon; Cow's curd agnolotti, Jerusalem artichoke, truffle, Cora's decadent chocolate tart and more…
Price: The Menu is £80 per person. Book your table here. 
Where: 30 Henrietta St, Covent Garden, London WC2E 8NA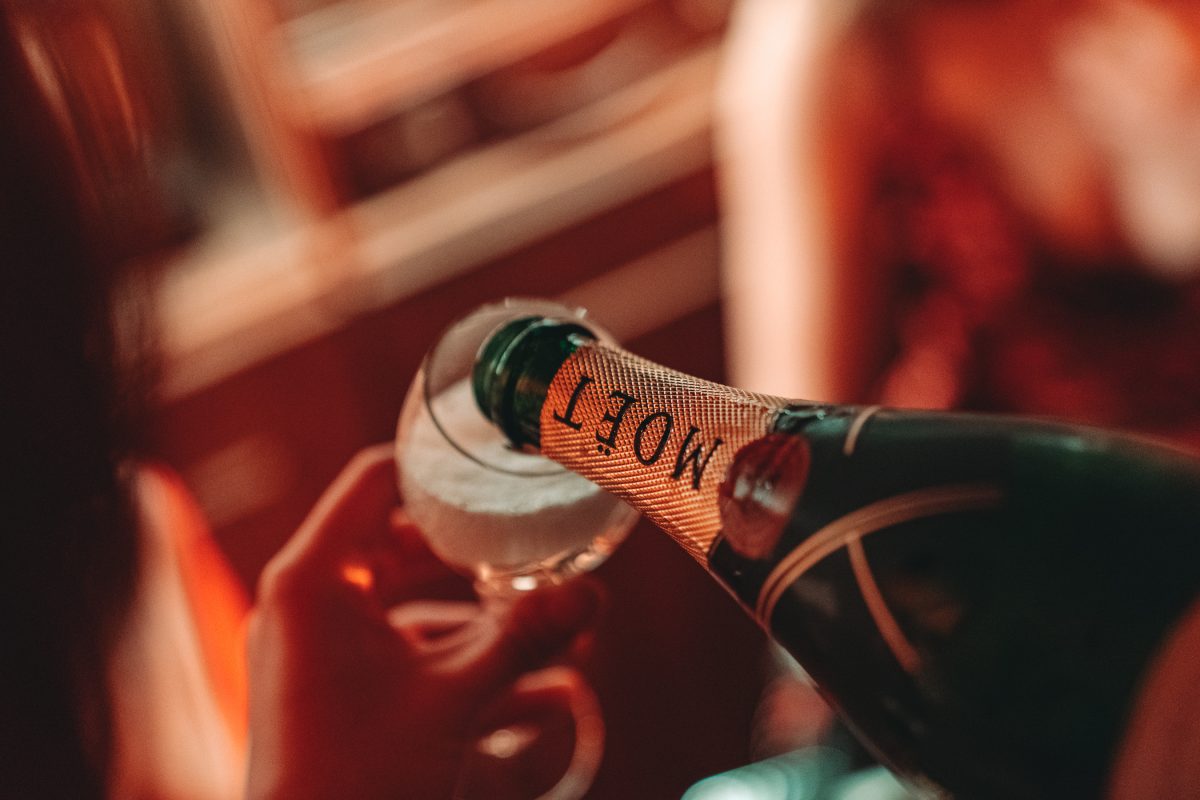 What: Kick off New Year in London in Victorian fashion at Mr Fogg's Society of Exploration.
The Lowdown: If rip-roaring entertainment is what you're after on 31st December then look no further than Mr Fogg's Society of Exploration. Guests are invited to sit back, relax and be entertained by the harmonious tones of Bunny Nightingale and watch the tantalising 'feather' dancing of Miss Rae le Bon before dancing to the tunes of DJ E.A. Gains, Esq. Guests will be handed a Hendrick's Gin cocktail to prepare them for the night ahead and as the countdown to 2020 begins all will raise a toast to the New Year with a glass of Moët & Chandon Champagne. 
Price: Tickets are £50 per person. Book them here. 
Where: 1A Bedford Street, London, WC2E 9HH
And one more for luck…
What: Little Yellow Door is welcoming the new decade with a '70s themed house party, Funk the Flatmates' House Up, complete with disco balls, flares, double denim and platforms.
The Lowdown: From 8:30pm until 3am, guests will be invited to step back in time to the '70s at Little Yellow Door where there will be cocktails, a retro fancy dress box and questionable wigs. Those looking for a house party without the mess the next morning will be treated to an epic countdown to 2020 with a glass of bubbles on the house before the DJ-led party begins. Guests can expect light up dancefloors, a '70s Vinyl playlist and special guests set to surprise on the evening. 
Price: From £25 per person (£10 after 1am). Book your tickets here. 
Where: 6-8 All Saints Road, London, W11 1HH