#SheStartedIt100: Top 10 Women to Watch in Fashion & Beauty 2019By Mayola Fernandes
Discover #SheStartedIt100: our definitive guide to the top 100 women to watch in the UK 2019. From media to technology, we're giving you the run-down of the UK's most exciting, dynamic female leaders to watch in 2019. This September, About Time is hosting #SheStartedItLIVE: our 1-day festival dedicated to female entrepreneurship and empowerment on Saturday 14th September 2019. Book your ticket here and take advantage our special 'Best Friend's Offer' for 2-for-1 tickets. Now, meet our #SheStartedIt100 top 10 fashion and beauty entrepreneurs to watch: 
Name: Zoe Partridge
Age: 28
Profession: Founder and CEO
Her Story: Zoe Partridge founded Wear the Walk, a fashion rental platform in 2017, which recently sold to a competitor. Formally having worked in luxury fashion at Mulberry, and then predictive analytics technology. Zoe built Wear the Walk with the mission to enable everyone in the Western world to own a capsule wardrobe and rent the rest. Grounded in sustainability and diversity, Wear the Walk pioneered the rental fashion space and providing women access to the very best luxury fashion on rotation. She wanted to be different, and create a new way of consuming fashion: "At its core, I run my business the way I did because we want to enable women to feel empowered by what they wear, not just once a month or when they have a special occasion, but all the time."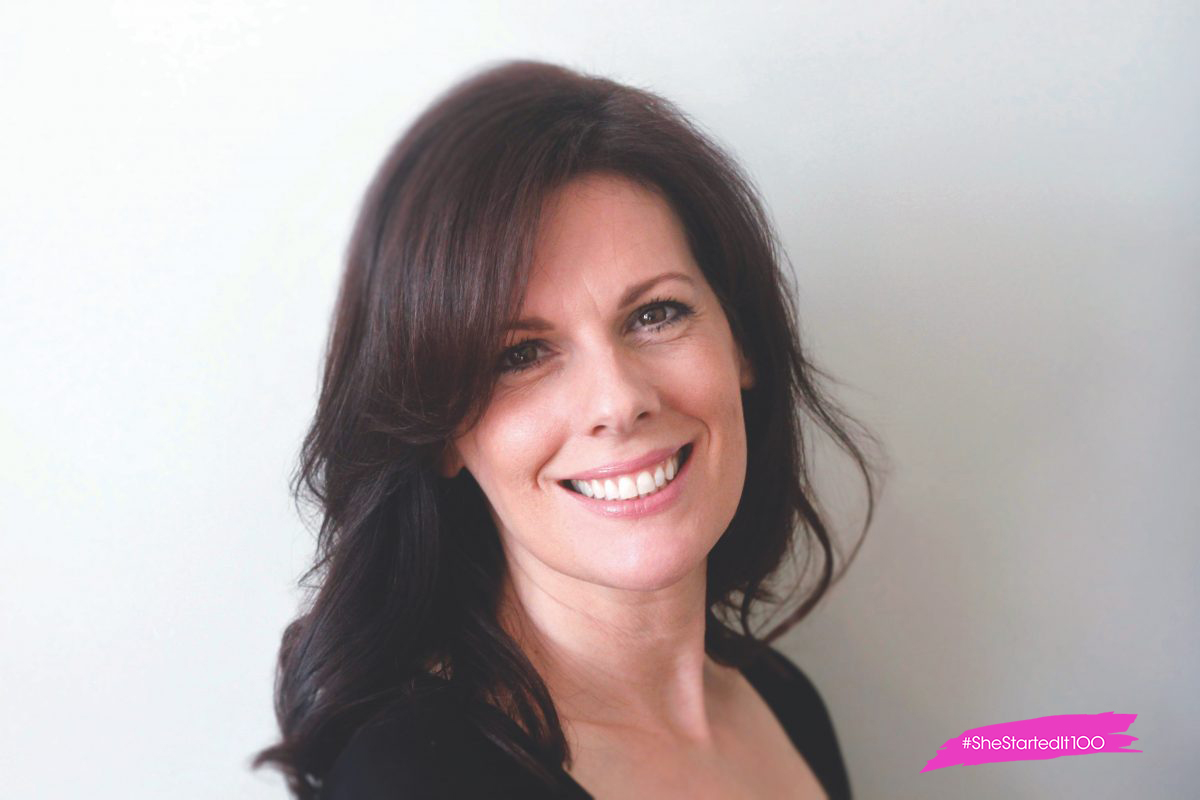 Name: Pamela Marshall
Age: 51
Profession: Clinical Aesthetician and Co-Founder of Mortar & Milk
Her Story: Renowned for her no-nonsense approach when it comes to superior skin health, certified Level 4 Clinical Aesthetician, Pamela Marshall fuses her scientific skincare knowledge with age-old beauty truths. She leaves no stone unturned when it comes to her consultation, diagnosis and treatment of skin woes. With her methodical approach to skin health, Pamela is committed to providing candid and in-depth skincare advice with an emphasis on clean living to help her patients transform their skin from the inside and out. Her priority is to provide an unparalleled level of care to ensure her patients have peace of mind when it comes to their real skin concerns. With her pursuit of an honest and homely beauty haven, her space Mortar & Milk was born.
Name: Nataliya Robinson
Age: 43
Profession: Holistic Facialist and Founder of Quantum Botanika
Her Story: With a modern holistic approach to beautiful skin, Nataliya Robinson bridges the gap between nature and science. Elevating the perceived boundaries of botanical alchemy and skin healing, Nataliya has in excess of 15 years experience as an acclaimed facialist and skilled acupuncturist. Having experienced problematic skin first hand, Nataliya works to address the specific concerns of each patient whilst helping to boost their levels of confidence. Using a combination of her holistic skincare treatments, honed massage techniques, acupuncture and knowledge of Chinese medicine and nutrition, she is able to decongest, soothe and calm the skin from the inside and out.
Name: Leesa Keys
Age: 40
Profession: SkinBase Founder and Senior Trainer
Her Story: SkinBase was created by siblings Richard Faulkner and Leesa Keys in 2005 and from humble beginnings has grown to become the leading provider of microdermabrasion treatments in the UK & Ireland with a network of more than 2,000 therapists nationwide. Operating from its Talke-based factory, SkinBase specialises in the manufacture and distribution of professional microdermabrasion, intense pulsed light and radio frequency equipment and treatments. A mum of three young boys, Leesa is the lead trainer and works closely with all the UK therapists, training them on the correct use of the machines. Having previously owned a salon herself, Leesa is qualified in medical aesthetics and was crucial to the development of the business. Recently at The National Beauty Awards, the business picked up "Best Advanced Treatment" for the second consecutive year as well as 'Best Customer Support', 'Best Use of Social Media' and 'Best Training Provider' – for which Leesa's contribution was pivotal.
Name: Madeline Petrow
Age: 28
Profession: CEO & Co-Founder of MAMOQ
Her Story: Madeline Petrow is the CEO and Co-Founder of MAMOQ. Madeline has a background working in International Development and Social Enterprise, and is passionate about the intersection between business and social impact. She is on a mission to transform the fashion industry through MAMOQ, an online fashion marketplace that seeks out and curates the best in sustainable fashion, bringing over 85 brands together in one home. Through MAMOQ, Madeline aims to educate the public on the importance of mindful consumption, provide uncompromising style, and lead a market transformation in the fashion industry where sustainability and ethics are valued as much as style and design.
Name: Donna Francis (aka The Beauty Ed)
Age: 43
Profession: Blogger, beauty editor and influencer
Her Story: Donna has worked as a magazine Beauty Editor for over 21 years. Her career began at Company magazine where she was the in-house agony aunt aka Dear Donna. Since that time she has worked her beauty magic on lots of other famous British titles including celebrity woman's glossy, InStyle; the weekly Sun On Sunday supplement, Fabulous (where she won an award for Best Beauty Editor of a National Newspaper); teen magazine Cosmo GIRL! and Boots' in-store magazine, Health & Beauty. Donna's flair for talking to the 'every woman' inspired her to start her own channel: The Beauty Ed – where she writes about beauty for the real woman. Unfiltered, honest and often funny, her content is a refreshing antidote to what can be a feed full of filters and fake imagery. She wants to empower woman to be the best they can be via her beauty knowledge and expertise.
Name: Charlotte Vøhtz
Age: 60
Profession: Founder of Green People
Her Story: Charlotte Vøhtz, trusted pioneer of organic beauty, founder of Green People and author of Naturally Gorgeous first began her mission to launch a range of organic personal care products in 1997, having moved from her native Denmark to the UK. 22 years on and Green People's multi award-winning range is one of the front-runners in the organic beauty industry. With more than 140 natural, organic products with dedicated ranges for all the family including specialist sun care, sensitive skin and make-up ranges.
Name: Rachel Parsonage
Age: 44
Profession: Managing Director at KMI Brands
Her Story: Leaving school without a university degree, Rachel began her career in the hotel and amenity supply industry aged 19, licensing brands and developing markets with British icons including Elemis, The White Company and Penhaligons. She now has a global sales and operational background stretching over 25 years in beauty and brand. A move to retail then ensued as she teamed up with luxury aromatherapy based company This Works, before joining KMI Brands in 2009. Rachel joined KMI in 2009 when the brand was suffering in debt and didn't have the right infrastructure in place. She overhauled the company completely, and after making losses for a number of years KMI finally became a profit making business in 2014. Whilst at KMI she co-founded the award-winning natural hair brand Noughty Haircare, which is now one of the largest natural haircare brands stocked in Boots, Superdrug, Waitrose and Sainsbury's. The brand has won over 30 awards in under three years for their science-led natural product formulations which deliver quality results.

Name: Lucy Hilson
Age: 37
Profession: Founder & Director of Cosmetic PR and Co-Founder of SKN Rehab 
Her Story: Lucy is the founder and director of leading beauty and aesthetics PR agency Cosmetic PR. With years of beauty PR experience under her belt and a wealth of skincare knowledge, Lucy co-created SKN Rehab – a powerful treatment system and skincare product line available at salons and skin clinics nationwide. Lucy's knowledge and experience has led to her being featured in an array of publications including Glamour, Aesthetics Journal, MSN, Pure Beauty, Yahoo, Health & Wellbeing magazine, and House of Coco's #GirlBoss issue.
Name: Madeleine Spencer
Age: 32
Profession: Beauty writer, journalist and influencer
Her Story: Madeleine Spencer is a freelance beauty writer, journalist and host of Beauty Full Lives podcast. Madeleine has been in Marie Claire, Powder, Refinery 29, Arcadia Magazine, Look Magazine and Beauty Full Lives podcast has been featured in: The Daily Mail, Hello Magazine, Get the Gloss, ELLE UK, Marie Claire, You Magazine, and Arcadia Magazine. Madeleine has written for titles such as InStyle UK, Marie Claire, Stylist, ELLE UK, Porter, Powder, The Arbuturian, Julius Baer. She's also the winner of the J & J Best Emerging Blogger 2015 Award, and runner Up of the J & J Best Emerging Vlogger 2017 Award.