Monday Motivation: FOGA Founders Phoebe and Ollie Thirlwell-PearceBy Jodie Duddy
For About Time Magazine's new series #MondayMotivation, we talk to husband and wife duo Phoebe and Ollie Thirlwell-Pearce founders of FOGA, an innovative freeze-dried smoothie brand. Disillusioned by smoothies that exist on the market that contain more sugar than a donut and no fibre, Phoebe and Ollie decided to quit their busy city jobs and focus on their brand that is so unique to the market. FOGA uses freeze-dry technology to remove the water from fruit and vegetables whilst retaining all the nutrition, colour and flavour. When this freeze-dried powder is added to water it rehydrates and becomes more typically smoothie-like in texture, eliminating waste and creating a smoothie that is as 'fresh' as the ingredients when they were first dehydrated.
Where did the idea for FOGA start? In your own words, what your mission?
P: I worked for a global food company and became convinced that there was a convenience health tax. Healthy, convenient foods were either crazy expensive or not what they seemed.
O: Phoebe came home from work one day excitedly telling me all about the health benefits of freeze-drying. It takes out the water but preserves the full nutritional content of harvest-fresh produce, without preservatives. I thought if you can use it to rehydrate a whole lasagne, we could use it to make a fresh smoothie that could be shaken up on the go, with no waste, and no faff.
P: Our mission is to make super nutritious plants fit into busy lives. There are so many confusing health messages out there, but there is one thing that all nutritionists agree on – the more plants you eat, the better you feel. We want to make it easy for anyone to make small changes so they can feel amazing, and live their best life.
What has been the biggest challenge to overcome in the FOGA process?
P: We had some early challenges around trademark which felt like the end of the world at the time, but as I'm sure any start-up founder will tell you; you're quickly onto the next challenge!
O: We do everything in house – from coming up with recipes, blending and packing them at our small factory near Cambridge. This has enabled us to control the quality, to have 13 different blends (so far!) and offer true diversity for our customers. Building a factory and a direct to consumer business goes against all the advice and means we have to work extra hard to get our message out.
Do you find working as a husband and wife adds to the company's value? How does the dynamic work?
P: You won't find a more committed team than a couple with no salary, who need to pay the mortgage. You will work harder than you ever thought possible to make it work because you are building your dream, and you get to spend every day with your favourite person.
O: In my speech at our wedding, I described Phoebe as the architect and myself as the carpenter. I think that sums up our dynamic, and means we complement each other well.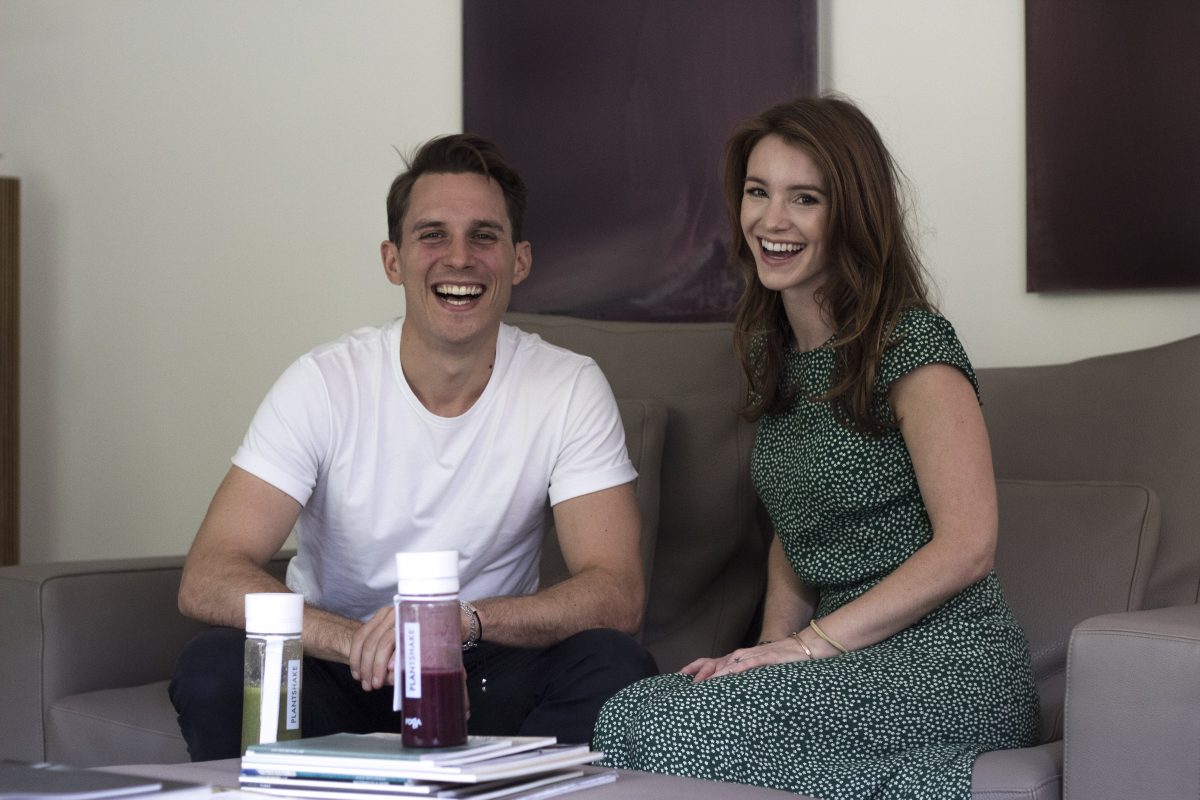 I think FOGA is quite interesting in its concept as it works against the model that means the working classes are left to convenience foods and a lack of fresh produce, was this part of your mission or is this an added bonus of the product?
O: It's part of the reason we started FOGA, we saw that convenience foods can mean paying a tax with your health. They're too often made with cheap ingredients, heavily processed so little nutrition is left, loaded with sugar & salt to make us come back for more. Because of this only ¼ of people in the UK eat their 5 a day, despite the scientific evidence that the more plants you eat, the better you feel. We saw a way to make super nutritious natural produce fit into busy lives so that anyone can feel the benefits whenever, wherever.
P: A big barrier we face here is that our products aren't as cheap as many bottled juices and smoothies. This is because we only use whole, mainly organic, harvest-fresh ingredients (not sugary juices like most smoothies), however, this also means they are nutritionally a completely different proposition.
What advice would you give to someone who is thinking of quitting their stable job and starting their own business?
P: Find a way to test and refine your concept before quitting your job – we took holiday and ran a pop up for a week in a tube station. Talking to people is great, but make a test version and actually sell it, then think about quitting your job. There is a lot you can do on evenings and weekends; it took us a year before I quit my job, and another year before Ollie quit his.
O: I actually quit the day we got back from our honeymoon! We spent most of it working on an investor pitch!! Something that really resonated with me was a friend's advice "you don't make a parachute until you're falling"
What plans do you have for expansion or company growth? Where would you dream that FOGA could be stocked? 
P: We're opening our first store very soon – keep an eye on our social channels (@foga.co) for more – and we're seeing amazing growth in subscriptions which is really exciting. Next year should see more FOGA stores, more products, and lots more plants in lots more lives!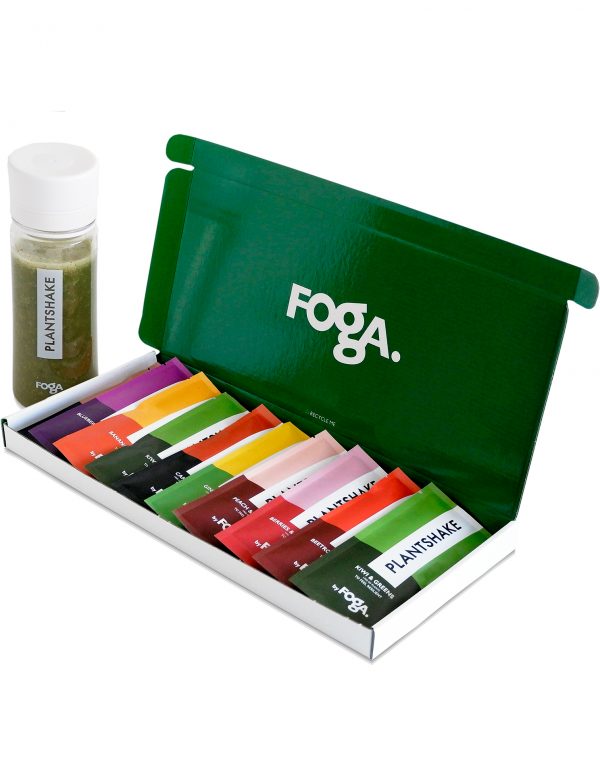 I like that the environment takes a large consideration in your company's ethics. How do you seek to improve the company's footprint?
P: We're not perfect by any stretch, but we really do care and we do the best we can. Today, we plant a tree for every person that signs up to our mailing list (not just customers) so there are now thousands of new saplings in areas struck by deforestation. This goes a long way towards offsetting emissions caused by our deliveries and means that even if FOGA doesn't last as a business, our positive impact will. We're also passionate about reducing food waste and know that our shakes should help reduce the amount of brown fruit binned at the end of the week by healthy wishful thinkers!
O: We think it's super important for brands to take responsibility for the full product lifecycle. We do this by including a pre-paid envelope to return empty pouches for recycling with specialists, ensuring they don't go to landfill. We're looking for better solutions all the time but with the infrastructure and technology available today, we're convinced we're doing the best we can.
What experience or quality do you find essential in starting a business, generally and in your own case? 
O: Resilience! Everyone will tell you that it's about the ability to keep plugging away despite all the knockbacks. Having a genuine passion is key in making sure you keep pushing – we couldn't do it if we didn't care so much.
You can follow FOGA on Instagram here
And you can try FOGA shakes for yourself here