It was after a hot summer cooking in Tuscany, working in the kitchen of a summer art school, when Oliver Rowe realised he wanted a career in food. He'd made recipes from the River Cafe cookbook, simple, honest dishes which gave good, seasonal ingredients the respect they deserved. "I went to Greece after that and worked in a rather poor restaurant on Paros, but that just made me decide I wanted to learn how to cook properly when I got back to London."
Too intimidated to ask for a job at the River Cafe itself, a friend suggested Moro: and the rest, says Rowe, is history.
"They dropped me in at the deep end: that first night's service was terrifying – all these tickets kept coming in, I could see all those people out there and I had no idea what I was doing."
He spent three and a half years in Moro's kitchen, working with the redoubtable Sam and Sam Clark, an experience he says proved invaluable. "I was so lucky to work there. It was very hard, very busy, but such a great opportunity and I just felt at home."
After a brief period head cheffing in Hammersmith, came a spell in France, at the Rose Bakery in Paris and La Mimosa near Montpellier: for a time, a permanent move seemed on the cards, but happily for us Londoners, it didn't work out.
Instead, inspired by the simplicity of Rose Bakery and the family run Jewish delis of New York, Oliver decided to take the plunge and set up his own cafe. Konstam, named after his grandmother, opened up near Kings Cross, a little treasure trove of a place selling soup, tarts and salads, sandwiches on crusty Exeter Street Bakery bread, a few Portuguese-style cakes.
Mastering the business side was yet another challenge: luckily his brief stint working for Ofsted taught him a few handy administrative skills and, he says, it was just the next step up from being a head chef. "I was young and ambitious and energetic: I thought to get ahead, you've got to take these challenges on".
The restaurant which came later – Konstam at the Prince Albert – was an opportunity to showcase not just his commitment to seasonality, but hyper-localism too. And this didn't just mean buying British food – but produce sourced as close as possible to the site in central London.
It got the BBC interested: and the whole project – setting up and opening the restaurant – was filmed as a ten part series, The Urban Chef. The menu constantly changed, based around what was available: even the tea and many of the wines were sourced from the UK. Memories of that time, and the recipes which go with them, now feature in his book – Food for All Seasons – from Agnes's doughnuts to beetroot and blood orange salad. A series of essays, almost, with no photographs, is at the same time an ode to the producers which he discovered and the frugality of cooking according to the rhythms of the year. No oranges? Use quince. Waiting for asparagus? Make buttered spring onions instead.
Writing the book, dredging up those memories, moments framed by ingredients and dishes and services long forgotten, took nine years.
"Writing isn't easy.You've got to make so many creative decisions: it takes a lot of thought andenergy. But it is ultimately very gratifying to have something so tangible."
Along with the book, Rowe's post-restaurant career has been a whirl of popups, residencies and food styling for the Guardian and Sunday Times. "I enjoy styling: it's a different creativity – cooking is all about technique and process but with styling, you can really focus on the visual aesthetic, try to make the food become part of a narrative."
And constantly cooking in different places with different teams has turned out to be a perfect match for his style. "I love finding new influences and new people to work with. You do have to be very organised too, which I'm not naturally, although I'm having to learn it!"
At heart, he insists he's all about the "just put it on the plate" philosophy: eschewing the kind of modern cookery which seems obsessed with turning food into something it isn't. "If you take good ingredients and cook them properly and treat them nicely they have a beauty and an integrity of their own. I think a lot of chefs don't realise they haven't learned how to cook intuitively before they try and go beyond the boundaries of simple deliciousness"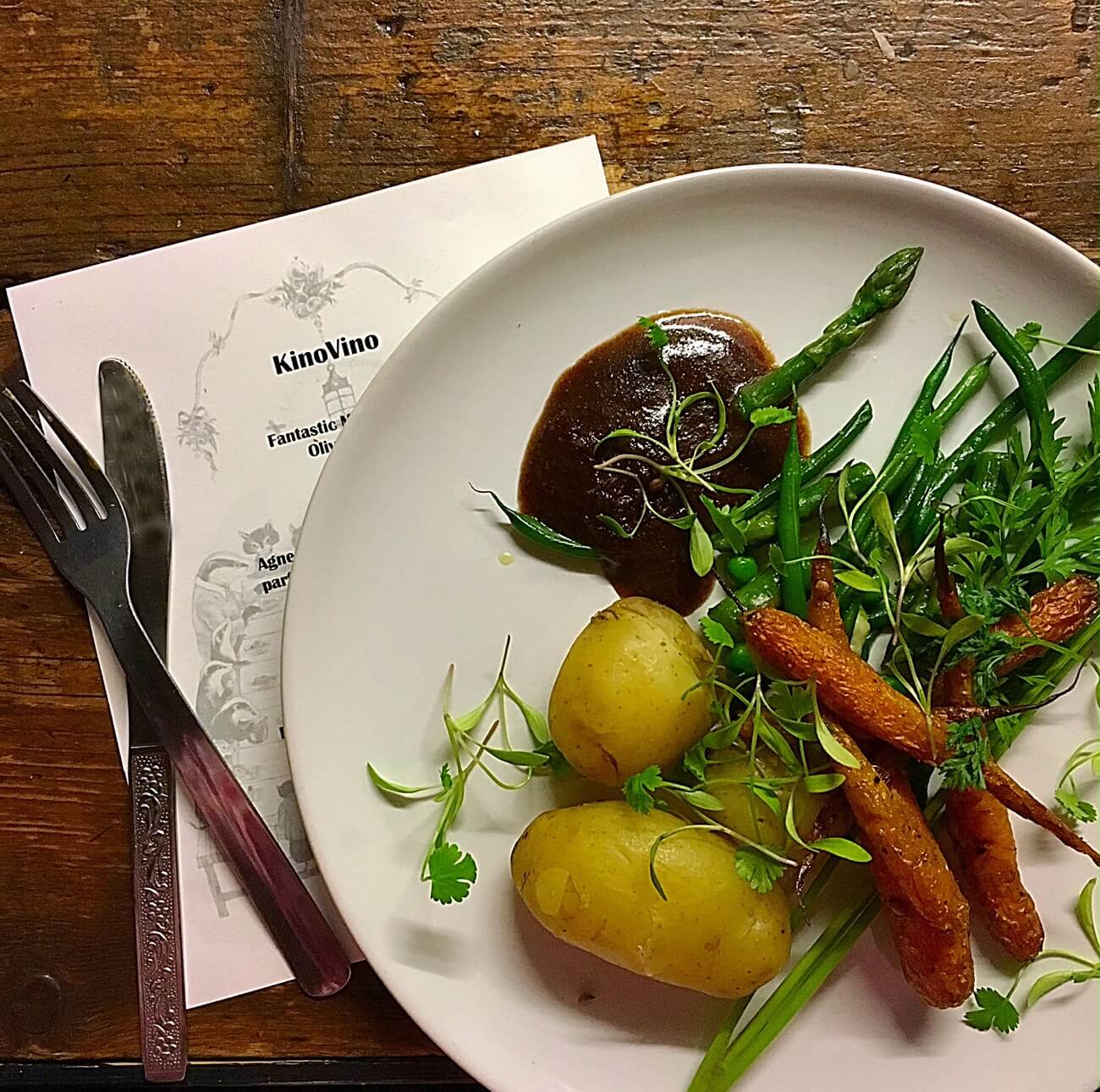 The menus at his always sold-out popups are testament to that: a plate of roasted carrots, a tangle of herbs and some Jersey Royals, adorned only by a pool of garlicky hazelnut butter. A stew of British haricot beans, meltingly soft, with grilled leeks and cuttlefish. A summer pudding, rich and sharp with early summer fruit, home made creme fraiche ribboned with elderflower jelly.
This, then, is food for all seasons: a delicious journey through the year. If you haven't tried Oliver's food, or cooked his recipes – it's definitely about time you did.
Oliver Rowe's book, Food for All Seasons, is published by Faber on June 16th