About Time You Met: Max Halley, Owner of Max's Sandwich ShopBy Alicia Grimshaw
Max Halley is a sandwich genius. Four years ago, Max opened Max's Sandwich Shop in Stroud Green, a restaurant which gives the humble sandwich a boat load of love, elevating this popular British bite into a full-blown meal. Londoners and just about anyone who enjoys well put together flavours stuck between two slices of bread flock to Max's Sandwich Shop for Max's brown-paper-wrapped mammoth creations. Now a regular on Sunday Brunch, and author of recently published cookbook about, you guessed it, sandwiches, Max Halley is the go-to guy for sandwich perfection. We chatted to Max about his love of sarnies, his recent collaboration with Tabasco, and his favourite condiments:
Let's talk bread. And fillings. Why did you decide to open a restaurant that solely dishes up sarnies? 
I think fundamentally it was a tiny bit selfish. I wanted to own a thing. I'd worked in jazzy restaurants, Michelin-starred places and all that stuff. And it was while working in these jazzy restaurants I realised that no one had seemed to have thought about the content of a sandwich, as a chef might think about a plate of food. It basically maxed out at Pret or  eating a Brick Lane bagel at 3am. I just wanted to open a restaurant that allowed other people to do what I enjoyed doing: staying up late eating sandwiches, having a drink and not getting ripped off. Those are the basic three founding principles of this shop. There was a gap that hadn't been filled, and I thought I would have a go. And here we are now, sat in my sandwich restaurant.
Max's Sandwich shop has rocketed in recent years, earning a loyal customers. What's the secret to sandwich success? 
Adhering to the rules: hot, cold, sweet, sour, crunchy, soft. Which is the secret to deliciousness – and not just in sandwiches – in plates of food generally. If you have all six of those components in a thing, it's delicious. And that's why I love sandwiches. We build the sandwiches; if you go into the kitchen and see how they make them, it's like 'a whole layer of this, a whole of that', so every bite contains every single one of those six elements. And that is why they're so satisfying. The sandwiches here give you the satisfaction of a meal, and not of a snack. I turned the sandwich into a meal, and that's why we're open at night and not in the day. A sandwich which you can have for your dinner.
You could only eat one meat for the rest of your life: beef, chicken, lamb or pork? What would you choose? And why? 
Chicken. I think there is a real stigma in restaurants that chicken is boring or the healthy person's meat choice. And I think that's really unfair. My sister and I agree on our death row meal: roast chicken, rice and coleslaw. I am obsessed with the cooking of a roast chicken.
Talk to us about your creating sandwiches for your menu – how does the creative process begin? 
The first thing is to think of is a plate of food you would want to eat. That's the beginning of how I come up with sandwiches. Never mind the bread – a plate of food that is completely separate from the world of sandwiches. And once I've come up with the idea, 'I'd have that for my tea sort of thing', then I'd figure out how to get it into a sandwich. And then – part of that process – is the hot, cold, sweet, sour, crunchy, soft.
What condiment can't you live without? 
Tabasco and mayonnaise. The truth is, Tabasco is wonderful on its own and stirred into mayo, but anything mixed into mayonnaise is golden. Gravy mayonnaise being one of my favourites. We've never not had a sandwich on the menu that hasn't included gravy mayonnaise.
You've recently teamed up with Tabasco to create a hangover healing sandwich – talk us through the idea behind Max's Morning Reviver? 
As the ham, egg and chip sarnie is our favourite sandwich in the sandwich shop, and we kind of took that idea, but we wanted to create one that was: A – festive, B – breakfast-y, and C – really good with Tabasco. Tabasco is a condiment that is good with everything. We wanted an egg, because that's something you'd eat at breakfast, and we wanted crisps, and we actually thought, lets re-do the ham, egg and chips into this Tabasco thing. The sandwich has smoked turkey, a fried egg, Bloody Mary ketchup made with Tabasco sauce, turkey gravy mayo, Baby Gem lettuce and shoestring fries.
We hear you're going on a tour around the UK in a bright red sandwich truck with Tabasco. Can you tell us more about where you're headed to?
We're heading to Leeds and Birmingham. Leeds is banging. I actually went to an amazing exhibition in Leeds in the summer – it was the biggest ever haul of wild bird's eggs illegally collected. The government busted this guy who had this collection. I never quite understood why he had it.
What's your hangover go-to? 
A massive breakfast sarnie. And I do have a deep, guilty secret: Chicago Town Pizzas. Pepperoni. The little ones. I do them in the oven, I'm a chef ya know. Sometimes I've eaten four in one sitting.
You recently wrote a sandwich cook book, Max's Sandwich Book, what sort of carb-based creations can people expect?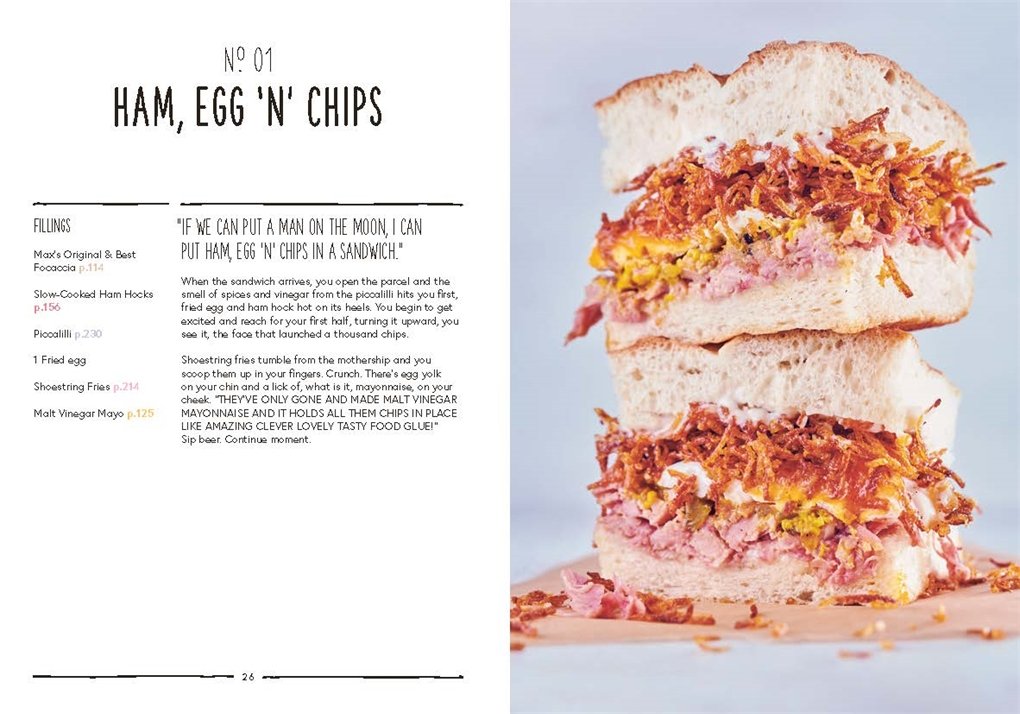 At the beginning, you get all the sandwiches from the Sandwich Shop, just to show people how I sandwich, and then it goes on to show people how to make sandwiches at home like the BLT, and sausage and egg type stuff. And how to make the sandwiches you make at home better by showing how I make sandwiches. The first half of the book is full of silly jokes that permeate my life, and the second half is a proper, serious book.
I wrote the book with Ben Benton. Ben is my friend, who is hands down the best cook I know. I used to run this restaurant called LeCoq in Highbury, next to Trullo, it's now closed down. I was the manager and he was the head chef, and honestly, I would rather he made me my lunch that anyone else in the world, apart from my maybe my mother for nostalgic reasons. So when I wrote the book I asked him if he would help me write amazing recipes.
You have loads of ducks in your shop – if you had to make a duck sandwich, how would you jazz it up? 
I love ducks so much, I don't think I could put them in a sandwich. I could go out and eat duck in someone else's restaurant but over my dead body would I ever had a duck sandwich in my own. It would be like putting my sister in a sandwich or something. But if I did, it would have to bee some sort of duck pancake vibe, right? Deep-fried pancakes into crunchy things, like nachos. To be honest, I'd been extremely hesitant to put a duck sandwich on the menu, because I have an emotional attachment to ducks.
Who would play you in 'Max Halley, Sandwich King The Movie'? 
Max: Brad Pitt. Definitely.
Isaac (Tilda Swinton lookalike who works at Max's Sandwich Shop): Jeff Bridges.
Max: How old is Jeff Bridges?! Jeff Bridges is about 75. Just because Tilda Swinton would play you in yours.
I dunno, someone extremely handsome, a total genius. Not Orlando Bloom, though.
Isaac: I think Jeff Bridges in the 90s would be perfect.
Max: Yeah, I could be in The Big Lebowski. I love a dressing gown.
Desert island sandwiches – what would be your top three? 
I don't think I can answer that. I have to really think about that. I would go ham, egg and chips for breakfast, and for lunch I'd go for something made from last night's takeaway. I think that's the missing bit of sandwiches – that people look in the fridge at a leftover takeaway and it's all about reheating everything, and having that curry again. And what I think is the amazing thing about bread and putting stuff between it is, is that you can repurpose these meals into something that is made of the same stuff, but somehow completely different.
For more information on Max's Sandwich shop, see here.
19 Crouch Hill, Stroud Green, London N4 4AP