About Time You Met: Andrew Macleod, Owner of Emilia's Crafted PastaBy Angelica Malin
Emilia's Crafted Pasta (named after the Emilia-Romagna region in northern Italy), is a cozy pasta joint found within St Katherine Docks. All pasta is freshly made, dried and crafted every morning in full view of passers by. Andrew Macleod opened the restaurant in 2016, and business has been booming ever since. We chatted to Andrew about the pasta making process, his much anticipated second restaurant, and what's on the menu:
Tell us about your food journey – what were you doing before you opened Emilia's?
I grew up on pasta, born of the millennial generation for whom pasta was an everyday item. I've loved eating pasta since I was a young boy, my mother always served up a simple fresh pasta dish regularly. From these humble beginnings started an obsession with this fascinating Italian staple. Whilst studying Maths at university I started cooking pasta at home and then travelled numerous times to Italy to learn more about the pasta making process from experienced pastaio and the science behind the different shapes. Upon graduating I decided to focus all my energy into turning my pasta dream into a reality.
What drew you to opening an Italian restaurant? 
Pasta is the most popular carbohydrate in the world, but very underrepresented in restaurants in the UK. I opened Emilia's as I felt there was a lack of restaurants that made pasta properly with respect for the craft that is passed down the generations from pastaio to sons and daughters.
You opened around the same time as Padella – how was that?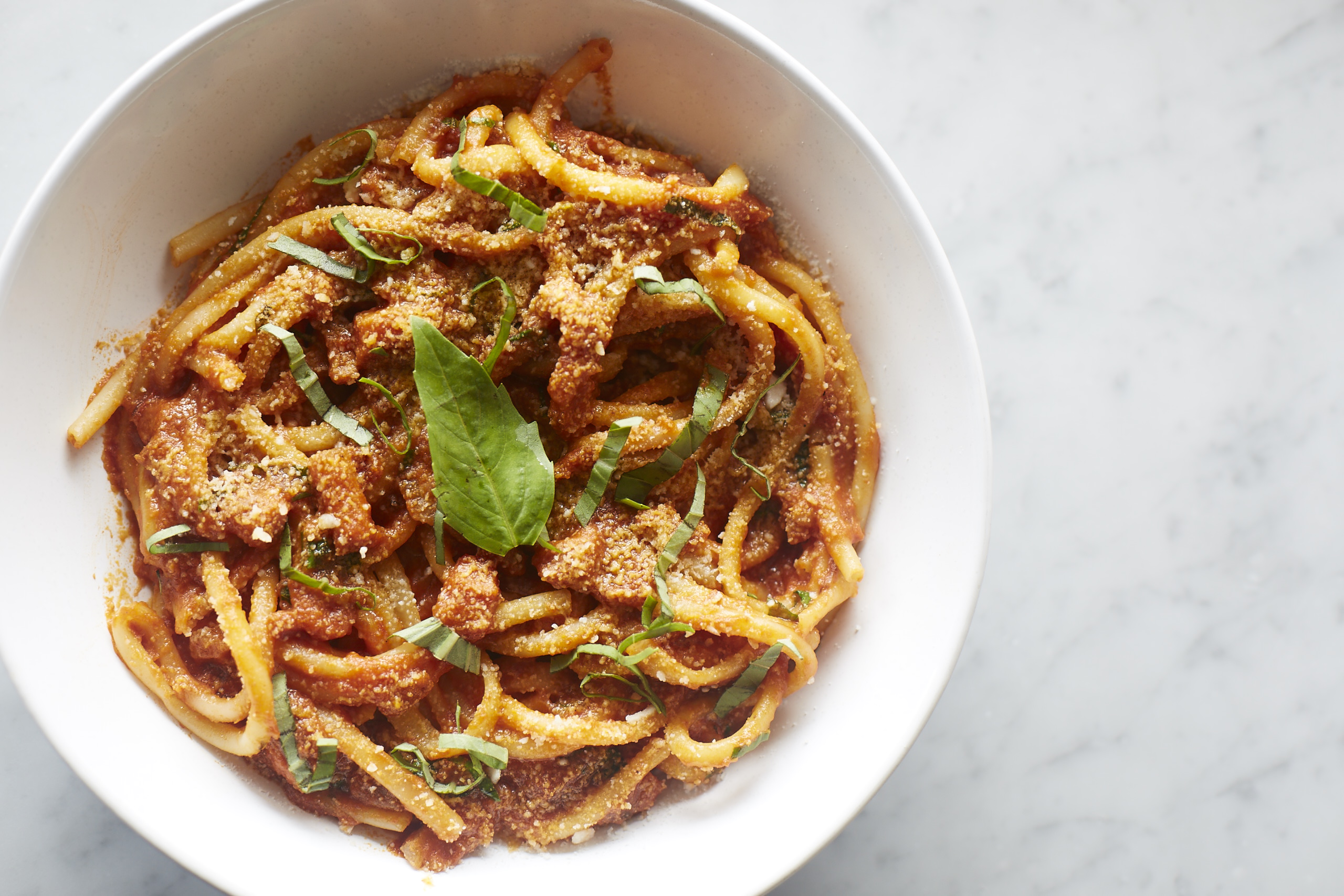 Opening at the same time as Padella really helped to boost awareness of this new category of restaurant, though it was a coincidence 'great minds think alike as they say!'. We don't see other pasta restaurants as direct competition but are rather trying to work together to build the pasta restaurants category as a whole. I'm sure long term this will be beneficial to all of us.
How is Emilia's different to other Italian restaurants in London? 
At Emilia's we are passionate about how our pasta is made lovingly by hand from scratch every day start to finish and inspired from traditional recipes and techniques. The menu is made using only the purest of ingredients, with some exclusively sourced from a handful of local, sustainable suppliers in Italy. We focus on the pairing of sauces with their pasta shapes, which is what we call the science behind our pasta. For example, the delicate nature of long pasta such as bucatini requires a simple olive oil, tomato base or runny egg sauce, whilst the curves of ridged pasta like casarecce allow delicate recipes like homemade pesto to nestle in their twists.
We've heard you're opening a second site soon – can you share with us a little more detail: 
We plan to open a second site around February 2019 in Aldgate and my focus will simply be to bring our unique crafted pasta to a wider audience.
Taking inspiration from the beautiful Emilia Romagna region of Italy, the design concept of Emilia's pasta workshop in Aldgate combines the rustic sensibilities of traditional Italian interiors and landscapes with contemporary flair. Locally sourced traditional Cotti D'italia Terracotta Tiles and Raspberry Course rustic plaster are offset with industrial black metal details, white carrara marble and concrete.
The traditional materials are used confidently. The tiled feature bar and rustic walls leave a trace of warmth and familiarity within the creative and industrial space.
As you step into Emilia's you will feel like you are within the workshop of talented craftsmen that are making crafted pasta on the expansive marble work surfaces. The open plan kitchen encourages the interaction between the diners and chefs, creating an informal and relaxed atmosphere centered around the process of pasta making.
What places in Italy inspired Emila's menu? 
Being the birthplace of fresh pasta, it was only natural that most of my inspiration came from the Emilia Romagna region, where I found the best restaurants to be the local family trattorias serving modest, yet delicious meals. My trips across Modena, Parma, Bologna and the surrounding smaller towns and villages taught me about flavour, tradition, small details, techniques and I came to appreciate the crafted behind making fresh pasta. You don't see potatoes, rice or bread created in the multitude of fun shapes you'll find pasta.
Inspiration for other dishes on the menu came through travels across Liguria, where I worked with a Genovese chef, who inspired our homemade pesto and walnut sauce recipes, whilst travels around the south of Italy inspired our burrata salad and tuna pasta recipes.
What's your favourite dish on the menu? 
My favourite dish on the menu is a twist on a classic – a (minimum) 4-hour slow-cooked Bechamel Bolognese made with our 'Pasture for life' certified 100% grass-fed organic beef mince from a small farm just outside Bristol, made heartier and creamier using fresh bechamel. We serve this with long silky-smooth golden ribbons of egg pappardelle, which is a pasta shape that works well with rich and meaty sauces enabling it to capture the Bolognese sauce on every cm of the pasta.
Explain to us to pasta making process: 
Making pasta is a craft. No two pasta makers create exactly the same pasta hence why it is still considered a craft – simple variations in the process make for a completely different flavour profile. At Emilia's we make both dried and egg pasta as certain sauces pair better with egg pasta (e.g. Bechamel Bolognese) and others pair better with semolina pasta (e.g. carbonara). It is for this reason that we believe in having a mix of both on the menu. For our dried pasta we opt for semolina only pasta as I prefer the rough texture it creates and believe the sauce sticks better to the pasta than just flour 00 or a mix of both. For our egg pasta I find the perfect silkiness is achieved using the whole egg as opposed to just the egg yolk, which is too rich and 'eggy' for Emilia's.
What's been the hardest part of opening your own restaurant? 
Getting a talented and experienced team together to help you through all the difficult times! You need to make a lot of sacrifices to fulfil your vision and you should never lose sight of your passion and the reason you're giving up so much personally.
What do you most love about your job? 
I'm living my dream! It's a challenging and demanding lifestyle but the reward of running my own business and seeing the enjoyment of Emilia's on customers' faces is a real buzz. We served 300+ free pastas on World Pasta day with queues of up to 100 people at any one time a few weeks back and it was such great fun – the chatting and laughing by everyone was exhilarating and what makes me love this job.
Favourite place in London for coffee is:
Surprisingly, I don't drink coffee!
Favourite restaurant in London is? 
Lure Fish Kitchen. Their sustainably sourced fish is incredible, and the head chef never leaves the kitchen! They really care about the quality of their produce, where it's sourced from and the whole journey from sea to your plate. Would be nice to see them open another restaurant somewhere closer to home as you can eat amazing fresh fish there for under £25 per person.
For more information on Emilia's Crafted Pasta, see here. 
C3, Ivory House, St Katharine Docks, St Katharine's & Wapping, London E1W 1AT