About Time: You Experienced The Waldorf ProjectBy Alex Moore
Real talk: The Waldorf Project is like nothing you've ever witnessed or could possibly even imagine. To describe it as immersive theatre is a heinous understatement. To credit it – not for the first time – as the 'The world's most extreme performance art,' is slightly better, but then it is very difficult to pigeonhole Sean Rogg's epic, otherworldly brainchild. In the past, performance, choreography, gastronomy, sound and set design have come together – at 35,000ft over the Atlantic in a Lufthansa aeroplane; in front of 4,200 festival goers in Thailand; or for a select few in Hackney Wick – to manifest into something far more elaborate than the sum of their parts. For BARZKH (which means purgatory in Arabic), the fourth, and by far the most ambitious instalment to date, Rogg is 'looking forward to showing you your God.' Only this is no religious jiggery-pokery.
For the latest outing (9th April-12th May 2019), Rogg is preaching consciousness transformation, empathy engineering, altered states, and reverse engineering the psychological effects of hallucinogenics – using what he describes as a 'creative algorithm'. Make of that what you will but hear this: those who attended the test run for BARZAKH in an abattoir in Sweden earlier this year were reduced to uncontrollable tears of inexplicable emotion, and spoke of reaching a blissful transcendence. On The Waldorf Project's website we're told, 'You will be challenged. You will be broken and rebuilt. But for those brave enough to take the first step, great rewards await. BARZAKH will be an experience you will not want to wake up from.' Mysterious. Giddy with excitement, we caught up with Rogg to try and find out a little more of what's in store.
Talk us briefly through the evolution of the Waldorf Project. How do you move from one chapter to the next?
The exciting thing for me is that I essentially reinvent the concept from chapter to chapter. Each time, I'm pushing the creative ideas to breaking point, and then through the course of the run, by seeing the human interaction with the ideas, I'm given new ideas, new boundaries to push. Every time I think I can't go deeper into the experiment, it seems I can. We started as a multi-sensory dining experience, albeit one you would never associate with a restaurant concept. Then we moved into taste and sense enhancement through colour. Then I saw great potential in using trauma as an artistic medium to open the doors to deeper more meaningful experiences, which led to consuming energy and then onto empathy engineering which is what we will explore further in Chapter Four.
Trauma?
We use dark emotions like fear and anxiety to cleanse you of the outside world, to keep you in the present, keep your mind focused on what is actually happening to you or what is about to happen to you. So that when the light comes you are in state of mind to receive it.
How would you describe your role?
Part emotional alchemist, part guide, part parent, part friend who wants to show you a good time.
What does theatre mean to you? You seem to have obliterated the whole concept…
Well as much as I enjoy theatre and immersive theatre, I feel I am creating a new art form. One in which as a guest you are not simply watching a story but are at the centre of the journey. In our performance, the guests are guided, manipulated, interacted with and emotionally enhanced in all kinds of ways in order to cleanse you of the outside world, keep you in the present and then open the doors to new feelings and emotions.
What would be a better word than theatre then?
A creative experiment in emotional manipulation. A possible future of story telling. Beyond immersive – you cross over.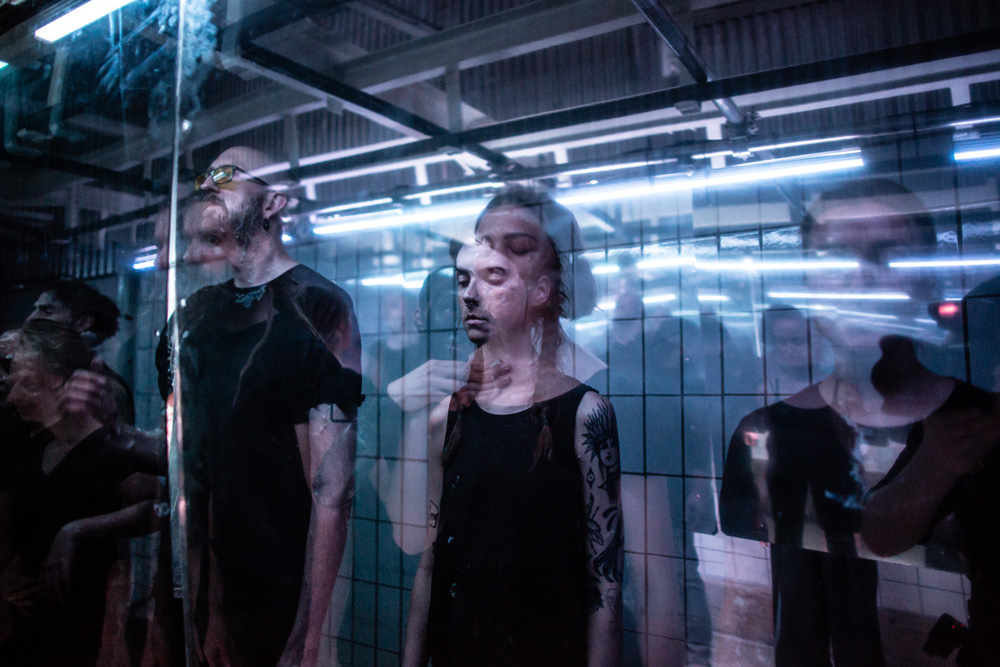 Can you explain this idea of 'consciousness transformation'?
I have, I believe, developed a creative algorithm for taking you to an altered state. A true transcendent state that one would normally need psychedelics for. And in that state, over a prolonged period of time, your perception shifts – regarding what the self, a higher power and your connection to others could mean.
Can you touch on the creative algorithm?
It's a special formula of triggering certain hormones at various intervals, that are induced by the emotional states we put the guests in over the course of their three-hour journey.
How do you begin to approach 'transcendence'?
First you must purge, then cleanse, then understand, then accept, then succumb, then enjoy.
Tell us about people's reaction to the test run in the Stockholm abattoir?
It was an epic leap forward in the post show 'come down'. Guests were sweating, crying, snotting, drooling, body shaking, even immobilised. The creative concept is described as showing you what it feels like to be in the presence of a higher power. I think we achieved that, and that was just the test performance. Wait until you see the results at the Wheat Quarter.
Where can you see the Waldorf Project leading? What's your ambition?
At the moment I have Chapter Five formed, but it will fully crystallise after I see how the 1,500 people react to Chapter Four. Looking into the future, I see roughly six or seven chapters before this experiment finds its natural ending (a very ambitious ending which I will keep secret for now).
Can you briefly explain what the psychologists have said about the performance?
All my creative ideas have come instinctively. When we staged chapter three, I noticed as the performance ended, night after night that the same incredible thing was happening; eight minutes of a connected audience, which then dissipated to a more normal post show energy. During those eight minutes something new was happening, I was engineering empathy. I had a feeling that I could be onto something quite profound and important. So I had a few meetings with some research scientists and discussed my ideas. They not only felt that I was engineering empathy, but could explain why, breaking the emotional code into what hormones were being released and what their effect has on us, essentially verifying that I did indeed have an algorithm for engineering empathy. We've now begun a more formal relationship, with the hope that one day we'll publish the results of the project as scientific research.
The Waldorf Project, Chapter Four, BARZAKH at The Wheat Quarter (the old Shredded Wheat factory), Welwyn Garden City, 9th April-12th May 2019, Ticket price: £16 – 72. For more information visit waldorfproject.com