The entertainment industry appears, to the layperson, to be as ever-changing as the sea. The actors and actresses of the current generation begin to rise as those of the previous generation shift their attention in terms of careers and role choices. The way we consume entertainment content has evolved from attending in person movies that came out in theatres a few times a year, to having access to the best of film and television from the comfort of our couches. These days you don't even have to leave the house to win a jackpot online, catch the opening week of a hot new movie or play the latest game with your very own VR headset.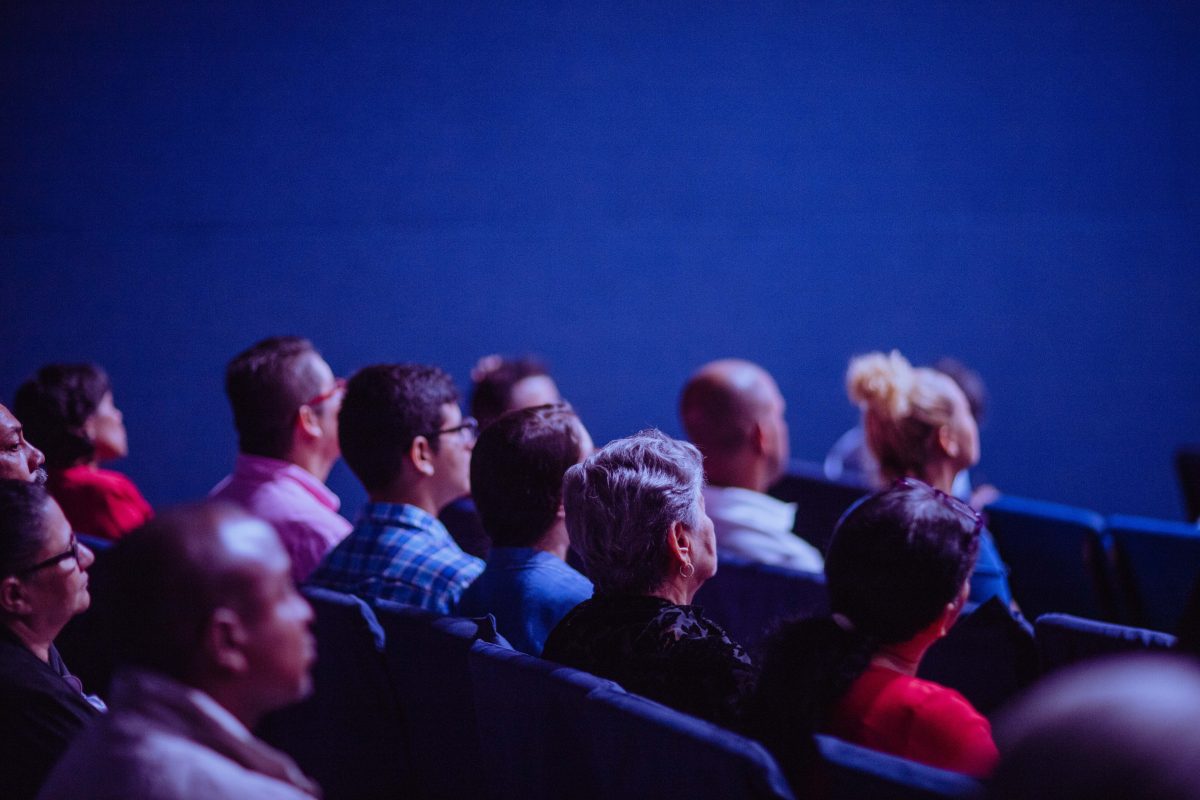 Behind the scenes of the entertainment industry, there is a group of forecasters working tirelessly to make sure that their company or studio is never caught off-guard by changing trends. We've searched high and low to bring you a list of the most accurate forecasts or predictions for the entertainment industry this year and beyond. Let's look at the top 10 entertainment predictions for 2021.
ALT: An audience watching a presentation in a low-lit auditorium. Image by Luis Quintero via Pexels
1. The return of the prodigal children
Recent worldwide events have kept avid movie, concert and arcade goers from indulging in their favourite pursuits in a room full of strangers. While our reasons for staying away from gatherings and unknown people have been excellent and numerous, the prediction is that this year will see further relaxing of the restrictions that we have been living with for the past few years.
With the rollout of sufficient countermeasures (in large parts of the world) to arm the population against the invisible menace lurking behind every mask, it's now much safer to socialise than it was even a few months ago, provided you are taking your health and the health of those around you seriously.
2. Netflix and chill is here to stay
While heading out into the world is becoming more and more tolerable as well as safer, trend forecasters do not believe that the recent spike in home entertainment will be changing. Content consumption patterns were massively influenced by the events we've all had to endure, and that pattern is now stamped firmly into the minds of the masses. The rise of home entertainment is not yet over; gaming, digital sales, streaming platforms and user-generated content are still climbing in value.
ALT: A girl sitting outside on her mobile phone. Image by JÉSHOOTS via Pexels
3. Access will continue to drive growth
Never before in human history have we had access to so many ways to consume content. With our phones, tablets, computers, laptops, interactive smart TV features, Xbox, Playstation, Nintendo Switch, the list goes on. If we have some time to kill, we can hop onto Instagram, TikTik, Netflix, Hulu or Youtube. Some service providers have reported a spike in data usage as high as 60% during the worst global issues we have faced.
In developed countries, you'd be hard-pressed to find a person who didn't have access to, at the very least, a smartphone or TV. Upgraded infrastructure means that we can access these forms of entertainment at a higher quality and much faster.
4. New regulations will emerge
Never has there been a financial boom in any industry that governments have failed to take advantage of, and this one will be no different. As more streaming platforms and content services emerge, you can be sure that behind the scenes, their lawyers and money men are locked in a back and forth with regulatory bodies and governments who want a piece of the pie.
5. Algorithms will continue to dominate and evolve
The use of algorithms in recording current content consumption trends and figures and predicting new ones is not going anywhere. The first thing that comes to mind when we say "algorithm" is, no doubt, Instagram, as its algorithm is famous for dictating what users see and shadowbanning content that is not deemed worthy. These clever little programmes are employed by every entertainment business out there, and they are always watching.
ALT: A man wearing VR goggles in his living room. Image by Julia M Cameron via Pexels
6. The golden age of gaming
In times of crisis, the world is always looking for a way to escape the day-to-day and disappear into something more pleasant and exciting. The gaming industry, already on an upswing before staying home became a part of our lives, has come into its own even more. Virtual Reality headsets are readily available for purchase and home use;  MMO servers are equipped to handle much heavier traffic; new animation and motion capture technology means that games are much more realistic and immersive than ever, and 5G means we have access to all of that much faster.
7. Live streaming events continue
Not only is this more cost-effective for the event organisers and the band, actors or speakers who will be providing the entertainment, but it is also much more cost-effective for the people sitting at home watching the event. Of course, we know that nothing can truly replace hearing your favourite song played live and in-person to a crowd of thousands, but the concept of streamed events is now firmly entrenched in the industry and not going anywhere.
8. Entertainment bundles
Disney Plus is leading the race in this field. When you sign up for the service, you get all kinds of bonuses that range from merchandise to Disneyland passes and sometimes even cruises. Apple has followed suit and now offer devices as well as ad free searches. You can bet your life that other streaming services will begin to do the same so as not to be outdone and lose customer loyalty.
9. Remote work revelations
Many companies have stuck with the remote work model, at least to a large degree. On the face of things, this may not seem to impact the entertainment industry much. But if you look closer, it means lunchtimes spent napping and watching Netflix or checking out the latest Hulu series while you work.
10. The film industry comes home
In the height of stay-home restrictions, major film studios like Warner Media have had massive success with releasing films both in the cinema and to streaming services more or less on the same schedule. This trend shows no signs of slowing down, so expect to see more major releases hit the small screen and the big screen simultaneously.