About Time You Tried: London's Best Persian RestaurantsBy Angelica Malin
Food has an incredible ability to transport us. Memories of dishes served around the family dinner table, bowls of steaming lentils that represent warmth from within, crisp evenings filled with the scent of cooking spices and herbs, bread warm from the oven.
These are not memories I grew up with. My mother, for all her wonderful attributes, is not a woman of The Kitchen. Dinners consisted of those 2 for £6 antipasti pots from Waitrose, thrown together in a big bowl, and, if we were feeling adventurous, some roast chicken. But that's about it.
But when I met my boyfriend, I realised that for some people, the food you grew up really does fill a special place in your heart. It represents a secret, warm comfort, that, sometimes, nothing else can touch.
Honestly, I've never seen a man so excited by saffron potatoes.
So I tried. I tried to experience the world through someone else's eyes – and wondered what it might have tasted like, the first time around, around that table. Persian food is the antidote to concept. This is not food of the 21st century. It's not fussy, or fancy, or served with edible flowers and a mini saucepan of beef jus.
This is food that nourishes you, gives to you, from within. Persian food is unusual, rich in herbs, spices, too saucy, too rice-heavy, and it's in slight imperfections, it is absolutely one-of-a-kind – and, as I have learnt, when you have the craving for it, nothing else will quite hit the spot.
If you're looking for your own Persian love affair in London, here's what to order and where: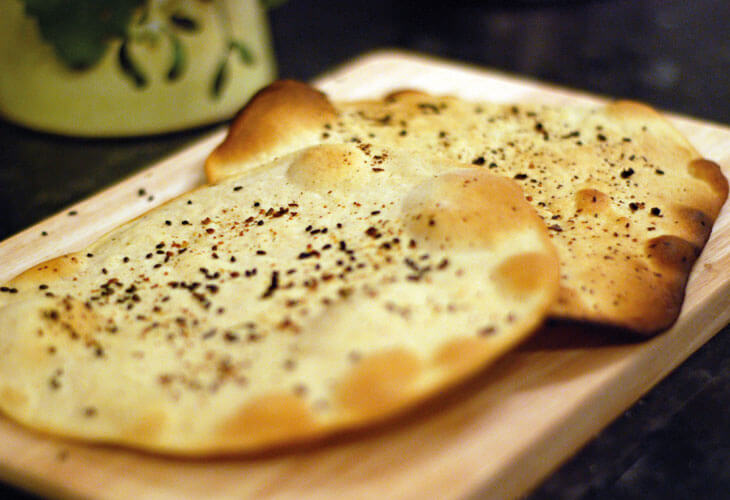 What: Lavash, sometimes referred to as Armenian lavash, is a soft, thin unleavened flatbread made in a tandoor and eaten all over the Caucasus, Western Asia and the areas surrounding the Caspian Sea. It's often sprinkled with poppy or sesame seeds – traditionally the dough is rolled out flat and slapped against the hot walls of a clay oven. While quite flexible when fresh, lavash dries out quickly and becomes brittle and hard. Basically, eat it quickly or on your head be it. The bread is great with dips and for mopping up Persian stews, it's normally cut in strips, perfect for dipping.
Where to Eat It: Obviously you've got to eat it at the restaurant who names itself after it. Lavash in Golders Green bakes their Lavash in front of diners and it's seriously good – warm, soft, a touch sweet, absolute bread perfection, which knocks your average pitta bread out of the park every time. I can't promise a great atmosphere at this restaurant, as it truly is a place where only serious Persian foodies go, and isn't often full, but you'll be too stuffed with great bread to notice.
Monkville Parade, Finchley Rd, London NW11 0AL
What: Think green. This dish is a deep green, herby stew, made with herbs and red kidney beans, often with beef or lamb, although you can get it without. The green stew satisfies the Persian desires for sour flavours, and herby sensations. The stew is given its unique flavour with dried limes, which gives it a bittersweet taste, and fenugreek leaves. You'll find lots of parsley, coriander and scallions in this fantastic, unusual vegetarian stew.
Where to Eat It: Hafez Restaurant, established in 1983, is one of London's first and finest authentic Persian Restaurants. Their cuisine is a fusion of ancient Persian and Modern Iranian techniques – and they make a mean Gormeh Sabzi. Hafez sources only the best quality cuts of meat and the freshest herbs and vegetables. Their head chef, Farshid Ziafat, has been at the heart of the restaurant for 25 years; his passion for great food is the key to their longstanding reputation for quality and excellence.
5 Hereford Rd, London W2 4AB
What: This is the heart and soul of Persian food. There's no meal complete in Persian cuisine without rice. I was surprised the first time I attended a Persian feast to see not one, not two, but three different kinds of rice – from vegetable rice to jewelled rice, they love the stuff. What's more – the rice is totally different. There's always a bite to it – a crisp, golden layer of fried rice at the bottom of the rice pot, which really gives it an edge. Tahdig is the crunchy fried rice, and it's not always printed on the menu – so make sure to ask for it! And eat it with your fingers. It tastes better this way.
Where to Eat It: Sadaf Persian Restaurant is the place to go. They serve fantastic authentic Persian food –  Sadaf Persian restaurant is situated in Westbourne Grove near Bayswater and Queensway. Sadaf takes an all-round Mediterranean approach and is bright, airy and easy going by day and exotic and romantic by night. Sadaf restaurant's Persian dishes provide a delicious and healthy meal for any taste preference, from the heartiest appetite to the lightest diet. Come here for homemade yogurt dip with shallots, chargrilled aubergine with chilli and mint and tender lamb chips, all rounded off with fresh mint tea.
27 Westbourne Grove, London W2 4UA
4. Best Veggie Stew: Khoresht-E Bademjan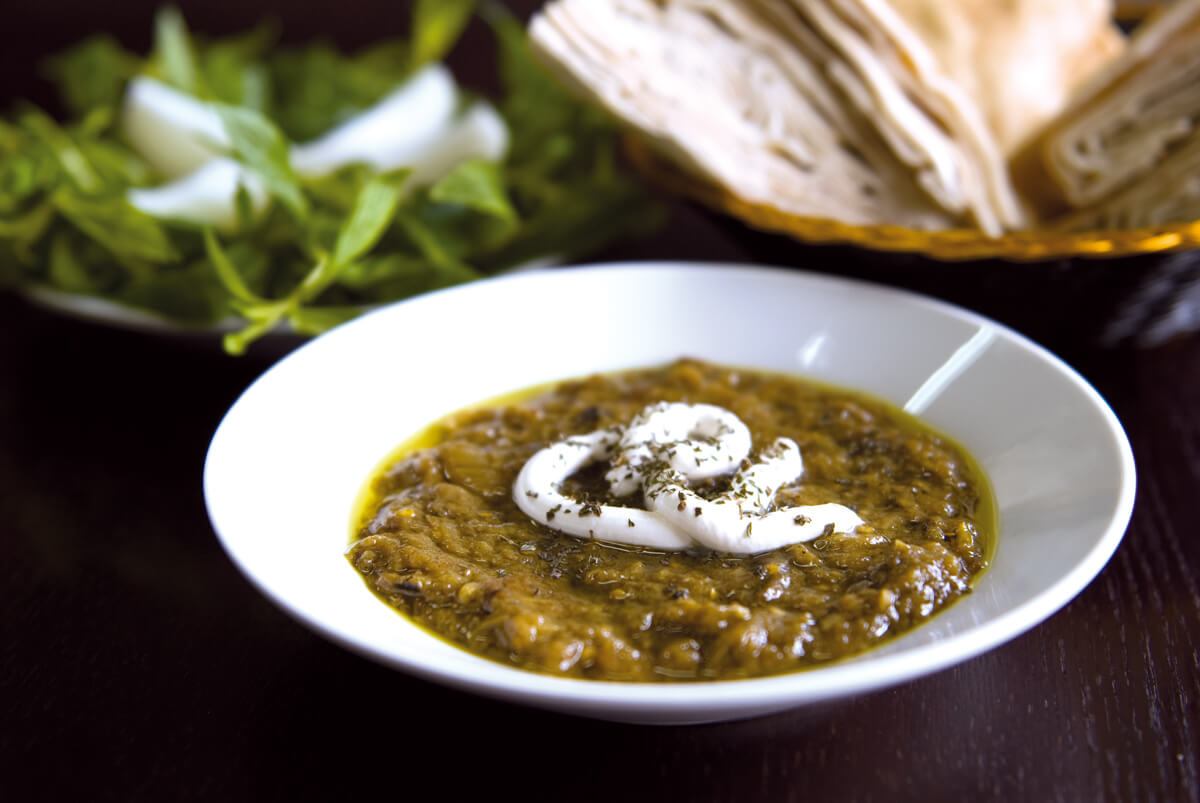 What: Bademjan means "eggplant" in Farsi (the language spoken Iran). This stew works fantastically with Persian rice and is a dish which can be modified for vegetarians very easily. It's made with tomato, aubergine and lots of garlic and onions, and is rich and satisfying, especially paired with a nice, cool yogurt dip. Any dish that combines eggplant and tomatoes is always a winner, and you can find lots of eggplant in Persian cooking, such as Kashk-E Bademjan, a delicious cheese and eggplant dish.
Where to Eat It: For this dish in London, Behest in Kensal Green stands out. Come here for sensational Persian food – according to regulars, the best dish to order is the Chello Kebab Makhsous. This is rice with lamb fillet and minced lamb; the two different kebabs are the favourite of Iranians and come with a tomato and salad. You can't skip the starters mind, they are very important part of traditional Iranian cuisine. Try the Mast-o-Mouseer, yoghurt mixed with garlic and shallots, Paneer and Sabzi, cheese and herbs, Mirza Ghasemi, grilled aubergine with garlic, eggs and tomato and, of course, aubergine, walnuts, friend onions, herbs and spices. All these dishes go great with the oven baked bread, which is made fresh and comes hot to the table. Perfection.
1082-1086 Harrow Road, London NW10 5NL
What: Ash Reshteh is a type of āsh, thick winter soup, commonly made in Iran. The ingredients used arereshteh, thin noodles, kashk, a whey-like dairy product, herbs such as parsley, spinach, dill, spring onion ends and sometimes coriander, chick peas, black eye beans, lentils, onions, flour, dried mint, garlic, oil, salt and pepper. 
Where to Eat It: Sufi in Askew Road makes a delicious soup with lentils, garbanzo beans, herbs, persian noodles with a topping of thick whey, sauteed garlic , mint and onion. Sufi is a family run restaurant, started in 2007, which serves up authentic, quality Persian home-cooking food. The restaurant's menu was prepared by the family's Auntie Shahin, who has 35 years of experience cooking Persian food, and is hugely knowledgable on the topic. Sufi is loved by locals and loyal customers, who come for quality Persian – we've heard their mixed grill is one of the best in London.
70 Askew Rd, London W12 9BJ
6. Best Veggie Main: Kuku Sabzi
What: Kuku is a vegetarian omelette dish, made with whipped eggs, similar to a frittata. Kuku typically has less egg than a frittata, and it cooks for a shorter amount of time, over a low heat, before being turned over. For the typical Kuku Sabzi recipe, the eggs and herbs are mixed and seasoned with salt, black pepper, walnuts, sometimes flour, sometime barberries, sometimes baking powder and ground turmeric. The mixture is then poured into an oiled pan, covered and cooked over low heat until set, sometimes finished in a hot oven. It's light, moreish and utterly delicious.
Where to Eat It: Gitane London is the place to come for Modern Persian cuisine. On Fitzrovia's Great Titchfield Street, with its numerous arrays of cuisines from modern brasserie, to Indian and Italian, at door number 60 lies a rare Persian bistro. Husband and wife duo Bahman & Negar opened Gitane's doors in October 2012 presenting a new minimal, informal environment for all to enjoy. At Gitane, each week something new comes to the menu, from great salads to chicken with saffron rice, but they always have a fantastic Kuku Sabzi. You can enjoy it with a range of their fresh salads – try carrot, fennel, red chard and nectarine salad, and French lentil salad with pomegranate molasses, it cannot be beaten. Don't leave without picking up one of their date cookies.
60 Great Titchfield St, London W1W 7QF
What: Jūjeh-kabāb is an Iranian dish that consists of grilled chunks of chicken. It is common to marinate the chunks in minced onion, lemon juice and sometimes saffron. Jūjeh-kabāb is a popular dish in Iran often served on basmati rice or wrapped in lavash bread, both of which are staples in the Iranian cuisine. The former is more often served in restaurants and elaborate parties such as wedding receptions while the latter is often eaten in domestic settings, kebab joints and picnics or packed for road trips.
Where to Eat It: Get down to Hana in West Hampstead – where Middle Eastern charcoal grills and stews are served in a casual venue with outdoor seating. The food here is made with love – and they want to show that good cuisine and a fine dining experience need not cost the earth. The food here features Persian staples, like salad of fresh pomegranate, cucumbers, dried mint, angelica powder and lemon juice, as well as great grilled meat. Choose from Koobideh, chargrilled minced Lamb served with saffron rice, and Joojeh, chicken marinated in saffron and served with saffron rice, salad, and grilled tomato. Go all out and get the mixed grill – it will keep you going for days.
351 West End Lane, West Hampstead NW6 1LT
What: Faloodeh is an Iranian cold dessert consisting of thin vermicelli noodles made from corn starch mixed in a semi-frozen syrup made from sugar and rose water. It is often served with lime juice and sometimes ground pistachios. Faloodeh is one of the earliest forms of cold desserts, existing as early as 400 BCE. The name originally means smoothie in Persian language. So very smooth.
Where to Eat It: Persepolis in a little hub of Persia in Peckham. It's a shop and hub of activity for the community. Here you'll find a great, unusual Persian cafe, serving all manner of treats. Come on the weekend for quirky and fantastic brunch – everything from mezze platters to baked sweet potato filled with Persian baked beans and halloumi, and eggs scrambled with dates and fragrant spices. Their sweet offering are divine – especially the ice cream sundaes – think Persepolitan Vegan Knickerbocker Glory, Saffron Banana Split, Hot Paklava Meltdown, Turkish Delight Sundae. And, of course, Iranian Faloodeh. You'll leave very, very happy.
28-30 Peckham High St, London SE15 5DT