We believe in a thing called brunch, just listen to the rhythm of our hearts and the rumble of our stomachs!
Here's 5 brunch spots you need to visit in London this weekend. Let's get munching:
1. For a Bottomless Brunch: Aquum 
What: Call us Scrooge, but we think it's a little bit early to be downing mulled wine and eating our bodyweight in mincemeat and flaky pastry. But there is something we can get onboard with, and that's a festive themed bottomless brunch. Rule number 1: always bend the rules when it comes to brunch. Aquum in Clapham has launched a new festive brunch available every weekend until Christmas.
Eat and Drink: A far cry from the stereotypical brunch offering; expect a day of bottomless prosecco, meze munching and party partaking. To kick-start the festivities, get stuck into creating your own Bellini's with a variety of fruity purees, before enjoying a selection of tasty brunch classics. Highlights from the menu includes My Big Fat Greek Breakfast  – Kavourmas beef confit, fried egg and tomato on a bed of pitta, side of Greek yoghurt with dried apricots, dates and walnuts simmered in port wine, orange zest and Christmas spices, and Christmas Spice Pancakes – layers of freshly cooked pancakes with roasted walnuts, sprinkled cinnamon and vanilla custard. And Eggs Benedict with ham, cranberries and poached egg with hollandaise sauce. Because nothing screams Christmas like a handful of extra cranberries, right?
Where: 68-70 Clapham High St, London SW4 7UL
2. For a New Brunch Menu: Grain Store
What: Bruno Loubet has recently unveiled a new weekend brunch menu at Grain Store, where he has given classic brunch dishes his Grain Store touch. Take our word for it: they are seriously good. Bruno's new weekend brunch menu features innovative twists on well-loved eats and, where possible, Bruno has managed to fit a key vegetable element into dishes.
Eat and Drink: The new menu features the kimchi omelette topped with smoked salmon and dollop of crème fraîche, and sweet potato waffles with stewed peppers, Baghdad eggs, yoghurt sauce and barberries. If you prefer sweet brunch dishes, try the American pancakes topped with maple syrup and blueberries, and the AT team's favourite – the toasted banana loaf, served with vanilla ricotta and warm passion fruit sauce. Veggie dishes are in ambudance here, we're talking about crushed avocado on toast, topped with dukkah, basil oil and scrambled eggs, clear vegetable borsch with dumplings and grated pecorino, and the mushroom, celeriac and truffle burger, with sweet cucumber pickle, and a side of chips and salad. The new oh-so-pretty bright pink beetroot latte is a must order.
Where: Granary Square, 1-3 Stable St, Kings Cross, London N1C 4AB
Photo Credit: Steven Joyce
3. For an Italian Brunch: Fucina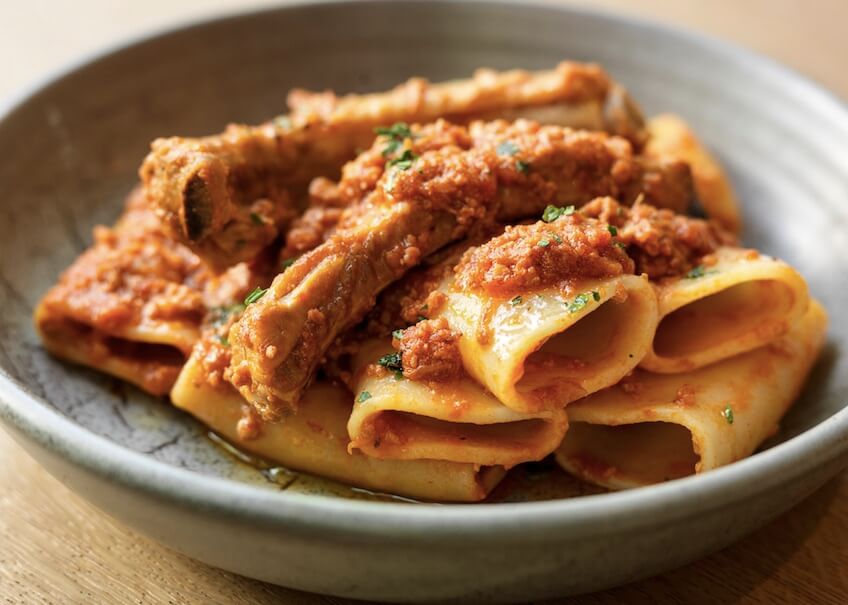 What: Italian restaurant Fucina has rolled out their new weekend brunch menu available every Saturday and Sunday until 4pm. The menu is a collaboration between Head Chef Stefano Stecca and ex-Princi Head Baker Massimiliano Porta, so except a shed ton of freshly baked Italian pastries and brunch pizzas.
Eat and Drink: Fucina's brunch menu features a selection of classic Italian baked goods and loaves, as well as salads, savoury crostini, fresh fruit platters, and sandwiches filled with meats from the restaurant's fire pit. Wash it all down with coffee roasted in-house, teas, cold-pressed juices or one of their fantastic smoothies. The menu features dishes such as: Bomboloni (Italian doughnuts) with chocolate, custard cream, or fruit compote; Eggs Benedictine with ham and taleggio fondue; and funghi pizza with ham, mushroom and egg.
Where: 26 Paddington Street Marylebone, London W1U 5QY
What: Yosma has brought the spirit of Istanbul to the streets of Marylebone with their brand spanking new,  traditional Turkish breakfast menu (also known as 'Kahvaltı'). The restaurant, which opened in September this year, will serve its kahvaltı offering on Saturdays and Sundays from 10am – 2pm. Known as kahvaltı, which literally translates as 'before coffee', get sharing a variety of sweet and savoury items all washed down with endless tea and juice, before allowing yourself the first coffee of the day at the end of the meal.
Eat and Drink: Executive chef, Hus Vedat, has been careful to stay true to the kahvaltı culture of Istanbul and has collated a menu of classic Turkish dishes, including: Turkish breakfast platter for two (to share), a dreamy combination of tomato, cucumber salad, 2 boiled eggs, olives, beyaz penir, sour cherry jam, rokka, kaşar cheese and toasted freekeh bread, and the Simit – mulberry molasses and sesame bread served with honeycomb and kaymak clotted cream. Not forgetting the Hellim toastie, stuffed with tomato ezme and courgette, and the Menemen, a hearty portion of scrambled eggs on slow cooked tomato and peppers. Fancy more eggs? Order the tomato baked eggs with spicy beef sausage, yoghurt and chilli butter or the poached eggs with burnt leeks, chilli butter, garlic and dill. Egg-tastic. There's also pistachio, blueberry, pomegranate and pumpkin seed granola with honey and yoghurt for all the sweet lovers out there.
Where: 50 Baker St, London W1U 7BT
5. For an All-Day Brunch: Veneta
What: For a posh, Italian style Brunch in St James', skip down to Venta, the Venetian-style all day eatery. The restaurant goes to terrific lengths to offer a vast spread of Italian traditional savoury, sweet and meat dishes, with some specially created for the brunch menu.
Eat and Drink: With fresh juices made to order in such exotic forms such as spicy beetroot juice, opt for the smoked wild salmon with scrambled eggs and truffle butter – it's the perfect combination. If you're a fish lover, try the smoked eel and guanciale on sourdough with horseradish hollandaise. For the more traditionalists, look no further then the full English with an Italian twist. The plate features a meaty medley of Farmison's pork and fennel sausages (made especially for Veneta), thick-cut pancetta, roasted beef, heart tomato, portobello mushrooms, blood sausage and fried eggs. There's plenty of Italian munch to go around. Think creamy burrata, topped with roast plums, hazelnuts and tarragon, and creamy polenta with muscavado, cinnamon and raisins. Not a typical brunch dish, sure, but we love.
Where: 3 Norris St, St. James's Market, London SW1Y 4RJ