Mix 1 teaspoon of VIVID Matcha organic powder with a dash of hot water – whisk until smooth and creamy. Add the warmed 200ml coconut milk and give the latter a good stir.
Ingredients
1⁄3 cup sugar
1⁄3 cup water
1⁄2 teaspoon VIVID Matcha powder
5 mint leaves
2 ounces white rum 1 ounce vodka
Directions
Vivid matcha syrup: Combine sugar and water in saucepan over high heat. Bring to a boil and whisk till totally dissolved. Remove from heat. Spoon matcha into a small bowl and pour a little simple syrup into the bowl to make a paste, whisking vigorously until totally smooth. Pour in remaining syrup and whisk until smooth.
Vivid matcha mojito: Tear mint leaves and place in the bottom of a tall glass. Muddle mint leaves. Add rum, vodka, and matcha simple syrup and stir to combine. Add ice up to about 2/3 of the glass. Top with soda and garnish with mint leaves.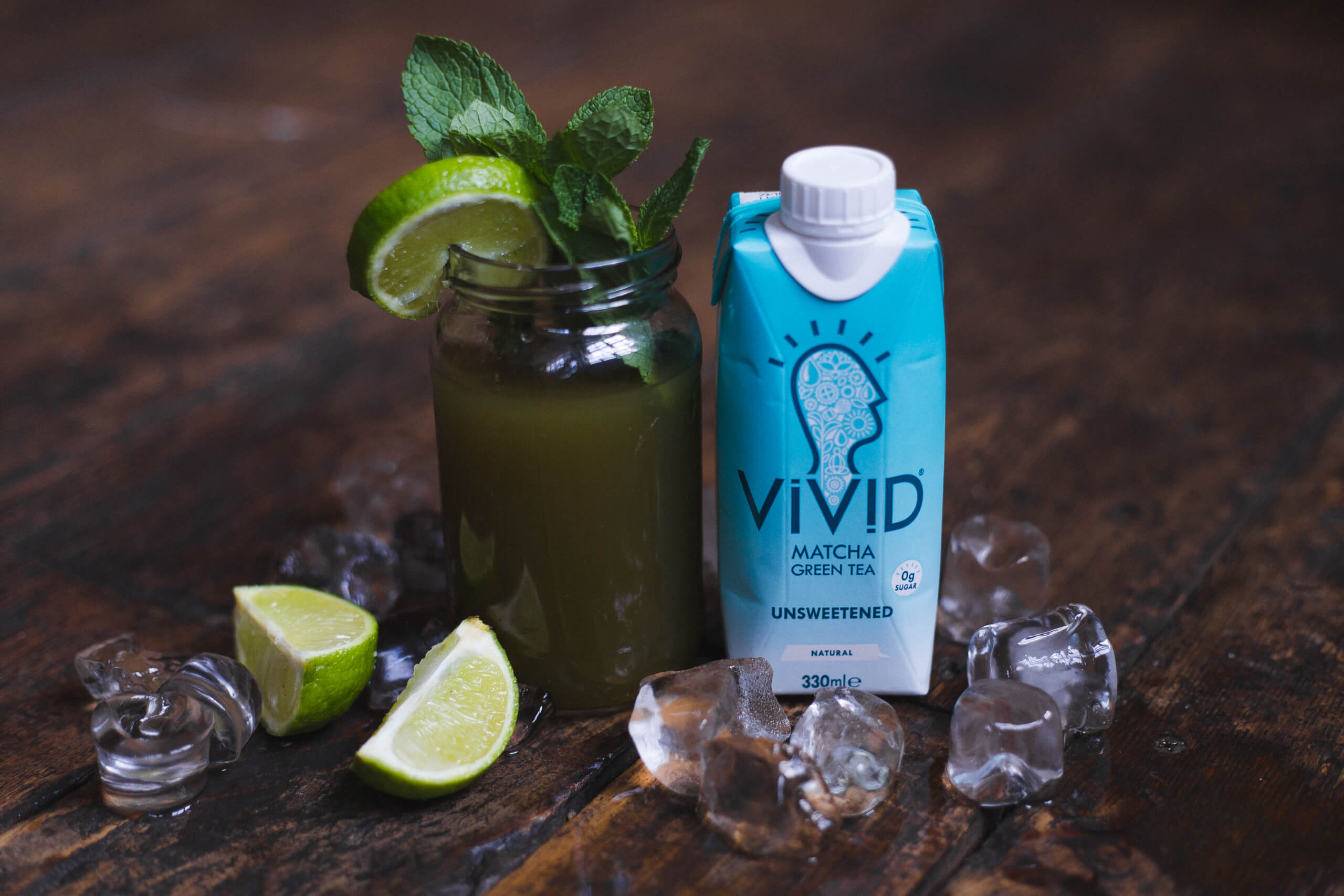 Ingredients
1 cartoon VIVID Unsweetened
Apple juice
Mint leaves
Fresh lime
Ice
Tear mint leaves and place in the bottom of the glass. Pour in the VIVID Unsweetened to half full. Top up with apple juice, ice and garnish with fresh lime and mint.
Ingredients
1 cup almond milk or any non dairy milk of your choosing
4 tablespoons of chia seeds
1 tablespoon agave nectar or any sweetener of your choice
1/2 teaspoon VIVID matcha
1 teaspoons vanilla extract
Directions
Mix together milk, sweetener, vanilla, Vivid matcha and salt in a blender until smooth. In a bowl or jar pour chia seeds then the matcha milk mixture over the chia seeds. Stir and refrigerate overnight for best results. In the morning top with your favourite berries.
Directions
Mix together VIVID matcha powder and avocado Squeeze juice of lime. Season with a dash of salt and pepper.