Looking to cool down in a tasty, dairy-free way? Vegans discover all the sweet treats, so here's 5 amazing vegan ice cream recipes to keep you refreshed this summer:
Vegan Ice Cream Recipes: Summer Guide
The Lowdown: This recipe from Pollen + Grace is delicious – a Burnt Coconut Butter + Blackberry Ice Cream, which is suitable for vegans, as well as free from gluten, wheat, dairy + refined sugars. Creamy, rich, and made with only 100% natural ingredients, it's the ideal treat for when the sun is shining. Pollen + Grace create healthy, food to go products, mindfully designed alongside their in house naturopath to help you heal, thrive and feel the best that you can.
Ingredients:
 2 tins full fat coconut milk
½ pack (approx. ½ cup) creamed coconut
½ cup maple syrup or rice malt syrup
1 tbsp vanilla essence
1 tsp salt
1 tbsp xanthan gum
1 tbsp vodka (to stop it from crystallising)
1 punnet of blackberries
3 tbsp maple syrup or rice malt syrup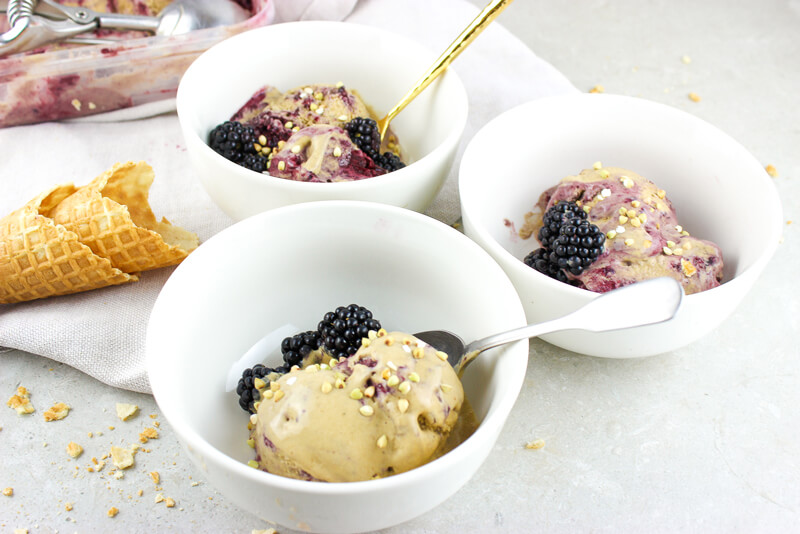 Method:
At least 24hrs before starting, add the container from the ice cream machine to the freezer, following the manufacturer's instructions
Add the creamed coconut to a pan on a medium heat and stir until it has melted down
Add the syrup, salt and vanilla and mix to combine
Remove from the heat
Add ¼ cup of the coconut milk to a cup with the xanthan gum and stir to combine
Add the rest of the coconut milk, the creamed coconut mixture, the xanthan gum mixture and vodka to a blender, and blend until combined.
Add the mixture to the ice cream machine and mix following the manufacturer's instructions – ours tends to take about 30-40 minutes
Add the blackberries and remaining syrup to a pan and boil over a medium heat. Remove from the heat and chill in the fridge
Remove the ice cream from the machine and add to a container
Mix the blackberry compote through the ice cream mixture
Cover with baking paper, then store in the freezer for at least 4hrs
Remove from the freezer 30mins before serving to let the ice cream soften
Vegan Ice Cream Recipes: Protein Hit
The Lowdown: In the mood for a mid-week treat? Try topping this classic nut butter and banana ice cream combo with chopped nuts by Vega.
Ingredients
60 g peanut butter
200 g frozen chopped banana
2 Tbsp plant-based alternative to yoghurt
Splash of plant-based drink like coconut
1 scoop (34g) Vanilla Vega® Essentials
1 Tbsp chopped roasted peanuts
Method
Place all the ingredients except the chopped roasted peanuts into a food processor and blend until creamy and think, like ice cream. Add an extra splash of plant-based drink to loosen the mixture if necessary
Spoon into two bowls and sprinkle with the peanuts to serve


Vegan Ice Cream Recipes: Perfect Lollies
The Lowdown: Give your everyday green smoothie a fun twist! In frozen form, this recipe will win over the pickiest of eaters and will be the only thing you want to cool down with this Summer.
Ingredients
200 g fresh pineapple

1 whole banana

1 large handful kale

1 large handful spinach

1 scoop (34 g)

Vanilla Vega® Essentials

250 mL coconut water

Couple dashes of cinnamon
Method
Add all the ingredients to high speed blender and blend until very smooth.
Pour into ice lolly moulds and freeze for at least 3 hours.
Ice lollies at the ready!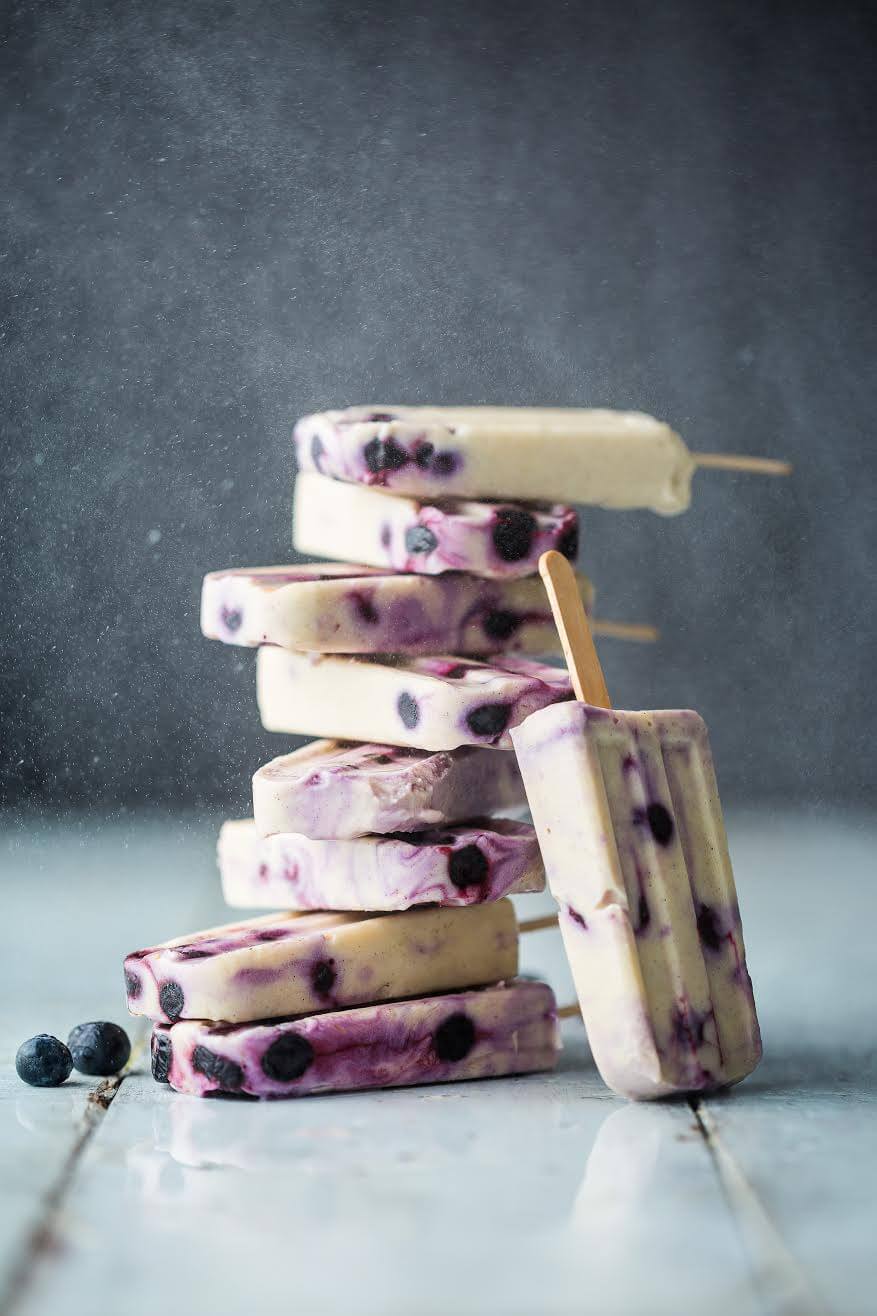 The Lowdown: After your intense workout, what better way to cool down than a protein ice lolly! Don't have ice lolly moulds? Swap 125 mL of the yoghurt for water and toss all the ingredients in a blender for a blueberry post-workout protein shake for one.
Ingredients
125 mL lemon juice
375 mL plant-based alternative to yoghurt
1 serving (35 g) Vanilla Vega® Clean* Protein
110 g fresh or frozen blueberries
Optional: 1 Tbsp lemon zest
Method
In a blender, combine the lemon juice, yoghurt and Vega® protein. Blend until smooth.
Fold in the blueberries.
Pour into an ice lolly mould.
Freeze for a minimum of 4 hours (overnight is ideal)
The Lowdown: An ice cool sweet treat made using Rude Health dairy-free coconut drink. A lovely little lick of the Caribbean sunshine.
Ingredients
250ml Rude Health Coconut Drink
250ml coconut milk
50g CoYo yoghurt
40g brown rice syrup, plus extra for serving
Method
1. Mix everything together in a medium-sized pouring pitcher.
2. Pour into ice lolly moulds and carefully transfer into the freezer. Freeze for at least 4 hours, or until firm.
Optional: For creamier ice lollies, for the first 2-3 hours after you place the ice lollies in the freezer, give each ice lolly a stir every 30 minutes and break apart any large ice chunks.