Vegans rejoice! There's a whole host of exciting new vegan food in London that has recently launched – from vegan burgers to vegan doughnuts, we've got the lowdown. Instagram at the ready, discover 5 of the best new vegan delights right here:
1. Celebrate a Vegan Valentine's Day with by CHLOE.
What: London's favourite plant-based brand by CHLOE. is set to launch three new limited-edition Valentine's Day themed items for the month of February; the Beet Mine Burger, Pink Chlostess Cupcake and Sweetheart Sugar Cookies.
The Lowdown: The Beet Mine Burger is made with a beet-lentil patty topped with sautéed oyster mushrooms, sautéed kale, pickled red onion and truffle basil aioli, served on a wholegrain bun.  If you're looking to pick up some sweet treats for your sweetheart during the month of love, by CHLOE. have got you covered. The brand's namesake signature Chlostess Cupcake will feature a colourful holiday twist, whilst The Sweetheart Sugar Cookies will feature a range of cute heart-themed pink and red patterns.
Where: All three items are available for the entire month of February in both by CHLOE. locations.
2. Try CBD Croissants at Glow Bar
What: London's trendiest wellness destination Glow Bar are now serving vegan CBD croissants every Friday and Saturday at their premises on Mortimer Street.
The Lowdown: Founder Sasha Sabapathy said 'we wanted to provide consumers with a non-alcoholic solution for overcoming social anxiety and raise awareness about hemp as a wellness supplement. CBD croissants offer our customers a fun and delicious way to experiment with CBD and experience its benefits.' The croissants are supplied by Organic Livity who use lab tasted (with guaranteed % of CBD), organic certified, GMO free and GMP quality certified, CBD oils to infused their food. Their chef f is pioneer in CBD infused desserts in London.
Where: Information here
3. Have an Avocado Extravaganza at Avobar
What: Avobar, the Californian inspired eatery dedicated to the avocado, is mixing things up – transforming its menu from superfood brunch dishes by day to tapas style evening plates and cocktails by night. Founded in 2017, Avobar is London's first all-avo casual dining destination, inspired by Californian style plates and everything the mighty avocado has to offer.
The Lowdown: In true Avobar style, each new dish on the evening menu cleverly incorporates avocado. There's lots of vegan options on the menu here (although they serve fish and meat too); including Vegan Taco with  roasted sweet potato, black bean & avocado with a cool herbed dressing, and Avo Cheesecake, made with vegan 'white chocolate' and a touch of lime.
Where: Avobar, 23-24 Henrietta Street, Covent Garden, WC2E 8ND
4. Devour Crosstown's Vegan Valentine's Day Doughnuts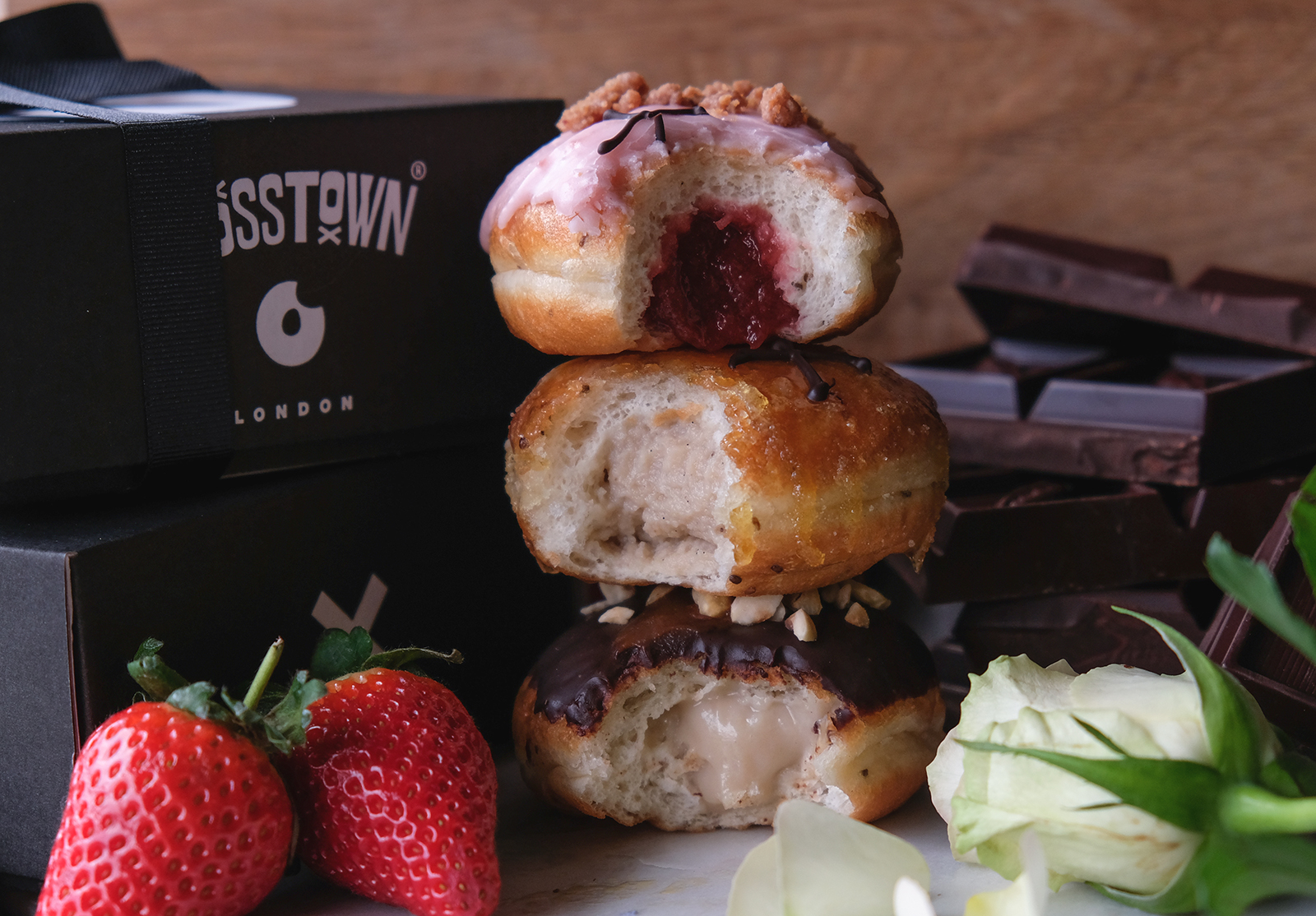 What: Crosstown are celebrating Valentine's Day with limited-edition gift boxes available on the 14th February only. The line-up includes collaborations with English sparkling wine producer Gusbourne and Californian chocolatiers Guittard. Alongside three flavours made with their original sourdough, Crosstown, winners of the Best Vegan Doughnut award by PETA, are also releasing three plant-based Valentines flavours for the first time ever.
The Lowdown: Gusbourne's award-winning vintage sparkling rosé is used in both the vegan and original Strawberry & Sparkling Rosé flavours, whilst the Chocolate Ganache is filled with a home-made ganache, using Guittard's 150-year anniversary Eureka Works chocolate. The famous Crosstown Crème Brûlée has been reworked into a dough bite and comes in both original and vegan form.
Where: Original and vegan Valentine's Day gift boxes will be available in all Crosstown stores and on-demand on 14th February only. Due to limited stock, pre-orders are advised.
5. Discover a Brand New All-Vegan Cafe
What: The duo behind Camden Market's vegan bakery, Cupcakes and Shhht, have announced the launch of their new cafe. Offering a unique dining experience in the heart of Hackney, WAVE (We Are Vegan Everything) will be serving up a whole host of contemporary alternatives to traditional favourites. Some of the best new vegan food in London will be served here, we think.
The Lowdown: WAVE is serving up a beautifully crafted menu of 'freakshakes', juice shots, kombucha on tap, superfood lattes, smoothie bowls, bulletproof coffee. There's also a display of daily baked fresh vegan, gluten-free and even sugar-free cakes, cheesecakes, brownies, stuffed croissants and cinnamon buns. Expect an all-day brunch menu consisting of vegan eggs, smoked maple tempeh pancakes, sausage rolls and more.
Where: To celebrate the official launch, WAVE will be offering locals a free coffee for the first two hours of trade from 28th January- 11th February. 11 Dispensary Lane, Mare Street, Hackney, E8 1FT