Looking for the top healthy food brands to watch in 2017? Look no further. We're talking innovators, game-changers, visionaries. After a month of chowing down, we've tried everything health food item around and can happily confirm these are the brands we think are going to be big this 2017. Let's talk shop:
Healthy Food Brands to Watch in 2017: Bright Mornings
1. For Buckwheat Cereal: Dust Granola
What: Dust Granola is a gluten, dairy and refined sugar-free granola that focuses on a few key ingredients; buckwheat groats, nuts, seeds, dried fruit and date syrup. One of the main aims of Dust Granola is that is appeal and would be suitable for the widest variety of diets and lifestyle choice, while still remaining healthy, wholesome and above all tasty.
Why: With 3 flavours currently available (Original, Cacao, Orange & Cranberry), Dust is the perfect addition to your breakfast. Whether that is on its own, with fruit and yoghurt, your favourite choice of milk or even sprinkled onto nut buttered toast, the possibilities are endless.
Price: £7.50 for 325g
Where: Planet Organic, Harrods and Waitrose
2. For Superfood Cereal: Lucy Rocks Granola
What: Lucy Rocks Granolas and crunches are the perfect morning start for anyone who is looking for a healthy, balanced start to the day. Lucy's products are all organic, vegan, grain-free, gluten-free and refined sugar-free, but still taste delicious. The granolas and crunches get their unique and tantalizing flavours through the addition of nutritious superfoods such as spirulina, mulberries, cacao and lucuma. The gloriously crunchy texture of the granolas and the delicate texture of the crunches, due to the sprouted buckwheat base, will definitely motivate you to get up in the morning.
Why: Lucy believes that just because you want to eat well and stay healthy doesn't mean you need to eat a bland and boring diet. As such, she chose her ingredients carefully, working closely with her farmers and using only the highest quality organic ingredients, to create a selection of moreish good products.
Price: £6.49
Buy: You can find Lucy Rocks in Alara Health Store, small retailers across the UK and EU, online here
3. For Dairy-Free Yogurt: Nush Almond Milk Yoghurt
What: Nush is the UK's first dairy, soya and refined sugar-free almond milk yoghurt. This delicious new range of yoghurts are produced by blending the best quality almonds from Sicily with filtered water and vegan probiotic cultures. The result is a light and creamy yoghurt with a delicate and delicious flavour profile that can be enjoyed as a direct swap for the traditional dairy variety.
Why: Nush is a delicious way to enjoy the beauty and health benefits of almonds – almonds are a nutritional powerhouse and have the highest concentration of nutrients per gram than any other nut. They are low in saturated fat and are a natural source of hunger-satisfying protein, the powerful antioxidant and complexion boosting Vitamin E and potassium, calcium, magnesium, phosphorous, and iron. Win.
Price: £1.95 for 125g
Buy: In Whole Foods, Planet Organic and Ocado
4. For Natural Granola: Delicious Alchemy
What: Delicious Alchemy Gluten-Free Berry granola is the perfect way to start your day. There are no nasty additives in Wonderfully Berry Granola, just crunchy clusters of gluten free oats, sunflower and pumpkin seeds, honey, cranberries, strawberries, blueberries and natural flavouring. The Berry granola joins Delicious Alchemy's range of gluten-free breakfast goodies including Nutty Granola, Rice Flake Porridge and Purely Oaty Fruity Muesli.
Why: For those who cannot or chose not to eat gluten, Wonderfully Berry Granola packs a nourishing, healthy punch. Simply add your own choice of milk or dairy-free alternative to make a delicious bowl of goodness that will keep you going until lunchtime. Exercising on the way to work? Pop some granola and yogurt into a Kilner jar and you're good to go with breakfast al-desko.
Price: £3 for 312g
Buy: Available from Delicious Alchemy's online shop here.
Healthy Food Brands to Watch in 2017: Nut Butters, Fruit & Seeds
1. For Perfect Almond Nut Butter: MaraNatha
What: MaraNatha is the new premium almond butter which we're totally loving. The spread contains only the best stone ground almonds and comes in two different textures; Velvet Smooth, which is double ground to unlock exceptional flavour, and Divine Crunch, with pieces of almond running through for those that prefer a nut butter with bite.
Why: There are many ways to enjoy Maranatha Almond Butter, you can spread, dip, spoon and enjoy. Whether added to a smoothie, spread onto apple slices or simply enjoyed on a slice of toast, MaraNatha is a source of protein and fibre that's suitable for vegans. MaraNatha is stabilised meaning that it doesn't separate therefore there is no need to stir!
Price: £3.99
Buy: MaraNatha is available at Tesco and Ocado.
2. For a Protein Hit: MELLO Watermelon Seeds
What: MELLO dry roasted Watermelon Seeds are the ultimate nutritional powerhouse packed full of protein. Nutritionally outperforming anything on the current nut and seed market, these little watermelon seeds have impressive health benefits and when roasted make for a very tasty snack.
Why: Just 100g has an almighty amount of protein – 34.1g (sunflower seeds have 21g and struggling along behind, pumpkin seeds have just 19g). Packed full of your daily nutrients with 130% of your RDA of Magnesium, with fewer carbohydrates and calories than the already famous almonds and with nine times more fibre than roasted pumpkin seeds, they are the perfect seeds for snacking post-workout.
Price: £3.49
Where: Holland & Barrett
3. For On-the-Go: Wyldsson Trail Mix Tubes
What: Tired of scouring the back of your go-to granolas, nut and protein bars and seeing added sugar, glucose and preservatives? Online healthy eating retailer Wyldsson wanted to change all that with their range of nourishing foods that taste great and are the ultimate in convenience. 2017 sees the launch of Wyldsson's newest range, ProMix refillable trail mix tubes, in a diverse 12 flavours.
Why: ProMix is a carefully balanced selection of chopped nuts with a sprinkling of seeds and some of the most extraordinary fruits in the world – Organic Persian Mulberries, Organic African Mango, Californian Pomegranate and even a touch of Dark Belgian Chocolate to keep that sweet tooth at bay. With ProMix, you get all the sustaining goodness of nuts, seeds and fruits without the unnecessary additives in bars, with the added bonus of being gluten free and vegan. ProMix comes in handy around the clock as a delicious porridge or yoghurt topper, a portable snack for a pick-me-up at work.
Price: 45g snack tubes (£16.99), durable refillable tubes (£4.99) and 750g refill packs (£11.99) can also be purchased individually or via a monthly subscription.
Buy: Online here
4. For Goldenberries: Nature's Heart
What: Nature's Heart are bringing sunshine from South America in the form of goldenberries; a deliciously sweet and tangy dried fruit that brightens balanced breakfasts, smoothies and energy balls. The cheery round berries (also known as a physalises) contain vitamin A, vitamin C, iron and zinc and even have more potassium than bananas. Perfect for a healthy pick-me-up throughout the day, Nature's Heart vegan-friendly goldenberries also come covered in cacao and blended with chia in smoothie and powder form.
Why: Nature's Heart was founded by three brothers, born and raised in Ecuador, who wanted to share their favourite home-grown fruit with the world. They realised that goldenberries provide a burst of natural energy and are choc-full of good things to keep the body healthy, so decided to dry them raw to preserve all their nutrients. Their goldenberries are grown by over a thousand independent local farmers who hand-harvest the plants on small plots of land near their home, to ensure only the best quality goldenberries are chosen for the range.
Price: £2.59 for Goldenberry pouches (original and cacao covered), £1.99 for the Goldenberry and Chia smoothies, £14.99 for the Goldenberry and Chia Powder Blend. 
Buy: Available from Ocado online, Waitrose online and Waitrose stores nationwide.
Healthy Food Brands to Watch in 2017: Powders and Superfoods
1. For Natural Protein Powders: STRIPPD
What: STRIPPD is a range of all-natural, premium protein powders designed specifically for women. The protein comes in both Whey and Vegan and is available in three delicious flavours – vanilla, chocolate and mixed berry. The Whey Protein is produced from the finest milk products, whilst the Vegan Protein is plant based – derived from a mixture of whole pea and hemp sources.
Why: The products themselves only have five ingredients so are not pumped full of fillers and chemicals, just natural ingredients and flavourings. They are also infused with South-American wonder ingredient Yerbe Mate that has been praised for its metabolism boosting ingredients. Both proteins contains all of the essential amino acids for maintaining healthy hair, skin and nails. The Vegan Protein is perfect for those who are vegan, lactose intolerant or just trying to cut their dairy intake down who still need the all-important vitamins, minerals and antioxidants present in protein.
Price: £20 for a 490g tub
Buy: Boots stores nationwide or online here
2. For a Superfood Hit: Of The Earth
What: Of The Earth Superfoods is a 100% vegan, organic food company selling everything from superfood powders to seeds, hot chocolate blends to exotic dried berries. All products are directly sourced from plantations around the world, and produced in a zero-waste, solar-powered factory in the heart of London.
Why: Superfoods are a great way to get in those vitamins and minerals in a super easy, convenient way. Add to smoothies, juices, baking, breakfast bowls, sauces, dips.. the list can go on. Time to fill up on some antioxidant-filled goodness.
Price: From £2.49.
Buy: Online here, or in your local Planet Organic, Wholefoods Market, or As Nature Intended.
3. For Quirky Protein Powders: Nutristrength

What: Founded by two brothers searching for new, better, more authentic products, Nutristrength is a British manufacturer of award-winning lifestyle nutrition. Nutristrength's great tasting natural proteins are made using only the highest quality ingredients and are free from artificial flavours, sweeteners and additives.
Why: Nutristrength knows that great bodies need great food, not cheap promises and quick fixes.  Nutristrengthfocuses on putting food first and creating delicious, protein rich recipes to support your active lifestyle and help you on your journey to develop your healthy, strong, beautiful body.  Nutristrength have a recipe resource on their website so you can incorporate protein into your diet as real, great tasting food.
Price: From £32.99/kg.
Buy: Find Nutristrength in Wholefoods Market, Planet Organic, As Nature Intended and other great retailers around the country.
Healthy Food Brands to Watch in 2017: Dairy-Free Milks
1. For a New Milk: Plenish Cleanse Hazelnut Nut M*lk
What: Award-winning British brand Plenish is expanding its innovative range of high nut content, protein-packed, dairy-free M*lks with the launch of its delicious Long-life Organic Hazelnut M*lk. The first all-natural organic hazelnut milk to launch in the UK to contain absolutely no rice, oils or fillers of any kind, Plenish's Hazelnut M*lk goes back to basics.
Why: It is created with just three simple, sustainably sourced ingredients: gently roasted organic hazelnuts (5%), filtered water, a pinch of sea salt – and that's it. Whether it's to shake up a morning or post-workout smoothie, add a delicious creamy and healthy twist for meals – providing a delicious base for soups, curries and desserts (let's face it: chocolate and hazelnut is a marriage made in heaven), or use in vegan coffee for an extra shot of plant-powered goodness.
Price: £3.49 for a one litre carton.
Buy: Online here
2. For a Sweet Delight: Rice Dream
What: Rice Dream is a rice milk and one of the few dairy alternatives that retains the taste and consistency of dairy milk so you can enjoy it in your cup of tea or coffee without any compromise on taste, a refreshing substitute. Rice Dream its the original rice drink- first introduced more than 30 years ago. It is also one of the few hypoallergenic dairy alternatives as it is free from lactose, nuts, gluten and wheat, ideal for those who want a dairy alternative but can't enjoy nut milks.
Why: Britain drinks more than 60 billion cups of tea, yet the perfect cup of tea frequently divides the nation. As more and more people choose a dairy-free lifestyle, creating the perfect cuppa can be even more of a challenge. Give it a go.
Price: £1.49
Buy: You can find Rice Dream in Ocado, Tesco and Waitrose.
3. For Protein Milks: Botanic Lab's Plant Milk Range
What: Botanic Lab's Plant Milk range are high-functioning, protein-rich drinks from the purest organic plant sources. Less froth, more function is the Botanic Lab creed – each 'milk' balances naturally energy-rich medium chain triglycerides from coconut oil with plant proteins and active plant extracts selected to boost metabolism: supporting targeted areas of an active lifestyle.
Why: You're looking at The Next Big Thing. If 2016 was the 'Year of Gin', 2017 will be the 'Year of Botanicals'. Founded in 2014 by Rebekah Hall and Christophe Reissfelder, Botanic Lab is rewriting the rulebook on superfoods, meticulously calculating optimum formulas based on ingredients' functional potential and flavour profiles. Each drink features a 'hero' ingredient (or several) selected for its powerful health-giving properties and gathered from the highest quality sources around the world. These are combined in innovative and intricate blends, resulting in a drink that you simply couldn't make at home. That's smart.
Price: Price varies. You can purchase 1 box of 8 for £60 here.
Buy: You can find Botanic Lab at Harrods, Waitrose, Wholefoods, Ocado and many more. Also available to purchase on their website here.
Healthy Food Brands to Watch in 2017: Savoury Snacks
1. For Healthier Crisps: Emily's Veg Crisps
What: Emily Crunchy Mixed Roots contain an earthy and delicious combination of the best of Winter root vegetables – naturally sweet carrot, rich beetroot and creamy sweet potato.
Why: The proprietary pressure-cooking method significantly reduces the absorption of oil, ensuring that all the vitamins, nutrients, colour and most importantly the glorious taste of the ingredients are preserved. This results in a gloriously tasty vegan product which is 1 of your 5 a day, contains only 95 calories per bag with no preservatives or additives!
Price: £1.45
Buy: At Planet Organic
2. For a High-Fibre Snack: Yushoi Snapea Rice Sticks
What: Are you finding it hard to stay healthy at work? A simple snack swap could be just what you need. Available in five great flavours; Lightly Salted, Soy & Balsamic Vinegar, Sweet Chilli & Lemon, Smoked Salt & Szechuan Pepper and Coconut & Chilli, Yushoi Snapea rice sticks are Vegetarian Society approved, gluten and nut-free. There is no need to compromise with Yushoi, you can have a great tasting snack that is better for you.
Why: Yushoi Snapea rice sticks are a baked snack made using green peas. As a good source of protein and high in fibre, Yushoi will keep you fuller for longer and at 96 calories or less per 21g serving they are the perfect snack to swap as an alternative to fried potato crisps. Great for lunch, on the go and as a snack for sharing with family and friends you will wonder why you didn't make this simple swap sooner.
Price: 105g sharing packs are £1.79 and 63g are £1.29, whilst 6 x 21g multipacks and variety multipacks are £1.69.
Buy: Tesco, Coop and Sainsbury's stores nationwide.
3. For a Corn Snack: LOVE CORN
What: LOVE CORN is a high fibre, low sugar, gluten free, premium roasted corn snack with an addictive crunch that tastes delicious. The corn comes in three flavours – sea salt, habanero and smoked BBQ. The smoky flavour is our favourite, the perfect pre-dinner nibble with a glass of wine.
Why: LOVE CORN are on a mission to make roasted corn your favourite snack (and have fun doing it!). They believe in simple and clean ingredients, that delicious food can change eating habits and through business you can do good. Right on.
Price:
Buy: At Planet Organic
4. For Quirky Dips: Me Too! Seaweed Hummus
What: Move over green juices – superfoods are becoming snackier. This sensational seaweed hummus is packed with B vitamins, minerals and iron, combines with chickpeas with its powerful plant-based proteins to create a healthy, filling and delicious snack or dip. Mediterranean food brand Me Too! creates truly authentic plant based dips and sauces designed with the whole family in mind.
Why: Each little pot is vegetarian, gluten free and kosher – simply full of goodness and taste whatever the occasion. The owner and inspiration behind this fast growing brand is Ramona Hazan who wanted to create the tastes of her childhood where she would shout Me Too! Tuck into the award winning Houmous range in 8 recipes from the ever popular Original Houmous to Beetroot, Red Pepper, Jalapeno, Lemon & Coriander, Seaweed and Houmous topped with Egyptian Dukkah.
Price: £1.50 for 250g
Buy: Available in all good supermarkets
Healthy Food Brands to Watch in 2017: Gluten-Free Dinners
1. For Pastry: Too Good To Be Gluten Free
What: Too Good To Be Gluten Free is the leading UK gluten-free pastry brand. TooGood's range offers a multitude of products, including quiches, tarts and pies. The range includes products such as Dark Chocolate and Salted Caramel Tarts which includes lashings of velvety rich dark chocolate and salted caramel cream wrapped in a crisp and buttery chocolate pastry and a Cauliflower, Kale and Stilton Open Top Pie which has a combination of cauliflower and broccoli florets in a well-seasoned Long Clawson Stilton sauce.
Why: Too Good To Be Gluten Free appeal to both medically-led coeliacs and shoppers who have embarked on a gluten-free lifestyle, a food choice that has seen a 27% rise in sales the last year helping along the 13% of Brits who currently live gluten-free altogether. Too Good To Be Gluten Free believe in innovative new products that focus on a plethora of flavours rather than the absence of gluten.
Price: From £2.99
Buy: Too Good To Be Gluten Free products can be found at selected UK Sainsbury's, Waitrose, Co-op and Morrison's stores and via its online shop here
2. For Gluten-Free Pasta: Evexia Thrive
What: Evexia Thrive is range of fresh filled and unfilled gluten-free pasta with four products; Gluten Free Penne, Gluten Free Chickpea Fusilli, Gluten Free Spinach and Ricotta Tortellini and Gluten Free Tomato and Mozzarella Tortellini. This is the ideal solution for your modern lifestyle by providing easy to prepare dishes for you to enjoy in the comfort of your own home.
Why: If you suffer from wheat or dairy intolerances then the Gluten-Free Penne is perfect for you as it is free from eggs, dairy and wheat. The Gluten-Free Chickpea Fusilli is a great source of fibre and protein and also has a low GL and is suitable for vegans. Both of the filled pastas are suitable for vegetarians so there is a pasta for everyone depending on their dietary requirements. 
Price: £2 for unfilled pasta, £2.50 for filled pasta.
Buy: Sainsbury's
3. For High-Protein Pasta: Explore Cuisine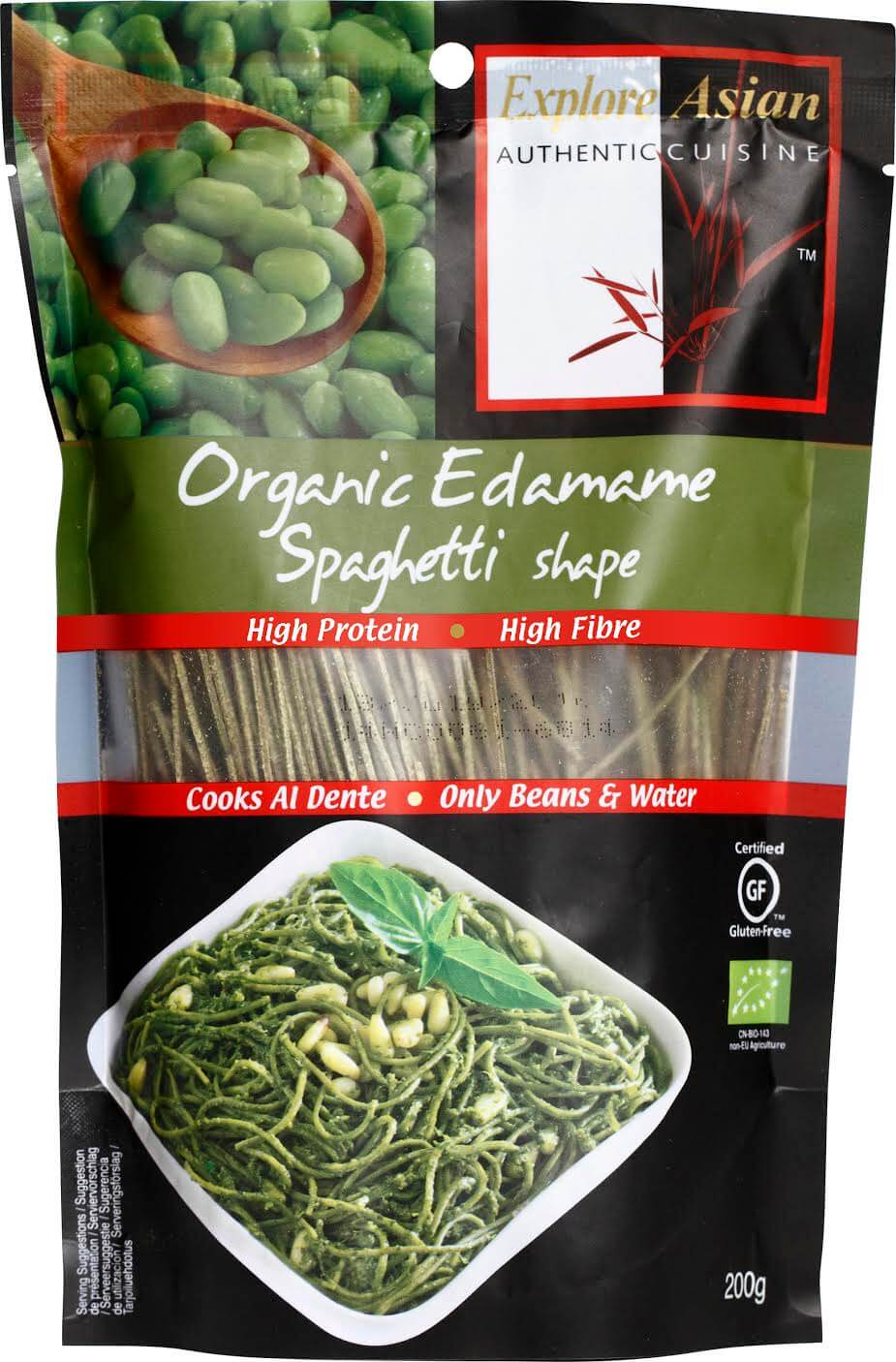 What: Avoiding pasta? There's simply no need. Explore's range of everyday healthy bean and pulse pastas are a brilliant alternative to classic pasta, to curb your cravings if you can't eat wheat. From black bean spaghetti, to edamame and mung bean fettuccine to green lentil lasagne sheets, the possibilities are endless.
Why: Explore is the new healthy way to enjoy pasta. It looks, cooks and tastes like pasta but it's actually made from 100% organic beans or pulses. The range of delicious pastas cook in around seven minutes and are high in protein, gluten-free, vegan-friendly, high in fibre and low in carbohydrate. So if you are looking for delicious, healthy and fast food, then Explore pastas could be the answer.
Price: From £3
Buy: You can find Explore products at Asda, Sainsbury's, Morrisons, Planet Organic, Ocado and Holland & Barrett.
4. For Protein Noodles: oomi Noodles
What: Containing 75% less carbohydrates and packing a serious protein punch, with nearly 13g of high quality protein per serving, oomi Noodles are a winner for everyone living an active and healthy lifestyle. Oomi aren't just about nutrition though, they're tasty, convenient and gluten-free. They can be used in exactly the same way as conventional noodles, whether that's thrown in a wok, added to a broth or soup, or even eaten cold in vibrant salads. So, it's simple to make the swap to oomi.
Why: Their low-carbohydrate levels are great news for waistlines, whilst their superior protein source provides important nutrients for an active lifestyle and helps keep hunger at bay. Most importantly oomi noodles taste great and their combination of quality protein and convenience creates a delicious food with purpose.
Price: £2.59 for 2x115g portions
Buy: oomi Noodles are available in selected Tesco stores nationwide and on Ocado
Healthy Food Brands to Watch in 2017: Kitchen Saviours
1. For a Healthy Curry: Gourmosa
What: Tired of feeling guilty for having that weekend take-away? Gourmosa are here with their gourmet range of bake-able Samosas which are up-to 50% less fat, protein packed Chaat pots and bang on-trend low sugar and fat friendly beetroot and carrot Halwas. Each product is expertly crafted by their in-house nutrition team to deliver a balanced meal or snack in an easy grab-out-the-fridge pot or wrapped up in a handy baked samosa leaf.
Why: Gourmosa believe that Indian food doesn't need to be laden with sugar, ghee and heavy on the carbs. Each of their products is packed full of nourishing superfoods such as quinoa, pomegranate and edamame beans which are given an added health kick thanks to their traditional blend of spices.
Price: Price varies across the range.
Buy: You can find Gourmosa in Tesco, Asda, Sainsbury's and Ocado.
2. For Delicious Tofu: The Tofoo Co
What: Tofoo's not the soggy, tasteless stuff you might be thinking of, and The Tofoo Co. is on a mission to show the world that tofu is really rather brilliant. The Tofoo Company tofu is the perfect ingredient for salads, stews and simple mid-week suppers.Handmade in small batches, to a traditional Japanese recipe, the Tofoo has a delicious delicate taste and texture that might surprise you.
Why: To give Tofoo a better taste and texture, it's made using a little thing called nigari which is an all-natural ingredient created from seawater. It's non-GM and gluten, diary, wheat and yeast free and is a great source of protein. Tofoo is low in calories, saturated fats and carbohydrates and can be incorporated into all lifestyles, whether you're vegetarian, vegan or carnivore. Made using organic soya beans and nigari, Tofoo is a versatile and exciting ingredient and also a brilliant source of low-calorie, cholesterol-free protein.
Price: From £2
Buy: You can find Tofoo in Tesco and Ocado
3. For Meaty Delights: HOOBA Foods
What: HOOBA Foods are a range of naturally healthy and tasty products which are good for the soul, as well as the stomach. From delicious sausage rolls to juicy burgers and meat-balls, Hooba expertly blend mushrooms and seasoning to create a range of meat-free and 50/50 (meat and mushroom) products that will get any mouth-watering. Perfect for vegans, vegetarians or simply those looking to cut down on their meat consumption, Hooba's products are made entirely from a blend of exotic mushrooms (grown right here in the UK) that look and taste just like meat.
Why: Hooba is not just about great taste – the team are on a mission; to do their bit to help reduce global meat production and at the same time improve the health of the nation by producing tasty food that contains less meat, or even no meat at all. The ethos behind the company is community and sustainability. With this in mind, Hooba Foods have teamed up with the YMCA to run a project working with young people to grow their signature mushrooms using coffee grounds from local coffee shops.
Price: Price varies. You can buy Hooba products online starting from £1.99
Buy: Buy online here
Healthy Food Brands to Watch in 2017: Drinks & Teas
1. For Cactus Water: True Nopal
What: Finding tap water a little dull? True nopal is the UK's first ever cactus water. It's delicious, refreshing and hydrating with a fruity taste – made from the prickly pear cactus. For centuries the people of the Sonoran Desert have benefitted from the goodness of the nopal cactus, a superfood that thrives in one of the hottest locations on Earth.
Why: Cactus water is believed to be the only known source of all 24 betalains and naturally rich in nutrients such as vitamins C, electrolytes (magnesium, calcium & potassium) and its even high in dietary fibre. One of the most popular uses is to help relieve a hangover, where it has been used to reduce headaches associated with too much alcohol. The cactus plant is loaded with nutrients, resulting in many folk law preparations to alleviate an upset digestion, irritation, cuts and bruises and even cold symptoms.
Price: £1.69 (330ml) £3.49 (1L)
Buy: You can find true nopal in Waitrose, on Ocado and in As Nature Intended.
2. For Super Teas: Heath & Heather
What: Struggling to get out of bed in the mornings? Heath & Heather is on hand with five new innovative Organic Super Teas, providing herbal remedies for everyday health needs. Created by a team of expert herbalists, each tea serves a unique health purpose. The teas have been individually blended with the finest botanicals, herbs and plants, specifically chosen for certain functional benefits and to help support a natural and healthy lifestyle.
Why: The new range, blending premium quality herbs, plants and seeds, delves into consumers' desire for more natural, healthy food and, indeed, lifestyles. Heath & Heather has created an easy and delicious way for them to enjoy all the therapeutic properties of superfoods like Amazonian guarana, turmeric or psyllium.
Price: £2.99 per pack 
Buy: Holland & Barrett and independent health food shops
3. For Beautiful Teas: Niche Wellness Teas
What: The Niche Company is a brand new premium health and wellness brand, making their début with a distinctive and carefully honed range of wellness teas. Using a specially designed formula of medicinal natural herbs, Niche have painstakingly researched global herbal techniques and explored over 130 tea estates to create the ultimate targeted tea blends.
Why: With a choice of six, including teas created specifically to enhance the Mind, Body, Skin, Hair, Cleansing and Sleep, the elegantly and innovative designed tea tubes are alive with uniquely modern colour and pattern and will make a beautiful accent to a stylish kitchen and a wonderful gift all year round. Every step of the way, Niche products are ethically sourced and the production is totally transparent, with no hidden ingredients or flavourings in the tea, and only 100% natural herbs.  Niche believes that beauty starts from within, and once this is nurtured, it will radiate on the outside.
Price: £10 per tube
Buy: Online here
4. For Global Teas: Piacha Tea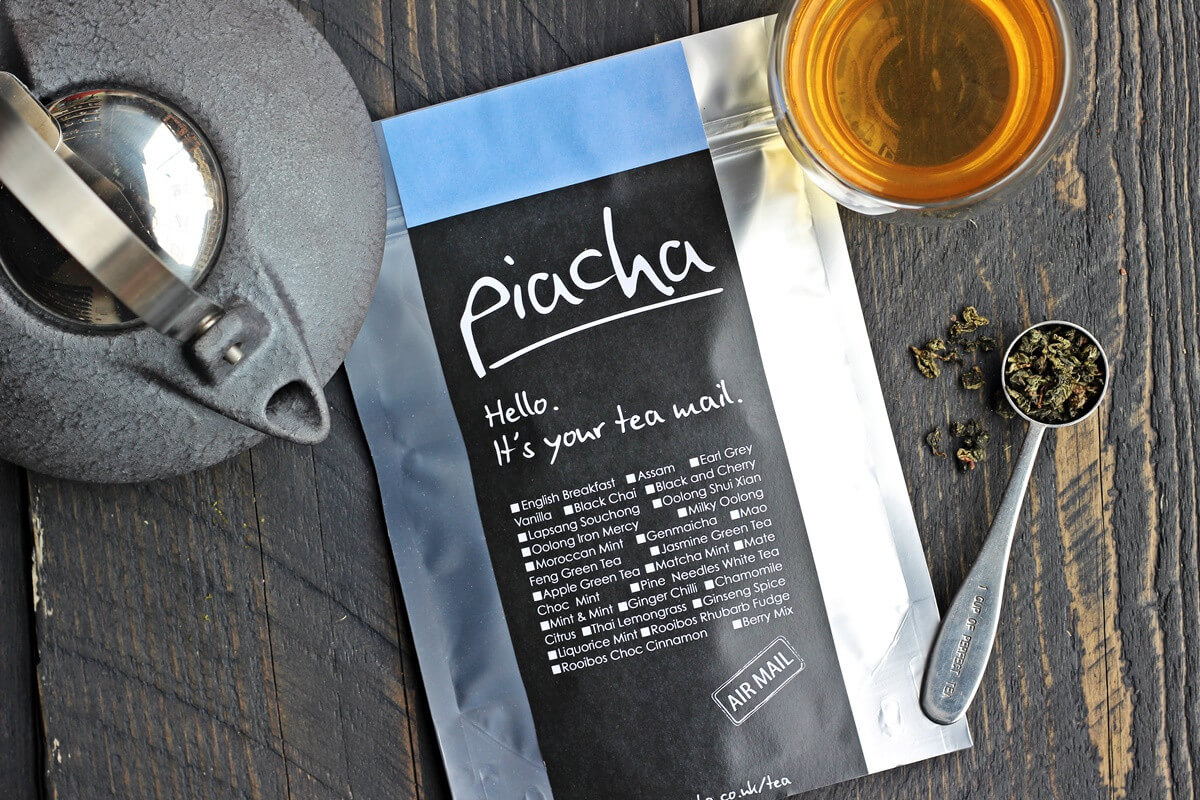 What: Piacha tea is made from all natural ingredients across the globe. Piacha's blends cover every category of tea from quality black and green teas to antioxidant-rich matcha and delicious rooibos infusions. Among the firm favourites are the powerful and warming Ginger Chilli, the delicious, hug-like Rooibos Choc Cinnamon, and the surprisingly smooth Earl Grey Vanilla.
Why: Piacha tea have 26 specially blended teas, based on quality whole-leaf tea and herbs. It offers a variety of products such as a subscription service, afternoon tea, tea boosters, gift boxes and tea tasting opportunities. These blends are tea classics reformulated for the 21st century and the range of Piacha tea blends have something for everyone.
Price: From £4.80
Buy: You can buy Piacha tea online here
And for a treat…
1. For a Healthier Alternative: OPPO Ice Cream
What: Ice cream just got healthy. Made with virgin coconut oil, stevia leaf and fresh milk, OPPO has 60% less sugar and calories than regular ice cream. This makes OPPO naturally sweet and creamy without the calories and sugar of traditional luxury ice cream. Choose from their Great Taste award winning Salted Caramel, Mint Choc Swirl or Madagascan Vanilla and indulge without looking like you have.
Why: Health and indulgence have typically been polar options. But OPPO believe there is a new way. Opposites can attract: delicious, decadent ice cream can be healthy, and eating less sugar and calories doesn't mean compromising on taste. With OPPO, health and indulgence are opposites no more.
Price: £4.99
Buy: You can find OPPO in Waitrose, Co-op, Budgens, Holland & Barrett, Whole Foods and on Ocado. Full stockists list here.