We get it, the year has flown by and you've only just clocked it's Christmas Day next week. No fear, we've compiled the best last minute food and drink gifts for the loved ones in your life. From gift sets to hot sauce and other delicious morsels – here's 25 (mostly edible or drinkable) gifts to suit all budgets:
Food and Drink Gifts: Under £20

The Lowdown: Kold Sauce is our favourite new hot sauce, made by hand in small batches in East London by founder Drew Wolf. Unlike other hot sauces, Kold Sauce is naturally fermented, cold pressed, and unpasteurised, giving it an unrivaled taste and just the right amount of punch. By keeping the sauce raw and cold pressing it, Kold Sauce is alive and kicking with natural bacteria and it has a fresh flavour that supercharges pretty much any dish you want to put it on.
Price: £6.99
Where: Buy online
The Lowdown: Freshly roasted in East London, Perky Blender's Christmas blend is comprised of Kenyan washed Mahiga beans with pulped natural Brazilian Fazenda Samambai beans. You'll be greeted with a veritable selection box of flavours: candied fruit, orange, caramel, redcurrant, hazelnut and milk chocolate. Whether you're buying for a coffee connoisseur or a casual drinker, this blend makes for a remarkable stocking filler.
Price: £7.50
Where: Buy online 
The Lowdown: Burger legends Patty&Bun has launched a trio of iconic sauces, which have been part of the Patty identity since day one. Bringing the same authentic, knockout Patty&Bun flavours you'd get in the restaurants, these will revolutionise your home burger game. The kit includes the infamous Patty&Bun mayo, used in every one of their beef burgers, their rich BBQ sauce, usually found slathered generously over the Winger Winger Chicken Dinner, and the cult favourite Patty&Bun Hot Sauce, ideal with the rosemary chips or added to burgers for that little extra oomph.
Price: £5.95 for one bottle or £17.50 for all three
Where: Buy online
The Lowdown: Stylish, fun and creative, perfect for foodies that love sushi and creating restaurant-quality food at home, from the UK's most popular Japanese sushi and street-food brand. The Sushi Rolling Kits, come with rolling mats, ginger, sushi rice, sheets of nori, soy sauce, vinegar, wasabi and chopsticks and a 'how to guide'.
Price: £18
Where: Buy online 
The Lowdown: Because every person needs a bag for nipping to the shops, look no further than the Kind Bag for a stylish and reasonably priced gift. Each Kind Bag has been specially developed to reduce single-use plastic, recycling six plastic bottles to create each one of its super-cool, eco-friendly shopping bags. Lightweight, washable and sturdy, they're perfect for all sorts of occasions and can be easily folded up and stowed away and two handy sizes to choose from – Medium and Mini.
Price: £10
Where: Buy online 
The Lowdown: Spice up your stocking this Christmas with South London's Raja Bonnet Hot Sauce. This Indian inspired vegan start-up based in Brixton has created this all-natural, craft condiment to bring fruity, flavoursome fire to any spice fiend. This is their unique Gujarati take on scotch bonnet chilli sauce. The Christmas gift set includes three different flavours, 'The Original' which blends Kesar mango, Gujarati spices and scotch bonnet for a fruity flavoursome kick, 'The Lime & Ginger Kicker' which adds a zesty flare to any meal and the 'Fyah Fyah,' which is not for the faint-hearted…
Price: £15
Where: Buy here
The Lowdown: A cute and quirky gift for foodies, these gorgeous hand-painted jugs are available in three sizes. Ideal for pouring milk or cream, the fox pours from her mouth and her tail forms the handle. Perfect for raising a smile at breakfast time – these are also popular as gifts for the person that has everything!
Price: £20
Where: Buy online 
The Lowdown: STRYYK mantra is: "All The Spirit, None Of The Alcohol" – and is championed by three zero alcohol products – No Gin, No Rum and No Vodka. The perfect tipple for somebody who wants to pace themselves or simply doesn't want a heavy head in the morning, STRYYK packs a punch with refreshingly moreish flavours.
Price: £18.99
Where: Buy online
The Lowdown: Operating since 1962, Läderach chocolatier Suisse is a family-owned premium Swiss chocolate company that now operates in 15 countries. The divine star-shaped pralines with milk chocolate in orange-almond gianduja and milk-honey-almond gianduja is the perfect Christmas stocking filler.
Price: £19.90
Where: Buy online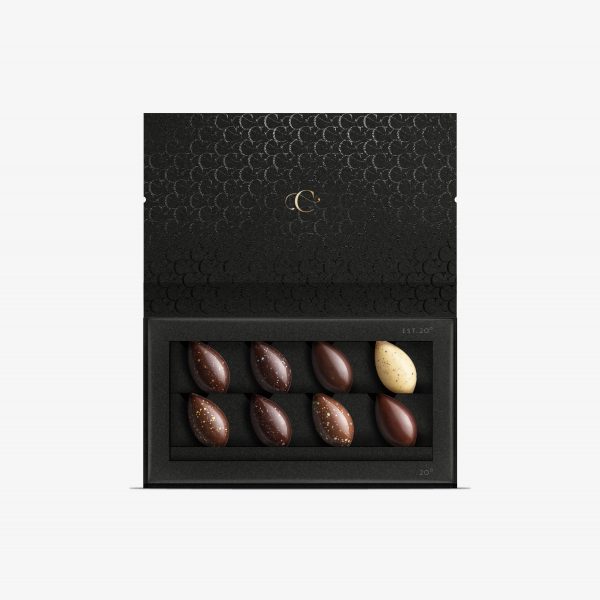 The Lowdown: Cartografie is a brand-new chocolate company with a conscience; not only does it produce Michelin-star quality handmade single origin chocolates, it also cares deeply about sustainability, biodiversity, and ethics. Their portfolio includes the Purity range; a selection of wafer-thin discs with a touch of sea salt made from their single origin couverture and their Cartografie range; a signature selection of filled handmade chocolates flavoured with their unique water based ganaches and caramels.
Price: Box of 8 – £14
Where: Buy online
The Lowdown: Beefeater's flavoured gins are the perfect pairing to minces pies or post-Christmas meals. Leading with the fresh citrus flavours of Beefeater Blood Orange for those moments sitting and playing Articulate. Best enjoyed in an Orange and Tonic, Smashing Basil Punch, Blood Sgroppino and many more.
Price: £18.45
Where: All major retailers
The Lowdown: Famed for its intensely rich and smooth mouthfeel, this year's Bourbon County Stout 2020 has been barrel-aged in Wild Turkey, Buffalo Trace and Heaven Hill bourbon barrels. Coming in at a punchy 14.6% ABV, flavour notes include rich caramel, creamy chocolate, indulgent fudge and flavoursome vanilla.
Price: £20
Where: Buy online 
Food and Drink Gifts: Under £50
The Lowdown: Le Marché des Chefs, the exciting fine dining produce and hamper supplier delivering in and around London, has launched its Christmas produce, hampers and gifts, just in time for the festive season. With hampers offering everything from truffled honey and caviar to truly special charcuterie and cheese, these are gifts to impress even the most discerning of tastebuds.
Price: From £35
Where: Buy online
The Lowdown: Lanique Spirit of Rose is the perfect festive spirit – made by steam-distilling thousands of hand-picked rose petals sourced from the East. Incredibly versatile and enjoyed in a number of ways, perfectly paired with prosecco to make a Lanique Rose Fizz, served simply with a squeeze of lime, or twinned with a piece of Turkish delight, there is something to suit everyone's taste. Beautifully bottled, it makes the ideal gift for any cocktail connoisseur.
Price: £22
Where: Waitrose
The Lowdown: The Cheese Geek is 'the modern cheesemonger' and the only UK company to provide a tailored cheese subscription model online, meaning loved ones get cheese delivered straight to their door based on the season, preferences and what's tasting hot right now. The Lionel Box features a balanced selection of The Cheese Geek's all-time favourites alongside equally exciting, but lesser-known, beauties.
Price: £35
Where: Buy online
The Lowdown: The gorgeous set contains two ramen bowls, two ramen ladles, and a full colour ramen recipe booklet – all packed together in a reusable drawstring cotton gift bag. Each ramen bowl is imported from Japan, and carefully chosen with the perfect size and shape for holding the ideal amount of broth-y goodness.
Price: £45
Where: Buy online
The Lowdown: Premium whisky that goes against the grain, each bottle of Maker's Mark bourbon whisky is hand-dipped in the signature red wax making each one unique. The Maker's Mark recipe uses soft red winter wheat resulting in a lighter tasting, premium bourbon whisky with caramel and vanilla notes that's perfect for mixing in cocktails. The limited-edition Christmas Jumper edition comes with a mini Maker's Mark Christmas jumper for the bottle itself, making a delightful gift for bourbon fans.
Price: £30
Where: Tesco
The Lowdown: Exotic and jungle cat lovers will appreciate this Nouveau Leopard coaster design. These delightful coasters, by Catherine Rowe Designs, will add glamour and added edge to any surface in your home, as well as offering protection against drink stains. Each pack of coasters features four of Catherine's original designs. Made from glossy, Artists Perspex, these lipped coasters are shatterproof and durable, also making them great to use as coin/key trays or trinket trays for jewellery.
Price: £32
Where: Buy online
The Lowdown: The black+blum sandwich box comes with an anti-bacterial bamboo lid which doubles up as a platter and chopping board, and the compartmental design carries a wide variety of condiments, all separated to help maintain that all-important fresh taste and beautiful presentation.
Price: £32
Where: Buy online 
Food and Drink Gifts: Under £100
The Lowdown: With 25 Mexican goodies including Mexcal, Ancho dried chillies and chef favourite, Valentina hot sauce, spice things up this Xmas with MexGrocer's Feliz Navidad! hamper. Celebrate this festive season with some of the most iconic tastes and flavours Mexico has to offer.
Price: £99
Where: Buy online 
The Lowdown: Coupette has teamed up with world-renowned Champagne brand, Moët & Chandon to create a resplendent festive hamper. One of the bar's signature serves, the Board Room features in the beautifully curated hamper in the form of a 350ml bottled cocktail. The hamper also comprises half a bottle of Moët & Chandon Champagne, 2 Champagne glass, a couple of bespoke coasters, a stopper, £25 Coupette voucher and a small box with chocolate Bon Bons made in-house.
Price: £60
Where: Buy online 
The Lowdown: Since opening in 2019, Peckham Cellars have since expanded their carefully curated wine list with an online shop, delivery available nationwide. Sommelier Ben McVeigh-Whitaker has curated a luxury case to help kick off festivities with a bang like the Bouji Christmas Dinner Wine Case with a four bottle selection from some of France's top producers and the classic regions.
Price: £92.70
Where: Buy online
The Lowdown: PolkaPants are tailored trousers designed for service and style by passionate chef turned fashion designer, Maxine Thompson. The first collection, designed for women, was borne out of Maxine's frustration at the unbecoming trousers she and her fellow female cooks had to wear, so she began sketching the ideal female chef trouser: one designed for functionality and comfort, but also for style. A new men's style is also available.
Price: From £79
Where: Buy online 
Food and Drink Gifts: Under £150
The Lowdown: The Sorrel Wine Team, led by Sommelier Alex, have worked hard to create an edited selection of wines to enjoy at home reflecting the best of the Sorrel cellar with familiar names alongside new discoveries.  These wines offer great value at their price point and perfect to be enjoyed at home or sent as a gift for someone you can't raise a glass with this year.
Price: £120
Where: Buy online 
The Lowdown: Just in time for Christmas, Honest Burgers have launched the Butcher's Dozen – their brand new, year-long burger 'membership'. A perfect gift for your nearest and dearest, the Butcher's Dozen entitles those lucky enough to get their hands on one to 12 months' worth of Honest specials – a particularly special treat for those who haven't been able to dine-out much this year. An Honest at Home Kit of their choosing is also thrown in for good measure.
Price: £130
Where: Buy online