Long gone are the days of sticking a satsuma in a stocking/a very large sock – stocking fillers have had quite the upgrade. From personalised chocolate to cookbooks and other delicious bites, here's our favourite foodie stocking fillers for under twenty quid.
Chocolate
The Lowdown: Divine's Milk Chocolate Pretzel Bites are presented in a gorgeous reusable and recyclable Christmas tin bauble. An ideal stocking filler, these deliciously crispy pretzel bites are smothered in silky smooth milk chocolate. At Divine, the cocoa farmers who grow the finest quality cocoa for the chocolate also own a stake of the company and share in the profits.
Price: £6.50
Where: Booths and Wholefoods
The Lowdown: Pierre Marcolini's champagne truffles feature smooth and intense ganache wrapped in Maison Cameroon-Cuba chocolate and dusted with cocoa powder. The Christmas Truffles are presented in beautiful round boxes to be shared without moderation. For a stocking filler with sparkle, look no further than these classic champagne truffles.
Price: £19.90
Where: Order online 

The Lowdown: Russell & Atwell is home to restaurant quality, fresh chilled chocolates, for supermarket prices. The range features three flavours: Creamy Milk Chocolates, bite into the hand-finished, rich milk chocolate shell and release the slow-melting, creamy milk choc centre with a touch of caramel; Dark Chocolates, with a hand-finished 70% dark chocolate shell and rich dark chocolate centre with a drop of mellow honey; and Extra Premium Dark Chocolates, featuring a luxurious 70% chocolate shell, releasing the cool velvety centre, enriched with 100% Solomon Islands Cocoa, perfectly blended with organic double-cream, a drop of honey and a pinch of salt.
Price: From £6.50
Where: Order online 
The Lowdown: For Christmas 2020, Tony's Chocolonely have created two new tasty chocolate bars: Dark Candy Cane 51% and Milk Chocolate Gingerbread 32%. The two new bars come in bright festive wrappers and are made with Belgian Fairtrade chocolate. The Milk Chocolate Gingerbread Bar is packed with spiced gingerbread cookie pieces, and the Dark Mint Candy Cane bar is decked out with minty candy pieces and dairy-free for vegan Tony's fans.
Price: £3.98
Where: Sainsbury's, Waitrose, Ocado and the Tony's Choco Shop
The Lowdown: This is the perfect stocking filler for those that just can't decide. The six strong collection includes an irresistible white chocolate snowball with an Advocaat and vanilla truffle centre, nestled alongside a milk and dark chocolate Christmas pudding, all packaged up with three other Wickedly Welsh favourites.
Price: £4.99
Where: Order here
The Lowdown: Prezzybox has recently partnered with Mars to bring personalised boxes of Britain's most-loved treats. Choose from the likes of Maltesers, Celebrations or Maltesers Truffles. Simply upload the name of the giftee and this will be printed on the box of their favourite chocolates, along with a short message.
Price: £9.99
Where: Order online 
Sweet Treats
The Lowdown: Baked by Steph is home to some of the most beautiful, inventive and delicious confectionary with a range that varies from cookies, to cakes (cookie cakes even), to doughnuts and this holiday snowflake. An ideal stocking filler,  you can add a personalised message – and as all of their cookies are handmade, there may be some variation in the design making your order a truly unique piece of art.
Price: £8.95
Where: Order Online 
The Lowdown: Not a fan of traditional mince meat but you could eat a jar of peanut butter and/or chocolate spread for breakfast every day? Look no further. The Jack and Beyond team went a bit nuts (quite literally) and filled their delicious homemade Mince Pie pastry with indulgent peanut butter and added some Belgian Callebaut chocolate to the mix for an otherwordly stocking filler idea.
Price: £12
Where: Buy online 
The Lowdown: If you need a quick stocking filler idea this Christmas this boozy brownie certainly hits the spot. A brownie interspersed with dark rum-soaked raisins and chocolate chips then topped with a caramelly dulce de leche cheesecake – it's a chocolate lover's dream come true.
Price: £15
Where: Order online 
The Lowdown: The Wolseley's Florentine biscuits combine flaked almonds, hazelnuts, sultanas, citrus peel and stem ginger, topped with smooth caramel chocolate. Handmade by The Wolseley pastry chefs, these are delightfully chewy, and boast a crunchy combination of moreish nuts, sultanas, citrus and ginger.
Price: £12.95
Where: Order online 
Cookbooks
The Lowdown: Neapolitan pizza legends Pizza Pilgrims have launched their brand new book PIZZA – a 'pizzapedia' celebrating everything about one of the world's most popular dishes. Packed with over 30 recipes to help you finally delete your local takeaway from speed dial, the book includes a range of classic and new creations including starting with the basics of dough, through to guest chef collaborations, and the Pilgrims' very own Nutella pizza ring.
Price: £15
Where: Buy here
The Lowdown: What Vegans Eat, by Brett Cobley, offers insight into what vegans eat: everyday for breakfast, lunch and dinner – on-the-go, with their gang, for special occasions, to feed a crowd, and for treats. Discover dishes such as PB&J soaked oats, epic bruschetta, spicy bean sub sandwich, arancini with arrabbiata sauce, and Mexican pizza.
Price: £13.19
Where: Order here 
Peanut Butter
The Lowdown: For the nut butter lover in your life – this is for them. Perfect for the autumnal season or a fun addition to a Christmas stocking, Pip & Nut's Gingerbread Almond Butter features a smooth blend of perfectly roasted, naturally sweet Californian almonds, fiery ginger root and spicy cinnamon finished off with a dash of dates for a hint of rich caramel. And 25p from the sale of each jar goes to Hackney Foodbank.
Price: £3.95
Where: Sainsbury's, Morrisons, Ocado and Whole Foods
The Lowdown: Just in time for the festive season, ManiLife has released the UK's first Peanut Butter Christmas Cracker. With a choice of the Original Roast Christmas Cracker (original smooth and crunchy) or Deep Roast Christmas Cracker (deep roast smooth and crunchy), the limited-edition ManiLife Peanut Butter Christmas Crackers make the perfect stocking filler to give back this Christmas. ManiLife has also partnered with Campaign to End Loneliness to donate 100% of its profits to the charity for every sale made.
Price: £9.99
Where: Buy online
Popcorn
The Lowdown: Popcorn Shed's novelty Party Pack selection pouch comes bursting with 14 snack packs of tasty gourmet popcorn in 7 AMAIZingly tasty flavours: Salted Caramel – Sea Salted Caramel with Belgian Milk; Say Cheese! – Cheddar Cheese Popcorn; Berry-licious – Raspberry and Dark Chocolate Popcorn; Butterly Nuts – Peanut Butter Caramel Popcorn with Roasted Peanut Halves; Pop N Choc – Chocolate Caramel Popcorn with Belgian Milk Chocolate; Pecan Pie – Caramel Popcorn with Roasted Pecan Piece; and Sweet Cheesus – A Mix of Cheddar Cheese and Caramel. 
Price: £20
Where: Order online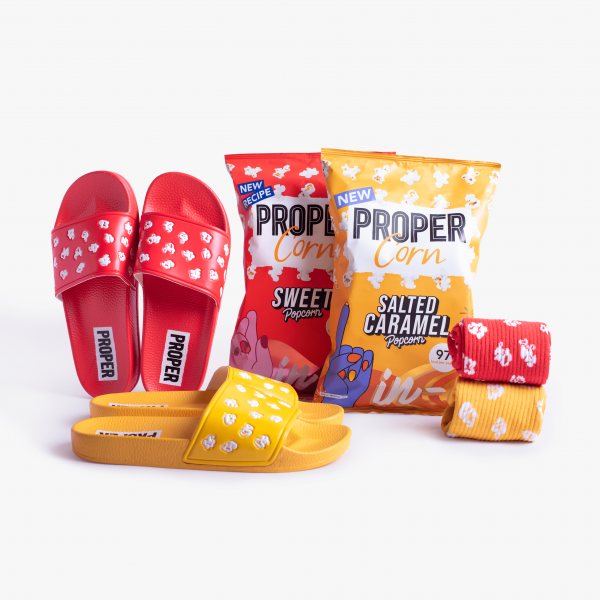 The Lowdown: PROPER Snacks have launched the ultimate night-in collection to make sure you've got the perfect snacks and comfies on hand during the festive season. The limited-edition merch range is available exclusively online, featuring plush, popcorn-covered socks, and if you want to push the boat out for a loved one – there's also matching sliders (£30) available too.
Price: Socks £12
Where: Order online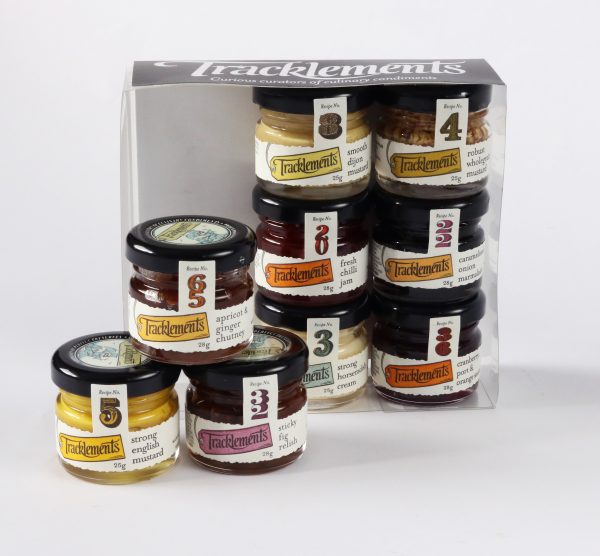 The Lowdown: Tracklements' 9-Mini Jar Gift Set makes a tasty treat for a stocking or a thoughtful gift for the Christmas Day host. The selection complements every well-stocked festive table from Sticky Fig Relish, Caramelised Onion Marmalade, and Apricot and Ginger Chutney to enjoy with cheese and cold cuts to Strong Horseradish Cream for the Boxing Day baron of beef and classics such as Fresh Chilli Jam and Cranberry, Port and Orange Sauce for the turkey sandwiches and, of course, a variety of Mustards (Robust Wholegrain, Smooth Dijon and Strong English) for which Tracklements is famous for.
Price: £6.20
Where: Order online
The Lowdown: Looking for the perfect customised gift for the yuletide season? Candy Kittens Christmas Jars filled with your choice of gourmet vegan sweets will make you the ultimate gift-giving master. These Christmassy AF jars of joy are the best stocking fillers, featuring Candy Kittens most popular flavours, such as Wild Strawberry, Sour Watermelon and Tropical Mango.
Price: £7
Where: Order online 
The Lowdown: Making condiments from surplus ingredients that would have otherwise go to waste since 2012, pioneers of the anti-food waste movement, Rubies In The Rubble, have launched a Christmas relish gift set. The trio features Chilli Onion (perfect with Camembert), Pear and Fig (best enjoyed with a strong blue), and Classic Apple (ideal with a crumbly cheddar).
Price: £12
Where: Order online 
The Lowdown: A finger of fudge just isn't enough, not when it's as good as Harvey Nichols Sweetie No.4. That's why they've put six perfectly formed squares of fudge into this slider box, each one solidly packed with super chunky peanut butter for added crunch.
Price: £6.95
Where: Buy online