About Time: You Went on a Vegan Food Tour of Notting HillBy Angelica Malin
Looking for the best vegan restaurants in Notting Hill? Trendy Notting Hill is one of the best places for vegans in London, with a whole host of fantastic veggie and vegan friendly restaurants. Here's 10 of our favourite vegan dishes in Notting Hill for your delectation – make a day of it and hop your way through the best vegan eats in the area:
Vegan Restaurants in Notting Hill: Start with Breakfast
1. Begin with a Warmer: Coconut Porridge at NAMA
What: Coconut Porridge (£8.50)
2. Tuck into Pancakes: Blueberry Pancakes at Farm Girl Cafe
What: Berry Pancakes (£10)
The Blend: Benoit's buckwheat mix with amber maple syrup cranberries and hibiscus, sprinkled with toasted pistachio, hazelnut and coconut yoghurt.
The Lowdown: A holistic and healthy, yet comfortingly simple approach to Australian cafe culture in the heart of Notting Hill. Farm Girl values fresh, nutritionally nurturing ingredients and delivers them in a warm and welcoming environment. Expect the most beautiful, delicious healthy dishes, such as their famous pumpkin porridge, avocado toast with coriander, vegan-take on a BLT and ultimate matcha latte. For something special, try the Liquid Gold Latte with turmeric, cinnamon, astralagus, honey and coconut milk. Prepare to queue on weekends, this place is very popular!
Where: 59a Portobello Rd, London, W11 3DB
3. Discover the Best Vegan Granola: Rawnola at Farmacy London
What: Rawnola (£10)
The Blend: Sprouted buckwheat granola and fresh fruit served with housemade tigernut milk.
The Lowdown: If you're looking for somewhere super trendy and Instagram-friendly, head to Farmacy London – one of the best vegan restaurants in Notting Hill when you're looking for fresh, healthy food. Open for breakfast, lunch and dinner, Farmacy enables delicious, healthy indulgence, inspired by dishes from around the globe and supports both a vegan and vegetarian diet, free from dairy, refined sugars, additives and chemicals. If you eat eggs, try the quinoa served with lightly steamed seasonal greens, avocado and garlic aioli topped with a poached egg. Their green breakfast bowl is full of savoury delights, with creamy avocado, punchy aioli and running egg yolk – utter perfection.
Where: 74 Westbourne Grove, London W2 5SH
Vegan Restaurants in Notting Hill: Now for Lunch
4. Destroy a Wholesome Burger: Quinoa Burger at The Gate
What: The Gate's Beetroot and Quinoa Burger (£8)
The Blend: Homemade brioche bun, tomato, baby gem lettuce, smoked tomato relish and new green pickled cucumber.
The Lowdown: If you're willing to make a break from Notting Hill to pop to nearby Hammersmith, Adrian and Michael Daniel have been running London's most successful vegetarian restaurant since December 1989. The cooking at the Gate reflects the diverse cultural background in which they grew up; the food we serve is the food of their childhood, modulated by French and Italian influences. Come here for the best veggie food in town, and a cracking quinoa burger.
Where: 51 Queen Caroline Street, London W6 9QL
5. Delight in a Vegan Grain Salad: Daylesford Organic
What: Toasted Grains Salad (£12.50 for 3)
The Blend: Toasted buckwheat, bulgar wheat, roasted cauliflower, ras el hanout, lemon, pistachio and spiced fruit.
The Lowdown: One of the best vegan restaurants in Notting Hill, for sure. Daylesford Organic is dedicated to growing, producing and cooking seasonal, organic food. It must be fresh, and full of flavour, packed with the many vitamins and minerals that come from natural food, picked and eaten at its peak. There's everything to love about Daylesford in Notting Hill – the perfect place for all-day brunch, healthy salads, great juices and sweet treats. I'm a big fan of their lunchtime salad options, with a delicious super greens salad, black bean salad with wild rice and heritage beetroot raw slaw.
Where: 208-212 Westbourne Grove, London W11 2RH
6. Have a Little Bit of Everything: Ottolenghi
What: Selection of three salads (£12.90)
The Blend: Roasted jersey royals and leeks with peas, samphire, sorrel and roasted lemon.
The Lowdown: Ottolenghi is the place for come for fresh, seasonal food with a Middle Eastern twist. One of the most popular spots in Notting Hill, for good reason. We love their salad selection, including mixed spring tomatoes with red onion, mint, sherry vinegar and grilled manouri and basmati and wild rice with chickpeas, currants and fried onion. If you're still hungry, the fennel, apple, carrot and cabbage slaw with tarragon and mixed radishes is a personal favourite.
Where: 63 Ledbury Rd, Notting Hill, London W11 2AD
Vegan Restaurants in Notting Hill: It's Dinner Time
7. Share the Best Vegan Small Plates: Granger & Co
What: Small plates (from (£7)
The Blend: Miso aubergine, crispy tofu and shiso.
The Lowdown: Every Bill Granger restaurant reflects the spirit of the 'Australian': sunny, easy-going and generous. If you're looking for vibe and great food, head to Granger & Co in Notting Hill. They've got some delicious small plates, including green olives, orange and fennel, plus raw vegetables and miso dip. Vegans can also enjoy veggie sides, such as shaved fennel, kale and pepita salad, green beans, chilli and garlic and bok choi, tamari and ginger.
Where: 175 Westbourne Grove, Notting Hill, London W11 2SB
8. Retreat into a Vegan Haven: Pomonas
What: Vegan Cobb (£15)
The Blend: Baby gem, avocado, cherry tomatoes, glazed figs orange and coconut cheese.
The Lowdown: Pomonas Restaurant and Bar brings a piece of South California to London with all day dining in Notting Hill. They combine a Californian wine selection with signature cocktails and a menu that takes the culinary keynotes of modern West Coast cooking and delivers them using the best British produce.
One of the best vegan restaurants in Notting Hill when you need something filling – this place is an absolute vegan dream. From coconut yogurt breakfasts to smoothies with kale, almond milk and mango and lunch delights like grapefruit, quinoa, fennel, Graceburn, pine nuts, you'll be spoilt for choice here. For something quirky, try their small plates, such as the sweet potato toast with avocado, coconut labneh, lime and cilantro gremolata.
Where: 47 Hereford Rd, London W2 5AH
9. Grab Some Vegan Smoothies: Jusu Brothers
What: Greena Colada (£7)
The Blend: Banana, pineapple, raw prebiotic greens.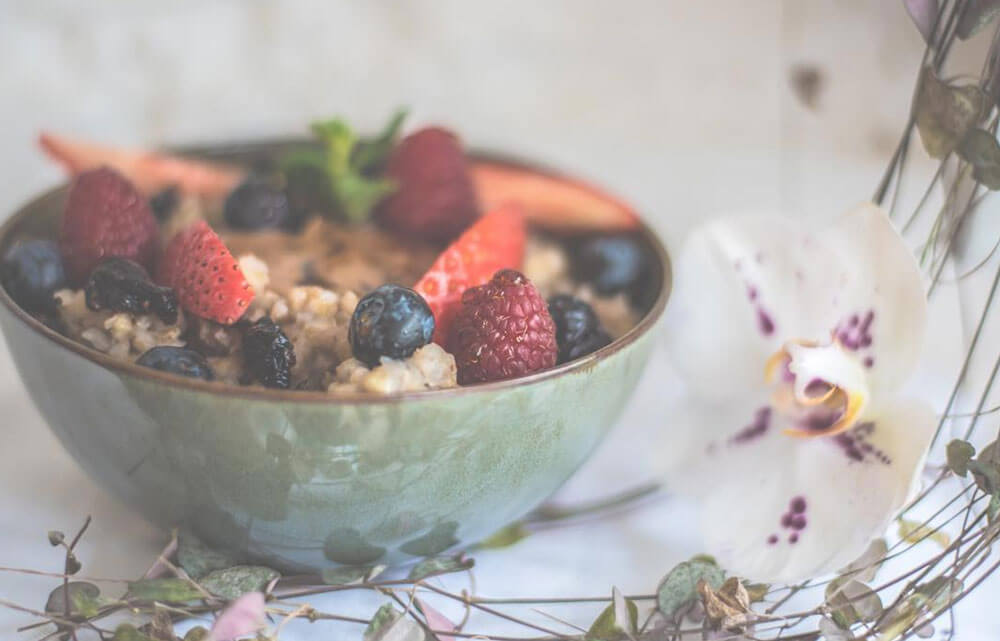 The Lowdown: Jusu Brothers is a superfood pan-asian eatery and soothing juice bar that offers a wide range of organic bites and juices. The Japanese energy consistent throughout the creative and stylish interior brings a breath of fresh air upon entering the Jusu Brothers home. If you're coming for breakfast, try the maca porridge, made with buckwheat, coconut milk, maca, honey. If you like chia, try the Classic Chia Pudding with chia seeds, almond milk, agave and vanilla.
Where: 153 Westbourne Grove, London W11 2RS
10. Finish with Vegan Sushi: Redemption Bar
What: Maki Rolls Platter
The Blend: A gorgeous platter of maki rolls filled with red and black quinoa, avocado, enoki mushroom, sesame seeds and micro amaranth shoots.
The Lowdown: One of the best vegan restaurants in Notting Hill for healthy indulgence. Why should socialising always be at the expense of your health? Redemption found number of trends – that it was increasingly difficult to find a cool socialising space that was alcohol-free; that people are looking to make healthier choices; that there was a growth in people making vegan or plant-based choices. Then they set out to make what is arguably London's healthiest restaurant, serving up vegan, sugar-free, and wheat-free food with an alcohol-free bar. Come here for an absolute vegan feast, from vegan sushi to brown rice pasta and wild rice risotto. Dreamy.
Where: Redemption, 6 Chepstow Road, London W2 5BH