We are the brunch queens. Fact. Eggs and meat is the key to our hearts. We've discovered London's meatiest eggs Benedict. There's nothing quite like buttery hollandaise sauce and a good portion of meat. Dig in, London:
Expect: Bukowski Grill has three branches across the city, with the newly opened Soho eatery top of our list. If you're in need of your weekly dose of meat and milkshake kicks, you've come to the right place. Their burger are epic and if you can stomach any more food, order their chilli cheese fried fully loaded with with chilli con carne, cheese, sour cream and coriander.
Order: BBQ benedict – smoked pulled pork, poached eggs and hot sauce hollandaise (£8.50)
Why: Their brunch will banish any sore heads. It's a place to indulge, kick back and go hard on the food offering. The buttermilk waffle with butter, maple syrup and bacon is a delicious fusion of sweet and savoury flavours. They've taken well-loved brunch dishes and added ingredients to take them to the next level. Their eggs Benedict is loaded with pulled pork which has been smoked onsite for a number of hours. Boom.
Where: 10 D'Arblay St, London W1F 8DS
Expect: This snug cafe has won over the locals with their coffee, brunch dishes and lunchtime delights. Friends of Ours in an independent joint, who serve brunch dishes with their own personal touch. Their latest spring menu is brimming with tasty alternatives to your regular toast and preserves. Their sweetcorn and beetroot fritters with roast golden beetroot, poached egg, avocado, kasundi, feta and mint is traffic-halteringly good.
Order: Pork belly Benedict with brown butter hollandaise and poached eggs 
Why: Friends of Ours menu has a dish for everyone. Their pork belly Benedict is only on the menu for a short while longer – catch it while it lasts. The thick slabs of pork belly are slightly crispy and far meatier than their bacon cousins. Veggies can revel in the eggs asparagus – baby asparagus with 2 poached eggs, beetroot and lime hollandaise, black sesame, and beetroot sprouts on seeded toast. And, yes the beetroot and lime hollandaise taste amazing as it sounds.
Where: 61 Pitfield St, London N1 6BU
Photo Credit:makarathanva
3. Duck and Waffle, Liverpool Street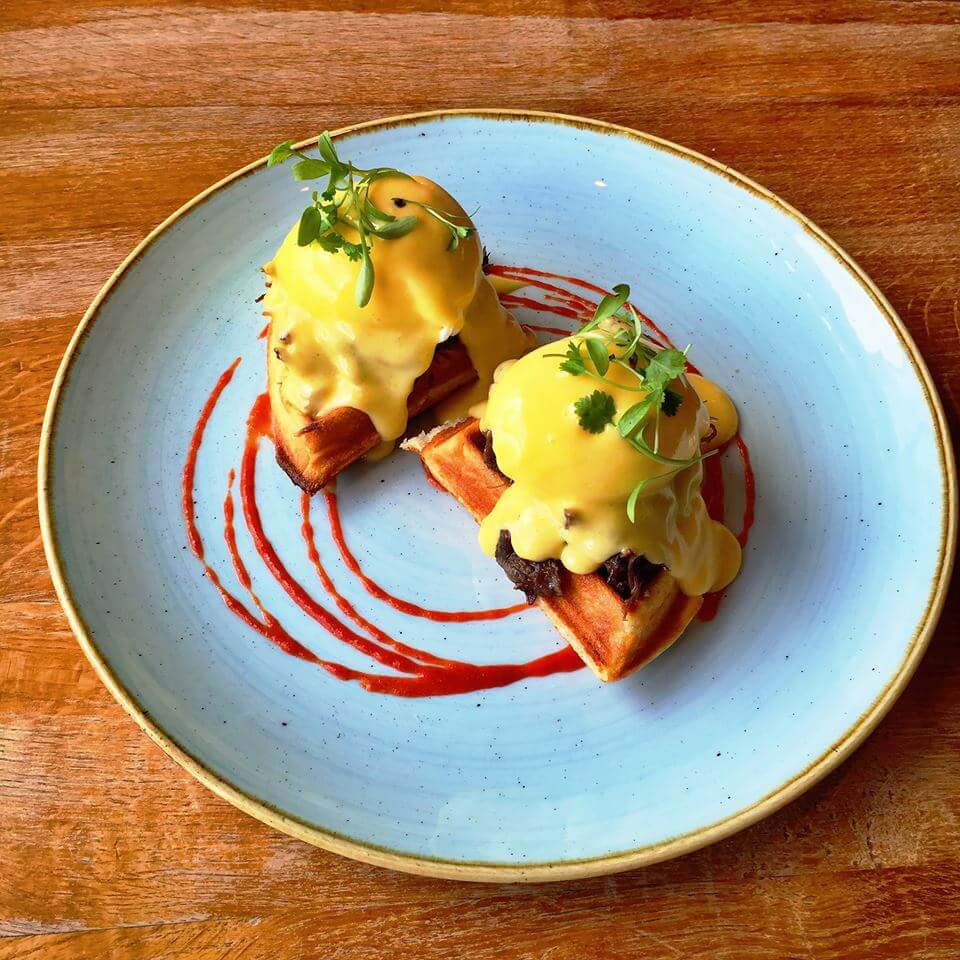 Expect: Duck and Waffle is the highest restaurant in the UK, travel 40 floors up to get your hands on some killer breakfast dishes. Overseen by award-winning Executive Chef Dan Doherty, the menu features European brunch dishes, alongside some pretty off the wall cocktails. Nutella Negroni, anyone?
Order: Ox cheek benedict with slow cooked organic hen's eggs, hollandaise and Sriracha (£11)
Why: You can't beat brekkie with a side of some of the best views in London. If you're not coming for the views (which, really, you should be), come for the sensational food. There's literally not a dish on this menu you wouldn't want to devour – try the Elvis waffles with chocolate and peanut butter, or this eggy number with slow cooked ox cheese and spicy hollandaise. Nom.
Where: 110 Bishopsgate, London EC2N 4AY
4. Ozone Coffee Roasters, Old Street 
Expect: As the name suggests, Ozone Coffee Roasters know their beans. Their vision is to consistently aspire to coffee excellence in all facets and work, whilst building strong relationships with their clients, suppliers and team. If you're a coffee snob – you'd be hard pressed to find something wrong with their caffeine creations. Alongside their flat whites, they also knock up quirky brunch bites that you can't help but Instagram.
Order: Eggs Benedict on spring bubble 'n' squeak cakes with hollandaise and smoked pork cheek (£11.50)
Why: You'd be silly to turn down eggs Benedict when they're served on bubble n' squeak instead of a muffin. You can choose between Kupros halloumi, belly bacon, dill salmon or our go to – smoked pork cheek. The bruschetta with BBQ celeriac hummus, young courgette, celery and maple spiced peanuts is a veggie dream, as is the smokey tofu, grilled artichoke and roast onion sourdough with shaved fennel, pickled rhubarb and Brazil nut dukkah. Sign us up.
Where: 11 Leonard St, London EC2A 4AQ
Photo Credit: _love_lamb_
Expect: MUD Tooting is an independent, laid-back, antipodean-style café located in the heart of Tooting, South West London. They pride themselves on providing great tasting coffee, awesome brunches and freshly-prepared cakes and sandwiches – and incredible eggs Benedict with either cured salmon or pork belly.
Order: Eggs Benny – sourdough, burford brown egg, brown butter hollandaise and belly pork
Why: This is one of the best brunches south of the river – we love this easy-going all day dining place with proper coffee. MUD is packed out on a weekend with hungry Londoners seeking their egg fix. The baked eggs with harissa baked beans, burford brown baked egg, herb crumb is a cracker, and not to mention a delight. Come and see brunch beauty in all its glory.
Where: 141 Mitcham Rd Tooting, London, SW17 9PE
Expect: The Big Easy is a place where anything goes. Their Canary Wharf branch opened last year and it's a corker. It's a place when you'll come across people eating full lobsters at 11.30am and tables of the corporate crowd wearing bibs ready to tuck into some ribs, honestly this place is one of a kind.
Order: 2 poached fresh free range eggs served on toasted English muffins with hollandaise sauce and 18 hour pit smoked brisket (£7.90)
Why: It's a spot that can please everyone, with their breakfast menu offering  an eclectic range of classic state-side dishes. Their eggs Benny is quite simply a beast – a thick, rich creamy hollandaise sauce, accompained with melt in the mouth smoked brisket. And, yes you can order an 80z steak as a side. That's living, right there.
Where: Locations here 
7. Workshop Coffee, Clerkenwell 
Expect: Workshop Coffee is the place that can nail a cappuccino like no other. This cafe come restaurant is not only one of London's leading specialty coffee sourcers, but it's a great spot to grab a quick lunch or a lazy brunch with friends at the weekend. They've seriously upped the brunch game with their weekend menu. Hello, ricotta waffles with molasses smoked bacon.
Order: Full Benedict – poached eggs, spinach, chipotle sauce and ham hock on an English muffin (£10.50)
Why: With its centralised island bar, exposed brick walls and giant coffee roaster, it screams out Manhattan chic. Give their sweetcorn fritters with  baby spinach, grilled halloumi, kasundi and poached eggs a whirl. Let's not forget their full Benedict with ham hock – it puts other dishes to shame. To shame, people.
Where: 27 Clerkenwell Road, Clerkenwell, EC1M 5RN
Photo Credit: missrose_80
Expect: With it's industrial interior, wooden worktops and low lighting, Trade oozes the East London charm. It's a hipster haven that certainly attracts the double denim crowd, but delivers on all fronts – coffee from small-batch roasters, food made on scratch everyday and ingredients from quality ethical suppliers.
Order: Pastrami Benedict – house smoked pastrami on cholla roll with two poached eggs and hollandaise (£7.95)
Why: Pancakes. They bang out incredible light and fluffy buttermilk pancakes topped with various delicious sweet and savoury options. We're talking crunchy peanut butter, chocolate chips with blueberries or scrambled eggs with bacon. We're down for a cholla roll, especially when it's covered in slices of peppery pastrami and lashings of hollandaise.
Where: 47 Commercial Street, Spitalfields, London E1 6BD
Photo Credit: suzeandlife
Expect:  The Table Cafe is an gem of a place in Southwark. On weekdays they create incredible British dishes using the finest seasonal produce around, and come the weekends they're a popular spot for their waffles, pancakes and coffee.
Order: The Stack  – chorizo, smoked ham hock, baked beans, a toasted bagel, poached eggs and hollandaise (£11)
Why: The Table take brunch very seriously. The stack is not your standard eggs Benedict – double the meat, double the portion. Their all day breakfast pancake is totally dreamy –  crispy bacon, creamy scrambled egg and their butcher's best pork sausage, on a thick, fluffy pancake. Chug the smoothie aptly titled 'last night' to banish away any hangover. 
Where: 83 Southwark Street, London, SE1 0HX
Photo Credit: fresco_sia 
10. The Breakfast Club, Various Locations 
Expect: If you haven't heard of the Breakfast Club, then quite frankly you've been living under under a rock, or the outer Hebrides. The Breakfast Club is a London staple for trendy brunchers. They serve breakfast until 5pm all day, and it always draws in a fun, young crowd. Some of their best brunch dishes are the weird, wonderful combos, such as the pancakes with ham, egg, cheddar and maple syrup. We love eggs and pancakes. We're sorry. We do.
Order: Huevos al Benny – Poached eggs, chorizo, roasted peppers, avocado, fresh chillies and hollandaise (£10.50)
Why: What's not to love? There's fry ups, breakfast burritos and pancakes with bacon and a silly amount of maple syrup. They've given the traditional eggs Benedict a Mexican makeover complete with chunks of avocado and a sprinkling of fresh chilli for an extra bite. We heart eggs and chorizo. And their Oreo milkshake.
Where: Locations here