A few years back, if you were gluten-free, you would be served a limp, sad salad and that's it. But those days are long gone. Now, I swear it's more common to be gluten-free in London that carb-eating, and there's a plethora of gluten-free restaurants in London that cater to a brand new demographic.
As part of our special #WellandTrulyWeek with Well and Truly, who create fantastic gluten-free tortilla chips, we've been eating our way through London's gluten-free lunch offerings to find the best (enter here for your chance to win a hamper of Well and Truly goodies). After much munching, below are some of our favourite gluten-free restaurants in London for lunch – these restaurants create fresh and delicious food, full of vibrancy and flavour, without a wilting lettuce leaf in sight. Without further adieu, we present to you… The best gluten-free lunches in London:
1. Best Gluten-Free Curry: Dishoom
What You Need to Know: Dishoom is one of London's best restaurants – and for good reason. Dishoom always has such a cool vibe, and the food is exceptionally good value for really rather wonderful curries, small plates and grilled meats. Inspired by the cafes of Bombay, Dishoom is a mecca of divine Indian food, Indian-inspired cocktails and great brunch – come here in the evenings in their Kings Cross, Shoreditch or Covent Garden branches, and soak up the lively buzz with an East Indian Gin Gimlet. Discover more about Dishoom here.
2. Best Gluten-Free Salads: The Detox Kitchen
What You Need to Know: The Detox Kitchen is a healthy favourite in London; serving up healthy salads, breakfast pots and the best smoothies in town. The Detox Kitchen also offers a range of delivery packages, each containing all meals you need for a day – a healthy breakfast, lunch, dinner, pudding and a selection of cold-pressed juices. Read more about The Detox Kitchen here.
The Gluten-Free Lowdown: Based on the principles of balanced healthy eating, the chefs and nutritionists at The Detox Kitchen have developed delicious menus that will cleanse your body and ensure that you will feel revitalised and energised. As well as the gorgeous deli food, they offer five packages that are all free from wheat, dairy and refined sugar; the menus work on a three-week rotation and are changed every season.
Eat: In the deli, they do great salads such as miso aubergine and kale with apricot, tahini and coriander, sweet potato with red onion, soya lemon yogurt and honey pecans, and roasted cauliflower with cumin yogurt. For delivery, one of the most popular delivery packages is the Protein Package, which provides a rich source of nutrients, made up of whole grains, legumes, vegetables, fruit, nuts, seeds and lean protein. For plant lovers, try the Green Package, with cold pressed apple, lemon and celery juice, edamame, white cabbage and black sesame salad, pea and mint soup for dinner. Glorious.
Where: Locations here
*Please note, not all of the packages are gluten-free, although they are wheat-free, so always check before ordering. Gluten-free can be requested.
3. Best Gluten-Free Sandwiches: Beyond Bread
What You Need to Know: Beyond Bread Bakery opened to rave reviews earlier this year. Behind the scenes are expert bakers with years of experience, who constantly challenge expectations with new ways to use gluten-free ingredients. This is the place to come for gluten-free comfort foods: they have everything you could want and need for a sweet carb hit. See here for London's best gluten-free sandwiches.
The Gluten-Free Lowdown: Beyond Bread make their gluten-free bread fresh every day; there's traditional pumpernickel bread, white sourdough, crunchy baguette and a beautiful seeded loaf to choose from. For a morning treat, try one of their gluten-free morning goods, such as strawberry and custard danish, chocolate and custard danish, and oat, walnut and raisin muffin. Paired with a great latte, there's nothing better.
4. Best Gluten-Free Lunch Boxes: Farmstand
What You Need to Know: Farmstand is a new casual restaurant offering Londoners a delicious range of honest, healthy and reasonably priced food. Located on Drury Lane in Covent Garden, Farmstand is all about great quality produce and easy healthy lunches. American founder Steven Novick gathered together a formidable team with a variety of skills and experience; including a dedicated doctor and nutritionist and chefs, all of whom have tirelessly worked to create up to 18,432 potential menu combinations!
The Gluten-Free Lowdown: Taking its name from the roadside 'farm stalls' commonplace in the US, the restaurant strives to provide properly healthy and reasonably priced food. Farmstand's range of Ready To Go seasonal boxes are great; breakfast options include gluten-free four-grain porridge with organic oat milk, coconut yogurt topped with seasonal compote, and lunch is a feast of salads, protein and juices.
Eat: Farmstand is open from breakfast until late, seven days a week, serving a seasonal menu of hot and cold Build Your Own and Ready to Go options, all of which are gluten, dairy and refined sugar free. For lunch, enjoy build-your-own boxes with grilled harrisa chicken, split fava beans, charred broccoli and quinoa. Alongside the savoury dishes are a range of sweet options such as delicious chia and blueberry muffins. Coffee is provided by Workshop coffee and for something stronger there is Celia gluten-free beers and organic wine on offer. Glorious.
Where: 42 Drury Lane, Covent Garden, London WC2B 5AJ
Photo Credit: Paul Winch-Furness
5. Best Gluten-Free Pizza: Rossopomodoro
What You Need to Know: Rossopomodoro has been quietly popping up in different locations throughout the years. London is now home to seven Rossopomodoro restaurants, which all serve really rather good Neapolitan fare, including gluten-free pizza, salads and strong coffee. There's good reason why Rossopomodoro is packed at lunchtime and on evenings – you can't argue with the quality or the price. And it's great for gluten-free diners, too!
The Gluten-Free Lowdown: Rossopomodoro like as many people as possible to enjoy the best pizza this side of Naples, so they offer a selection of gluten free pizzas. While they can't guarantee a 100% flour-free environment, no pizza with the gluten free logo in our menu uses any ingredient containing gluten. What's more, they have a new Spring menu, with special seasonal flavours from Napoli!
Eat: The gluten-free Neapolitan pizza selection has been given a spring makeover and you'll find ingredients such a variety of the best Neapolitan tomatoes, Mortadella, roasted porchetta and seafood. You'll also find a completely new range of dishes called Pagnottielli, as well as new seasonal pasta and salads. Our favourite gluten-free pizza is the Napoletana – tomato sauce, mozzarella, anchovies, garlic, oregano and basil, just the best.
Where: Locations here
6. Best Gluten-Free Mezze: Hummus Bros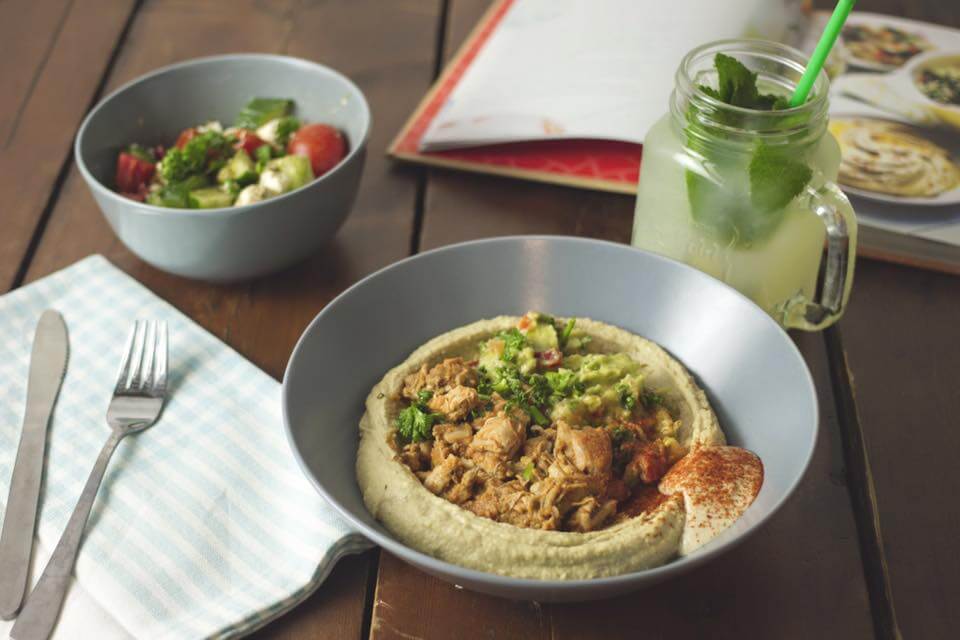 What You Need to Know: Hummus Bros was born on a glorious hot day in May 2003, when, as two college friends, we were searching for something filling and healthy that would taste great, and still leave some change for drinks at the Union Bar. Passing on the usual options of pizza or sandwiches, they stumbled out of a small specialist delicatessen with three basic ingredients: pitta bread, hummus and olive oil. In no time at all, the bowls of hummus were wiped spotlessly clean. "I could eat a good meal like that everyday!" someone remarked. We looked at each other and smiled – a dream was born: to open a place dedicated to hummus.

The Gluten-Free Lowdown: Hummus Bros is about natural quality produce, handled and prepared with care to produce exceptionally fresh and delicious food free from preservatives or additives. They use fresh vegetables, fresh herbs, fresh meat and fresh bread, getting produce using sustainable and local sources where possible. Lots of their dishes are naturally gluten-free, and you can substitute the bread for carrot sticks, gluten-free tortilla chips or rice cakes! Win.
Eat: All the hummus. Their chicken and falafel salad with sundried tomatoes is great, as is the aubergine salad with tahini, garlic and lemon juice. The falafel here is wheat-free, so you can eat that too – try it on the falafel salad with cabbage, tomato and coriander salsa and tzatziki.
Where: Locations here
7. Best Gluten-Free Small Plates: NOPI
What You Need to Know: This incredible Soho-based restaurant has some of the Ottolenghi trademarks, but NOPI has a very different feel to the Ottolenghi delis. The marble is white, the brass is golden, the art is dynamic, the pace is a little faster. NOPI's menu changes according to the seasons but signature dishes by Ramael Scully include courgette and manouri fritters, coriander seed-crusted burrata with slices of blood orange and twice-cooked baby chicken with lemon myrtle salt and chilli jam.
The Gluten-Free Lowdown: While not offering a specific gluten-free menu, there's lots of great small plates for gluten-free diners at Ottolenghi's Nopi. The staff are super clued-up too, so inform them of any allergies and you will be A-OK.
Eat: Nopi offers some of the best vegetable sample plates in town – try the Burrata with blood orange and lavender honey, roasted aubergine with sorrel yoghurt, turmeric radish and almonds, and roasted butternut squash with red onion, tahini and za'atar. For fish, you can't beat the sea bream with rose harissa and coconut, or the sea trout with yuzu labneh and peas. Lovely stuff.
Where: 21-22 Warwick St, London W1B 5NE
8. Best Gluten-Free Roast: The Truscott Arms
What You Need to Know: This independently-owned pub and garden has a great vibe, and is always buzzing on a Saturday night. Opened in 2013, this beautiful four storey Victorian corner pub now serves food, drink and joy to great acclaim. Independently run, you'll find everything you everything you want from a pub, great food, exceptional wines, beers and cocktails, a terraced garden and spaces for private hire.
The Gluten-Free Lowdown: The Truscott Arms is family run, and that family happens to have coeliacs in it! As a result, they've made a great menu for pub-food loving foodies. If you're looking for some pub classics that are safe for coeliacs, this is your place. The food here isn't just gluten-free, it's seriously tasty too.
Eat: They do gluten-free fish and chips with Celia Lager and Dove's Farm flour and fantastic 'beef shin chips' with slow roasted and pulled beef, pressed and coated in gluten free flour and polenta, and fried. If you want a burger, they have gluten-free bread buns – and food is always uncontaminated as they have separate fryers! To end your meal, try the gluten-free macarons. Nom.
Where: 55 Shirland Road, London W9 2JD
9. Best Gluten-Free Pizza: Stingray Cafe
What You Need to Know: Stingray is a friendly local bar and restaurant that serves Modern European cuisine specialising in Pasta and traditional 14″ Pizza. Come in for a romantic dinner or a family meal to expect a warm, cosy, comfortable and a relaxing afternoon or evening.
The Gluten-Free Lowdown: Accordingly to insider advisors, Stingray Cafe does really good gluten-free pizza; great surface area, thin and crispy crust and lots of different toppings. But they don't just do pizza – they also do amazing garlic and cheese bread (though it's circular and it looks like pizza…so it's basically pizza). It's also very reasonable priced and so tasty – well worth a visit.
Eat: All the Italian goodness – they do gluten-free pizzas the size of your face, which will leave your tummy very happy indeed. If you fancy a bowl of cheesy goodness, they also do gluten-free pasta. Plus £7.95 for a pizza and beer on Wednesdays, can't say fairer than that.
Where: 135 Fortess Road, Tufnell Park, London, NW5 2HR
10. Best Gluten-Free Dim Sum: Naturally Chinese
What You Need to Know: Naturally Chinese encompasses the aesthetics of Chinese dining by way of good food, beautiful surroundings, and fragrant cooking. They present a range of gourmet dishes bringing you the true taste of our Oriental origins. They create some of the finest dim sum – a range of 40 bite sized delights to touch the heart and appeal to the senses. Their exclusive gluten free menu offers a variety prepared by a team trained and accredited by Coeliac UK, which is fantastic.
The Gluten-Free Lowdown: Naturally Chinese in Surbiton has a dedicated gluten-free dim sum menu for all to enjoy. The husband and wife owners have put every effort into creating delicious Chinese food that is free from MSG and other nasties – it's all natural, fresh and delicious. Their mission is to serve you delicious Chinese cuisine free from additives. With over 30 years combined experience in the food industry and a passion for cooking, you will have a delectable dining experience.
Eat: Think steamed prawn and chive dumplings, rice paper spring rolls and lemon ginger fish. Just avoid the soy sauce, and you'll have a great time. Come here for bean curd spring rolls, deep fried squid and a steamed dim sum platter for two.
Where: 59-63 Brighton Road, Surbiton, Surrey, KT6 5LR
Sponsored post in association with Well and Truly. If you want more gluten-free inspiration, check out our guide to the best Gluten Free Breakfasts in London, Gluten Free Cupcakes in London, Gluten Free Pizzas in London and Gluten Free Sandwiches in London. All the gluten free loving.