Tasty Tuesdays: 10 Foodie Products You Need to Buy This WeekBy Alicia Grimshaw
Shopping basket looking a bit sad? We're here to help with some amazing food products. We've rounded up 10 foodie products you need to buy this week. Get slinging them into your trolley, pronto:
What: Honey and Husk are an independent small-batch granola company, who bake everything by hand in East London. All of their granolas are refined sugar-free, and use organic oats, coconut oil, cinnamon, Himalayan salt and a touch of wildflower honey amongst other things for a unique flavour, contain no preservatives and are 100% natural.
The Lowdown: All of their recipes are developed by nutritionists and chefs for premium taste whilst holding optimum nutrition. They have 3 flavours – Classic (Oat & Barley), Gluten-free (Quinoa and Buckwheat) and Limited Edition (Toasted Mulberry &and Hempseed) which all lend well to various versatile dishes such as sprinkled on raw salads, over pancakes, savoury bakes and tagines.
Stockists: Buy online 
What: Hope & Glory was born from the desire to drink great tea every day, rather than settle for the average. Hope & Glory's mission is to better communicate the diversity of the nation's favourite drink, as well as educate us in the art of making a perfect cup of tea.
The Lowdown: Shipped by sea freight from tea plantations across the world, Hope & Glory is challenging the environmental ethics and sustainability of the FMCG tea giants by only using sea vs. air travel. The products are hand packed at the source to avoid double handling or wasted transport materials, and they work with Ethical Tea Partnership approved suppliers, using 100% certified organic ingredients within each blend.
Stockists: Buy online 
3. For a Bread Alternative: Leksands
What: Leksands is the gourmet crisp bread brand from Sweden. Having caused a stir in the Baltics, Leksands can now be bought in the UK. Thin, crisp and extremely versatile, Leksands crispbreads are a brilliant alternative to the traditional loaf of bread and make the perfect vessel for a huge variety of toppings.
The Lowdown:  Leksands bake genuine crispbread every day in Sweden, closely following traditional family recipes which were first formulated in the 1920's. Only rye is used alongside pure water from Leksands very own spring, yeast and a pinch of salt – and of course expert workmanship. The crispbreads come in a number of must-try varieties ranging from Original, Brown Baked and Multi Grain to special Mountain crisp breads.
Stockists: Ocado
What: Pots & Co have a team of Michelin-trained chefs behind each creation, mixed with passion and flair in the Pots & Co. kitchen. Developed using the very best, ethically sourced, ingredients, Pots & Co.'s meticulous attention to detail ensures you'll get the same restaurant quality each and every time. They've recently added to their range with the new vanilla and chocolate pot.
The Lowdown: Smooth, creamy and indulgent, this pudding combines a smooth layer of chocolate ganache, sat atop a generous base of Madagascan vanilla cream, which join to create a twist on the classic French crème brûlée. Pots & Co. has developed this  new flavour so that you can enjoy a professionally made pudding in the comfort of your own home.
Stockists: Tesco
5. For Yogurt: Rachel's Organic
What: Rachel's Organic yogurts are made simply, with care, and contain only the finest organic fruit and ingredients, locally sourced organic milk and no artificial colourings, flavours or preservatives. This month sees the arrival of their new Greek style banana and dulce de leche yogurt. The ripe banana flavour, deliciously combined with sweet, creamy and rich Dulce de Leche creates a perfect partnership.
The Lowdown: Taking a new twist on South America's native Dulce de Leche, the much loved thick buttery caramelised sauce which is renowned for its rich, creamy consistency. The luxuriously thick yogurt is best enjoyed straight from the pot or dolloped on cake for dessert, and will satisfy even the sweetest tooth.
Stockists: Supermarkets nationwide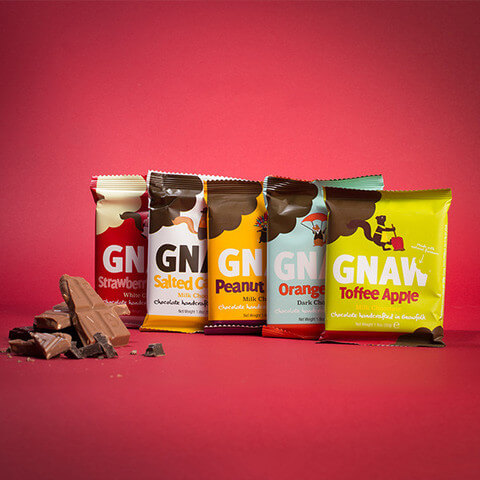 What: After deciding to go on a cocoa-dusted mission to bring the fun back into high quality chocolate, Gnaw was launched in 2011 by Matt and Teri Legon. Every one of their chocolates is carefully handcrafted in their creative kitchen in Norfolk, using only the finest ethically sourced ingredients and natural colours and flavours.
The Lowdown: The result: a dreamy blend of the very best ingredients ranging from swirling sticky caramels, creamy and nutty peanut butter, exotic spices, chewy chunks of fudge, and marshmallows all mixed together with a big warm hug of Gnaw playful fun. Gnaw is leading the way with innovative and creative flavours such as banoffee pie, lemon meringue and toffee apple.
Stockists: Buy online 
7. For a Healthy Alternative: Sweet Deceits 
What: Sweet Deceits is a new business that specialises in healthy dessert kits, allowing you to cook unique healthy twists on classic desserts. Made using only high quality natural ingredients, each dessert is gluten-free, dairy-free and refined sugar-free, and with some options suitable for vegans.
The Lowdown: There are 4 desserts in the range including; raw caramel slices containing coconut oil, cacao powder, almonds, dates and oats, and the jumbo oats flapjacks made only using oats, almonds and coconut oil. The chocolate brownies are gooey, fudge-y and totally dreamy.
Stockists: Buy here 
What: Founded in 2013 by two recent business school graduates, the French start-up Prêt à Pousser launched in the UK in November 2015. Prêt à Pousser gained over 20,000 customers in just a few months with its Go Grow Mushroom kits for growing organic mushrooms indoors. Their latest invention allows  herbs to grow indoors, all year round.
The Lowdown: The self-sufficient Lilo includes a specially-adapted LED light source and a hydroponic growing system for minimum user upkeep. The Lilo is suitable to grow basil, mint, coriander, cherry tomatoes, chili peppers and more. Once the Lilo is plugged in, users can see their plants start to grow in 4-5 days.
Stockists: Buy online 
What: Bedlam Brewery was founded in 2012 by a group of friends with no greater the aim than creating a hobby brewery, but since then has grown into a small commercial brewery, based at the foot of the South Downs, which last year sold around 120,000 pints. It is now stocked across London and the South East with more and more areas discovering Bedlam daily.
The Lowdown: The guys down at Bedlam Brewery are all about being local and self sufficient. They plant and grow their own hops, having acquired some space from the farm estate.  The brewery has also installed solar panels across the roof which is supplying all of the energy to power the brewery, and they use British ingredients where possible.
Stockists:
See stockists
here
What: Indigo Nutrition is passionate about empowering everyone on a journey to a healthier lifestyle by supplying the finest natural health products at affordable prices. All of Indigo Nutrition's range is certified organic, quality assured and suitable for vegetarians.
The Lowdown: The super greens powder is a delicate and diverse mix of organic wheatgrass, barley grass, moringa, spirulina and chorella powder: natural nutrition at its very best. This combination represents the very finest in green superfoods that fuel the body with vast amounts of vitamins, minerals, protein and antioxidants. Add a teaspoonful to your morning smoothie and reap the health rewards knowing that you're getting high levels of vitamins A, B, C and E as well as selenium, copper and manganese.