Tasty Tuesdays: 10 Foodie Products You Need to Buy This WeekBy Alicia Grimshaw
This week, we've been munching our way through homemade granola and supping on American cream soda in the name of research. We've found some absolute treats; get creative with your shopping basket this week, here's 10 foodie products you need to buy:
1. For Fudge: Buttermilk Artisan Confectionary
What: Buttermilk Artisan Confectionary is a family-run company who started producing handmade fudge in 1964, at its flagship shop in Padstow, North Cornwall. After a recent rebrand, a small selection of its products are now available to buy at the Kensington and Piccadilly branches of Whole Foods.
The Lowdown: Buttermilk Artisan confectionary make over 60 flavours of smooth and crumbly fudge, tablet, brittle, chocolate clusters and honeycomb. Flavours include caramel sea salt fudge, crumbly chocolate fudge, chocolate-covered honeycomb and chocolate almond brittle.
Where: Whole Foods
What: Steens is the world's largest producer of high grade UMF Manuka honey. UMF is what measures the strength of the active compounds naturally occurring in Manuka honey. It's these compounds that give Manuka its health and well-being properties.
The Lowdown: Raw Manuka honey is known for its immune boosting properties, as well as digestive health benefits and because Steens Manuka honey is raw and cold pressed, it ensures that all of the nutritional benefits including amino acids and enzymes are not 'burnt out'.
Where: Waitrose, Sainsbury's, Wholefoods, Planet Organic and Harrods
3. For Natural Energy: Tenzing
What: Tenzing are all about sourcing powerful, energising ingredients directly from nature. On their travels in search of those ingredients, they stumbled upon the natural energiser of the Sherpa people; a stimulating brew used for decades to fuel expeditions on Mt. Everest.

The Lowdown: The Tenzing energy drink contains 100% natural ingredients, and has less than half the sugar of other energy drinks on the market. Ingredients include, Himalayan rock minerals, green tea, green coffee and guarana berries.
Where: Pod, Lomax Gyms and launching soon in Planet Organic
What: Nutriseed.uk are passionate about healthy living – they live and breathe it. They're big, big fans of superfoods and their many benefits. And for this reason, they focus on nature's very own good guys and let them do the talking.
The Lowdown: Superfood aficionados Nutriseed.uk have recently launched Chlorella; Spirulina's sassy cousin. This green algae powder can boost energy levels, support fat loss and help detox against metals such as lead and mercury. Coupling this with strengthening the immune system and supporting hormone function this is one superfood that every diet can benefit from.
Where: Order online 
5. For a New Chocolate Bar: Ombar Centres 
What: Ombar chocolate is not only sourced from the best Ecuadorian cocoa farms, it is also raw. Their methods ensure that they preserve as much of natures original goodness as possible. The new Ombar Centres range comprises of two flavours. These are: Ombar Raspberry and Coconut, and Ombar Coconut and Vanilla. 
The Lowdown: Every ingredient in an Ombar chocolate bar is naturally and organically sourced, for a delicious and ethical chocolate experience. Made with raw, organic Ecuadorian cacao and unrefined coconut sugar, each bar is dairy and gluten free and suitable for vegans. Total win.
Where: Whole Foods, Ocado and Planet Organic
6. For Great Cream Soda: Soda Folk 
What: Soda Folk was founded by Coloradan, Ken Graham. When he moved to London from the states he found himself homesick for Coloradan Root Beer. Having played around with making sodas in the kitchen since he was a small child, Ken decided it was time he brought craft sodas to the UK, with nothing artificial added, just the best quality ingredients he could find and simple recipes that taste incredible.
The Lowdown: Soda Folk's Cream Soda is made with carbonated water, pure cane sugar and Madagascan vanilla extract that certainly packs a punch. Soda Folk's Root Beer Soda is also made with a base of carbonated water and pure cane sugar, but is taken spicy new heights with the uniquely pungent and piquant root, wintergreen, rounded off with aged vanilla and pure maple syrup.
Where: Online, Byron's and Selfridges
7. For a Healthy Drink: Bio-tiful Dairy 
What: Natasha Bowes founded Bio-tiful Dairy Ltd in early 2012 to fulfil her dream of making delicious organic cultured milk drinks, which she grew up on. Cultured milk drinks are consumed daily throughout Eastern Europe, Russia and large parts Asia. For decades in Russia, alongside being a vital part of the  healthy diet, Kefir has been the key recovery food after illnesses and antibiotics.
The Lowdown: The new smoothies are a mix  of their organic Kefir (88%) and blossom honey and fruit, with no sugar or preservatives added. The flavour was carefully selected to complement the refreshing and tangy Kefir. Highly nutritious yet light, the Kefir Smoothies provide the perfect option for a naturally energising breakfast or a healthy snack.
Where: Natural Kitchen, Fortnums and Mason, and Daylesford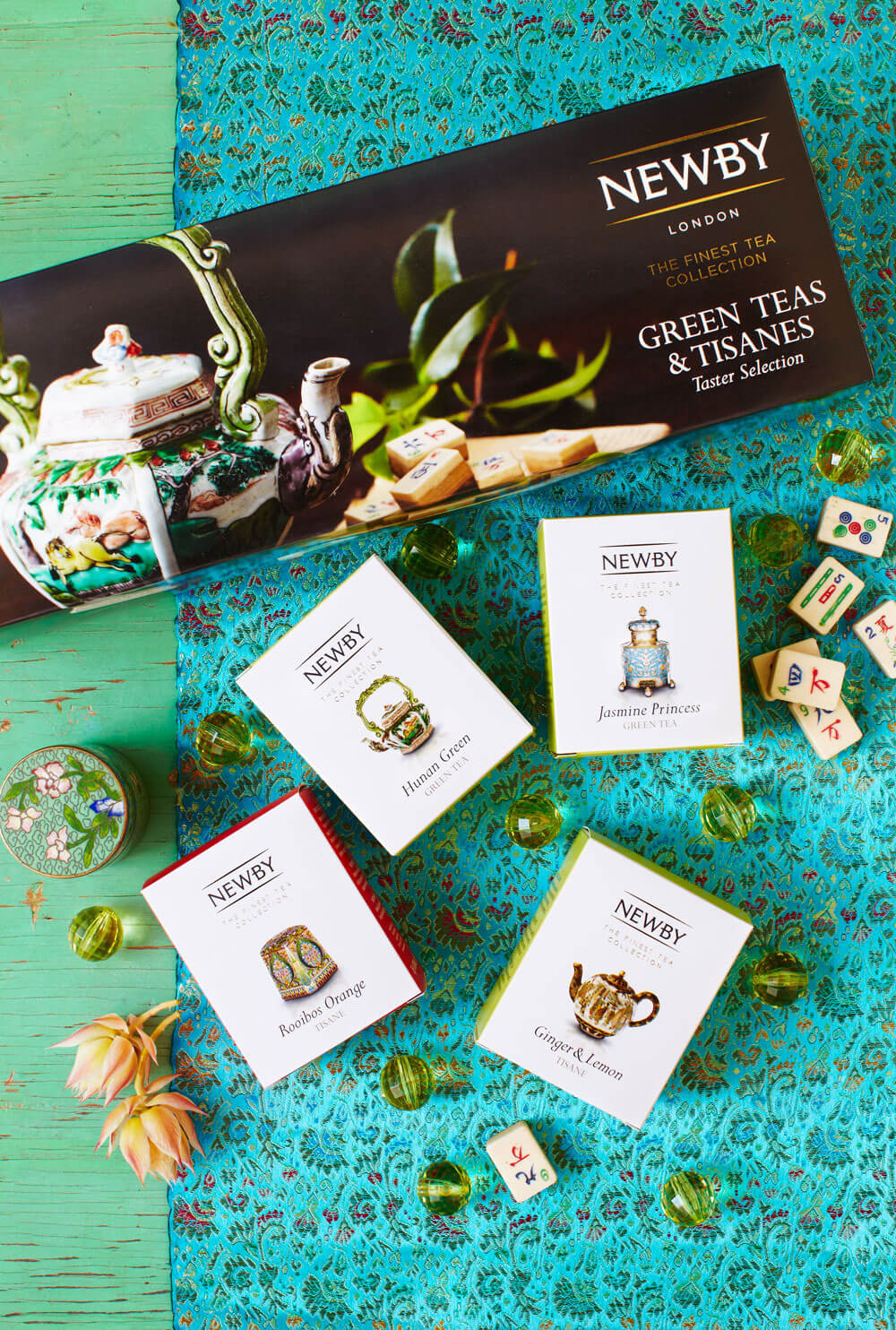 What: More than just a tea supplier, Newby brings knowledge, experience and enthusiasm to the table. They believe that loose-leaf tea is the key to the fine tea experience, and they currently offer more than 40 varieties. Among them are some infusions, or tisanes, which use natural, fresh ingredients to create flavoursome sensations.
The Lowdown: Their green tea and tisane gift collection features four blends which come from the lighter side of the tea spectrum, where flavour means fragrance, sweetness, and subtle floral notes. Tastes and scents include jasmine flower, ginger, orange and lemon.
Where: Buy here 
What: Robinsons has just launched two delicious new SQUASH'D flavours to its quench-thirsting range: Passion Fruit and Mango, and citrusy Lemon and Lime. The new flavours offer a punch of fruit, packed into the perfect travel-sized bottle – meaning you can enjoy the great taste of Robinsons wherever you are.
The Lowdown: Helping make water fun, Lemon and Lime provides a burst of citrus delight, whilst Passion Fruit and Mango offers a sweet and exotic taste combination to refresh your taste buds. Making up to 20 great-tasting drinks per bottle, it's available in six flavours, including Apple and Blackcurrant, Summer Fruits, Orange and Peach, and Citrus, plus the two new flavours.
Where: Tesco
10. For a New Breakfast Dish: TrooGranola 
What: At TrooGranola they are on a mission: to make breakfast time an unmissable occasion by making  delicious, freshly toasted, hand turned granola and delivering it right to your door. They toast their homemade granola in small batches at TrooFoods HQ by the sea in Folkestone and ship it to you within 24 hours.
The Lowdown: The super seed TrooGranola features freshly toasted, lightly spiced oats and nuts with pumpkin, sunflower, flaxseeds, chia Seeds, blueberries and goji berries. Best served with a good dollop of Greek Yogurt.
Where: Order here 
One for luck…
11. For a Japanese Snack: Little Moons 
What: Little Moons, an artisan producer of mochi ice cream, has launched a new range of luxury desserts that are made by enrobing the finest gelato with a  layer of traditional Japanese mochi. Produced from pounded and sweetened rice flour, this delicacy has been eaten for over one thousand years in its home country and now Little Moons is on a mission to put mochi on the map in the UK, too.
The Lowdown: Traditionally filled with a sweetened red bean paste, Little Moons has updated the classic mochi recipe by adding artisan gelato in six contemporary flavours. These include; Toasted Sesame, Vanilla, Coconut, Matcha Green, Mango and Raspberry.
Where: Whole Foods