New Openings Special: 10 Things You Need to Eat This Week in LondonBy Alicia Grimshaw
Blame the copious amounts of mulled wine, or the 15 doughnuts we ate last week – but we've decided to run something slightly different to our usual column. We're not only bringing you 10 things you need to eat, but all the food on offer is from newly opened, or just about to open restaurants across the capital. Dig in:
1. For Local Produce: Sourced Market Victoria 
What: Sourced Market has just opened its third location outside Victoria station at the new development, Nova, Victoria. Sourced Market Victoria is the very first business to open its doors at Nova Food, which is bringing 17 new restaurants, three pop-up kiosks and other delights to SW1. 
Eat and Drink: Sourced Market Victoria offers an enviable selection of handpicked local produce, from Bread Ahead doughnuts to Regent's Park honey, Cobble Lane charcuterie to Dalston Chillies hot sauce. Also squeezed in is a coffee bar with a carefully chosen selection of beans from London's finest roasters, growler station with a regularly changing roster of craft brews (drink-in or take home), bean-to- bar chocolate library, wine on tap and lots more interesting finds. Following in the footsteps of Sourced Market St Pancras and Marylebone, the Victoria market acts as a one-stop-shop for the best produce from across the UK and Europe, selling well-known products, including carefully selected artisan coffee and a variety of food and deli items from independent producers.
Gimme more: Stock up on craft beer from Kernel Brewery, Beavertown, Howling Hops and Cloudwater and wines from Le Caves de Pyrene as well as English vineyards.
Where: Nova Building, 85 Buckingham Palace Road, London SW1W 0AJ
2. For a New Drinking Hangout: FOX BAR
What: New underground FOX BAR has opened in Brixton, bringing with it big Stateside vibes. Inspired by taverns in Chicago and New Orleans, FOX BAR boasts a mixture of live music and DJ performances between Thursday and Saturday evenings, and weekly events such as foosball tournaments and wings nights.
Eat and Drink: The cocktail list has been design by Tom Kerr, global bars manager at Soho House, and Casey Sorensen, UK bars manager. Cocktails are dark spirit based, with plenty of American whiskeys and a wide selection of rum drinks available. FOX BAR's signature drinks include the Banana Penicillin, a banana infused Barcardi Oro with ginger, honey, lemon and peat; the Nitro Martini 'On Tap'; and an espresso martini on draft.
Gimme more: Cocktails can be enjoyed with a selection of bar snacks, such as chicken nuggets, chicken wings and crinkle cut fries. The wings are coated in either Chicken Shop's smokey or hot sauce, and come served with a blue cheese dip.
Where: Piano House, 9 Brighton Terrace, Brixton, London SW9 8DJ
3. For Asian Cakes: Kova Patisserie 
What: Kova Patisserie have set up shop in the heart of Soho. The café's founders Jon and Ben, are two friends united by their shared love of the Japanese patisseries which they enjoyed across Asia, and have now brought them to the Big Smoke. Disappointed to find there wasn't a good quality Japanese café in Central London, they decided to introduce the concept to Soho. After much research around the world and months of testing recipes with chefs and industry experts, Kova Patisserie was born.
Eat and Drink: Their signature handmade mille crepes features multiple layers of French crepe with a light custard cream filling between each layer – served in a range of flavours including matcha, chocolate, vanilla and fresh fruit.  Their signature strawberry shortcake is a light and fluffy layered sponge cake with fresh strawberries and cream that is extremely popular in Japan. A moreish matcha tiramisu, a souffle cheesecake, several varieties of roll cake and tarts round off the menu.
Gimme more: Tea is equally important at Kova and the menu features a wide selection of hand picked, organic Japanese tea sourced throughout Shizuoka and Kyoto in Japan.
Where: 9-12 St Anne's Ct, Soho, London W1F 0BB
4. For Jamaican Flavours: Boom Shack 
What: Joshua de Lisser, the guy behind Boom Burger has opened his latest venture, Boom Shack in Brixton. Located on Brixton Station Road, Boom Shack is a lively cocktail bar serving up fun a Jamaican atmosphere (open Wednesday – Sunday) and a drinks list straight out of Compton  the Caribbean.
Eat and Drink: Try the Jamaican Punch, a sweet concoction of fresh fruit and lemon juice, blended with your choice of rum, vodka or gin. Loud Caribbean flavours are at the heart of the food offering, with the evening menu including a pair of hot ciabatta sandwiches, perfect for soaking up those cocktails. Choose from the Boom Cubano – ham, slow-cooked pork shoulder and a layer of Swiss cheese, topped with fiery hot peppers, or the Boom Sarnie  – Scotch bonnet chilli beef, with cheese, house-made bacon jam and jerk mayo.
Gimme more: The breakfast menu includes a selection of sandwiches all served in a warm brioche bun – expect to see a bacon, egg and cheese sarnie, plus avocado and scrambled eggs as a veggie option.
Where: Brixton Station Road, London, SW9 8PA
5. For Nordic Cuisine: Aquavit 
What: Just opened, Aquavit London is found in the stunning new St. James's Market redevelopment, on 1 Carlton Street. Taking inspiration from the renowned Aquavit New York, but with a more relaxed setting and new all day dining concept, the restaurant showcases the very best of Nordic cuisine and design.
Eat and Drink: Dishes at Aquavit London honour fresh, seasonal ingredients and deliver a contemporary take on authentic Nordic cuisine, with menus developed by Henrik Ritzén, Executive Chef of Aquavit London, and Emma Bengtsson, Executive Chef of the two Michelin-starred Aquavit New York. To begin, enjoy a smörgåsbord of small sharing plates including shrimp Skagen; herrings; gravadlax; and vendace roe. The menu offers starters such as venison tartar with wild blueberries, lingonberries and juniper, and langoustines with smoked eel and crown dill, as well as main courses including turbot with horseradish and brown butter, and Swedish meatballs with lingonberries and pickled cucumber. For dessert, sample everything from Emma Bengtsson's New York signature arctic bird's nest to rosehip soup with almond ice cream, almond cake and rum.
Gimme more: Aquavit London offers an all-day dining experience, allowing everyone to indulge in the Swedish tradition of fika throughout the day with coffee from Johan & Nystrom, and freshly-baked cinnamon rolls and cardamom buns.
Where: St James's Market, 1 Carlton Street, London SW1Y 4QQ
6. For Genovese Argentinian Grub: Quilombero
What: Restaurant duo Missy Flynn and Gabriel Pryce, of Rita's on Mare Street in Hackney, have opened a canteen style restaurant at the workspace campus 'Republic' at East India Dock – an up-and-coming area for the creative and tech industries.
Eat and Drink: By day there's homemade breads, fresh focaccia and pastries for breakfast. Juice and coffee are king, and can be bought to drink in or takeaway. Lunch and dinner is a simple offering with three starters, three mains, and three puddings – including dishes like burrata with salsa nero (made with roasted aubergine on the outside grill, squid ink and black salt) and hand-rolled trofie pasta with fresh pesto. Quilombero also run an aperitivo hour between 5pm-6pm with Italian and South American small plates including farinata, empanada and tostada to accompany spritzes. The wine list is made up of predominantly Italian natural wines and there's a short, juice heavy cocktail list.
Gimme more:  The team champion reduced waste, so fruits and vegetables used in the morning's juices are blended into harder drinks at night.
Where: 1 Clove Crescent, London E14 2BA
7.  For Steak and Sides: Bar + Block 
What: Bar + Block Steakhouse in King's Cross is opening its doors today (29th), and to celebrate the new restaurant will be offering 50% off all food at lunchtime until Sunday (4th December). Valid between 12pm-2pm, make sure you book ahead to grab a slice of the (steak) action.
Eat and Drink: Steak lovers will be invited to explore an ever-changing selection of cuts from classics to signatures on the butcher's block. There's plenty of sharers to go around like chicken wings with raspberry and Tabasco sauce; stone-baked flatbread, topped with sweet red onion marmalade, Cheddar cheese, red chilli and rocket; and cheese and chipotle stuffed dippers. If red meat doesn't set you world on fire, there's also slow-cooked pork belly; flattened grilled chicken on a salad of rocket and heritage tomatoes; and butternut squash risotto. And, weirdly, a sag aloo chicken kiev. We'll report back on that one.
Gimme more: Because there's beef dripping chips and mac n' cheese as sides. And the rum and raisin, brioche bread and butter pudding is a proper retro dessert.
Where: 26-30 York Way, King's Cross
What: Jamavar, London is the signature Indian restaurant from The Leela Palaces, Hotels and Resorts – opening on Thursday (1st December).  Situated on Mount Street in Mayfair, Jamavar, London will mark its debut outpost outside of India, and the sixth Jamavar restaurant of the group.
Eat and Drink: Jamavar's cuisine takes inspiration from across its majestic sub-continent. Led by executive chef Rohit Ghai, who has led several Indian Michelin starred kitchens from Beneres, Trishna to Gymkana, Jamavar London will showcase the flavours of the Royal Kitchens of the North to the fragrant spices of the Southern shores. Reflecting the essence of its Indian siblings, Rohit will be using his creative flair to ensure the menu is evolved and adapted.  Signature dishes include lobster neeruli; slow-cooked sindhi gosht; and tandoor grilled Southern spiced wild tiger prawns.
Gimme more: There will also be a private dining room for 8 diners with a personal wine vitrine and views of a beautifully planted private garden.
Where: 8 Mount Street, London, W1K 3NF
9. For a White Meat Party: The Holy Birds
What: Spear-headed by bar and restaurant entrepreneurs Gerry and Jon Calabrese (Wringer & Mangle, The Hoxton Pony, Hoxton Gin), The Holy Birds, opening on Wednesday (30th), will be a unique dining experience, inspired by the 1960's London music and art scene.
Eat and Drink: The Holy Birds is located on the historic Petticoat Lane Market, with the new digs spanning two floors with a restaurant, bar, lounge and private dining rooms. Upstairs, The Holy Birds will specialise in one item: poultry. Think everything from chicken, duck and grouse to wood pigeon, quail and pheasant. Fried chicken and other meaty delights will be served alongside nostalgic classics including cheese fondue and moules marinière.
Gimme more: For the first time ever, The Calabrese Brothers have collaborated with their father, Salvatore Calabrese. Having started working in the bar industry in the 60s, 'The Maestro' himself has designed an extensive menu of authentic cocktails. Chicken and cocktails is such a killer combo.
Where: 94 Middlesex Street, London E1 9EZ
10. For British Munch: Juniper Tree
What: Opened last weekend in the lovely and leafy Belsize Park, Juniper Tree prides itself on using local, organic ingredients to prepare simple British fare. Founder of Juniper Tree, Andy Kent took his inspiration for the restaurant after observing how the rise of the organic movement had come together with a reborn pride in both British agriculture and British cooking.
Eat and Drink: Expect classics such as roasted chicken breast with pork, sage and onion stuffing; roasted potatoes, chard baby jam and braised peas; and shin of beef and chestnut mushroom organic ale pie with swede and carrot mash, green beans and shallots. And the vegan friendly wild mushroom risotto with parmesan crisps is also killer. On the dessert menu, there's medjool date sticky toffee pudding, chocolate fondant and a whole selection of British cheeses.
Gimme more: The steamed global artichoke with a soft herb dressing is unbelievably good.
Where: 72 Belsize Ln, London NW3 5BJ
One for luck…
11. For a Pop-Up: Dumpling Shack x Leicester House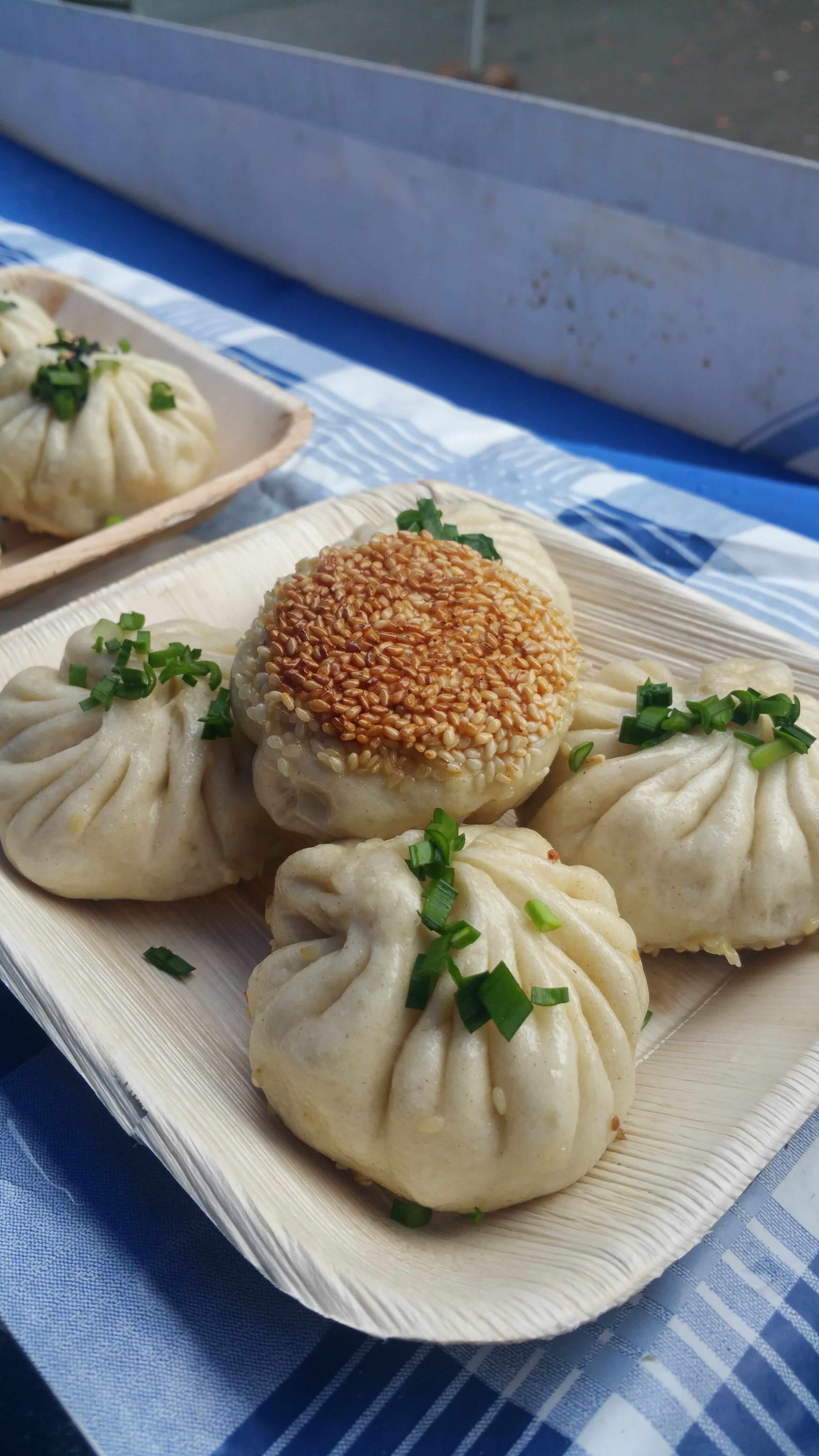 What: You know that really ruddy delicious dumpling stall at Broadway Market? Well, the chaps are opening their first solo pop-up for eight nights only at Leicester House from the 2nd-10th December. Tickets are selling like hot dumplings, so grab yours here.
Eat and Drink: Pull up a seat and take a flavour-packed adventure across China's expansive culinary map with a sharing menu featuring 11 dishes including Dumpling Shack's hard-to-beat signature pan-fried soup dumplings filled with their sell-out pork and prawn combo; luxurious crab and truffle; and seasonal veggies. Inspired main plates and sensational sides will include Sichuan crispy potatoes; long bean fritters; silken tofu with soy egg and crispy shallots; seabass in spring onion and ginger oil; and spicy cumin lamb chops.
Gimme more: Dumpling Shack's incredible journey is set to continue with a permanent venue on the cards in 2017 – watch this space.
Where: 1 Leicester St, London WC2H 7BL